Ever wonder why food blogging is getting so popular? Ever wonder why so many people prefer to visit the blogs for recipes rather than referring cookbooks, cookery shows or other websites? Are the food blogs predominantly written by women? What are the important things to keep in mind if you want to start your own food blog?
If you have spent sleepless nights pondering over these questions and did not know where to look, then look no further. For all your answers are here. You get insights from so many different bloggers and get to see of them too. And Oh! Did I mention that RedChillies has been featured in that Telegraph article ? Congratulations to the other bloggers featured there as well.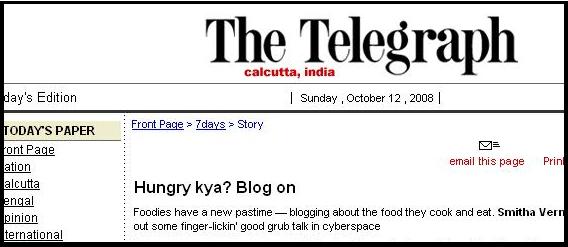 If this link does not work, copy the link below:
http://www.telegraphindia.com/1081012/jsp/7days/story_9956303.jsp
As you can imagine I am totally excited about this article. I started blogging in May of 2007 as a hobby and now it has become my passion. I blog here at RedChillies mostly Indian vegetarian recipes. I think of it as a creative outlet, a platform for sharing traditional family recipes, my own tried and tested recipes, food ideas and culinary adventures with friends, family and other people. It is also a great way of passing on recipes to our next generation.

Food blogging not only involves showcasing beautiful recipes, displaying good food photographs but also showing depth and substance in writing. The exciting part for me is bringing all this together on one canvas thus unleashing my creativity. This food blog RedChillies is a manifestation of that creative expression.

 

Thank you all very much for the continued support, warm comments, queries, recipe requests etc and hope to have  more years of food blogging to come.