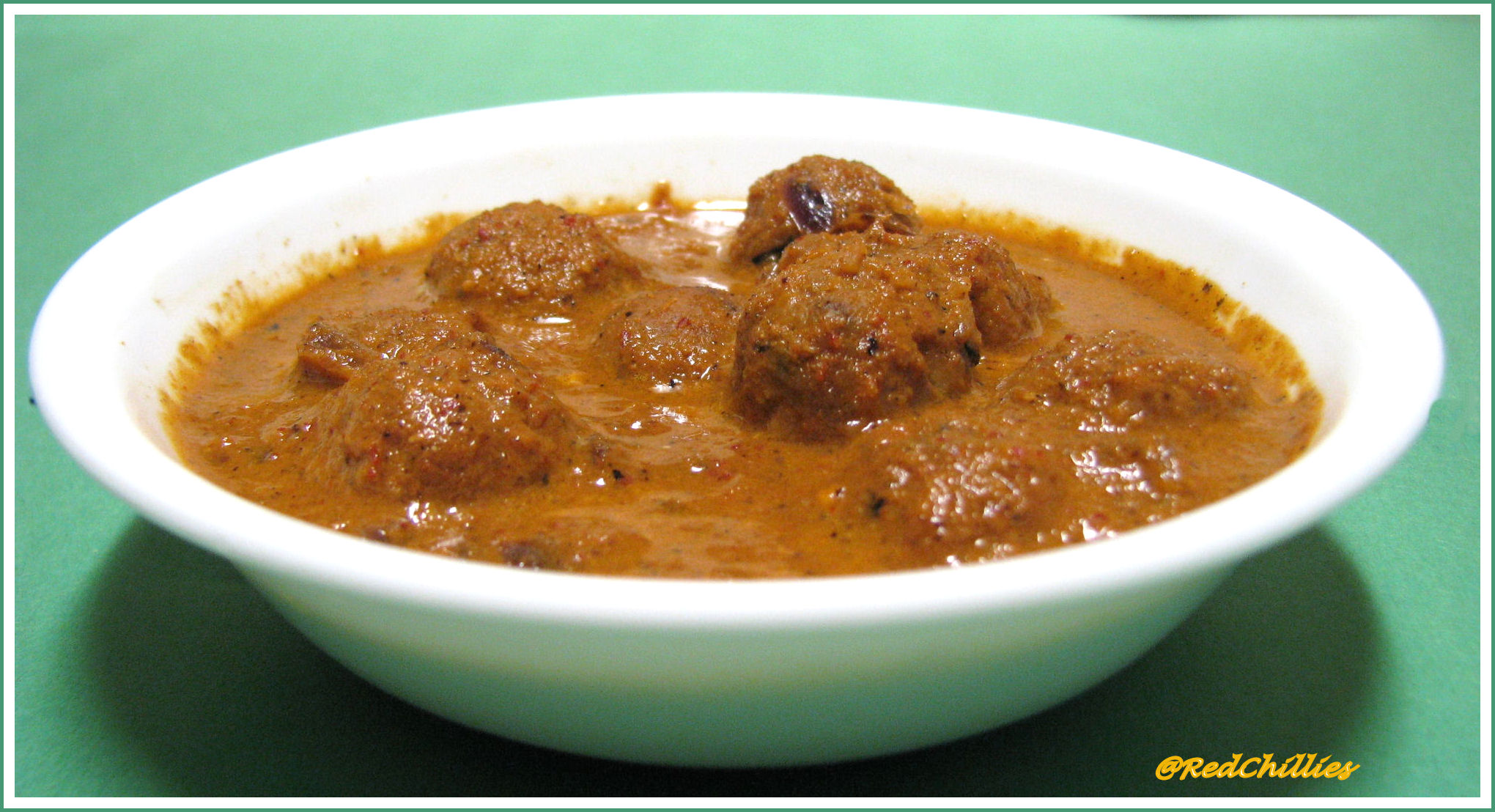 When Shri Subodh Mathur of DadiNani Foundation requested me to write a recipe for DadiNani cooking I agreed without hesitation. Call it a strange co-incidence, but that request came just a day before my maternal grandmother's 4th year death anniversary. So I thought that this was a wonderful way to cherish her memory by sharing some of her recipes.
 "Aaji" as we called her was an expert cook and her cooking skill was well known and appreciated among our families, friends and the neighborhood she grew up in.  She spared no expense in showering us grand kids with love and no matter how tired she was she would still prepare all the goodies that we demanded without any complaints.
 It was a difficult task for me to choose one amongst her many recipes. But I finally settled for this "Gulya Ambat" a favorite of mine.
"Guli" means small balls in Konkani/Marathi. Balls made of Besan(Gram Flour) and other seasonings are steamed and then simmered in coconut masala to prepare the 'ambat'. 'Ambat' is a Konkani word for regular coconut masala with onion seasoning.
Traditionally the coconut masala called 'Masol' was prepared using a stone grinder called "Ragado". This was way long before the electrical grinder/mixer was used by most households.
This curry does not involve any other vegetable other than onions. Even though the process is tedious and time consuming the end result is well worth it. 
Ingredients:
For the Guli(Kofta): 
Red Chillies Powder -1-2 tsp

Cloves and Dalchini powder -¼ tsp

salt  and jaggery as per taste

 

 




For the Coconut masala (Gravy): 
Grated coconut ½ to ¾  cup

 

 

 
Method:
For Masala:  
In a little oil roast coriander seeds and red chillies lightly and keep it aside.

Add chopped onions in oil and sauté it till light brown.

Now grind together grated coconut, tamarind along with coriander seeds, red chillies and sautéed onion. Make sure that the paste is very fine.
Add turmeric powder, Chilli powder, Cloves and dalchini powder, Coriander powder to the besan and mix it thoroughly.

Then take 3 Table Spoons of hot oil and pour on the mixture. Mix well.

Then add salt, jaggery and tamarind water. Add onions cut into small pieces and mix thoroughly.

Sprinkle some water and add 2 tsp of the ground masala. Mix well. The consistency of this should be like bhajji batter, not too thick or thin. Adjust the taste.

Take small bite size pieces of this and make small rounds. Don't press the koftas too hard; make sure there are holes inside to allow it to cook later. Keep aside.
 Putting this together
 In a heated pan add little oil, and add ½ cup of chopped onion and fry a little. Now add water (2 cups).
When it starts to boil add small balls of the above mixture (koftas) and boil it properly. Boil for about 5-8 minutes.

Since it is besan it gets boiled very fast. While boiling the water also gets thicker due to presence of besan.

When it is boiled add the coconut masala, salt to taste and a little jaggery. Let it simmer for a while, until the masala is absorbed by the koftas.
 This tastes best when it is made 3-4 hours in advance as everything blends together well. This is served with Rotis/Phukas or Rice.