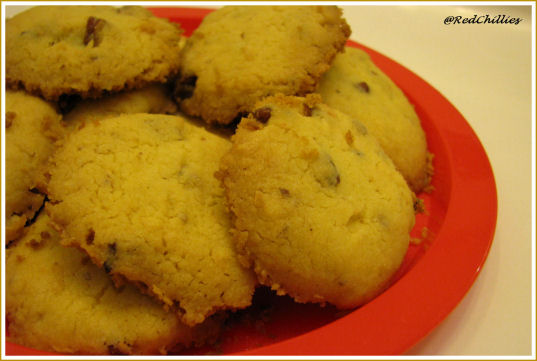 Happy Holidays Everybody! 
After seeing the baking spree and the goodies baked on other blogs, I simply could not resist sitting on the sidelines and drool over the virtual creations. I wanted to join the bandwagon myself and try my hand at making some cookies. Now I have had not much luck in baking, more so because I first look for easy recipes, then look for eggless version and then I look for low fat alternatives. By the time I have narrowed my selection I would have lost half the battle and the end product is not scrumptious.
Madhuram's blog has answers to my baking problems. Her step by step instructions are easy to follow. Her notes are well documented, detailed and leaves nothing to imagination. I tried her Butterscotch cookies and it is a keeper. I used Butterscotch and also Coconut cream pudding variety. This is an easy recipe and hardly takes time to put together. I followed her recipe to a T. The resulting cookies were crumbly and delicious and reminded us of our very own "Nankhatai". Thanks Madhuram for all the effort you put into this as it helps baking amateurs like me.
This is my contribution to the "Cookie Baking Event" held at Neivadyam and also to Christmas Feast at Purva's Daawat. 
PS: I have also tried her Healthy Beet Pasta and her Cereal Banana Smoothie.It is a God send recipe especially if one has a picky eater at home. Sorry no pictures here as I was way too engrossed doing the happy dance J