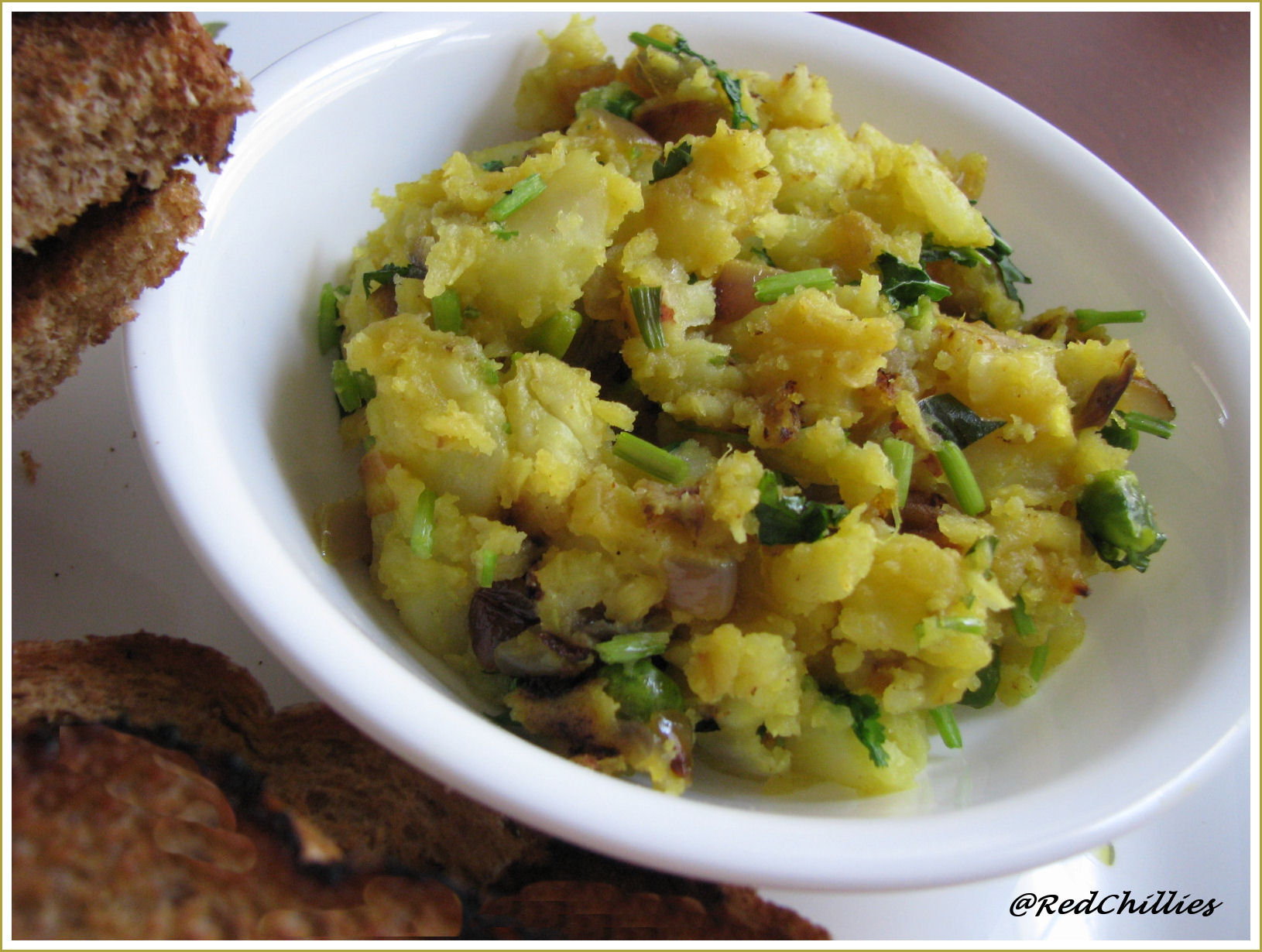 Things have been pretty hectic and crazy both on the home and work front. The New Year has begun and new projects, meetings, deadlines keep piling up. I am also preparing for our upcoming trip to India this weekend and we are all very excited and looking forward to that.
 It was one of those Saturdays when I did not have the mood cook anything elaborate. The weather was pretty good for cold wintery days and I mostly spent my time cleaning and doing other sundry chores at home. We were invited to a friend's place for dinner in the evening and so wanted to push off the afternoon by making something light and easy. Since it was the weekend the fridge was almost empty except for some potatoes and onions. It did not take me a long time to decide to make this quick and easy 'Dry Potato Bhaji'.
 This Potato Bhaji is versatile and can be used as accompaniment with Rotis/Phulkas and yummy Pooris. This is the potato Bhaji is used as a filling in Dosas for making 'Masala Dosa. Now that I think about it, growing up in Bangalore this Bhaji along with Pooris and chutney used to be our breakfast on Sunday mornings.
 This time I took a different approach and used the bhaji to make the stuffing for a Potato sandwich. This can be eaten as is or along with ketchup to make a delicious light meal by itself.
Ingredients
1 big potato (peeled and boiled)

3/4 cup of chopped onion

2-3 green chillies

 

slit(as per taste)

1 Tbsp urad daal

2-3 grated garlic (optional)

1 Tbsp grated ginger

Chopped coriander for garnishing

Turmeric

Juice of a lemon

½ cup shredded coconut (optional)

Curry leaves

Mustard seeds

Cumin seeds

Salt to taste

Oil
Sandwich 
2 bread slices ( I used whole wheat)

oil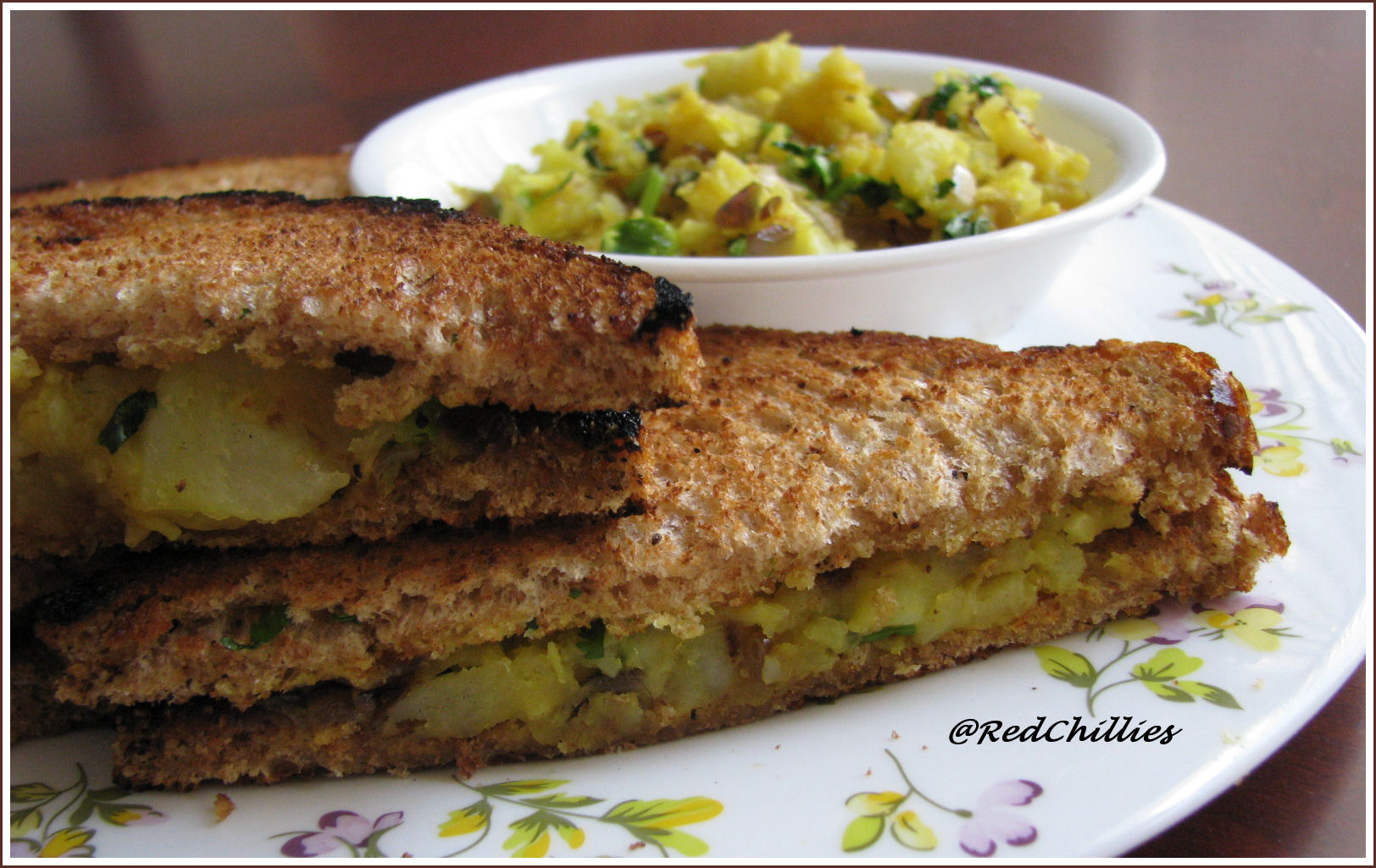 Method
Mash the potato using a potato masher or the back of a spoon. If there are small lumps that is fine. Keep aside.

Heat a heavy bottom pan, add oil. Then add mustard seeds, jeera seeds and allow it to splutter.

Next add curry leaves, grated garlic and mix well. Add the urad daal until tit slightly browns.

Add the chopped onions along with slit green chillies, salt and sauté until the onions have turned transparent.

Add turmeric and mashed potato and mix thoroughly. Keep covered for a minute or so. Check for seasonings and adjust taste accordingly.

Add the grated ginger and shredded coconut (optional). Coconut removes the dryness from the dry curry.

Finally add the juice of lemon and garnish with chopped coriander leaves.
Sandwich
The sandwich can be made in a sandwich maker. But I prepared it on the stove top.

Take a flat griddle and heat it well brushing it with little oil. Place the bread slices and add little oil to the sides. Allow it to brown on all sides.

Add a big spoonful of potato curry on top of one of the bread. Spread evenly and then place the other bread over the top. Press this together and let it stay for 30 secs or so. Turn on the other side as well. Make sure it does not brown or black .Serve hot!