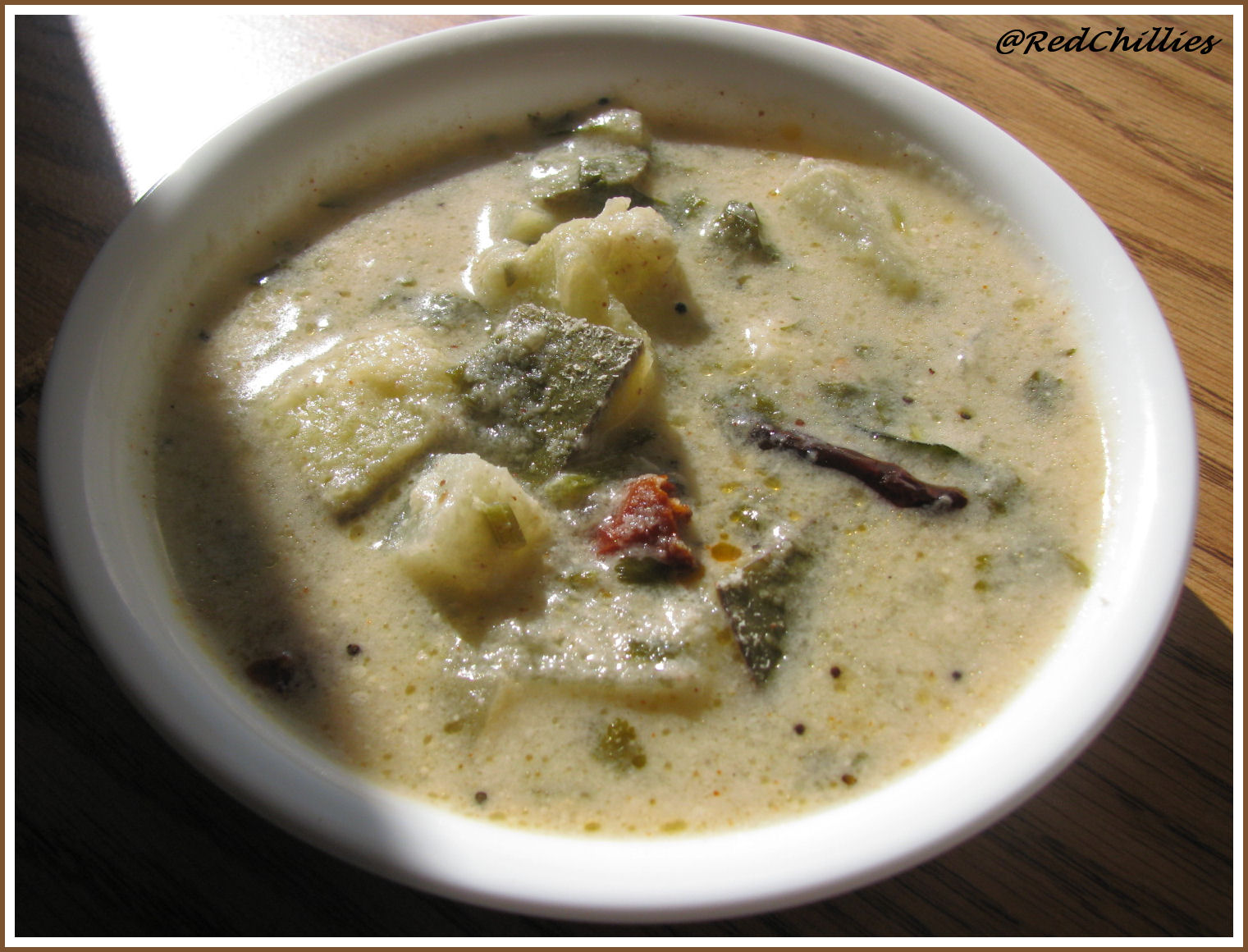 Typical Konkani cuisine involves lots of coconut in everyday cooking. It is not uncommon to see 2 coconuts being used the same day even for regular cooking. Thick chutney for morning breakfast of idli/dosa, coconut based curry for afternoon lunch, along with lavish sprinkle of shredded coconut on salads (kosambaris), side dish and dry curry (playa). Suffice to day coconuts are exhausted in no time. Of course, I also have to mention that this is for a regular family of 5-8 people.
But now with so much talk going on about the content of its saturated fat, I have seen many people use coconut with caution. But after having grown up eating coconut dishes for years, it is difficult to give them up. So at home I use coconut for cooking sparingly and believe that moderation is the key to everything.
I had a feast when I was in India and gorged on so many wonderful coconut dishes. Even adding little shredded coconut to cooked dishes made a whole lot of difference to the taste and its flavor. The first thing I craved for after we got back home from India, with effects of jet lag still on hand was spicy and tangy coconut curry over hot rice. That 'kick' would have been enough to overpower my fatigue and pangs of separation.
'Mirsang Ambat': In Konkani 'Mirsang' refers to Chillies, a generic term and that could be either red or green. In most cases the coconut masala called "maasolu" is usually made by grind coconut, red chillies and tamarind.
This is a easy recipe to make. I made this differently by using green chillies, coconut and then using raw mango to add for the tangy taste. Any vegetable of choice can be used for this recipe. An important note, this curry has a wonderful aroma and that comes only if strong asafetida (hing) and fresh curry leaves are added while making the tadka(seasoning). If these 2 ingredients are not fresh and strong then the curry will not be flavorful as such.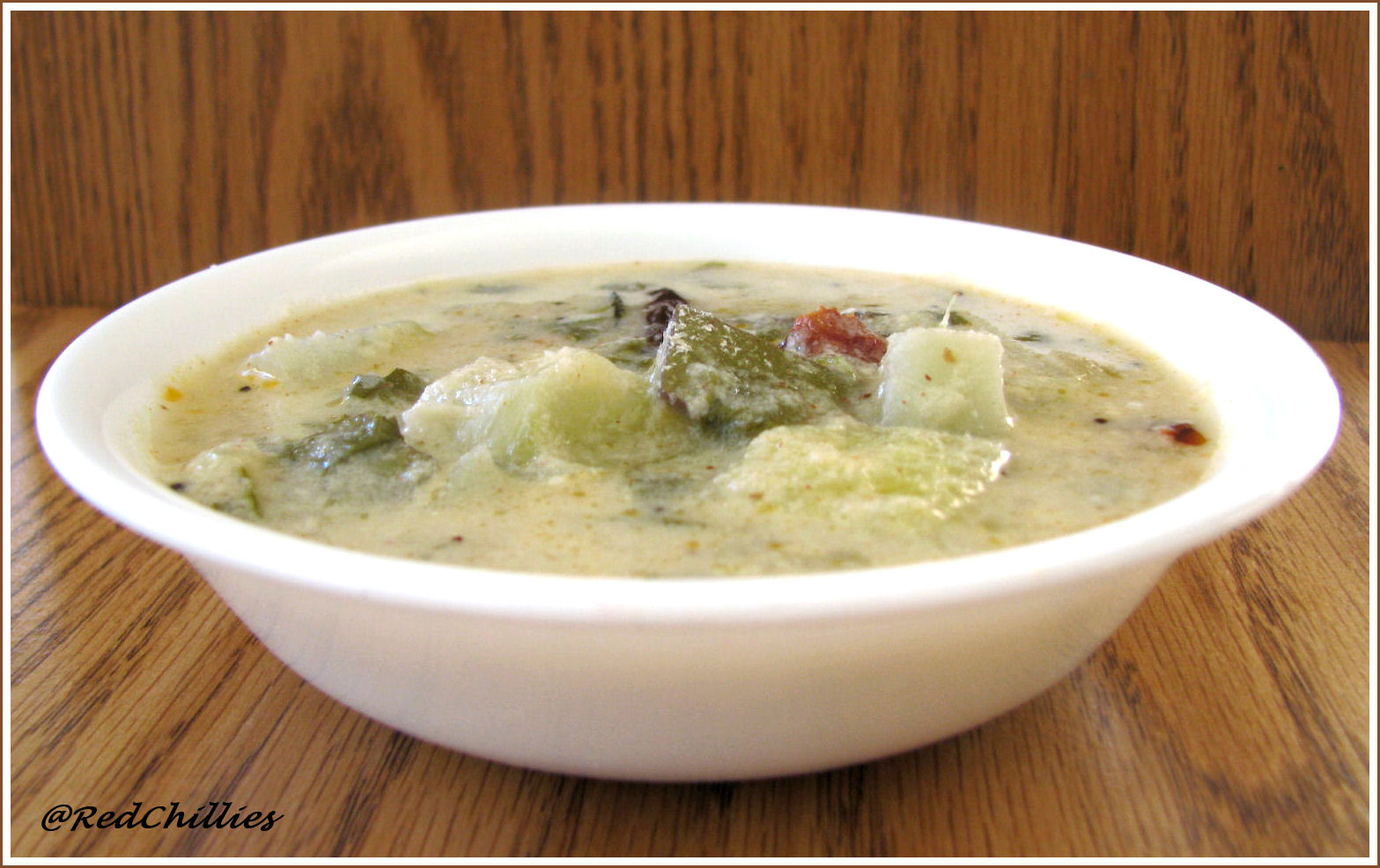 Ingredients
½ cup grated coconut

1/2 cup of chopped vegetable (I used squash, use beans, cauliflower, raw banana)

½ cup of raw mango ( use 1 tbsp tamarind paste if this is not available)

Curry leaves 1 sprig

2-3 green chillies (as per taste)

Mustard seeds

asafetida

Salt to taste

Oil

Chopped coriander for garnishing

 
Method
Boil water in a vessel and then add the chopped vegetables and the raw mango. Make sure that the vegetables get cooked. Do not discard the water.

In the meanwhile make the coconut masala by grinding coconut, green chillies and salt with enough water.

 

(Use tamarind if raw mango is not available). Make sure that the paste is very fine.

Add this coconut paste to the boiled vegetables and the water and continue to boil. Check for seasonings and add salt, chillies if required.

Make a tadka(seasoning) of oil, mustard seeds, curry leaves and asafetida and add it to the boiled coconut masala. Close with lid immediately and switch off the stove. (

Note

:

If curry leaves and asafetida are not fresh and strong then the curry will not be flavorful and may taste bland.)

Finally garnish with chopped coriander leaves.

 

Goes well with rice or with Rotis/phulkas.