Update: Based on the comments here, I understand that this dish is called "Ammini Kozhukattais". Thank you all very much for helping me put a name to this wonderful dish. I am also glad that I learnt something new.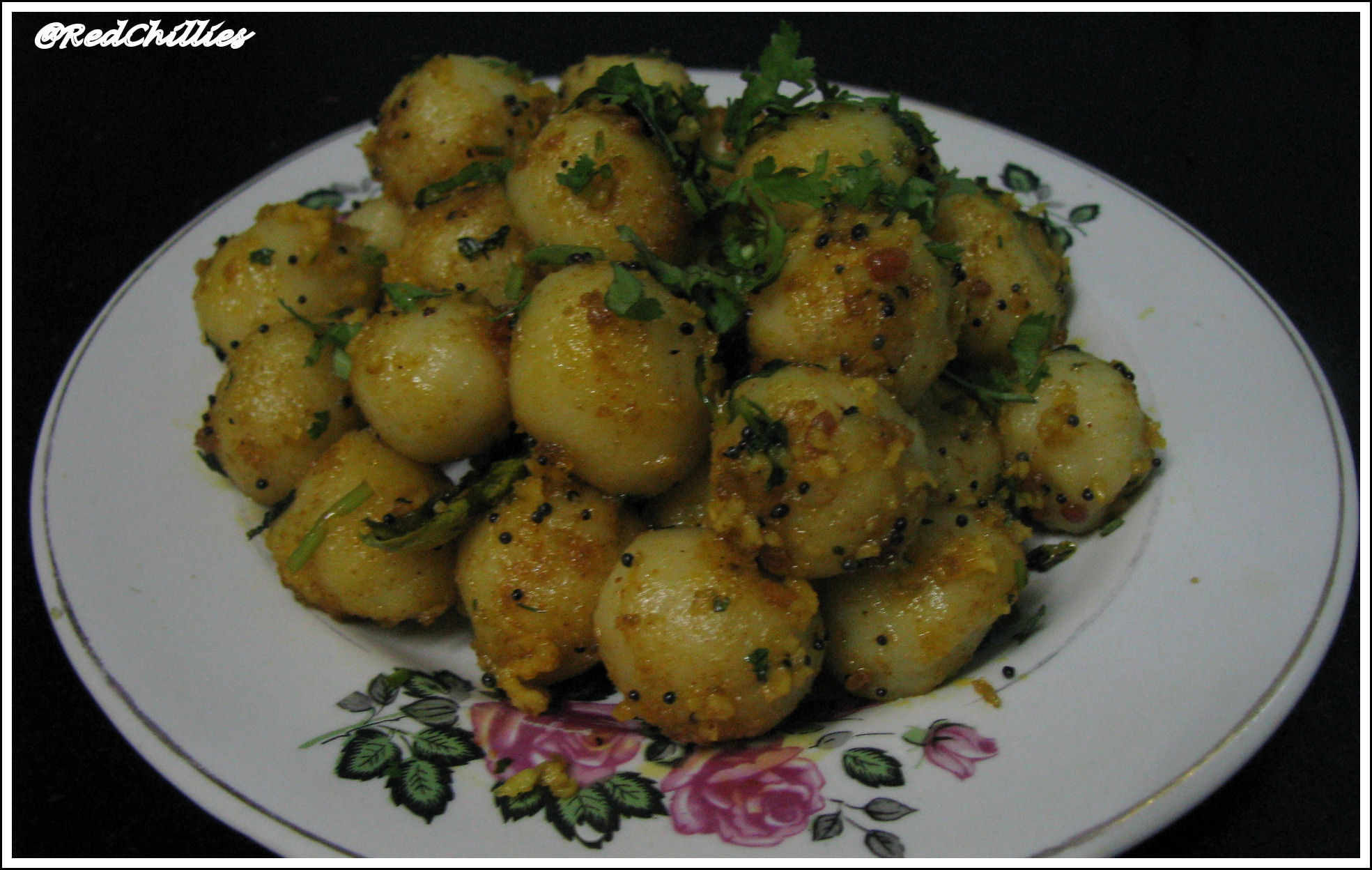 Frankly I do have the correct name for this recipe. The title that I have is the description of this recipe. I learnt this recipe from my MIL (Amma) when I was in Bangalore last month. She had seen this recipe on a local TV channel. She shares my enthusiasm for trying out and creating new recipes.  
We were discussing new recipes, when she described this new dish to me. This seemed very appealing, new and also easy to create. In fact, she proceeded to make it for us while I noted the recipe and dutifully took the picture of it then. This is light tasting and serves as a good evening snack or as an appetizer.
Rice Flour Dumplings are first prepared and then seasoned with asafetida, curry leaves, coconut etc. Since the dumpling by itself is bland, the seasoning needs to be strong and spicy. The dumpling is then tossed around in the seasoning to coat it evenly.
Ingredients
1 cup rice flour ( makes about 12 small balls)

1 cup water

Chilli powder

Salt to taste

Oil

1/4 cup shredded coconut
Seasoning/Tadka
Mustard seeds

Asafetida (Hing)

Green chillies /red chillies (per taste)

½ cup coconut

1 Tbsp urad daal

Curry leaves

Turmeric powder(optional)

Lime juice

 
Method
Take a heavy bottom pan and boil 1 cup of water, add salt, chili powder, oil, rice flour and shredded coconut. Mix well and cover with lid. Turn off the gas.

After about 10 minutes remove the lid and using sprinkle of water, mix the rice flour and make stiff dough. Be careful as it is very hot. Do not add too much water.The dough should have a consistency of chapathi dough.

Now make small balls out of these and steam it in a pressure cooker like idli.

 

Allow it to cool

.

Meanwhile prepare a tadka/tempering of oil, mustard seeds, asafetida (hing), curry leaves, urad daal, green chillies. Add the cooled rice flour dumplings. Mix well.

Finally add lemon juice, shredded coconut and chopped coriander as garnishing.