Isn't it true that simple, uncomplicated things are the ones that provide the most warmth and comfort? We had been to an Indian Restaurant last weekend in lieu of a mini-celebration and we had their lunch buffet. You know, how these Indian restaurants are with their buffets; they have a lavish spread of at least 20-25 different variety of dishes to offer, ranging from Naans/Rotis, curries, noodles, chaats, 2 deep fried stuff, 2-3 desserts, idlis/dosas, rice, biryani and what have you. All pleasing to the taste pallets but none to the heart
J
.
It is hard to resist the temptation (especially for Foodies like me) and the next thing we know, we over stuff ourselves with food. Way beyond than our normal intake.

 

We enjoy while eating it, however once we sit in the car to leave that is when we start feeling stuffed, bloated and finally guilty. Of course, we promise ourselves that we will never go to any buffets or indulge that way again, but that never happens and that my friends is another story altogether.
Moving on, so toward the later part of the evening, and when it is about dinner time, we prefer to eat something light yet comforting. Seasoned Yogurt Rice does the trick or sometimes I make this quick and easy Spicy Pongal. It is warm and comforting and best of all does not make one feel guilty. It is indulging and I have mine with a bowl of yogurt and some lemon pickle.
Pongal: Rice is cooked along with moong daal in a pressure cooker with appropriate seasonings. I add Masoor Daal also as I feel that enhances the flavor. This is optional though.
There are two varieties of Pongal, sweet pongal and khara pongal (Huggi in Kannada), also called ven pongal in Tamil. This is typically eaten during breakfast This is specially prepared during the festival of Pongal/Sankranthi. .

 

I have already posted the recipe for the sweet Pongal here.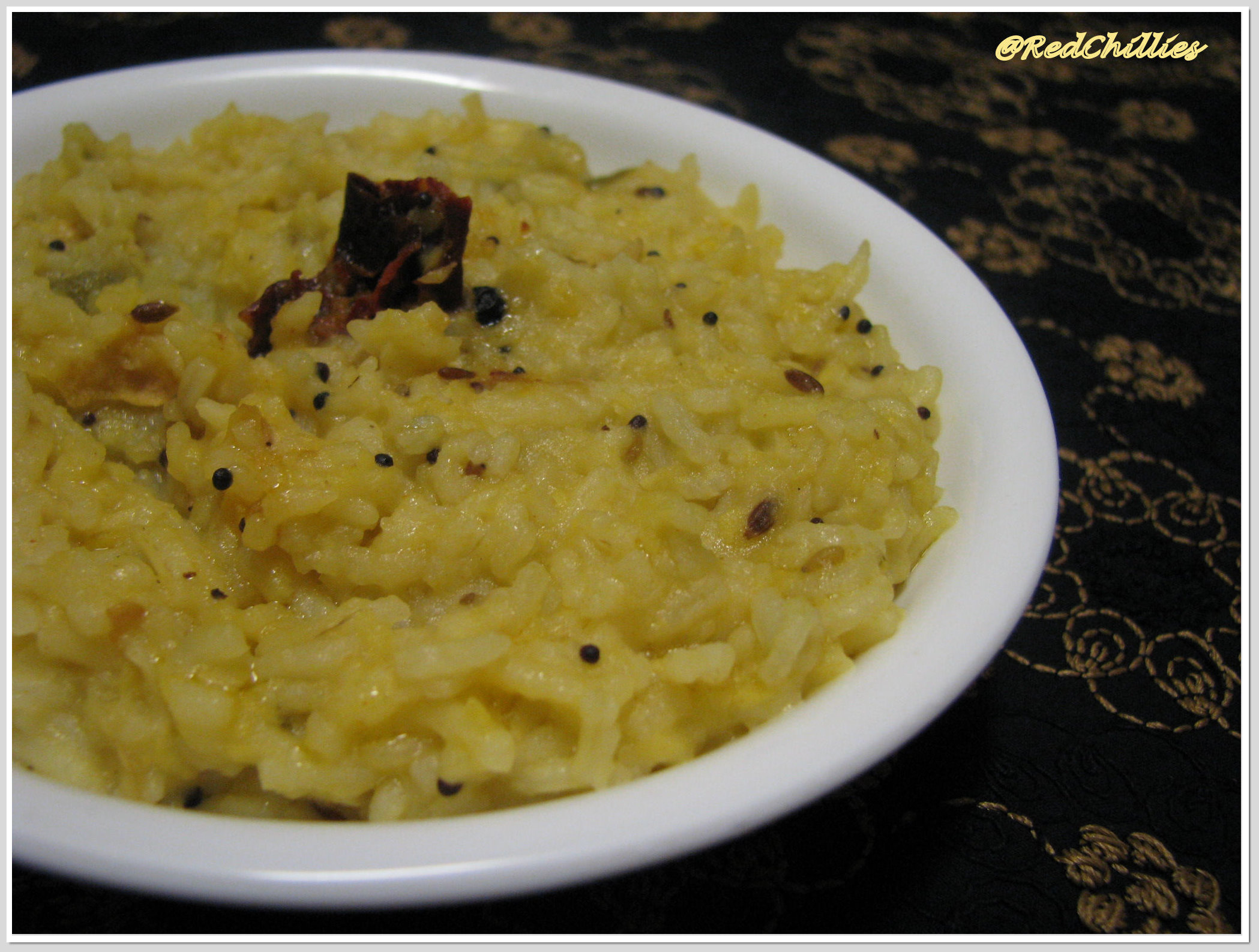 Ingredients 
1 cup rice

½ cup moong daal

¼ cup masoor daal (optional)

2-3 chillies (red/green)

1 Tbsp grated ginger

½ cup shredded coconut [ add more depending on preference]

5-10 pepper corns

1 tsp powdered pepper

 
Seasoning 
Asafetida (hing)

1 Tbsp Ghee

Curry leaves

Salt to taste

Mustard seeds

Jeera (cumin seeds)

Oil

 
Method 
Soak the moong daal, masoor daal in enough water for about 45 minutes. Soak the Rice separately in water as well.

Heat oil in a pressure cooker and add the mustard seeds. When they begin to splutter, add cumin seeds, curry leaves, asafetida, chillies and whole pepper corns.

Drain the water from the daal and rice completely and add it to the above. Mix well.

Add salt, 5 cups of water (more if you prefer this mushy) and mix well. Make sure that the rice does not stick to the bottom. Add the grated ginger, powdered pepper. Check the water for seasonings. The salt, spice should be of higher level.

Close the cooker and allow cooking until 4-5 whistles.

After the cooker is cooled down, add the ghee and shredded coconut when still hot. Ghee imparts a wonderful aroma to the dish.

 Serve Hot!