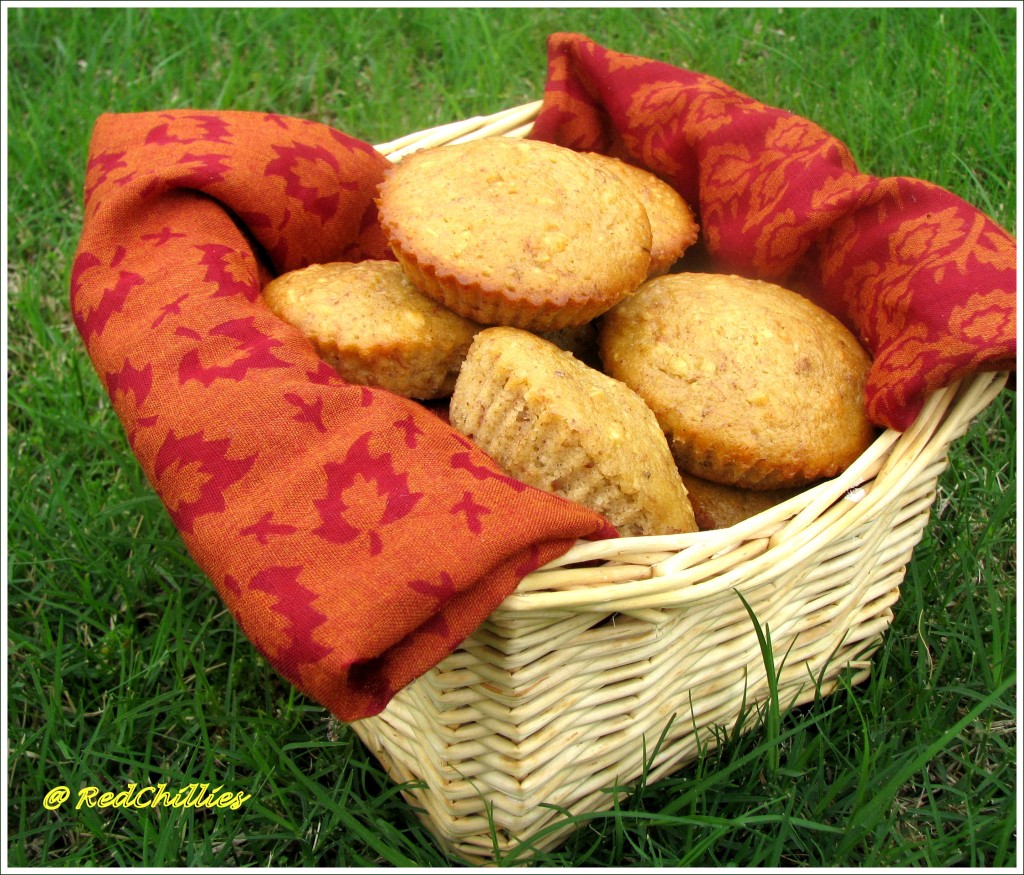 On some days during the weekends it is tricky and challenging to keep our 3.5 year old occupied. He is so used to his friends, teachers and school during the week days that he is crest fallen during the weekends, especially in the mornings. Thankfully most of the days, he does a good job of playing on his own and keeping himself entertained. But then there are other days, when he is miffed and does not seem interested in anything and those are the days when he literally keeps me on my toes.
On a good day his morning starts off by coloring some 5-10 sheets of paper, cutting paper, doing puzzles, running around the house, pouring water between containers, playing with his toys etc.
Talking of cutting, some times the activity gets a bit too far, as on some occasions he has even managed to snip some parts of his hair J When confronted he said with all innocence that his hair has grown and he was feeling sad that we did not take him out for hair cutting. So he decided to cut the hairs by himself. We had a hard time trying to contain our laughter.
Last weekend he was not his cheerful self. So I decided to kill 2 birds with one stone by making cake and also keep him busy by involving him in the baking process. That way he could bake a cake and eat it tooJ. He has shown little interest in the kitchen, mixing a thing or two, rolling out chapathis etc. But this was the first time he would be involved from start to finish. I was skeptical, but decided to try him out anyway.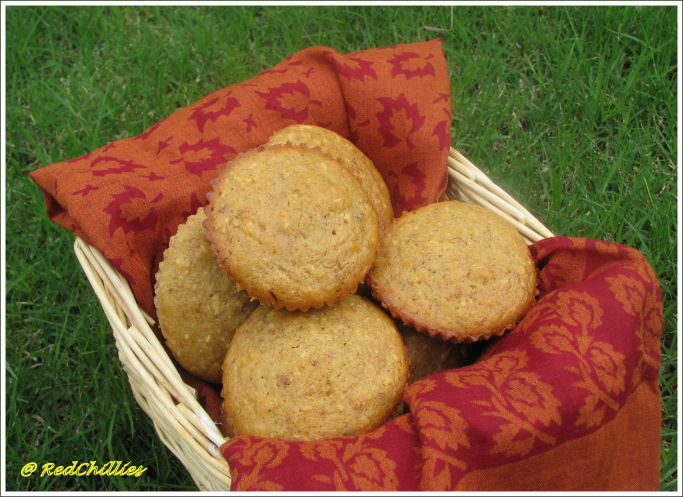 For this project I looked for some easy, eggless and little healthy recipe idea and zeroed in onto this recipe here. I tweaked it a bit to cater to my taste and decided to make it into a muffin, so that it is easier for the little one to eat.
The baking with the little boy was fun. He started with interest, but then became his usual curious, mischievous self.  For most part I was engaged in pulling out unnecessary things from his hands, cleaning and shouting "NO". I think I will wait and give him another six more months; hopefully he will be a better helper and also much more mature in handling baking projects J
Ingredients:
1 cup All purpose flour (Maida)

1 ripe banana

2/3 cup orange juice

¾ cup sugar ( I used brown sugar)

½ cup pecans (chopped finely)

1 tsp baking powder

1 tsp cinnamon powder

4 tsp shredded coconut

4 Tbsp Olive oil

Salt a pinch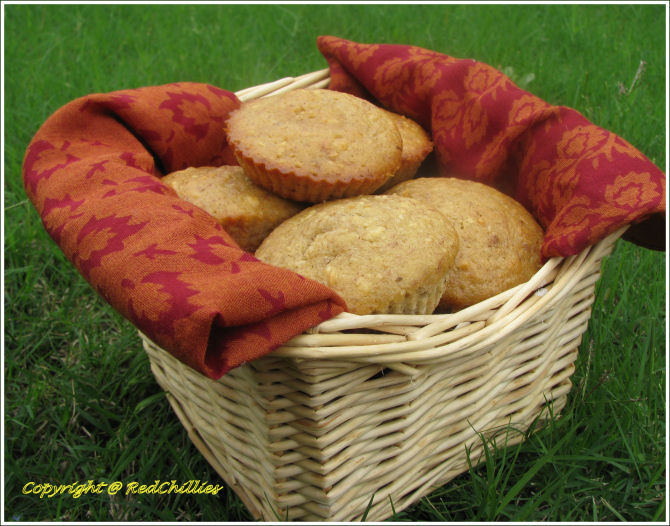 Yields:
12 medium muffins
Method:
Preheat the oven to 350 F.

In the meanwhile smash the banana with a fork or a spoon, making sure there are no lumps.

In a mixing bowl add the dry ingredients All purpose flour, Sugar, Cinnamon powder, Baking powder, salt, chopped pecans and mix well.

In another bowl, mix the Orange juice, mashed banana, coconut and whisk together. Stream in the oil and mix well.

Now add the dry ingredients in bits to the wet mixture and mix well. I used a hand mixer for this.

Grease 12 muffin pans. Now spoon the muffin mix into muffin cups until 2/3 full.

Place in the oven and bake for 25 to 30 minutes or until the knife/toothpick inserted comes out clean.