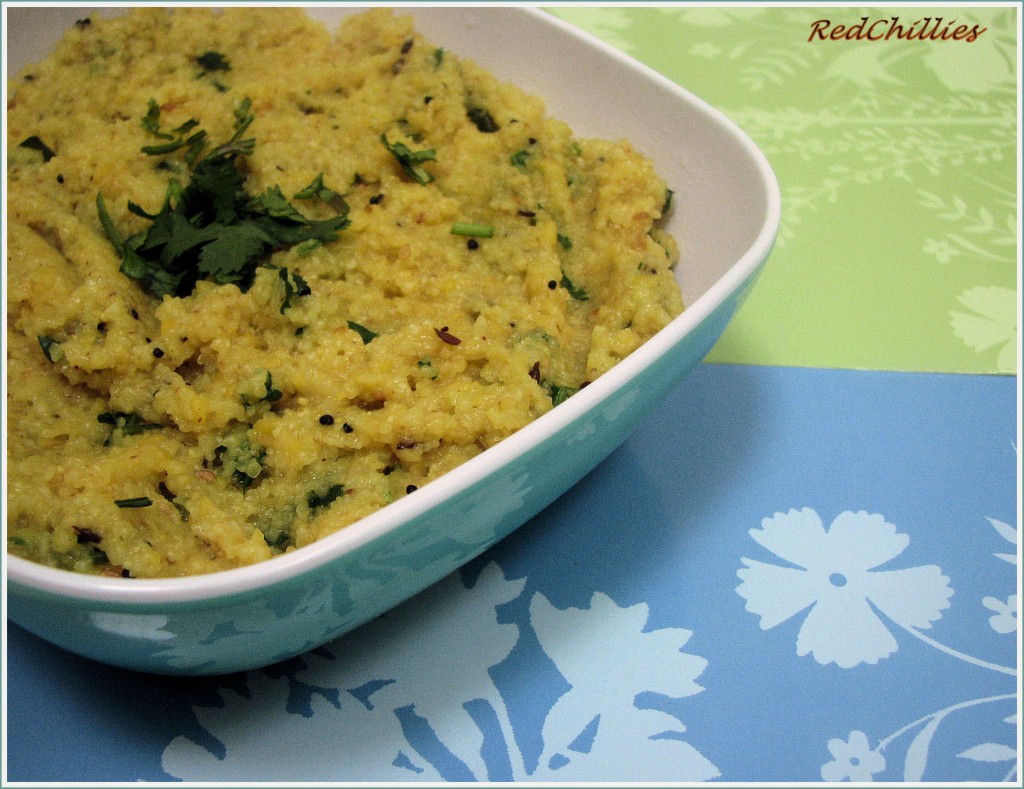 We love the regular rice based Spicy Pongal at home. I usually prepare the Spicy Pongal when I need something quick, tasty with not too much prep work; made using a combination of rice and moong daal along with ginger, pepper it makes a delicious one pot meal. I eat it with a small dollop of ghee, bowlful of yogurt and it makes a warm comforting food.
Last week I received this recipe of Rava Pongal from my parents. The ingredients are same as the regular Pongal but instead substitutes Sooji/Semolina with rice.  My mother had tried it, loved the taste and recommended to try it out soon.
I wasted no time in trying it out and loved the simplicity and the flavor of it. This is a great way to cut the carbs and increase the protein intake. The taste is pretty much like regular Upma/Uppittu minus the vegetables. The addition of moong daal does not change the flavor of the Upma.
This takes less than 15 minutes to prepare and all that without the pressure cooker. This is my contribution to the "15 minute Cooking event" hosted by Mahimaa at Indian Vegetarian Kitchen.
Ingredients:
Fine

Sooji/Rava/Semolina

– 1 cup

Moong daal – ½ or 1/3 cup as required

Cumin seeds – 1tsp

Chopped ginger -1/2 tsp

pepper -1/2 tsp

Grated coconut as per taste

Oil – 4 Table spoons

Chopped green chillies – 2 to 3

Curry leaves

Hing – ¼ tsp

Mustard seeds- 1 tsp

Vegetables (optional)

water 3 ½ to 4 cups

 
Method:
In a dry kadahi roast moong daal lightly to remove the raw smell of the daal. Allow to cool and grind coarsely (almost to powder form) and keep aside.

Heat the kadahi. Add oil. Mustard seeds, pepper, curry leaves, hing green chillies and then add rava. Roast lightly.

Then add green gram powder, cumin seeds, ginger.

Add hot water (with salt) to the mixture (like for uppit) allow for the mixture to get thick like uppit. Finally add grated coconut.

Serve hot with Cucumber raita.