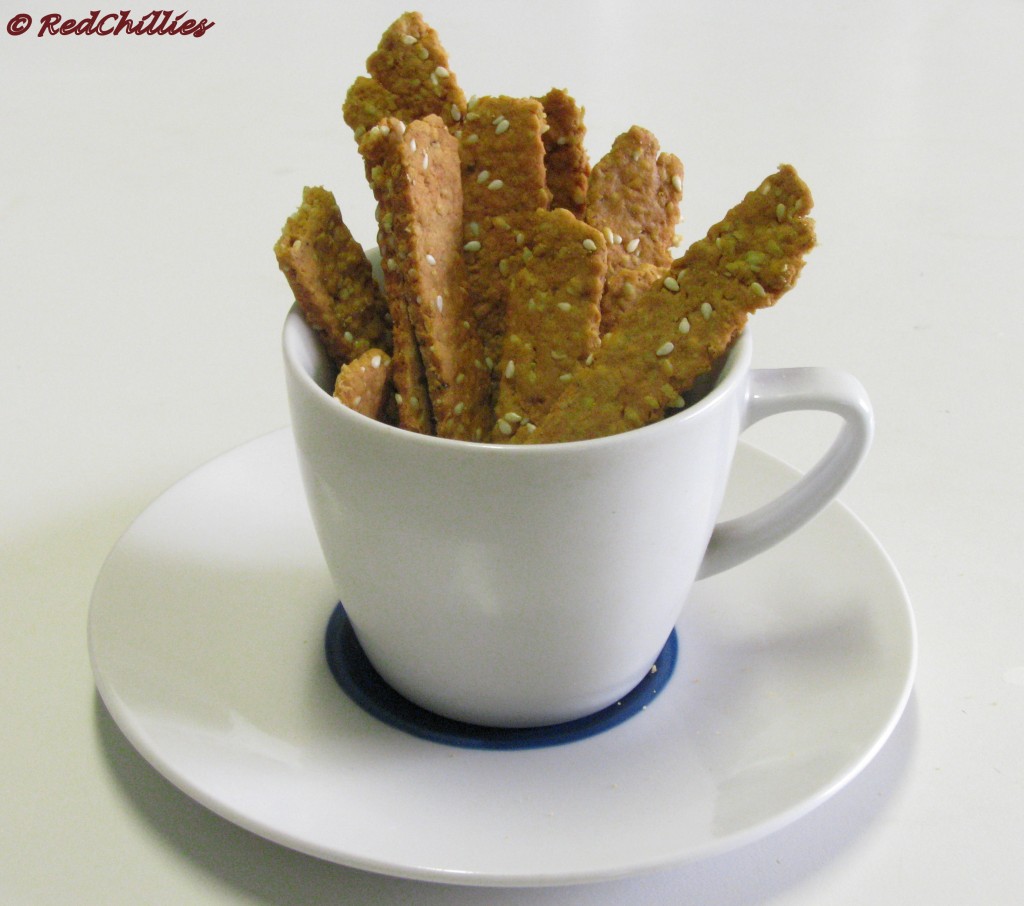 For all the readers in the US, hope you are all having a wonderful and relaxing long weekend. We had lots of activities planned for the past 2 days that I did not get much time to try out the recipes that I had bookmarked. But then today afternoon I managed to sneak into the kitchen and try out these easy, low-fat Garlic Sesame sticks.
Sesame sticks are available in many super markets here in the US. They are about 2 inches in length, quite crispy and have salty taste which complements well to the flavor of toasted sesame seeds.  Never the less they are addictive and once you start eating them, you cannot stopJ. Based on the level of crispness and the taste, I have a fair idea they have quite a big portion of oil/butter in it. I looked through many recipes on the internet indeed confirmed it. However I wanted to try a lower fat variety and this is what I came up with.
Five minutes into taking pictures, my camera battery died down and so I was not able to take many pictures. I am glad at least I found one worthwhile picture, because by the time the batteries were charged the sticks were gone J
This is my contribution to the Low Fat Baking Event hosted by Madhuram of Eggless Cooking.
This also goes to Think Spice Think Sesame Seeds created by Sunitha of Sunita's World and guest hosted by PJ of Seduce Your Tastebuds.
Ingredients:
½ cup Oats ( I used the quick cooking)

1 cup all purpose flour

2 Tbsp Butter (add more if you prefer crispy sticks, see Note below)

 

¼ cup Sesame seeds

1 tsp green chilli paste (optional)

2 tsp garlic powder

1 tsp sugar

Salt per taste

½ tsp Baking Powder

½ cup water
Method:
Note

: If you prefer a crisper version, then add an extra tablespoon or two of butter and that will definitely make this crunchy. In fact, if you are trying this for the first time, then I highly recommend adding 4 Tbsp of butter instead of 2 Tbsp.

~

Preheat the oven to 325 F.

Coarsely powder the oats, then take a big plate and add the rest of the dry ingredients including sesame seeds and mix well.

Melt the butter and add to the above mixture. This will form a bread crumb like consistency.

Add water little by little and knead to stiff dough. Keep it aside for 30 minutes.

Divide the dough into 5 portions.

Then take small balls of dough and place it in between 2 greased plastic sheets. Apply pressure and make it into flat disc. Remove the top cover and with the tip of your hands flatten the dough and make it as flat as possible.

Using a knife cut into small strips. Repeat this process with the remaining dough as well.

Place the strips on a greased cookie sheet. Bake for about 10 minutes until they are light brown

.

Turn them over and bake for another 10 minutes. Allow to cool before snacking!
 Yields: 40 sticks