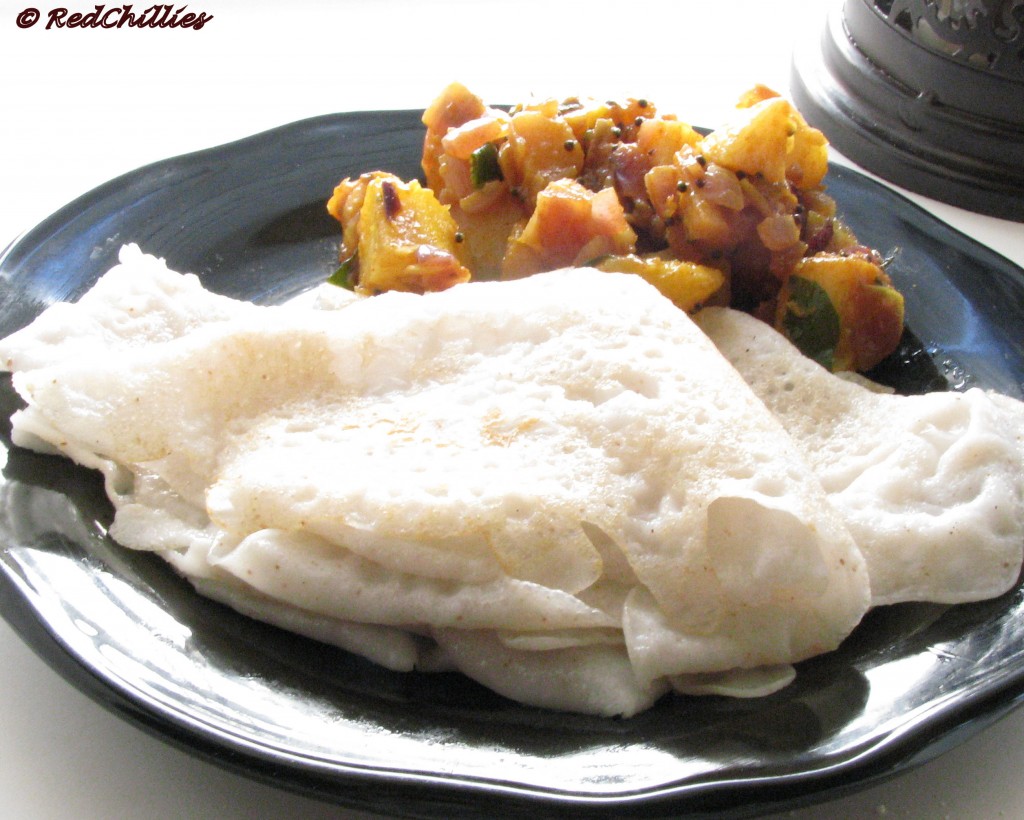 When Sia announced the RCI event as Udupi Mangalore, I was delighted. Being a Konkani and with family associations to South Kanara I can relate to that cuisine and the style of cooking. I did not want to miss the opportunity to cook and contribute to the event.
After thinking of so many different options I finally decided to make our family favorite "Pan Pole" and "Batata Song". Also when I saw this on Arch's blog, the craving for this became even stronger. If you are hearing the words for the first time, it may appear strange, but in essence these are just Dosas served along with Dry Potato Curry.
"Pan Pole" in Konkani is referred to as "Neer Dosa" in Kannada. These are soft, leafy thin Dosas made with just rice and coconut. Coconuts are used in plenty in Konkani style of cooking. It is not an Instant Dosa per se, as grinding is required for the batter; however no fermentation is required for this Dosa. This is served during breakfast along with chutney, coconut jaggery mixture or even Potato Curry that I made.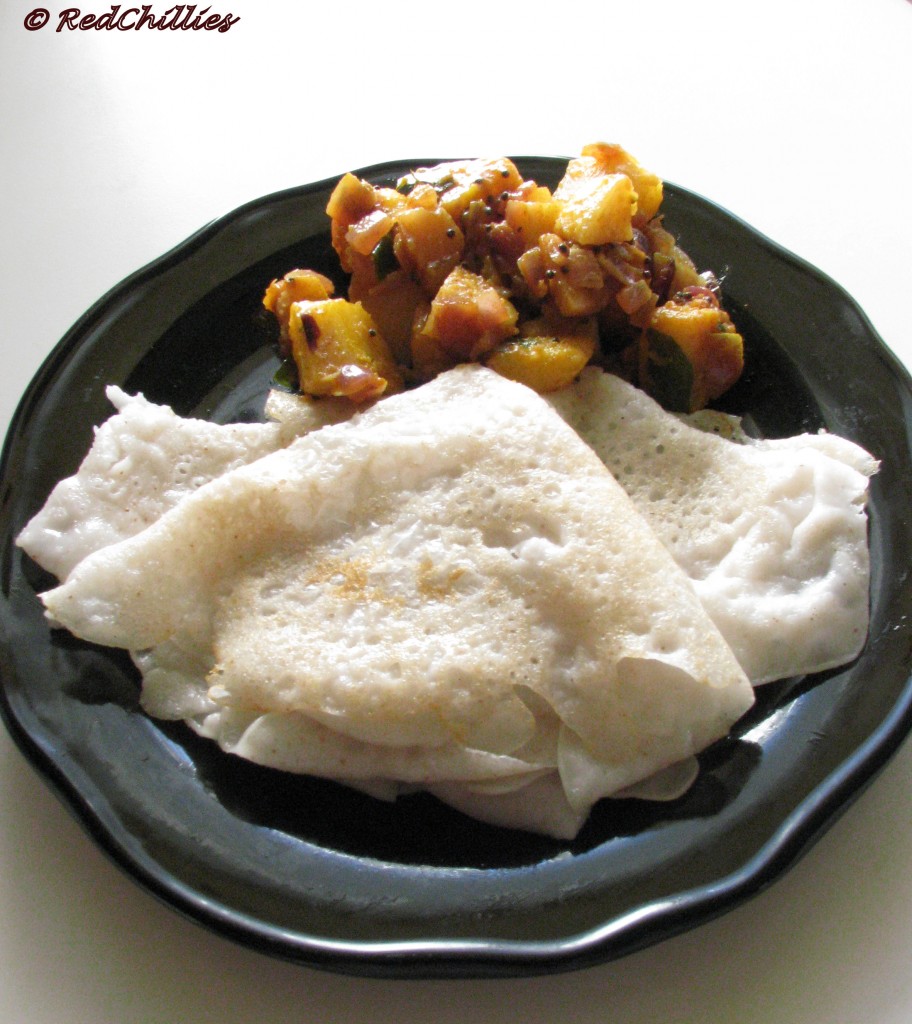 Ingredients: up1/1.1.5
1.5 cups – Raw rice

 

soaked overnight( I used Sona Masoori rice)

1 cup – Freshly grated coconut

Oil – as required to grease
Method:
Soak the raw rice overnight in enough water after few changes.

Next day drain out the water and grind the rice along with coconut to a fine paste with just enough water. Add salt to taste.

Once it is ground add more water and make a thin and watery batter.

Heat a flat griddle or tawa on moderate heat. ( I used my regular cast iron Tawa for this).

When the Tawa is hot, sprinkle some water over it. When the water has evaporated pour a ladle of batter and spread around the tawa to make a thin dosa. (This minimizes the sticking to the Tawa).

This batter cannot be spread out like a regular Dosa. Add small amount of batter where there is spaces. In fact, more holes the better.

Add oil around the dosa and cover with a lid. This Dosa is cooked only on one side.

After the Dosa is cooked, take it off the tawa and fold it on shape of triangle while serving.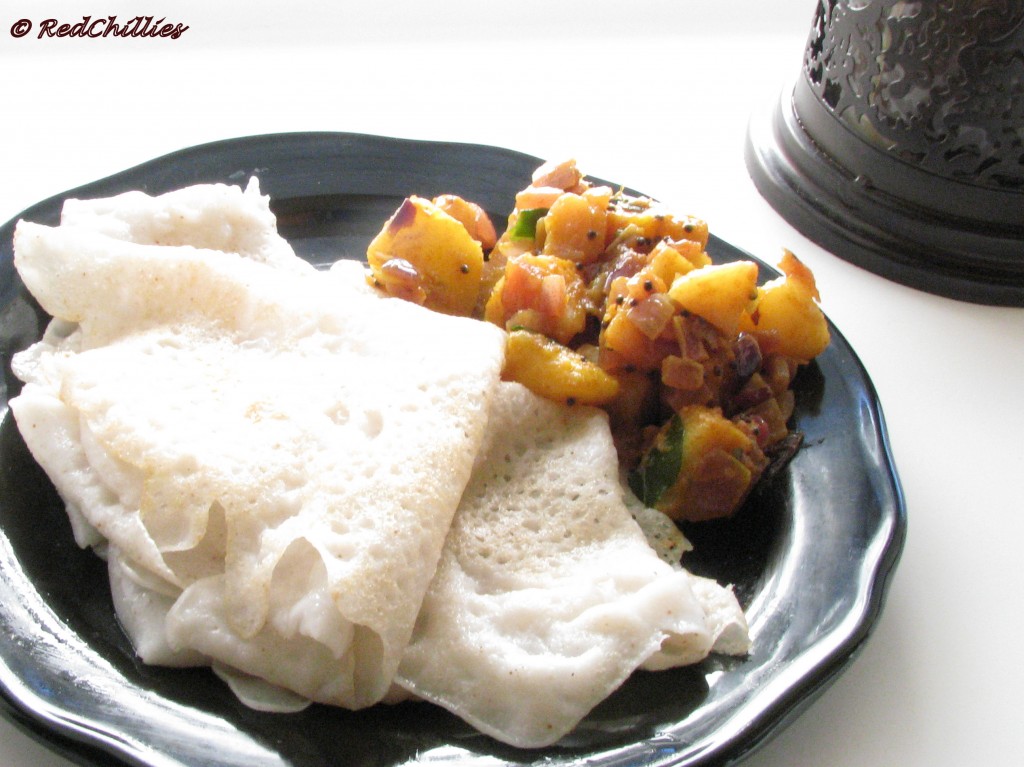 Batata Song/Saung (Spicy Potato in Tamarind Curry)
Batata Song is a Konkani dish made of Potatoes and cooked along with tamarind and red chillies. It is both spicy as well as sour and goes well with the Pan Pole. I still am not sure why it is called a 'Song' or the origination of that word because Konkani as such does not have a word called 'Song'. This curry can also be used as a side dish for Rice, Rotis/Chapatis.
I use the recipe for this from here but I do not use the coriander seeds for this.
Ingredients: up1/1.1.5
1

medium Onion chopped finely.

 

3 medium Potato boiled and chopped into bite size pieces.

 

3-4 whole Byadgi Red Chillies
Method:
Roast Red Chillies in a little bit of oil. After it is cooled grind together with tamarind paste and little bit of water.

Take a heavy bottom pan, and add oil on medium heat.

Add the chopped onions and cook until it is sautéed.

Now add the ground paste, salt and mix well. Finally add the cooked potatoes.

Add some water to bring it the consistency of a semi-dry curry.
This is my contribution to RCI-Udupi & Mangalorean Cuisine hosted by Sia at Monsoon Spice. The event is a brain child of Lakshmi of Veggie Cuisine initiated an event.