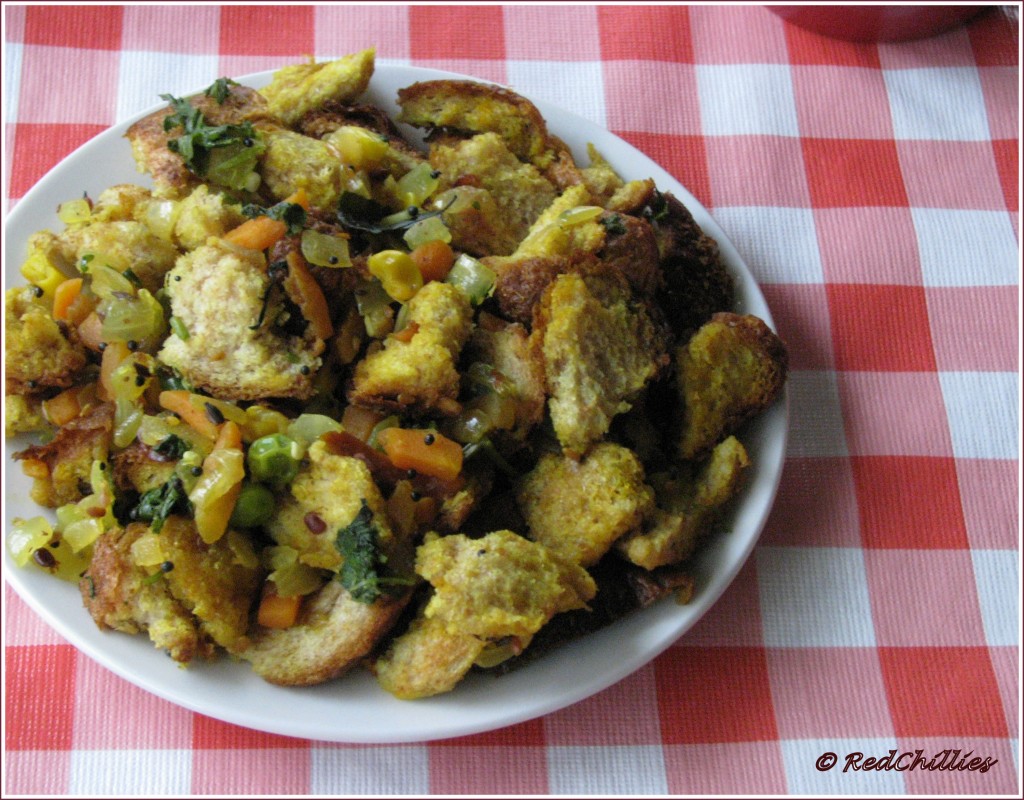 This is an easy one to prepare if you are looking for a quick fix, healthy dish. This is also a good way to use up the day old bread from the pantry. 
Even though the list of ingredients looks long, most of them are used only as tadka/seasoning. The star of this dish is the seasoning. Bread chunks are then tossed into the seasoning, which then takes up the flavors of the seasoning and along with cooked onions forms a wonderful taste. This can be eaten for breakfast or as a quick snack.
Ingredients:
8-10 bread slices ( I used whole wheat, plain bread should be fine too)

¾ cup chopped onion

Cooked Peas, carrots, corn (optional) ( I used frozen vegetables)

Shredded coconut(optional)

Curry leaves

2-3 slit green chillies

Chopped Coriander leaves for garnishing

1 Tbsp urad daal

Mustard seeds, Cumin seeds

Salt, Oil, Sugar

Turmeric
Tear the bread into bite size pieces (If required remove the crust from the bread, I did not remove it). The pieces can be uneven, sprinkle salt, sugar toss well and keep aside.

Meanwhile take a wide pan, add oil on medium heat. Put in the tadka ingredients cumin seeds, mustard seeds, curry leaves and urad daal.

Stir until the urad daal turns light brown in color.

Add the chopped onions, green chillies and sauté until the onion turns translucent.

Put in the vegetables, turmeric and cook. Add the bread pieces and mix until the tadka has coated properly. Add coconut (optional) and chopped coriander leaves.

Cover the lid for a minute. There is no need to cook for a long time.
Serve hot!