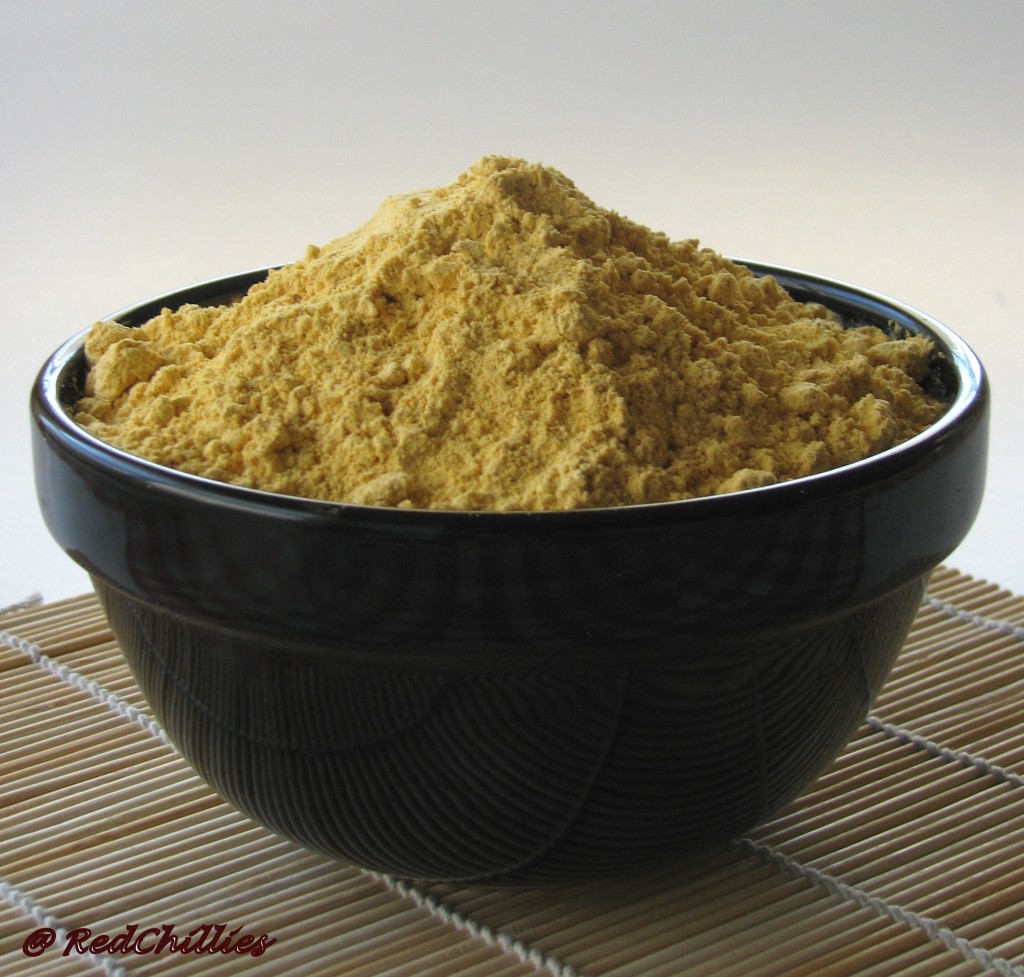 D
DH quite recently had to go to India for his office work and on his return brought back lots of munchies and goodies. Without any surprise MIL, my parents fondly sent back stuff that would last for almost 6 months. While unpacking the goodies, I also saw this big packet of Spiced Lentil Powder sent by my mother.
The Spiced Lentil powder called as MethKoot/Methi Coot (Marathi/Konkani), Menthe Hittu (Kannada) is basically roasted Lentil, spiced with roasted cumin seeds, fenugreek, ginger, pepper etc and ground to fine powder. Methi or Menthe refers to Fenugreek seeds. Just by itself this is a spicy dry powder with no taste of its own, but once it is mixed with hot rice, dollop of ghee/oil and pinch of salt magic happens and the taste is simply divine.
Growing up, we always used to have this powder stacked up in a yellow green container.  For me and my brother it used to be our go-to meal whenever we did not find food to our liking. We would eat it during those mid-afternoon cravings or when we wanted something light. Because of the presence of lentils, even small quantity fills up the stomach pretty fast.
This is my Mother's recipe for making the powder. In fact, the powder in the picture is also of the one she sent me.  The 'dutiful' daughter that I am promptly took the picture and intend to save the recipe for future reference.
Thank you very much for the recipe dear Aayi, Baba I hope to cherish this forever.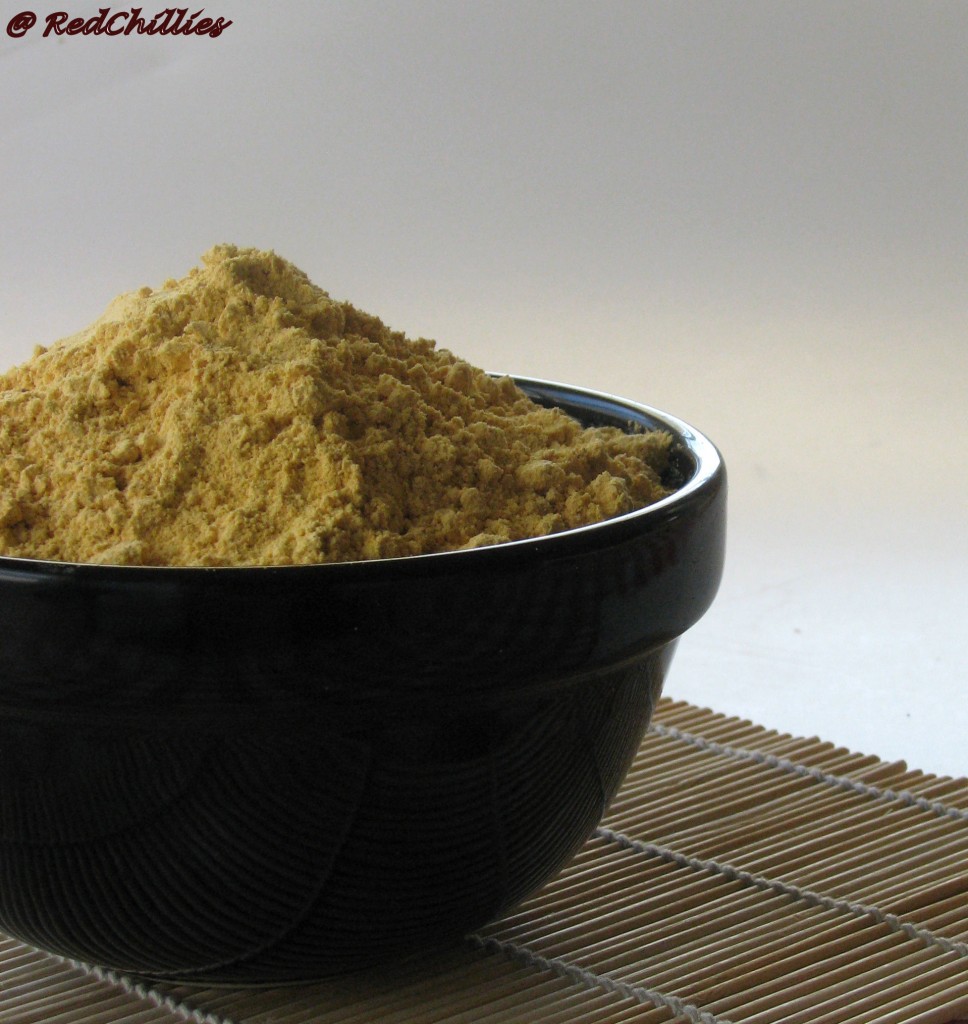 Ingredients:
 

2 cups cup bengal gram/chana daal

1 cup black gram/urad daal

1 cup Hurigadale(Roasted and puffed Bengal gram)

1 to 1 ½ Tbsp Black Pepper

2 tsp fenugreek seeds (methi seeds)

4 to 5 dried red chillies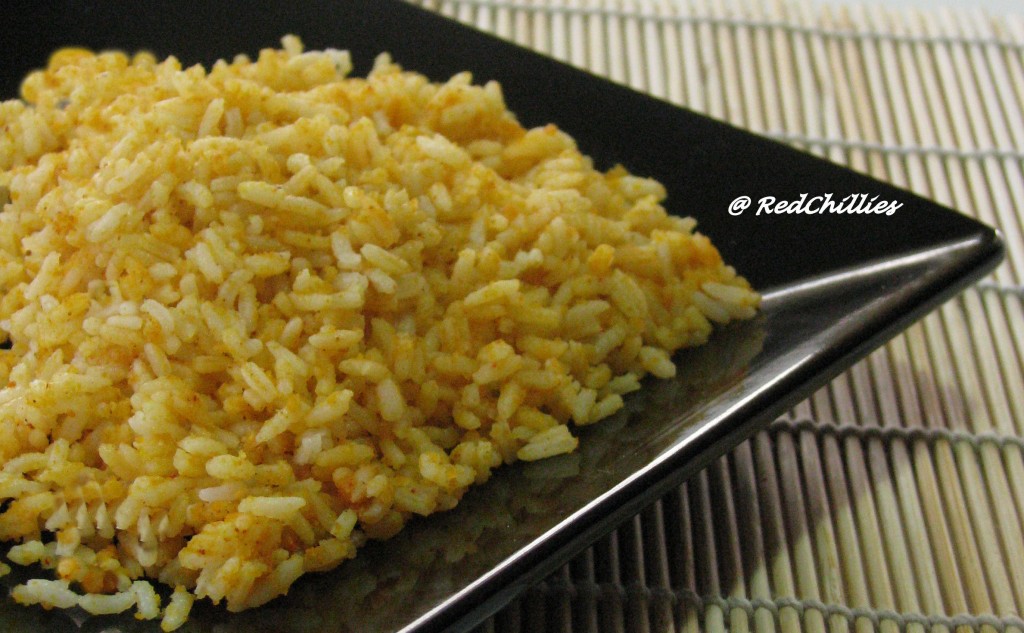 Method:
Dry roast all the ingredients separately in a heavy bottom pan(except the turmeric, Hurigadala, Ginger and salt).

Roast until the lentils get a light brown color, do not over roast or burn it. The roasting part requires plenty of patience.

Grind everything to a fine powder. (Do not add water to this).

This powder lasts for weeks and even months without problem. Make sure to store it in an air tight container.

Serving Instructions

: Take a cup full of hot rice, put in a dollop of ghee (clarified butter)/oil , 1 Tbsp of this Spiced Powder, salt and mix well with hand so that the spiced powder gets evenly coated on the rice. Eat immediately, instant heaven 

J

Note: If you do not want to use ghee/oil, then by all means use yogurt, buttermilk. But the difference in taste is day and night.