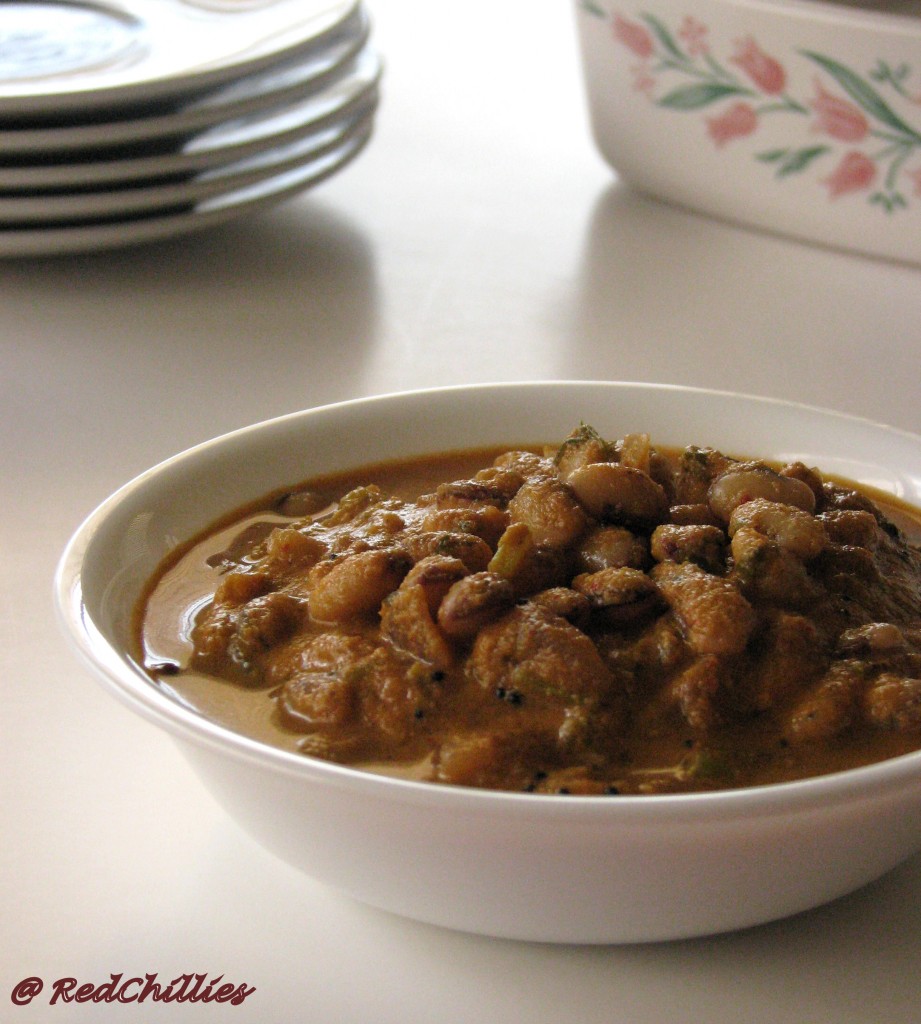 Avarekalu is the name for Hyacinth Beans in Kannada. This is also known as the Val Bean, Wild Field Bean and Indian bean. Avarekai is available in Indian stores under the name 'Surti Papdi Lilva', usually in the frozen section.
These beans have a slight bitter taste compared to the other beans, but adds great flavor to the foods they are cooked with.
I made a simple coconut based curry with these beans. The curry is referred to as Koddel (Konkani) because this has garlic seasoning. My MIL makes this often and also adds chopped onions in the seasoning. The combination of onion, garlic and the cooked beans makes a great combination. Tastes well with Rice or Chapathis.
On a side note, if are you interested in reading about these beans and how Bangalore got its name, then check this link. It is very interesting story with a good write up by the author.
1 cup flat beans/Field Beans/Avarekai/Surthi Papdi Lilva (fresh/dried/frozen)

3-4 garlic pods peeled and crushed

Oil (preferable coconut oil)
To make the coconut masala
3-4 red chillies ( I use Byadgi Red Chillies)
Method:
If using the dried beans variety, soak the beans in enough water overnight. (If using fresh or frozen skip this step).

Next day pressure cook the beans until they are soft. Make sure they are not overcooked.

Make the coconut masala, by grinding coconut along with red chillies, salt, tamarind, water and coriander seeds. The masala should be made into a very fine paste. Add more water if required.

In the meanwhile heat up a thick bottomed pan.

Add the coconut paste and the cooked beans together, boil until the raw smell of coconut is gone.

Add more water if necessary. Check for taste and adjust the seasonings if required.

Note: The Tadka/tempering is done after the coconut curry is boiled along with the coconut masala. Now separately make a tadka(seasoning) of oil, mustard seeds, curry leaves, chopped onions and crushed garlic.

Add this to the boiled coconut curry and close the lid. Mix well before serving.