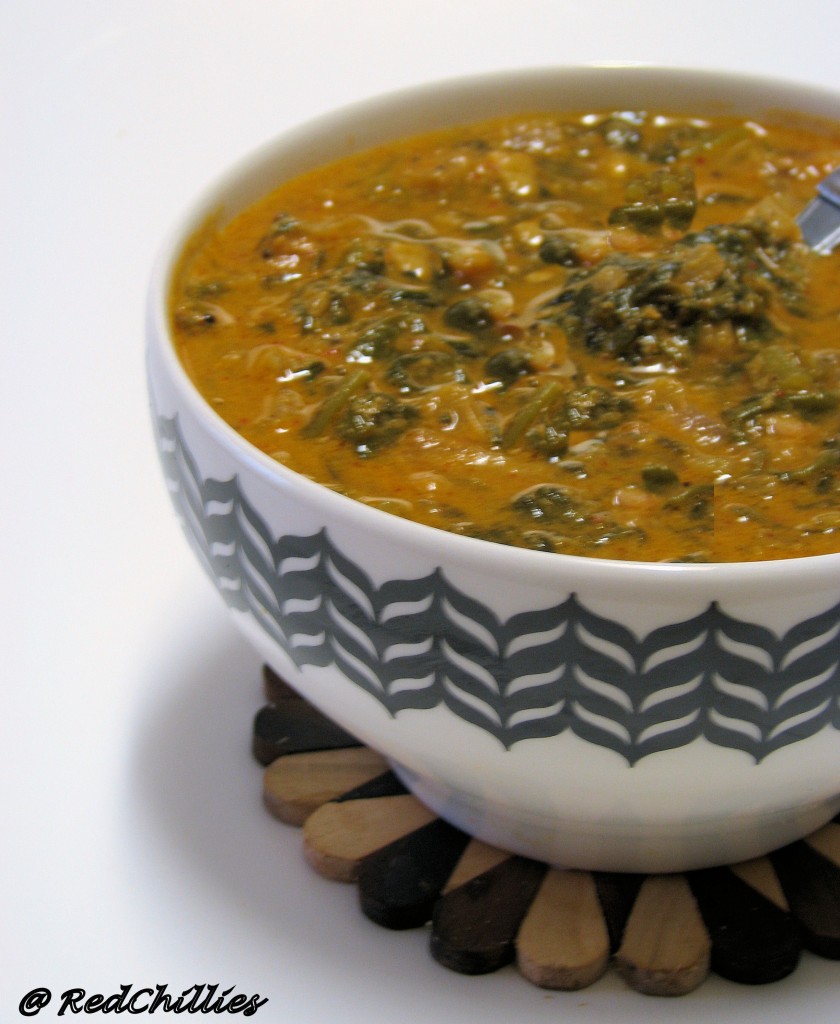 Malabar Spinach is also referred to Indian Spinach, Ceylon Spinach.  It is called as pui shak in Bengali, Vaali bhaaji in Konkani, basale soppu in Kannada and as bachhali in Telugu. Typical of leaf vegetables, it is high in vitamin A, vitamin C, iron, and calcium. It is low in calories by volume, and high in protein per calorie. (Source: Wiki)
In Bangalore we had these plants growing in our yard. They are a fast-growing, vine reaching up to 10 m in length. They are thick, semi-succulent, and have a mild flavor. They hardly required any maintenance and the more we cut the more they grew. We would gladly provide this to our neighbors and enjoy their variation of curry. They are sticky after they are cut, but then it looses its stickiness after they are cooked.
The coconut curry is a Konkani delicacy and is prepared pretty much the same way by my mom and also MIL.
This is my contribution to the event "Think Spice…. Think Red Chillies"  an event hosted by Lakshmi. This event is a brain child of Sunita Bhuyan of Sunita's World. I have been a bit behind in event participation, however for obvious reasons I did not want to miss this event. 🙂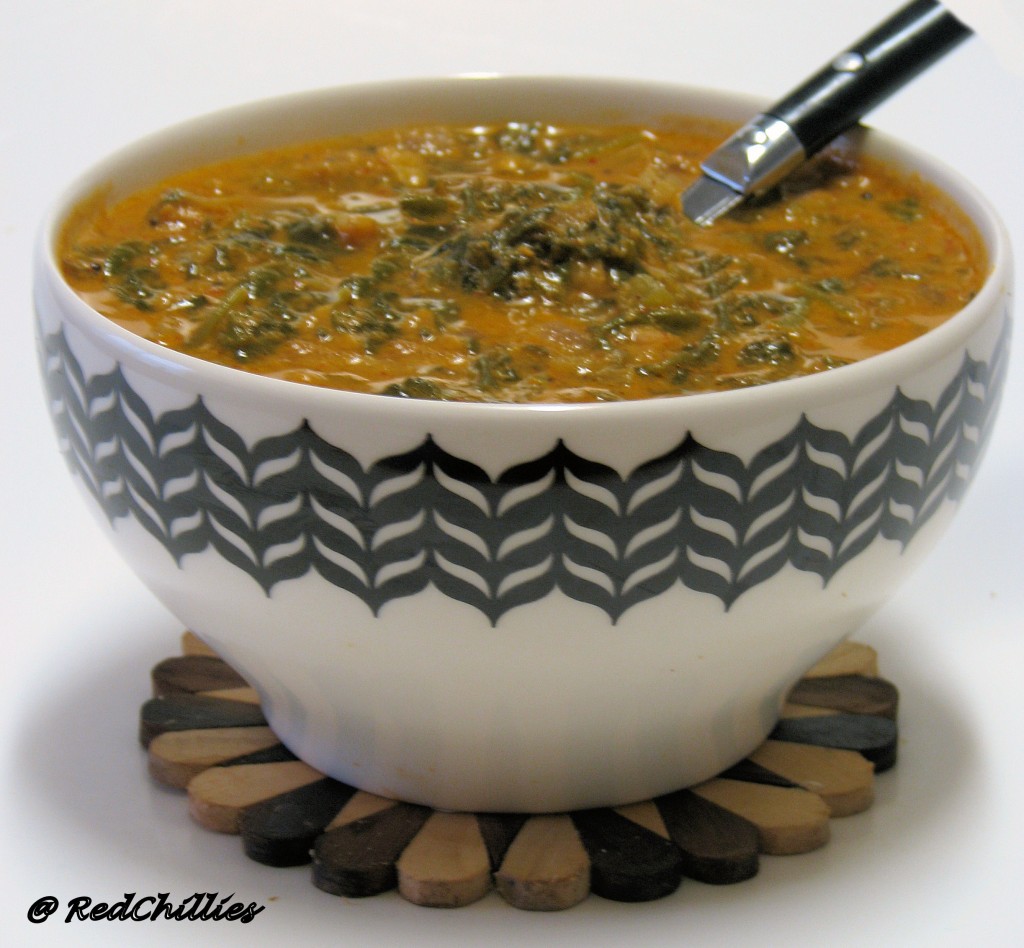 Ingredients:
 3 cups of chopped packed Malabar Spinach (Along with the soft stems)
 ¼ cup Toor Daal
 ½ cup chopped onion
Curry leaves
3-4 garlic pods peeled and crushed
Little jaggery (optional)
Oil
To make the coconut masala
3/4 cup shredded coconut
1.5 tsp coriander seeds 
1/2 Tbsp tamarind paste
Salt
 3-4 red chillies ( I use Byadgi Red Chillies)(roasted)
Method:
Roast the coriander seeds in little oil. After that roast the Red Chillies and keep aside.
Pressure cook the Toor Daal along with the chopped Malabar Spinach (Vaali Bhaji).
Make the coconut masala, by grinding coconut along with red chillies, salt, tamarind, water and coriander seeds. The masala should be made into a very fine paste. Add more water if required.
In the meanwhile heat up a thick bottomed pan. Add the coconut paste and the cooked greens, toor daal, jaggery (optional) boil until the mixture blends well. Simmer.
Check for taste and adjust the seasonings if required.
Make a tadka(seasoning) of oil, curry leaves, chopped onions and crushed garlic. Let the garlic turn brown and onion transparent.
Add this to the boiled coconut curry and close the lid. Mix well before serving.