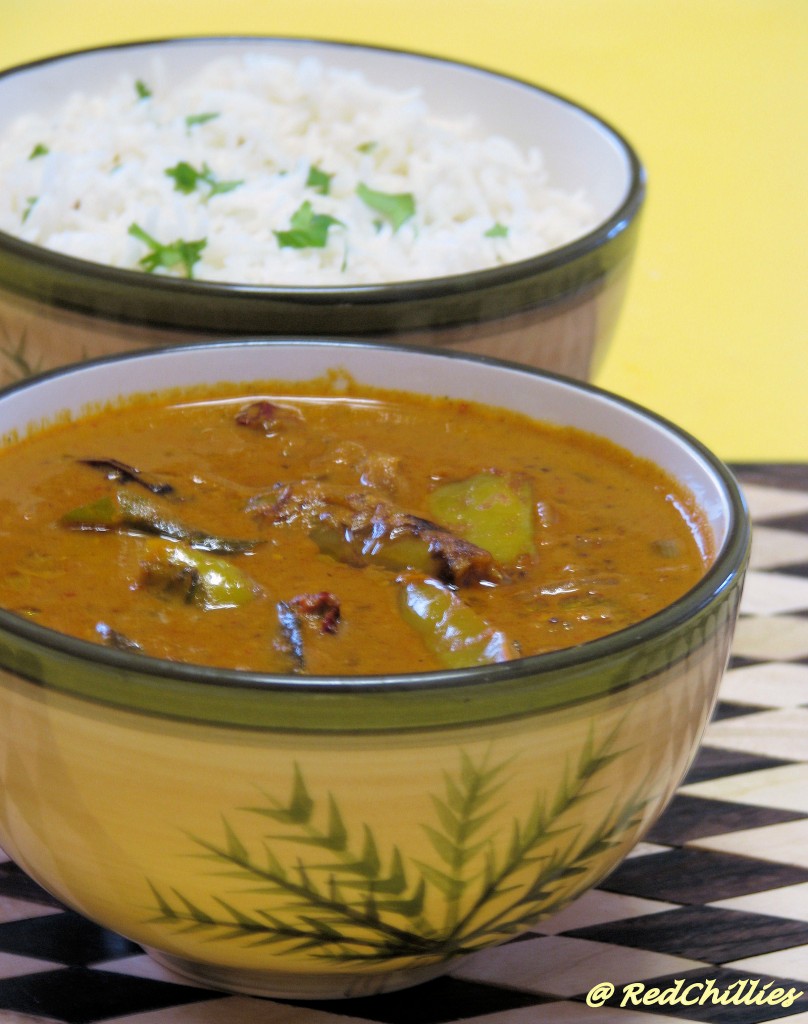 Time flies and how! This year's Diwali is also over. But then hope you all had a wonderful and a blessed Deepavali. We had a crazy time both on the home front and the work front and so could not post any Diwali related sweets and savories. Compound to that both me and my son fell sick and so we had a very subdued festival this year. Ah! But that is life and now hopefully things are coming back to normal.
Coming back to this recipe of Mirchi Ka Salan, we had this quite recently at one of our friend's place for dinner along with Ghee Rice and Raita. This was a new dish for us (OK not the name, but the taste), but we enjoyed the sweet-spicy-tangy gravy along with hot rice. We enjoyed it so much that we promptly took the recipe and could not wait to try it at home ourselves.
For those not familiar with this dish, Mirchi ka salan is a spicy-sweet-tangy curry made of roasted chili, peanut, sesame. This is a popular dish of Hyderabad and is traditionally this is accompanied with chicken or Vegetable Biryani. Even though the title says 'Mirchi' (Chilli), this is not spicy and the spice level can be altered based on taste.
We tried making this at home few weeks ago and I enlisted the help of DH for this as he has a penchant for cooking traditional, exotic stuff. As we proceeded we realized that it is not all that difficult to make. Couple of attempts and we should be well on way cooking like a pro. We enjoyed the combination of peanuts, coconut, and sesame gravy with Rotis and plain Rice.
Ingredients:
 7-8 Yellow banana pepper / jalapeno pepper/ (deseeded) (if they are long cut into 3 pieces)
 2-3 garlic pods grated 
 Ginger grated
 ¾ cup chopped onion
 oil
Masala for grinding
 ½ cup shredded Coconut
 ½ cup peanuts/groundnuts
 2-3 Red chillies
 1 Tbsp Coriander seeds
 2 tsp Jeera/cumin seeds 
½ tsp methi/fenugreek seeds
 2 Tbsp Sesame seeds
 3-4 Cloves
 2-3 Cinnamon pieces
 1 Tbsp Tamarind paste
 Salt
 jaggery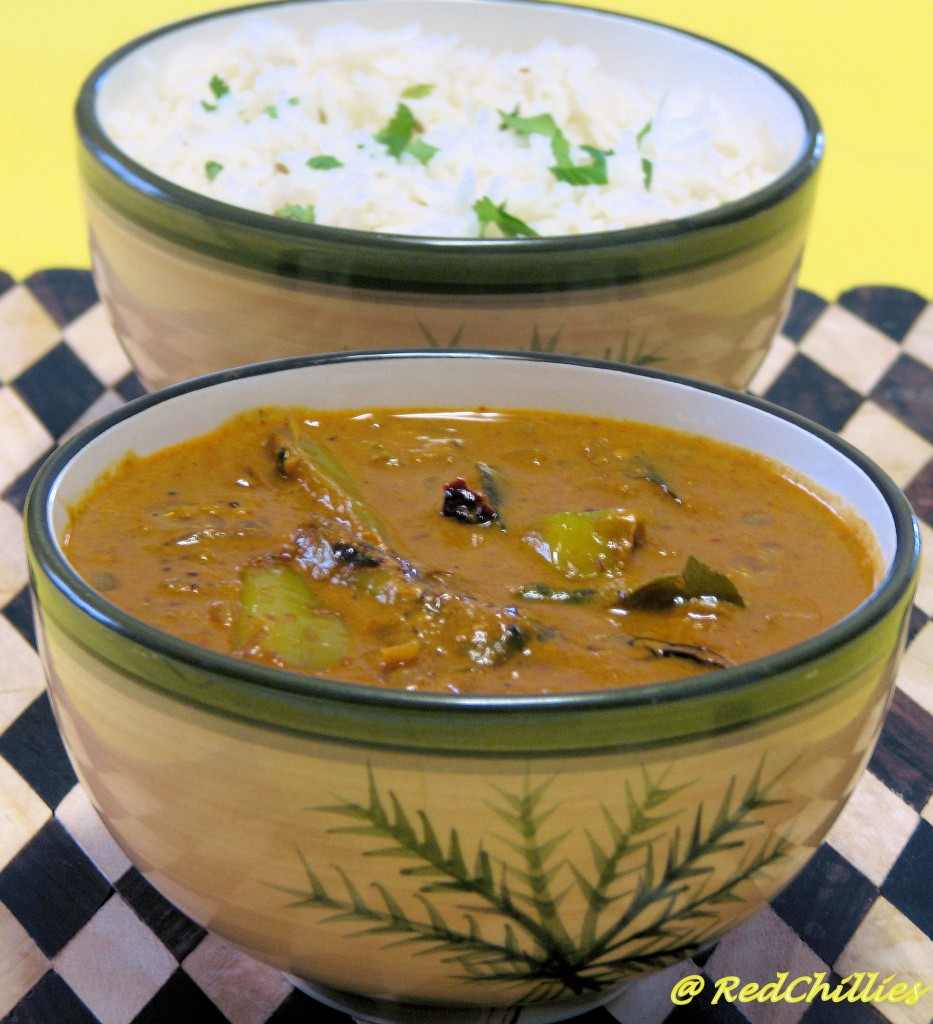 Method:
 Lightly roast the methi seeds, sesame seeds, cloves, cinnamon, coriander seeds, jeera seeds until they acquire light brown color. Keep aside.
 In the same pan, roast the peanuts until you are able to separate out the skin. Keep aside to cool and remove the skin completely.
 In a heavy bottom flat pan, on medium heat add some oil and roast the whole pepper until it is mildly charred. Keep aside.
 Meanwhile grind together coconut, red chillies, tamarind paste, jaggery along with the items roasted in step 1 and step 2. Add water as needed.
 In the same heavy bottom pan, add oil, then garlic and ginger. Then add the chopped onions until it is brown and translucent.
 Add the ground masala to this and mix well. Allow to boil and add water if required. We prefer the gravy to be thick, so I did not add too much water.
 Finally add the roasted pepper to this gravy and cook by covering the lid for about 5 minutes. 
 Goes very well with Biryani, Plain Rice, Rotis/Chapathis and with Raita on the side.