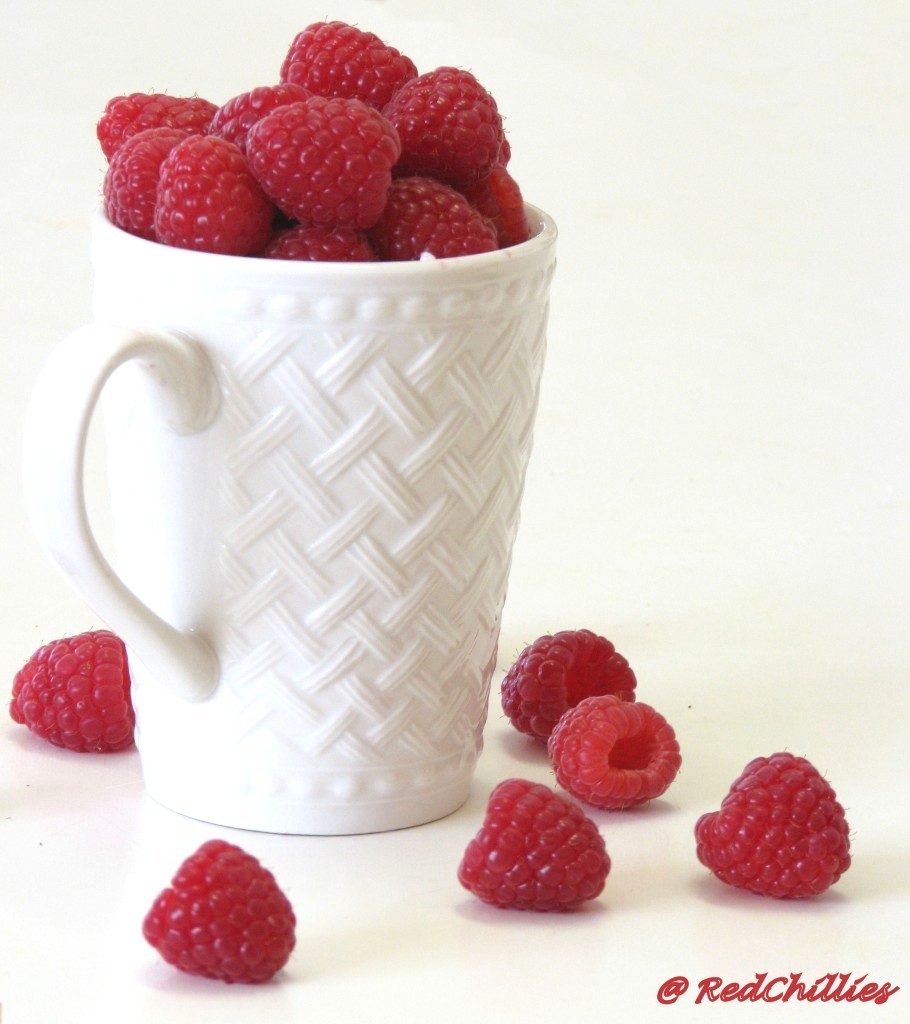 As you might already noticed the first two pictures are quite different from the last one. I did take the earlier pictures when I had the energy and enthusiasm, but not so much with the last one though. Frankly it was not meant to be that way. Two weeks ago I had brought a big box of fresh and juicy raspberries with plans of using them in some baking experiments. But alas that was not meant to be, the baking escapade did not materialize. I fell sick for few days and did not have the energy to work, cook, bake or eat.
The raspberries just sat in the fridge waiting for their turn to be used up and that is when DH used them to make this wonderful tea.  Now DH and I have opposite choices when it comes to tea. I swear by hot tea made using cream and sugar the Indian way, where as he swears by ice tea and finds delight in trying out some 'weird' combinations chamomile, lemon grass, spearmint…you get the idea. This tea was an exception however and for a change I enjoyed the taste. I would like to think that it was the high fever, cough that did the trick, but I am willing to give this a good benefit of doubt.
This is a very easy tea idea and is more of a guideline than a recipe. Even though the tea does not look appetizing in this picture, trust me the flavor and the aroma is just heavenly. It had that warm, nourishing feeling that regular black tea would just not do it. Substitute raspberry with other fruits like strawberry, blackberry etc.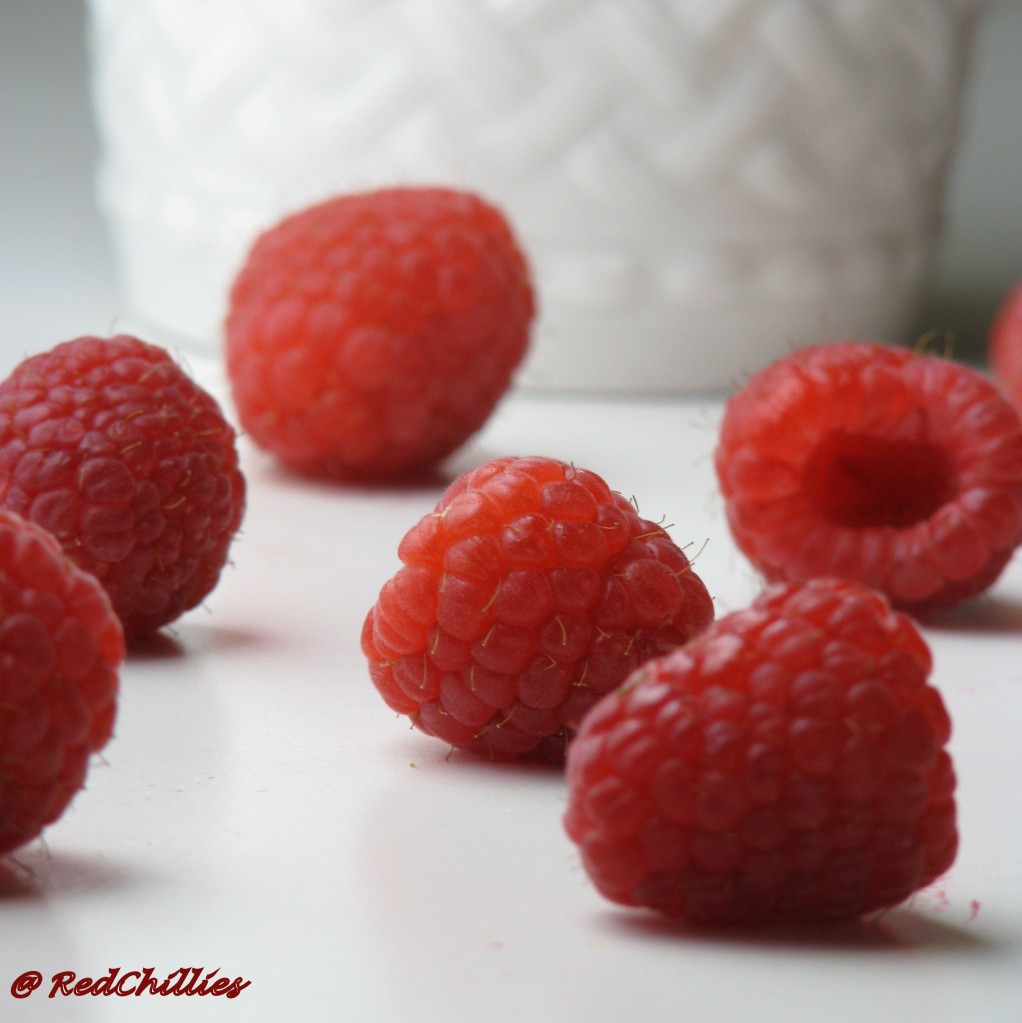 Ingredients:
 1 small cup raspberries (fresh/frozen)
 2 black tea bags
 Honey(optional)/ sugar/agave nectar
 Juice of lemon
 3 cups water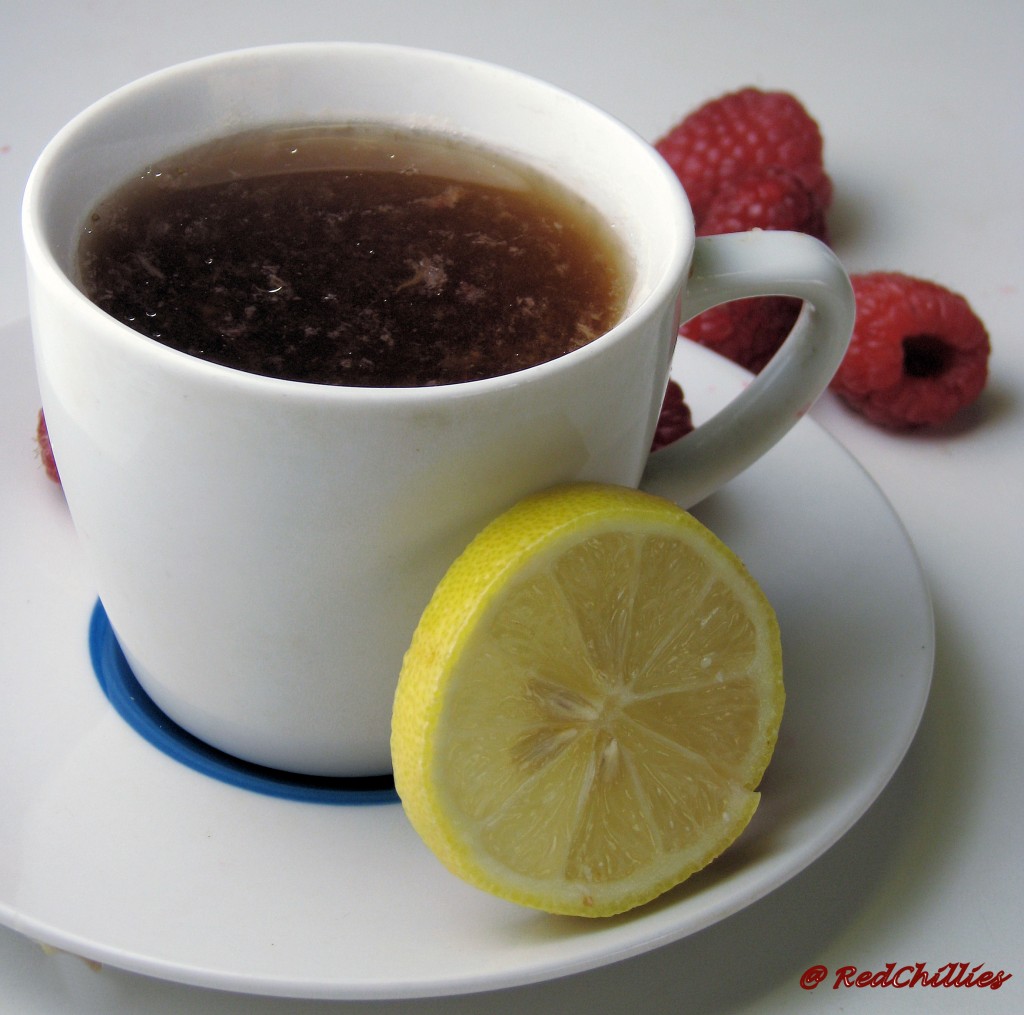 Method:
 Coarsely chop the raspberries. Boil a cup of water and add the chopped raspberries for 5 minutes. They cook very fast emitting a wonderful aroma.
 Allow it to cool and puree the cooked raspberries. Alternatively strain the cooked fruit and retain only the liquid. Keep aside. ( DH did not strain away the fruit ).
 Meanwhile make black tea the usual way and toward the end add the raspberry liquid and boil again.
 Add honey/sugar if you prefer at this time.
 Add lemon juice before serving and mix well. Drink hot or warm.