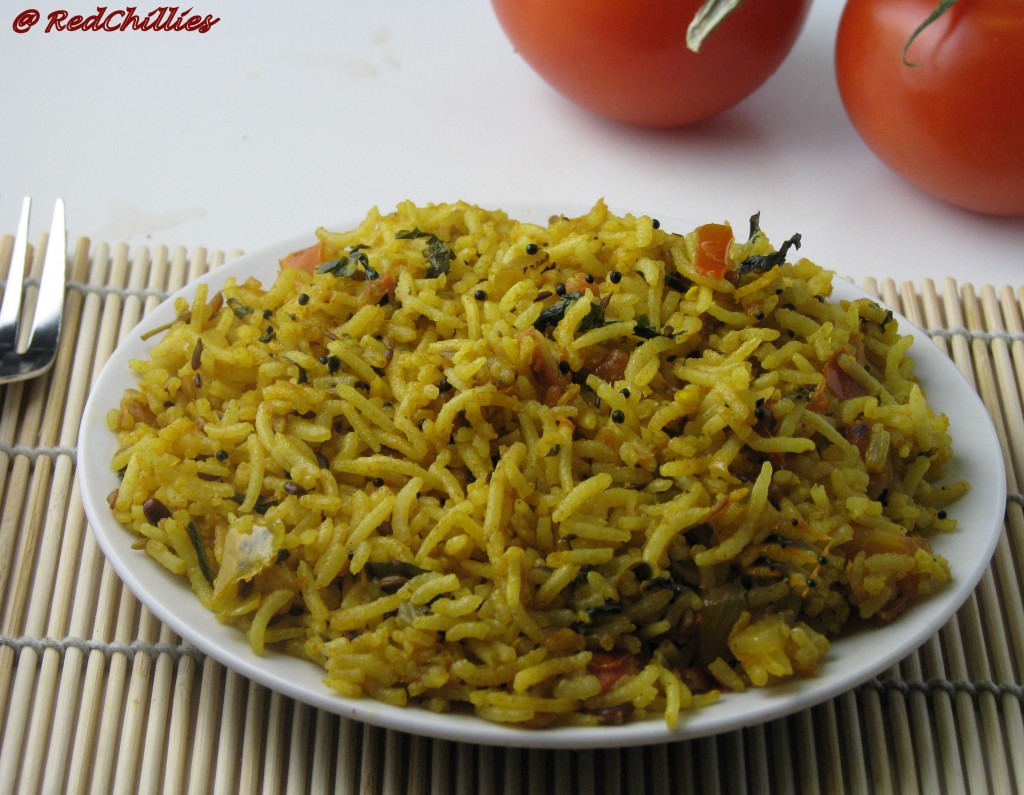 I have to give full credit to DH for this recipe of Tomato Mint Pilaf, as he took over the mantle of chopping, cooking, preparing and even cleaning. Now DH is a talented, but reluctant cook.  In a decade's time that I have known him, it must have been a handful of times; he has done any full fledged cooking. But when he cooks he does it with passion and enthusiasm and that readily shows up in the final outcome. But then for the past few weeks (knock on the wood) DH is on a roll in churning out recipes with keen interest and passion. So I am making good use of the opportunity by remaining 'invisible' as much as possible.
This recipe came out on a need basis. It was one of those lazy Friday nights when we did not have interest to do any full fledged cooking nor did we have interest to order a Pizza. There was some left over rice, almost empty fridge except for some Tomatoes and Mint.  We discussed through some ideas and came up with this recipe; however we did not have any expectations for its taste. But then the rice was actually prepared we were in for a pleasant surprise. The rice jelled very well in combination with Tomatoes, Onion-Garlic, and the daals in the background. Addition of mint enhanced the flavor of tomatoes.
This is a good one to prepare if there is left over rice, just some basic vegetables and when there is no enough time on hand.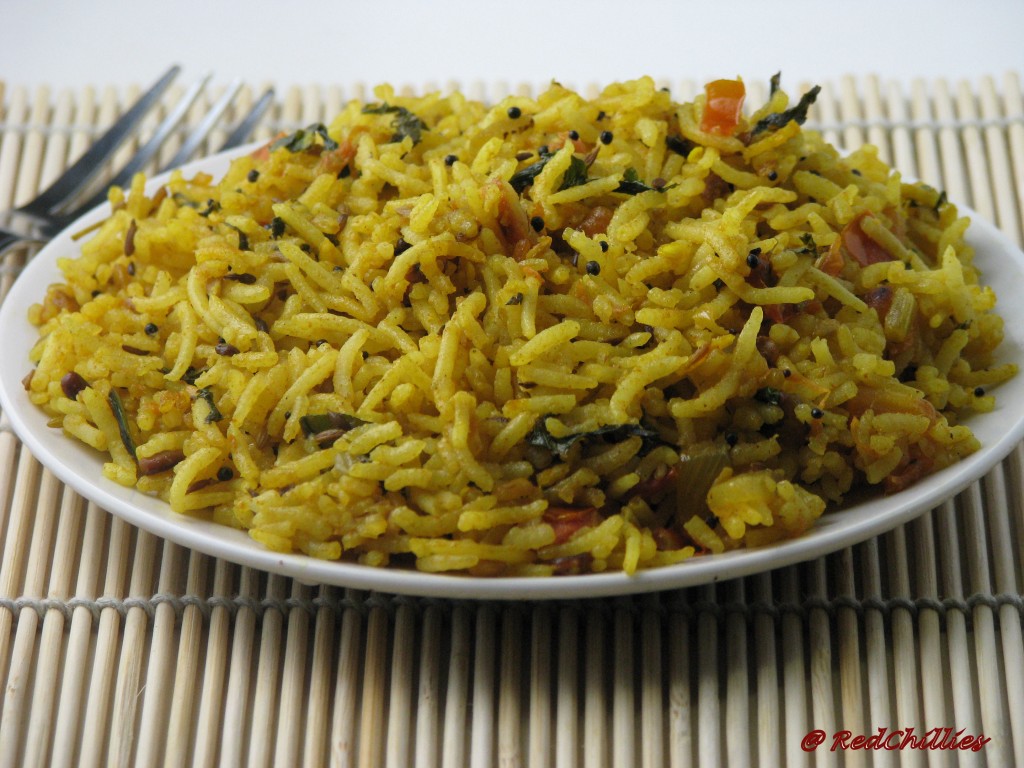 Ingredients:
 3 cups cooked rice (make sure it is fluffy and grains are separated)
 1 tsp turmeric
 1 cup chopped onion 
 4 medium ripe tomatoes (chopped)
 Handful of mint leaves (chopped)
 3-4 green chillies (chopped finely)
Juice of lemon (optional)  
 salt
For the seasoning (tadka)
 2 tsp urad daal
 2 tsp chana daal
 Cashews
 3-4 pieces cinnamon
1 Tbsp ginger garlic paste
Curry leaves
 Asafetida
 Mustard seeds
 Cumin seeds
 Oil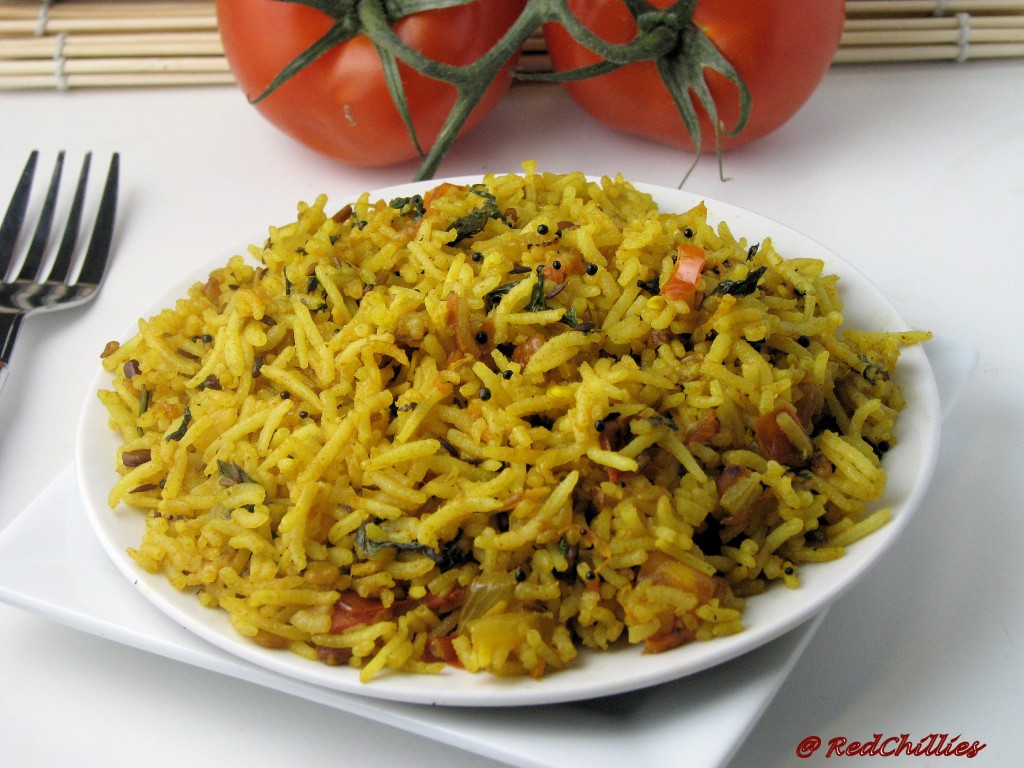 Method:
  Take a big plate and spread out the rice making sure there are no lumps. Add salt, turmeric mix and keep aside.
 Take a heavy bottom pan, add oil on medium heat. Add mustard seeds and allow to splutter, next add the cumin seeds, curry leaves, asafetida. Mix well. 
 Now add both the daals, cinnamon, cashews and roast until the cashews and daal get crunchy.
 Add the ginger garlic paste and fry. Add the chopped onions, green chillies and fry until it gets transparent.
 Add the chopped mint and mix until it wilts.  Add the chopped tomatoes.
 Add more salt, some oil and red chilli powder (optional). Mix until the tomatoes get cooked completely and become a paste.
 Add the rice and mix thoroughly. Cover the lid and let it cook for a while. 
Finally add the juice of lemon and mix well.
 Serve hot with coconut chutney and Raita on the side.