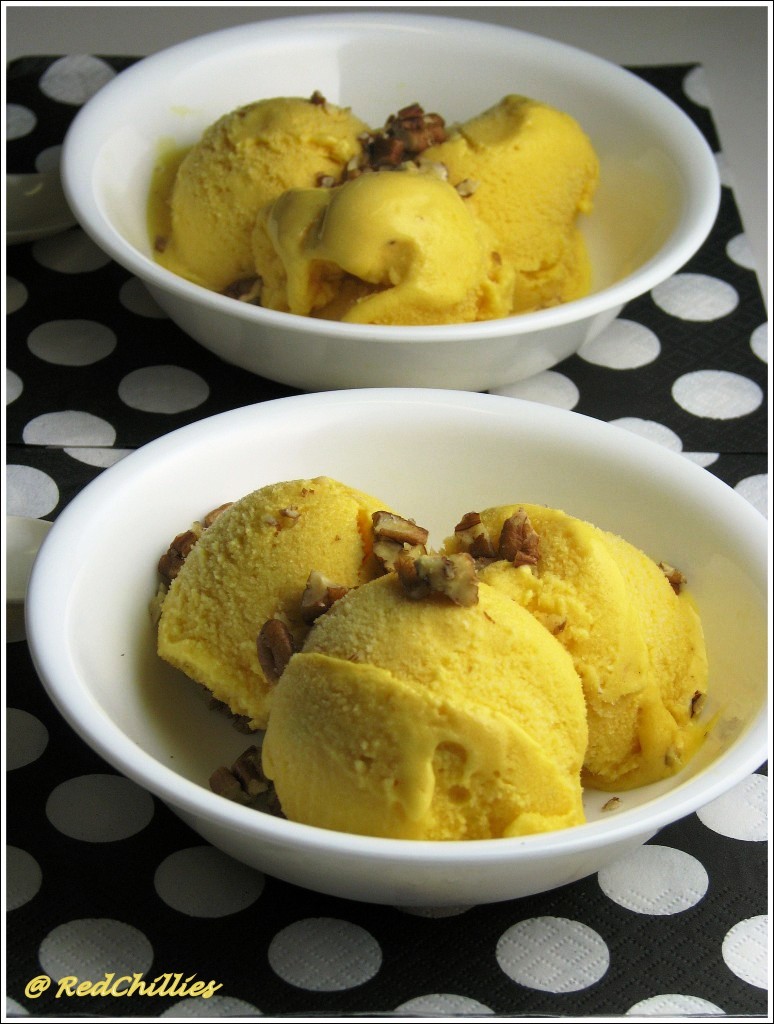 I had bookmarked this recipe Vegan Ice Cream: Coconut, Cherry & Almond by Soma long time ago and had been meaning to try it ever since.  The appealing factor for me (apart from those captivating pictures) was the usage of coconut milk instead of full fat milk, heavy cream for making the ice-cream. And not to mention the creamy and thick texture of the ice-cream giving it a feeling of regular ice-cream more than that of a Sorbet.
Last week I had all ingredients on hand for making the ice-cream and decided to give it a try. I used her recipe as a guideline and made few changes of my own. I used mango pulp instead of cherries (mangoes in my opinion is a safe bet, if you are trying for the first time). I decided to use Light Organic Coconut milk for this (You can use regular coconut milk for this). I also used evaporated milk along with the coconut milk as I was not sure how the combination of mango and coconut milk alone might taste like. I used this Evaporated milk here.
But then when I tried it, the results did not surprise me at all. The taste was delicious, it did not melt easily like the Frozen Blueberry Yogurt, and the taste was pretty close to the real Mango Ice cream. It still has some amount of crystals like a Sorbet. I also added cardamom powder (though it is optional) and so this ice cream had that Mango Kulfi type of decadent taste. The process of making this is also easy; all that is required is blending the mixture 3 times in interval of 6 hours and does not require any ice-cream maker.
Thanks Soma for posting such a wonderful recipe. This is a winner and also a keeper. I am sure I will be making this more often during summer of next year.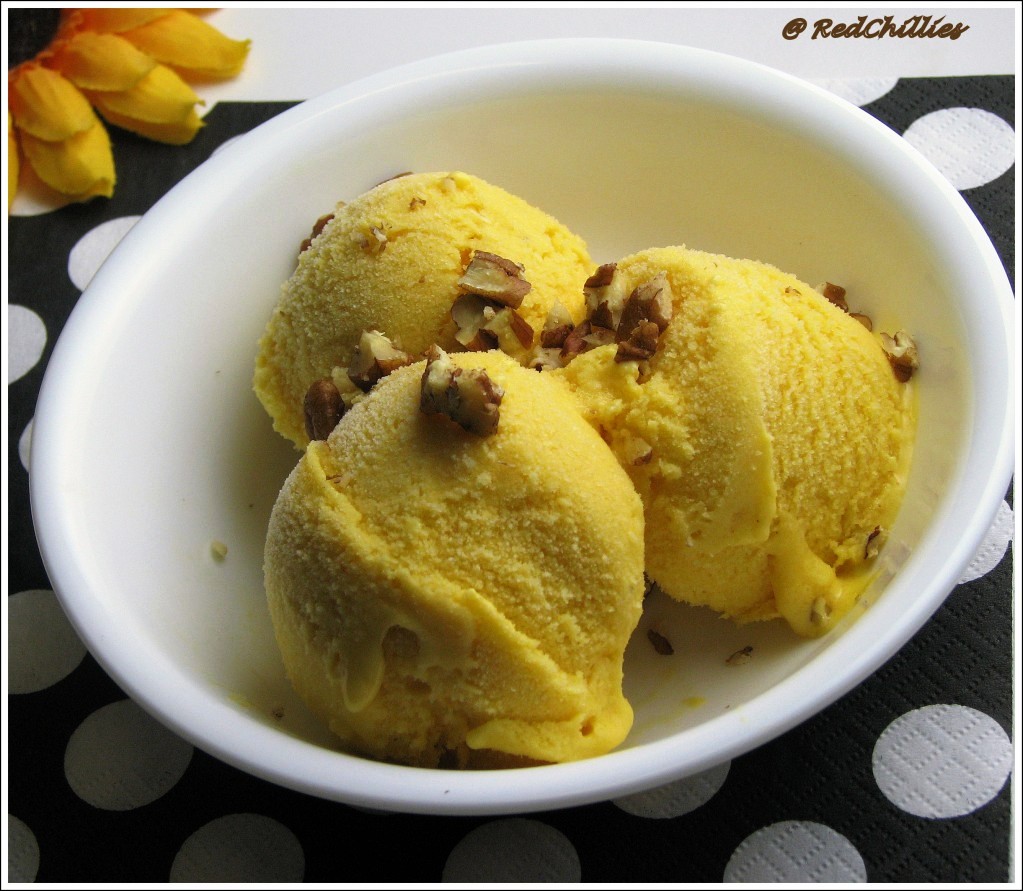 Eggless Mango Ice Cream Recipe
Ingredients: 
 1 measure mango pulp ( I used sweetened mango pulp)/ use any fruit of choice
 1 measure coconut milk ( I used organic light coconut milk)
 1 measure evaporated milk
 Sugar (optional)
 Pecans/almonds
 Small Mango pieces (optional)
 Cardamom powder(optional)
Method:
 Blend together mango pulp, coconut milk, evaporated milk and cardamom powder thoroughly.
 Check for taste and add sugar and blend again well.
 Transfer it to an air tight container and freeze it for about 6 hours.
 After 6 hours take out the frozen mixture, allow to set and then blend it again. 
 Repeat step 2 and 3 one more time after 6 hours. During this time add mango pieces (optional) after blending mix well and then freeze again.
(So overall blend the mixture 3 times in a interval of 6 hours, freezing it in between.)
 Before serving take it out of the freezer, allow to set, scoop out the ice-cream then top it off with nuts and serve!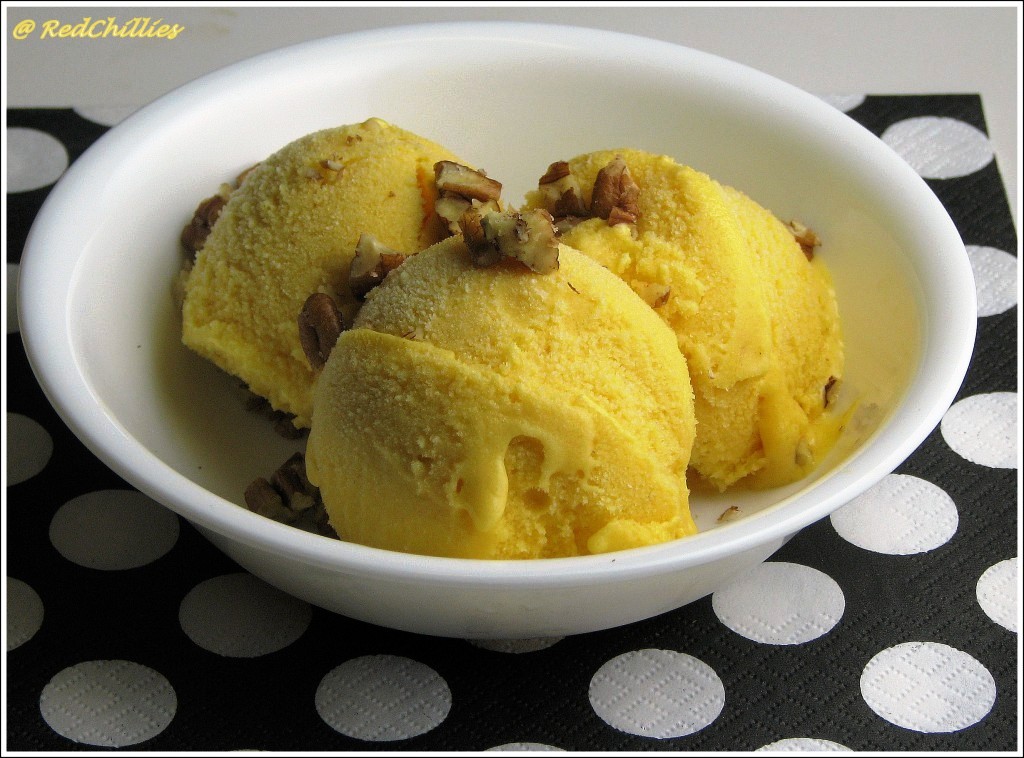 (One last peek before you go!)