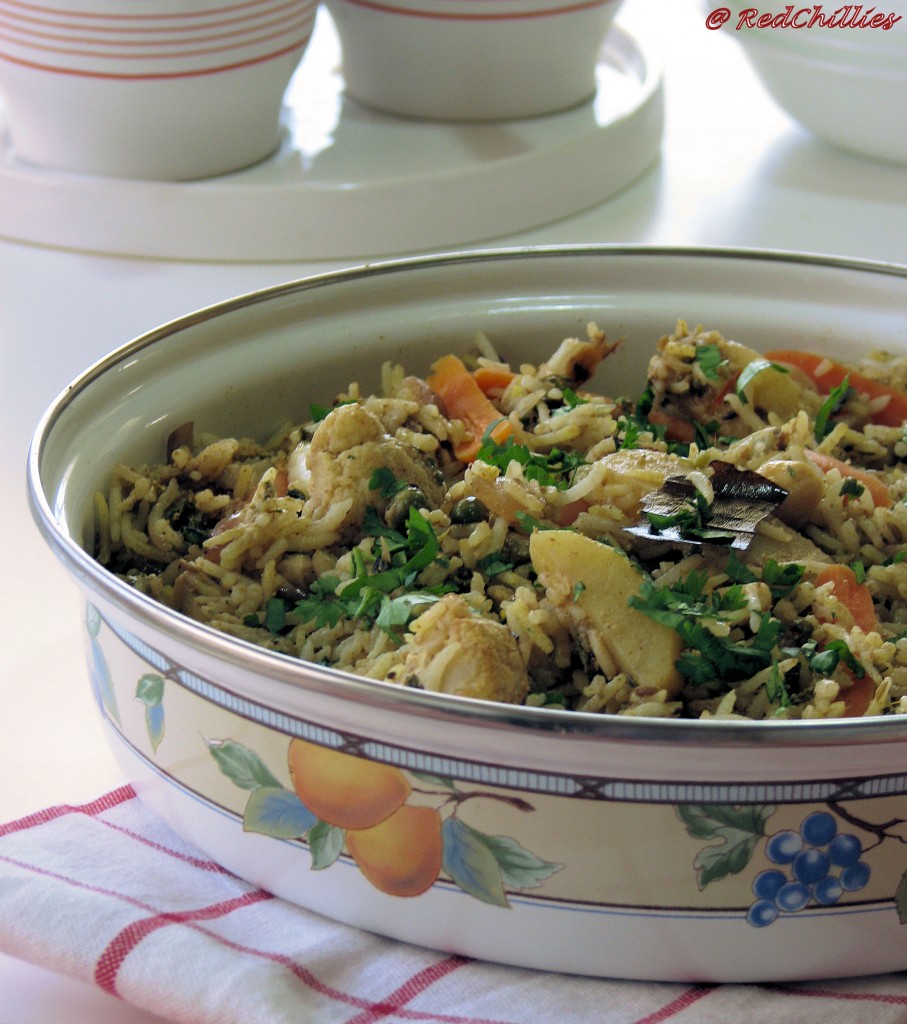 At work, the week we have the production release is the busiest and the craziest week of all. New stuff, last minute changes gets added to the release at the last minute and that just means more work to finish before the deadline. So I end up carrying over work home to finish off the tasks. As a result the dinner gets effected and so I try to make something that is one-pot meal, quick and healthy. Take-out works for a day or two, but after that we start craving for something hearty, home made even if it is simple Daal-chawal (Rice and Daal).
These are the times when this easy mixed Vegetable Rice comes in handy. This recipe is based on Methi Rice/Fenugreek Rice that I had learnt from my mother except that in this case I substitute fenugreek leaves with other vegetables. This along with Raita and Pappads is a meal in itself. The top it all, we do not have to feel guilty while having this. It is low-fat and has the complete quota of heart healthy vegetables.
This tastes more like a pulav and can be made without the pressure cooker. In one of my earlier post, there were some discussions about making pulav in the pressure cooker as it tends to burn at the bottom. So if there are such concerns then this rice can be made in a regular pan itself.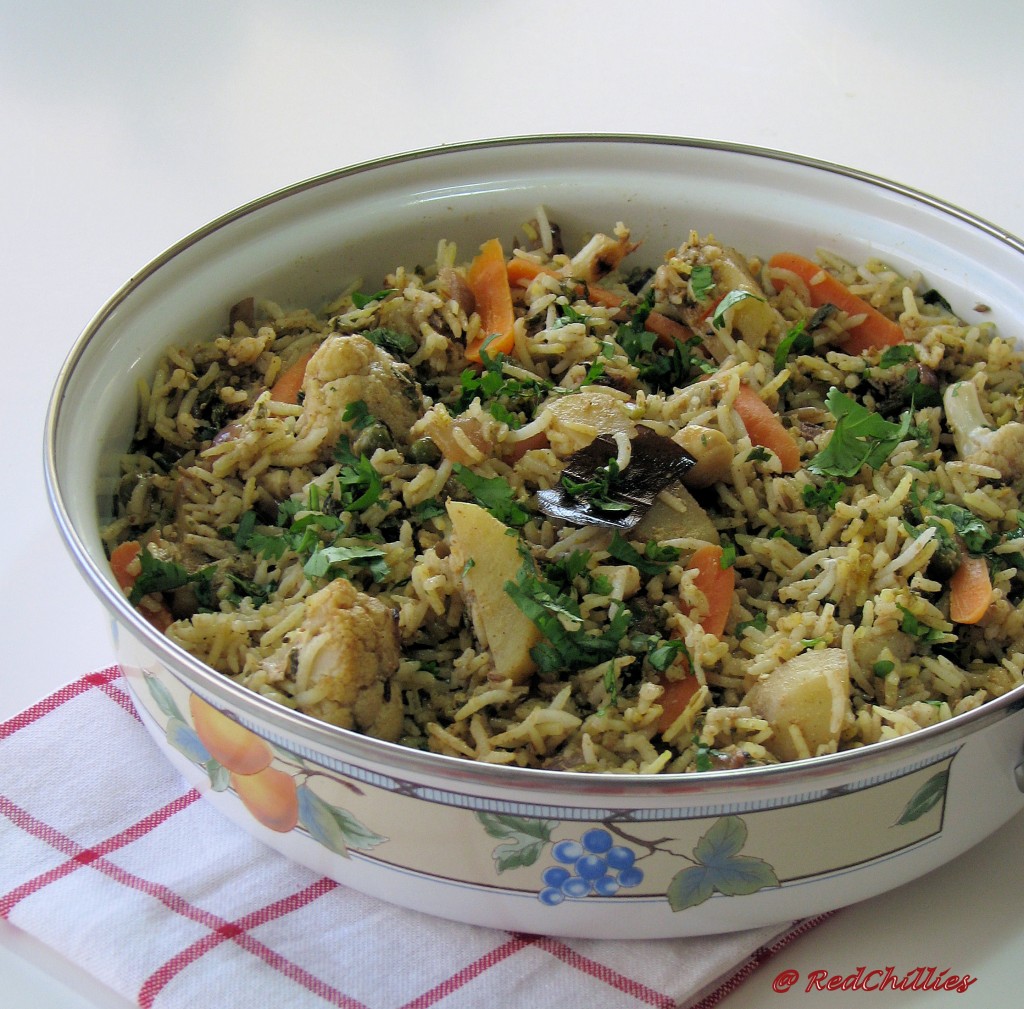 Ingredients: 
1 ½ cups rice
1 medium onion
Vegetables (potato, peas, carrot, bean, cauliflower)
Cloves
Cinnamon
Cumin seeds
Bay leaves
Mustard seeds
 Oil
 Salt
 Coriander leaves (handful)
Grind to paste:
 ½ cup shredded coconut
 3-4 green chillies
 3 garlic cloves
 ½ inch ginger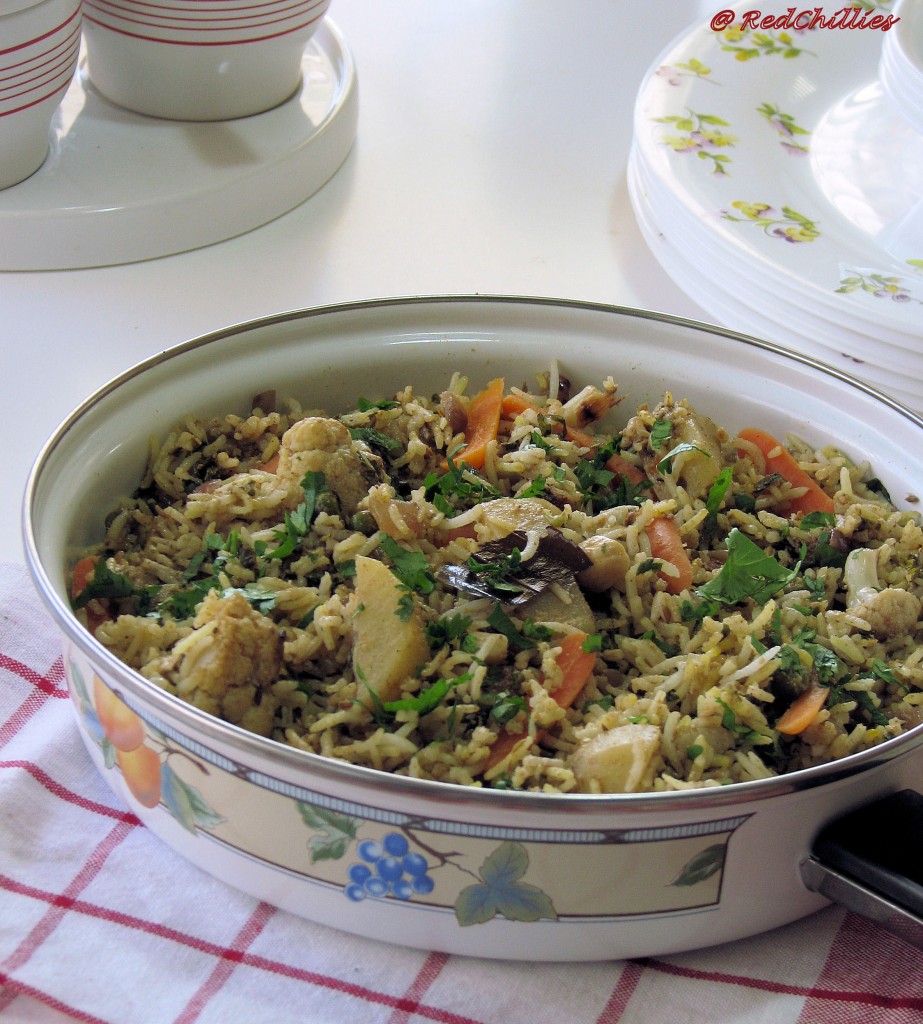 Preparation:
 Soak the rice for about 30 minutes. Pressure cook the rice, making sure that it is not over cooked and the grains remain separate.
 Chop the onions and also the other vegetables (carrot, beans, potatoes etc)
 Boil some water and cook the vegetables (except onions) along with salt.
 Grind the coconut, garlic, ginger and green chillies with little water. Do not add too much water, enough to grind it to a smooth paste.
Procedure:
 In a heavy bottom pan, heat some oil add the mustard, cumin seeds and when they begin to splutter, add the bay leaves,cinnamon, cloves.
 Add onion and sauté until transparent.  Add the other vegetables and mix well.
 Next add the ground paste,salt and fry until the raw smell of garlic and ginger is gone.
 Add the cooked rice, salt and mix well. Garnish with chopped coriander leaves.
 This can be eaten as is or served with raita of choice.