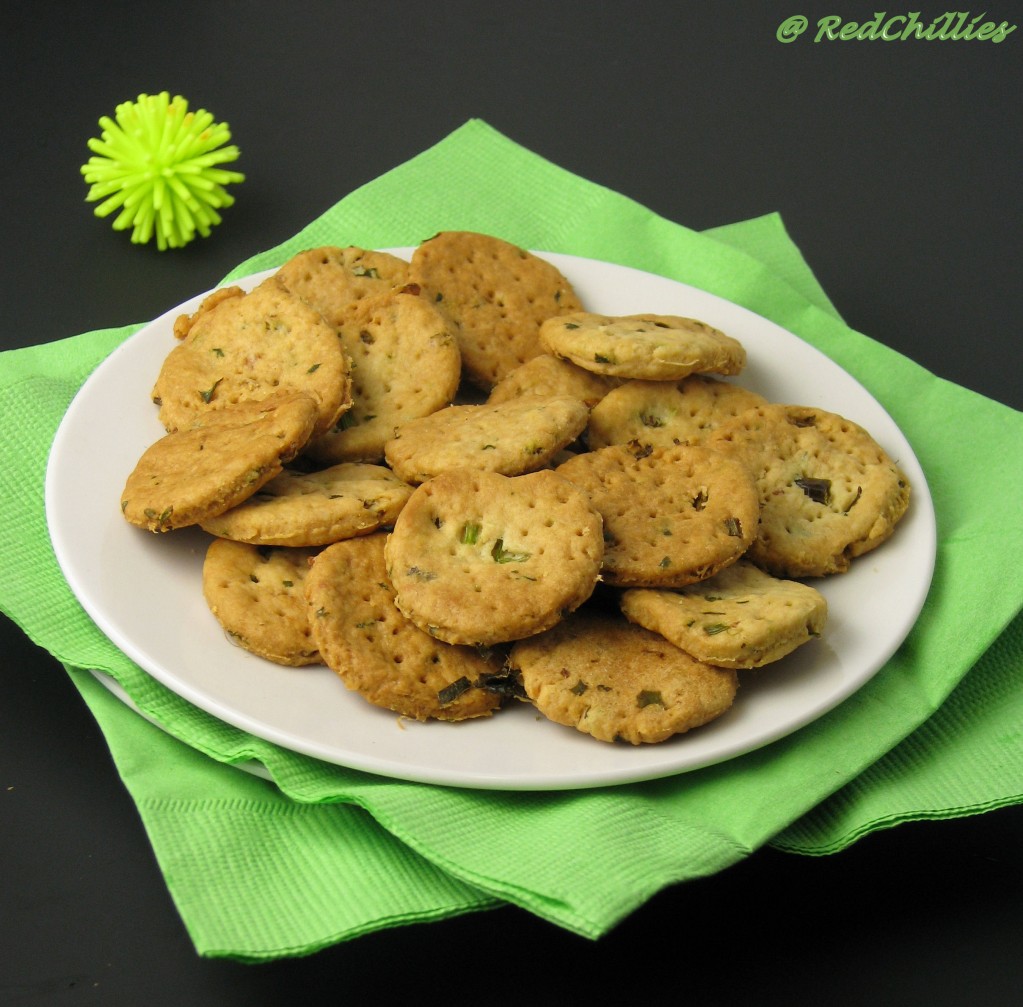 For all those here in the US, hope you had a good break and relaxed Thanks Giving weekend. We had a relaxing time as well away from the regular grind, did little bit of shopping but stayed mostly indoors.
I prepared these easy to make Chilly Biscuits/ Spicy crackers at home. I got this recipe from my Mom's diary. She used to conduct her own cookery classes when we were younger and I am glad that I have those recipes and tried these at home myself. All her recipe measurements are in grams and I converted them into cups as I feel it is easy and more accessible.
Cookies spicy, savory or sweet are referred to as Biscuits in Bangalore (not to be confused with the American Biscuits that go along with gravy).
These crackers are referred to as "Khara Biscuits" in Bangalore Bakeries. "Khara" means hot/spicy in Kannada and they are the spicy counterparts to the ubiquitous sweet butter biscuits/ Benne biscuits/ Nankhathai. In Bangalore much before we had the modern Nilgiris, Butter Sponge etc most traditional Bakeries had their own version of these crackers. No bakery would be complete without the presence of Khara biscuit, Butter biscuit, Khobbari biscuits (coconut cookies), Salt biscuits.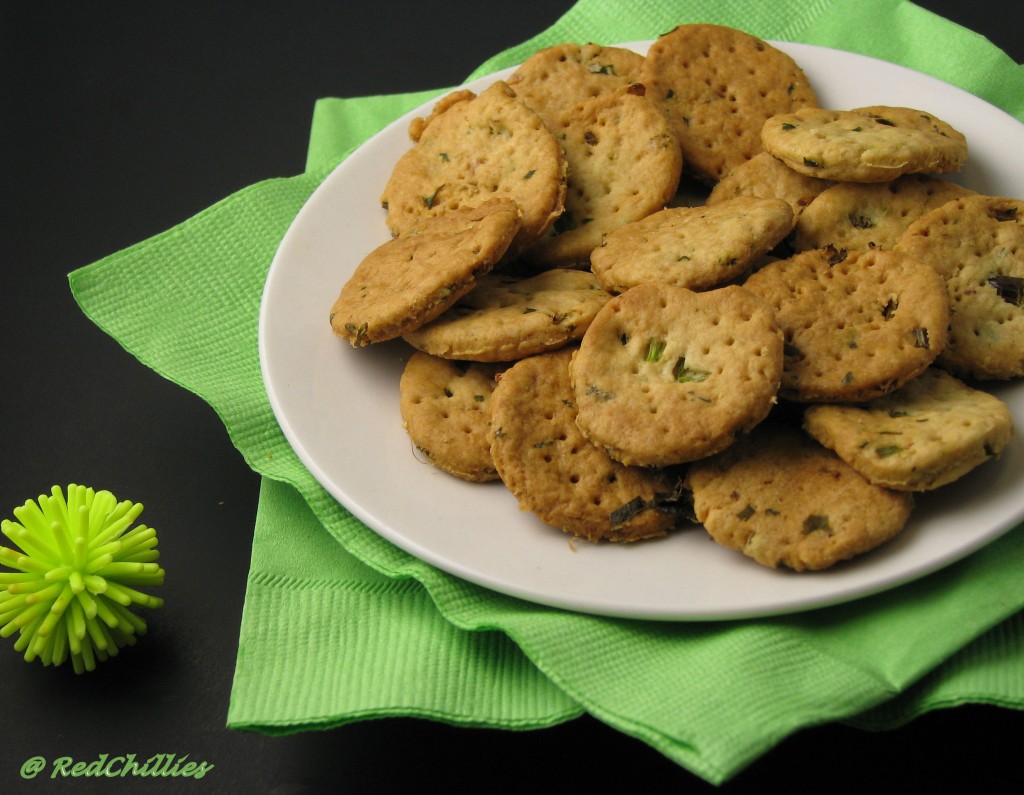 These biscuits are a good one to make if you are tired of eating sweet cookies and looking something spicy. It is easy to prepare, but two important things to keep in mind, is to use as less as yogurt/curd as possible and also to prick the cut dough before placing in the oven.
These look like mini version of Baked Nippattu and taste wise too, they are like distant cousins 😉
 Ingredients:
 1.5 cups Maida/ All Purpose Flour
 ½ cup butter (softened at room temperature) [Great tip from Soumya is to use vegetable shortening to make it even more crispy, my mom used Dalda/Vanaspathi]
 1 Tbsp combined (Ginger paste + little coriander leaves finely chopped+ finely chopped green chillies+ chopped curry leaves)[ please note that the combination of all this makes 1 Tbsp, NOT 1 Tbsp each.
1 tsp baking powder
 3/4 tsp salt ( depending on taste) [updated to 3/4 tsp from 1 tsp]
 1 tsp sugar
 1.5 tsp yogurt/curd/dahi (thick)
Yields: 25 small crackers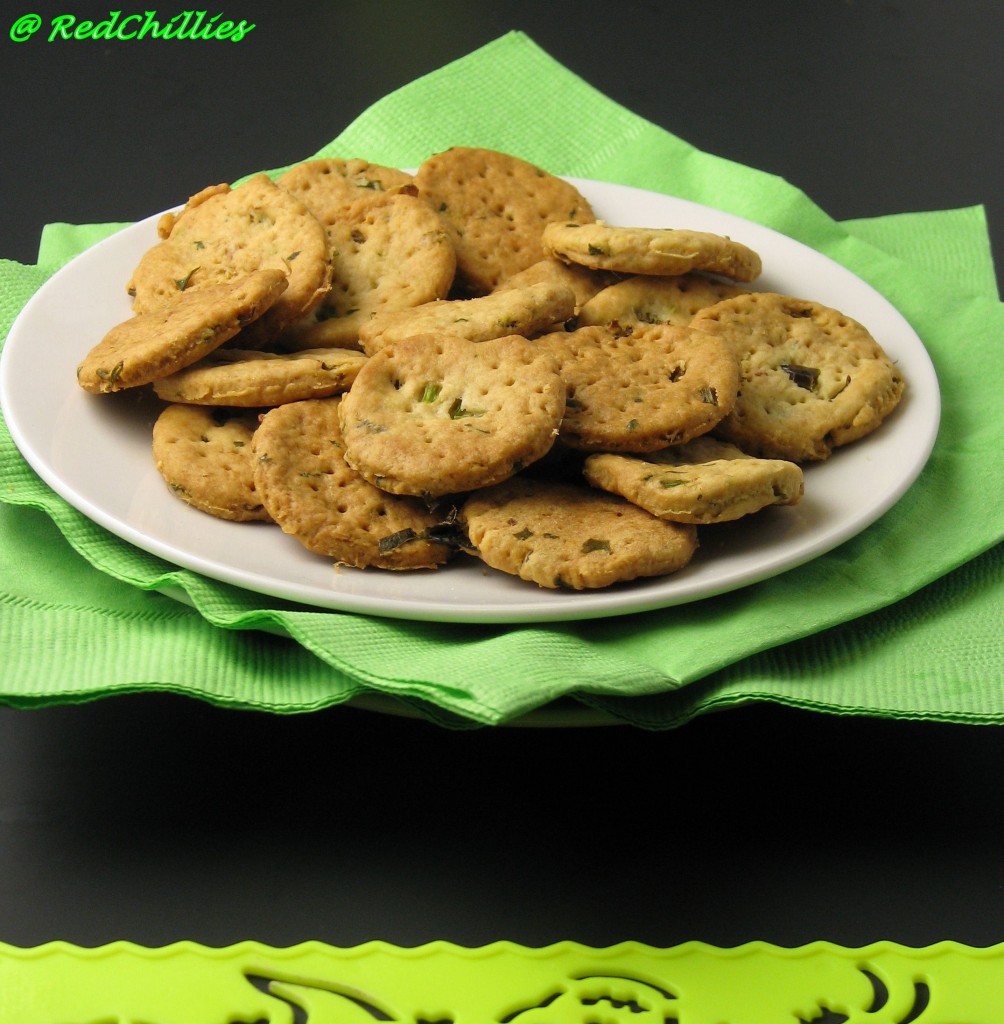 Method:
Sieve the sugar, all purpose flour, salt and baking powder.
 Add the softened butter to this in intervals, mix well and make bread crumb like mixture. Knead this as much as possible to make a dough.
 Add the Ginger paste + little coriander leaves finely chopped+ cut green chillies+ cut curry leaves and mix well. 
 Press well and use as much elbow grease as possible while mixing. Because of the moisture of ginger paste and chopped coriander leaves, you should be able to make (almost) stiff dough.
 Add 1 tsp of yogurt and mix well. Make sure that the dough is stiff (not soft like chapathi dough). 
 Add another ½ tsp yogurt only if required. Knead well for another 2-3 minutes and keep aside covered in a damp cloth.
Note: Taste a bit of dough to make sure the flavoring is  correct.
 Pre-heat the oven to 350 F. Grease a cookie sheet and keep aside.
 Take a small portion of the dough and roll like a chapathi until it is ¼ inch thick.
 Using cookie cutter, cut into required shapes. Place it on the cookie sheet.
 Continue doing this until the dough is finished.
 This is a very important step. Prick the top with fork and brush with oil on each of them.
 Bake for 20 minutes or until golden brown.