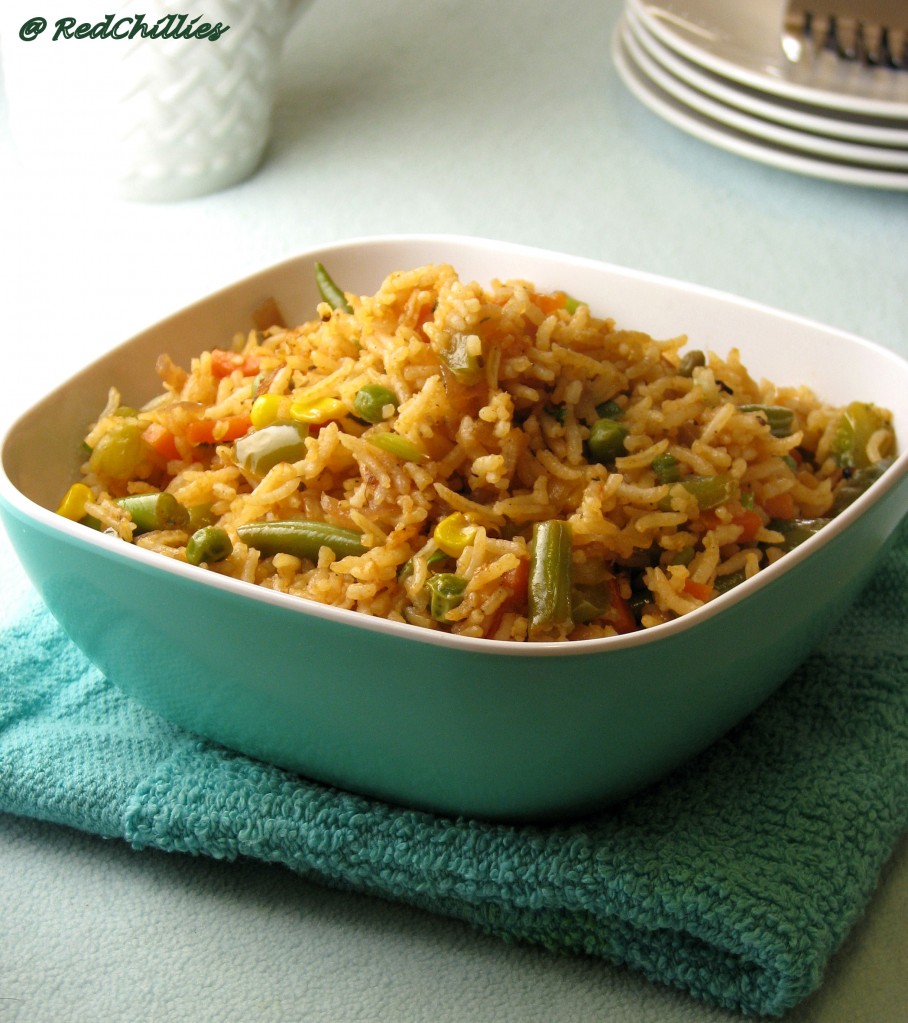 Ever had one of those feelings that you are going to get a bout of cold/cough/fever just because you are around a person who has one? You have a minor throat irritation and you take in a spoonful or two of your favorite cough syrup? You let out one small sniffle and then the next thing you know, you slather yourself with Vicks Vaporub (as if you even need reason to put it on) sniff it ever so often and inhale that  wonderful aroma of camphor? Errr….not me you say, ok mea culpa that's me. I am one of those people who have a sure sign of creative mind when it comes to sickness.
DH fell sick last week with a strong bout of cold, sinus and de-congestion and was pre-occupied in his own world. While I had all the time in the world to come with some weird theories of my own, for myself! I was almost convinced that I would be stuck with cold myself, so I decided to make something special for myself. You know, how it is recommended that people with cold eat plenty of garlic, ginger, pepper, lemon etc and, the first thing that came to my mind was Fried Rice.
 I know a lame excuse for tickling those 'sore' taste buds. So I made Fried Rice, the Indo Chinese way. Toss in all veggies, in prepared sauce of Soy, vinegar, ketchup and finally add the cooked rice. How easy is that? Something about the combination of the sauces makes the taste very addictive isn't it? (No I do not use MSG or Ajinomoto for this; I stay far far away from it).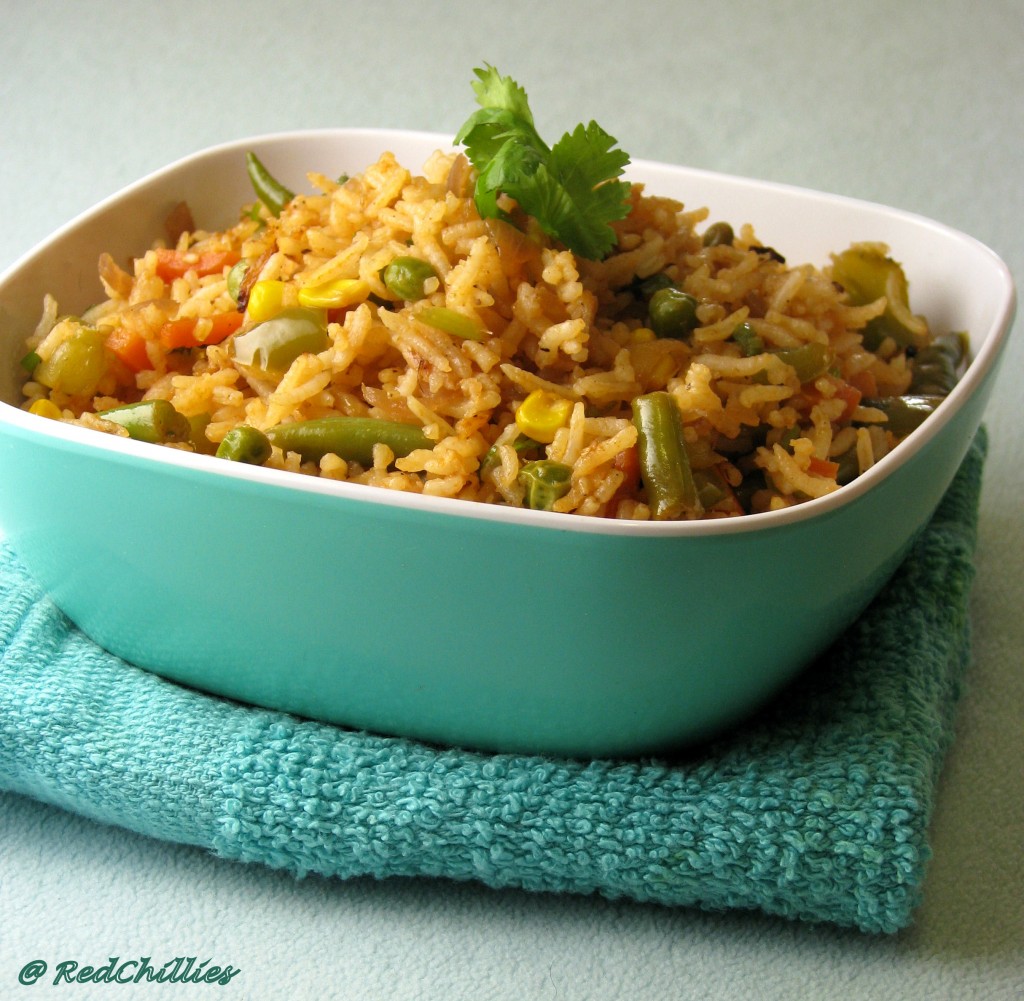 This recipe could not be simpler, an easy one to throw together in no time, healthy and good one for kids too. Even my son who is a picky eater liked it (with an extra helping of ketchup, of course). Good way to make use of the left over rice. This can be eaten as is, or along with warm and crispy Gobi Manchurian. If you have it with the later I promise you it will put all your worries to bay.
Ingredients:
 2 cups cooked rice ( I used Basmati rice for this, make sure the grains are separate)
 1.5 cups chopped vegetables (beans, carrots, peas, corn) [more or less depending on preference] cut the carrots and beans in strips.
 1 small onion (chopped)
 1 small bell pepper/capsicum (long strips)
 1 Tbsp (ginger garlic paste)
 2 Tbsp soy sauce
 2 Tbsp tomato ketchup
 1 Tbsp vinegar
 Crushed/milled pepper
 2-3 green chilies
 Oil, salt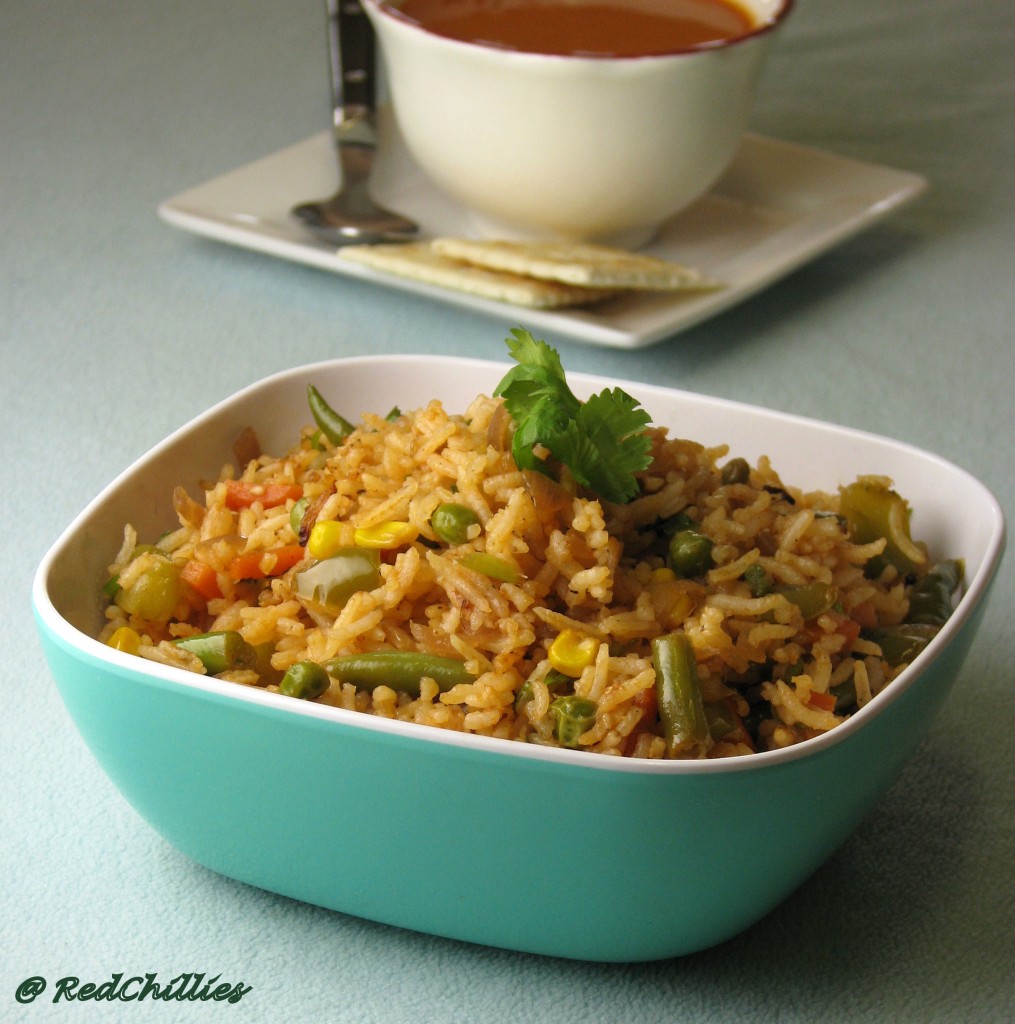 Method:
 Take a big heavy bottom thick pan, and add oil on medium to high heat.
 Add the chopped bell pepper first, salt and sauté until it slightly cooks, but still has that crunch to it. Keep aside.
 Similarly sauté beans and carrots separately and keep aside. If using peas and corn lightly sauté and keep aside.
 In the same pan, add some more oil, put in the ginger garlic paste and cook until brown.
 Next add the onions, slit green chillies and sauté until transparent. 
 Add the soy sauce and mix well in oil. This has to cook well, until its raw flavor is gone.
 Now add the vinegar and ketchup and mix well. Check for taste and adjust any of the sauces.
 Add the sautéed vegetables and then the rice and mix well. Finally add the crushed/freshly milled white or black pepper.
 Garnish with chopped coriander (optional).