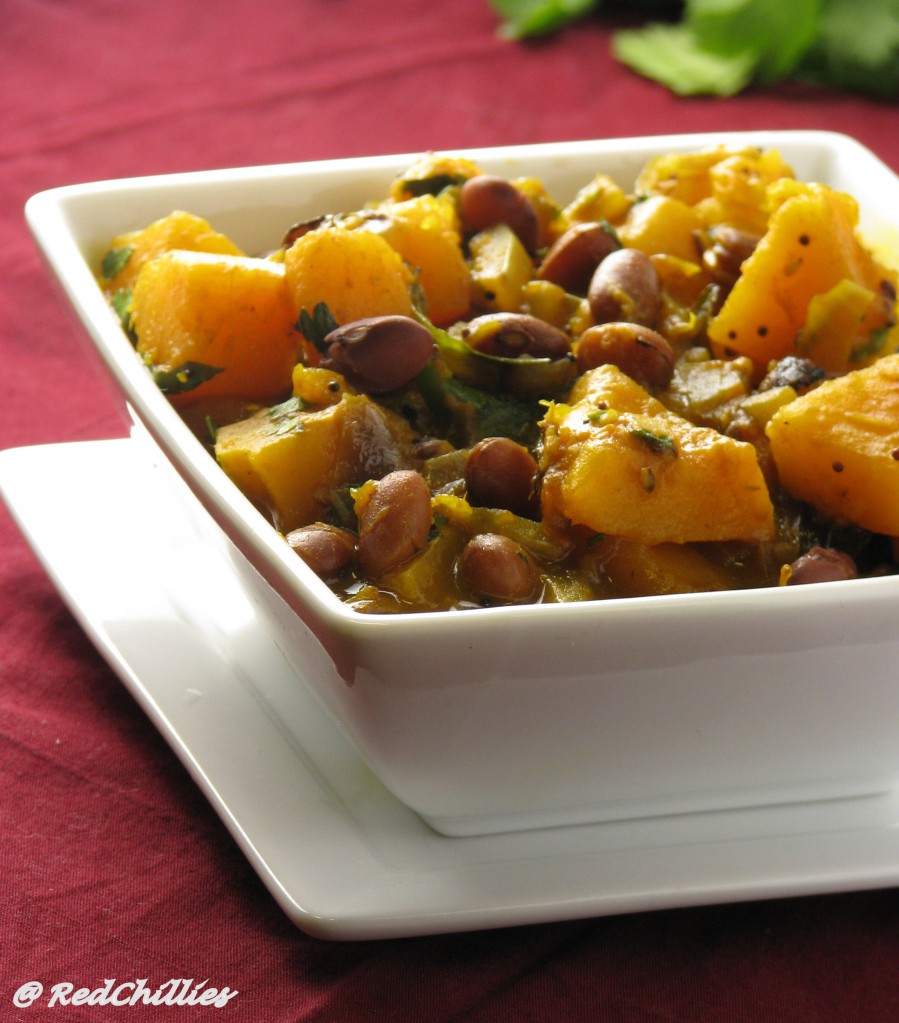 I made this curry on a whim last evening. I used whatever ingredients I had on hand that needed attention, threw them together and made this yummy tasting curry. In my defense, most usually I plan our dinner in advance as I can be prepared about tasks to do in the evening. If you ask me, the most daunting task about cooking is the planning part, making something that is easy, healthy and which everybody in the family likes.
Anyway, I do my planning usually while driving to or back from work. Now that is the time of the day when I get my "me" time and allows me to do some work, home related planning, dinner planning and even devious ways of nagging my husband!
OK, so yesterday based on my planning I had ideas for making Aloo Baingan ki sabji. But then when I got home and I looked at medium piece of pumpkin demanding attention and some soaked small red beans to do God knows what :-). So I changed my initial plans and put these two together to make this semi-dry curry.
If you like the sweetish taste of cooked pumpkin in medium hot onion-ginger gravy then this is a good curry to make. Substitute small read beans with any other bean of choice. You could also add some spinach to make this more nutritious. Easy to make and pairs well with Rotis or also plain rice or yogurt rice.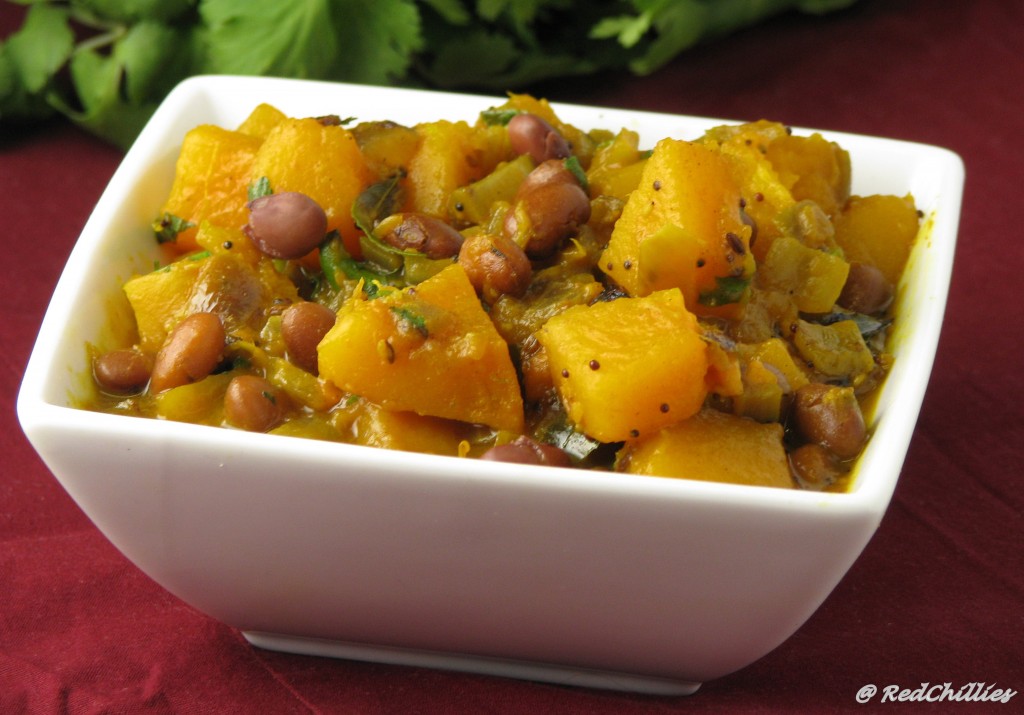 Ingredients:
2 cups of cubed red pumpkin/ Kaddu in Hindi
Handful of small red beans (dried/canned) [ Any other bean of choice can be used]
1 small onion chopped
1 Tbsp grated ginger
Curry leaves
Mustard seeds
Red chilli powder
2 pinches Turmeric (haldi)
Oil, salt
handful chopped coriander leaves (garnishing)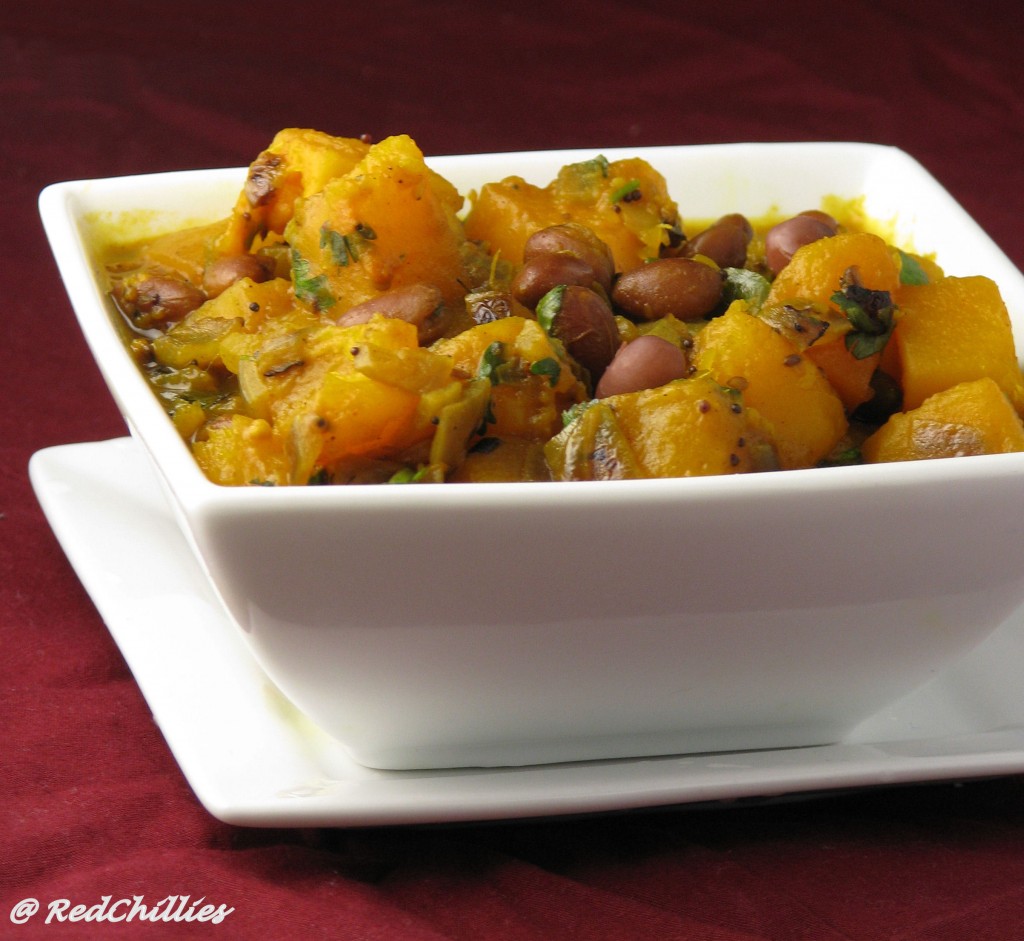 Preparation:
Note: If using dried beans, then soak it overnight. Cook it/ pressure cook it until it is soft but not mushy. Retain the water.
Boil the chopped pumpkin, along with salt in sufficient amount of water separately either in the microwave or the stovetop. Make sure it is not overcooked, there should still be a crunch and bite to it.
Heat oil in a thick bottomed pan. Add the mustard seeds and curry leaves until it splutters.
Add the chopped onions, ginger and sauté until the onion gets transparent.
Add the turmeric, chilli powder, salt and mix well.
Add the boiled pumpkin, red beans, cooked water and allow it to blend together on medium flame. Do not cook for a long time else the pumpkin will disintegrate.
Finally garnish with chopped coriander. Serve hot with rice or rotis.