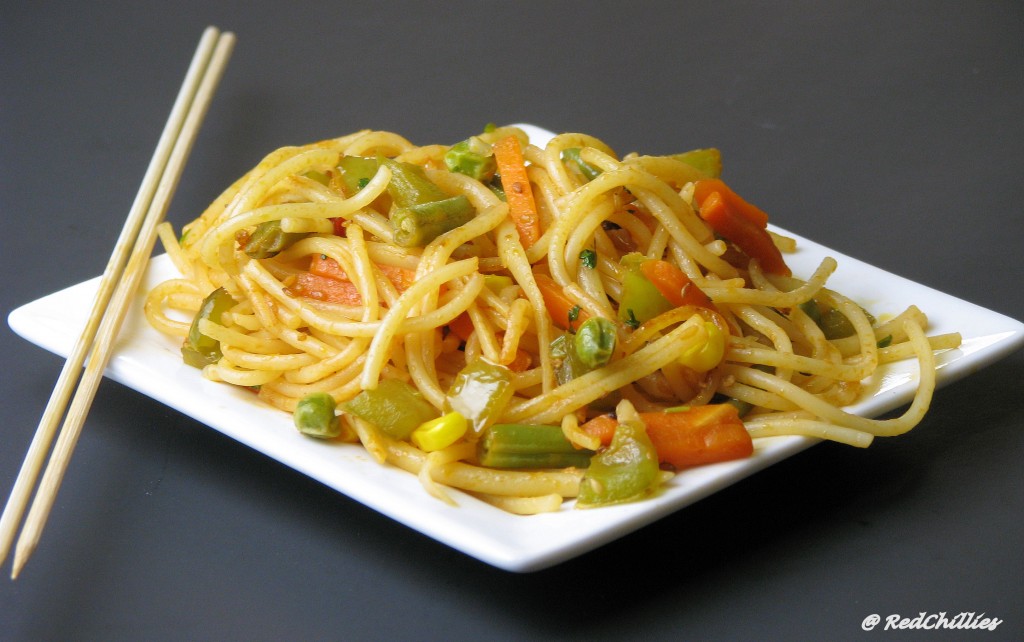 So the other day, me and the kiddo had been invited to a dear friend's place for dinner. In spite of so many different things going on with her, a full time job, a 3 year old kid and another way on the way, she took the time and effort to make these delicious and whole noodles along with some baked potato fries.
When the food was offered to the dear 4 year old he did not even want to touch the noodles and instead preferred to finish off the fries. No amount of glaring, clearing of the throat from me had any impact on him. It was as if he ignored my presence and went on to have more of those fries. After we came back home, he heard an earful from me and but I could see that it made no difference at all.
But then the next day morning all he wanted was to eat the noodles the way P aunty made them. One way I was happy as this was the first time he was asking for noodles, but then the problem was that I did not have noodles handy. Instead I used the whole grain spaghetti that I had and made something similar to what she had made. Thankfully DS liked it and enjoyed it.
Off this goes to Srivalli's Event: Kid's Delight ~ Wholesome Breakfast!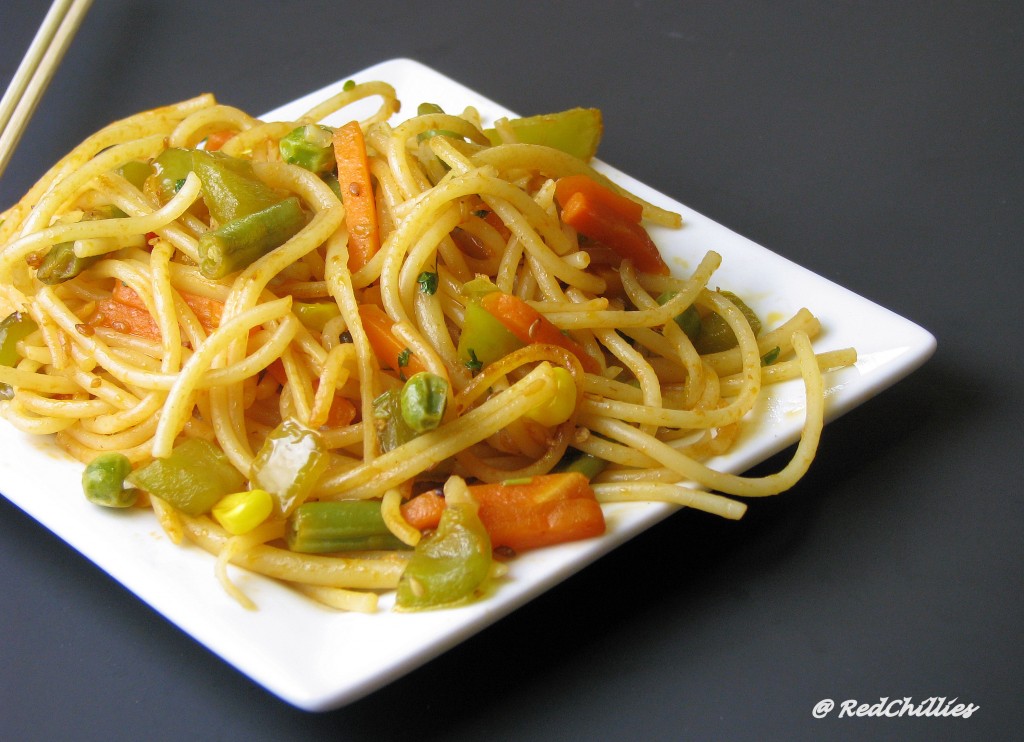 Ingredients:
2 cups cooked noodles/spaghetti ( I used whole grain)
 1 cup chopped vegetables (beans, carrots, peas, corn) [more or less depending on preference] cut the carrots and beans in strips.
 1 small onion
 2 tsp (ginger garlic paste)
 Spring onion(chopped)
 2 Tbsp soy sauce
 2 Tbsp tomato ketchup
 1 Tbsp vinegar
 Sweet and sour sauce (optional) [P recommended this]
 Sugar a pinch
 Crushed black pepper
 Crushed roasted peanuts (optional)
 Oil, salt
Method:
 Take a big heavy bottom pan, and add oil on medium to high heat, put in the ginger garlic paste and cook until brown.
Start adding the vegetables, onion first sauté and then add the chopped beans, carrots, peas and corn sauté.
In the same pan, move the vegetables to a side, add little oil, add the soy sauce and mix well in oil. This has to cook well, until its raw flavor is gone.
 Now add the vinegar and ketchup, sweet & sour sauce and mix well. Check for taste and adjust any of the sauces.
Add the cooked noodles and mix well with the vegetables. Finally add the crushed/freshly milled white or black pepper and crushed peanuts.