We love all sorts of Kheer at home, but love Semiya/Vermicelli kheer the best. I make simple vermicelli Kheer as is or in combination with Saboodana. A good friend of mine had tried my Mango Oats Kheer and liked the idea. She suggested adding Oats to the regular Vermicelli Kheer and I loved the idea.
I tried the kheer a few days ago and we loved the taste. The taste is no different than a regular Semiyan Kheer. However addition of Oats makes it thick and sticky. Nevertheless it is easy and healthy too.
Ingredients
½ cup roasted Vermicelli
½ cup roasted oats ( I used the rolled oats) ( the old fashioned one's, not the quick cooking ones)
6 cups milk (2%)
1/2 cup sugar
2 tsp ghee (clarified butter)
½ tsp Cardamom powder
5-10 cashew pieces/ almond
10-15 raisins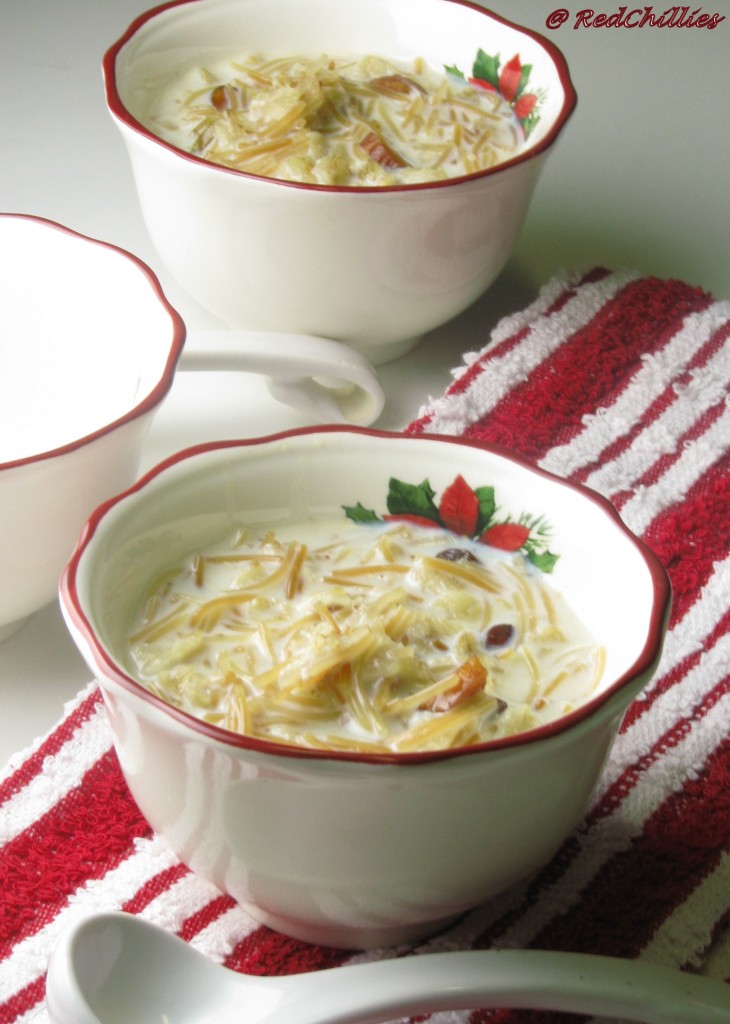 (Even though Oats is not visibile here, trust me there is oats in this Kheer :-))
Method:
Heat little ghee in a pan and fry the roasted vermicelli for a little while, making sure that it does not burn up. Keep aside.
In the same pan roast the oats until it is slightly brown and toasty. Keep aside.
Pour the milk in the same pan and bring to boil stirring in between.
Reduce the flame and then add roasted vermicelli, oats, sugar and let this simmer for about 20 minutes (or until it thickens up a little).
Stir this in between, so that it does not settle at the bottom. Remove from flame.
In the meanwhile heat the ghee in a heavy bottomed pan over medium heat and fry cashews/almonds pieces till golden brown, next add raisins and fry until they plump up.
Now add cardamom powder, cashews and raisins to the Kheer and mix well. Cool to room temperature.
Note that after it is cooled the vermicelli will plump and Kheer/payasam will thicken.
This can also be served cold by keeping it in the refrigerator.