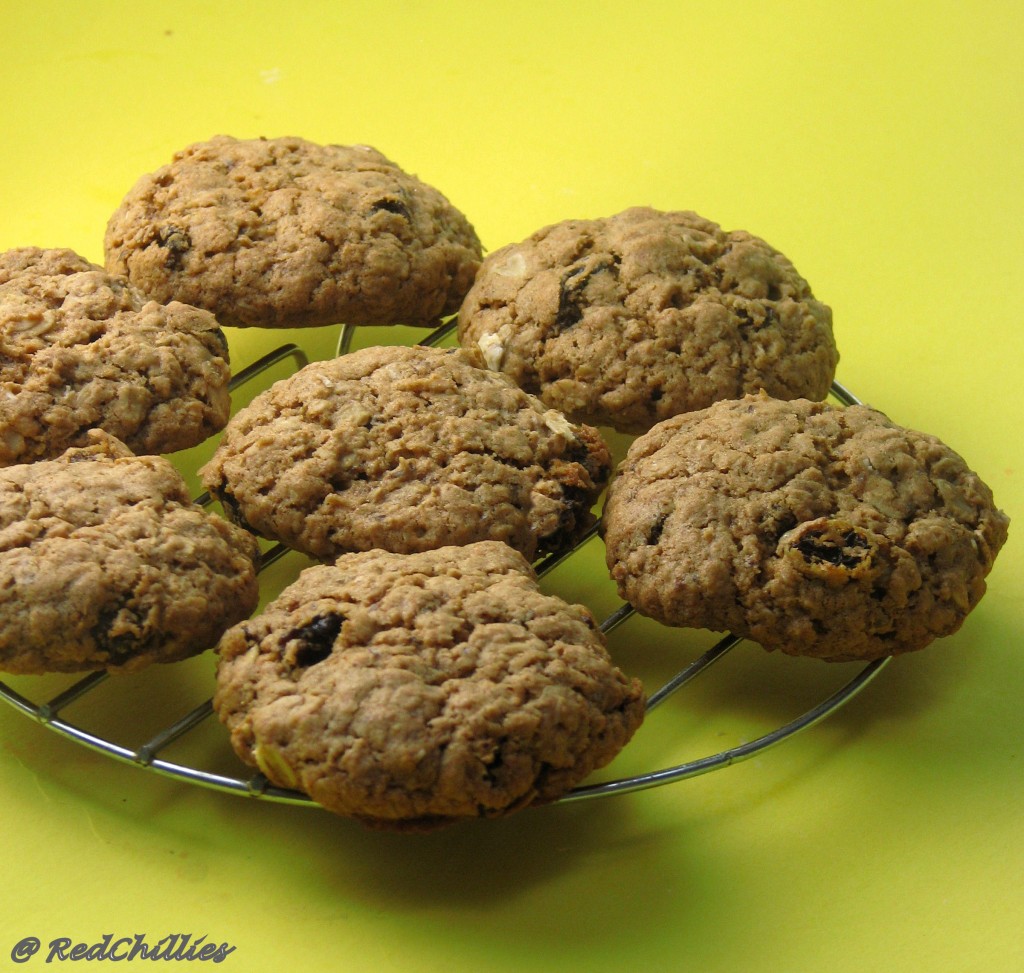 After some streaks of unsuccessful attempts in baking using Flax Meal (as substitute for egg), I was thrilled when I was successful in making these Egg Free Oatmeal Raisin Cookies. The taste is close to the original (with eggs) and there is hardly indicator of the presence of flax seeds meal in these cookies. The cookie is crispy on the outside and soft and chewy on the inside, the addition of raisins gives it a special taste and texture. 
I have tried some Eggless recipes before with some easy substitutes, but this was the first time, I tried out a tricky substitute and I am so glad I did. This success opens up a new door and gives me a whole new arena to try and experiment. 
The major source of this recipe is the Joy of Vegan Baking. There are lots of vegan baking recipes in that book and for a beginner like me I found this book very useful. The information about egg substitutes is very detailed and reliable. That reliability and assurance prompted me to try this recipe. I cannot wait to try other recipes from this book! 
According to the book, Joy of Vegan Baking, ground flax seeds have a nutty flavor and works best if used in recipes like pancakes, waffles, muffins, breads and oatmeal cookies. Hence I chose the flax meal substitute for this oatmeal Raisin cookie.
As an added bonus Flax seeds are high in fiber and natural cholesterol controllers and concentrated source of omega-3 fatty acids.There is also some evidence it can help reduce risk of heart disease, cancer, stroke, and diabetes
On an ending note, substitute for Egg: Flaxseed meal. Does it work? Check out this article on NYTimes.com here. If you are using flax meal substitute for the first time, then this article is a good read.
Also Champa has provided an useful information: If you don't want to use flax seeds, just add 2 TBSP of corn starch to the dry ingredients and add 2 TBSP of water to the wet ingredients (or creamed mixture) and it works like a charm in cookies. Thanks Champa, I will definitely keep this in mind.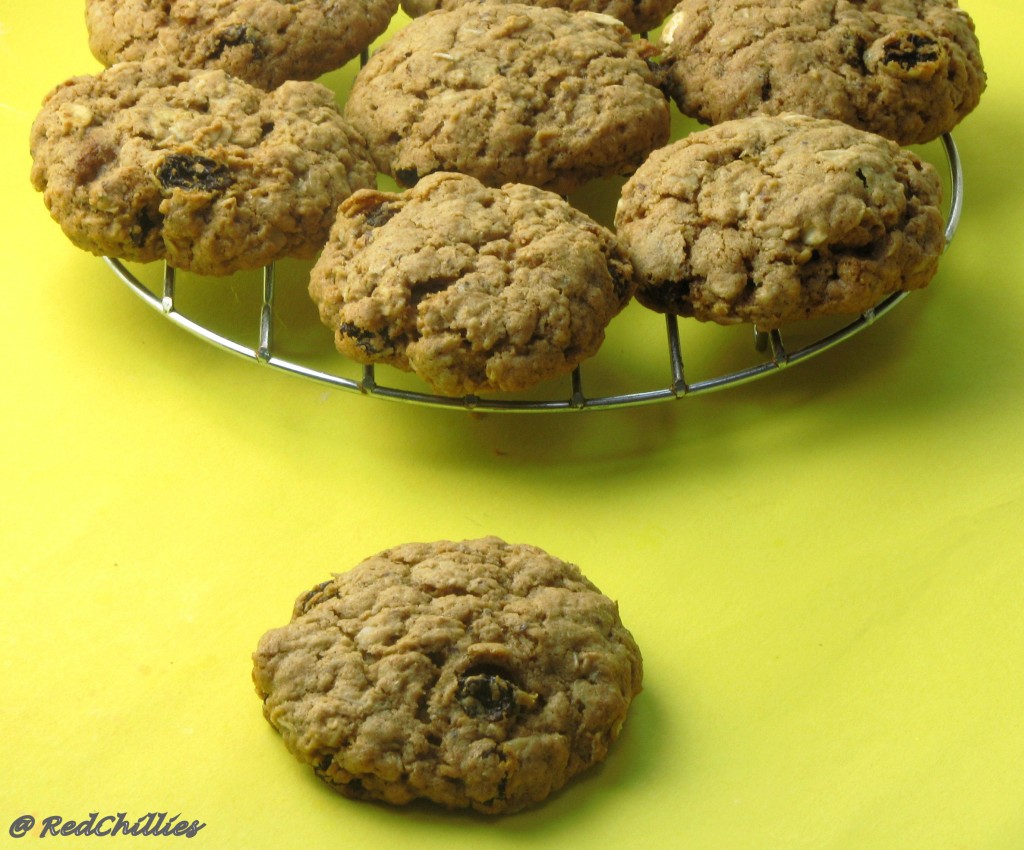 Ingredients
1 cup All Purpose flour/ maida
1.5 cups Oats (Old fashioned Rolled Oats, not the quick cooking one)
¾ cup packed brown sugar
½ cup butter ( I used Earth Balance for this)
1 tsp vanilla extract (I did not use this)
½ tsp cinnamon
¼ tsp nutmeg
1/3 tsp baking powder
1/3 tsp baking soda
¼ tsp salt
½ cup raisins
1 Tbsp Flaxseed meal (substitute for 1 egg)
3 Tbsp warm water
Yields
14 medium cookies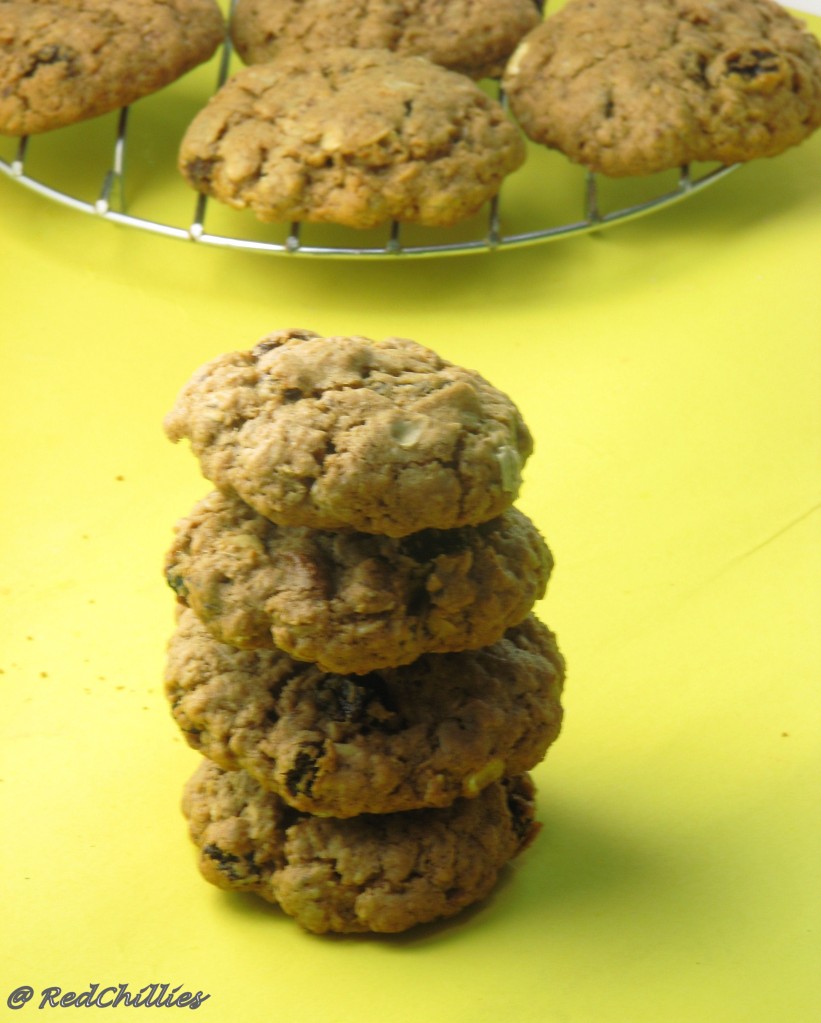 Method:
Take the flax seed meal in a bowl, add warm water and mix well. This needs to blend together and become thick and creamy. For this you can do it either in a blender/food processor or by using hands. I mixed it in manually in intervals until it became thick and creamy.
Preheat oven to 350 F.
Have a cookie sheet ready by spraying with non stick oil.
In a bowl cream together softened butter, sugar, vanilla and flax seed mixture until well blended.
Take another bowl and mix AP flour, salt, cinnamon baking soda, baking powder and nutmeg.
Add the dry ingredients to the wet ingredients, and mix until incorporated.
The mixture was very thick, and the blades of my hand mixer were not moving. So I mixed it all together using my clean hands!
Finally add the rolled oats and raisins and mix until thoroughly combined.
Now use a big spoon to scoop up dough and lightly press cookies from the back of the spoon to form 1/2″ thick rounds.
Bake these cookies until golden brown for about 12-15 minutes.
Remove from oven and allow to cool.