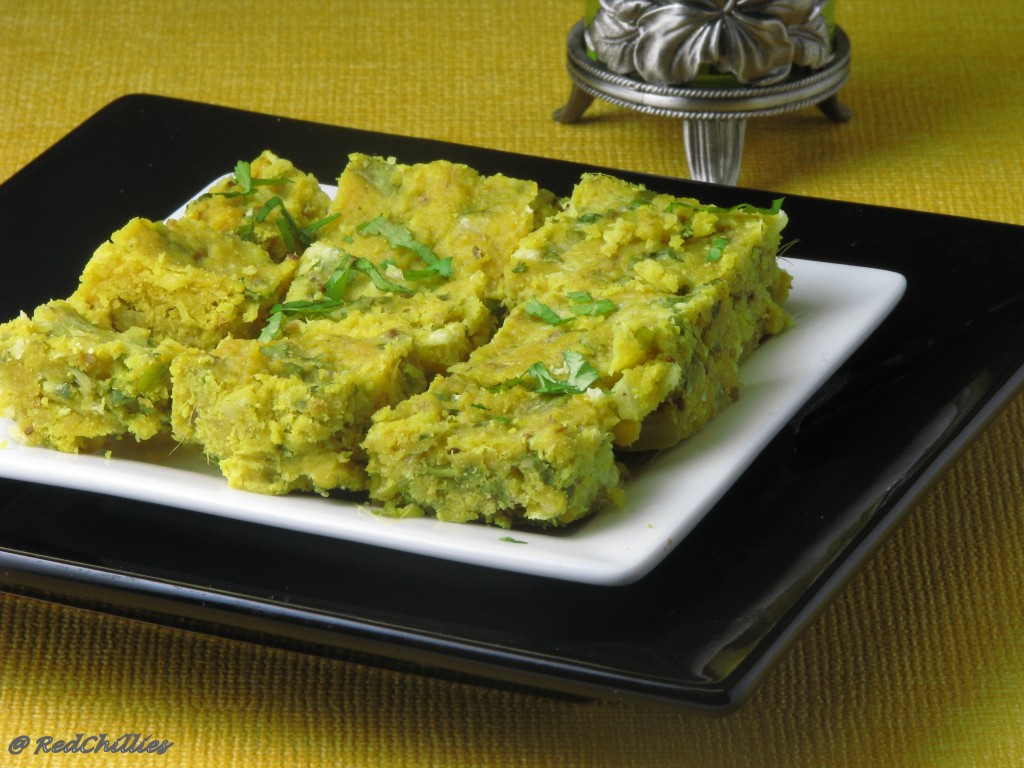 OK, I have to admit this, before I go on with the recipe. I do not know the traditional name of this dish; all I know is that it is a dish from Karnataka. The English title that I put more descriptive of the procedure, seems so formal and does not seem to have that connection with the dish. If somebody knows the name please let know.
Many years ago my mom had learnt this from one of our neighbor "Uma Aunty".  She was an ace cook who could whip delicious dishes in no time. Many a times she would send over some of her dishes to us and we would enjoy tasting it. This is one such dish, but unfortunately I do not remember the name of this. She used to say that, this is usually served to people recovering from an illness. Not only in this healthy, low-fat but also caters to their lost taste and appetite.
During the process of writing this post, it stuck to me that this dish is more like a distant cousin of nucchina-unde. The ingredients are mostly similar; the procedure of steaming is the same, the difference being that in this case the daal mixture is steamed as a whole, instead of steaming each 'unde' separately as in nucchina-unde.
I do not prepare this often as most of them in my family are not huge fans of this dish; I am the only exception though. Don't be worried by the long list of ingredients, most of the items are used for grinding and act as taste enhancer. Daal mixture when steamed tends to taste bland and so most of the ingredients are used to kick it up by a notch J Nevertheless it is easy to prepare, rich in protein and nutritious as well.
If interested you can check out another version of steamed daal that I posted long time ago, here Steamed Toor Daal Dill Cake.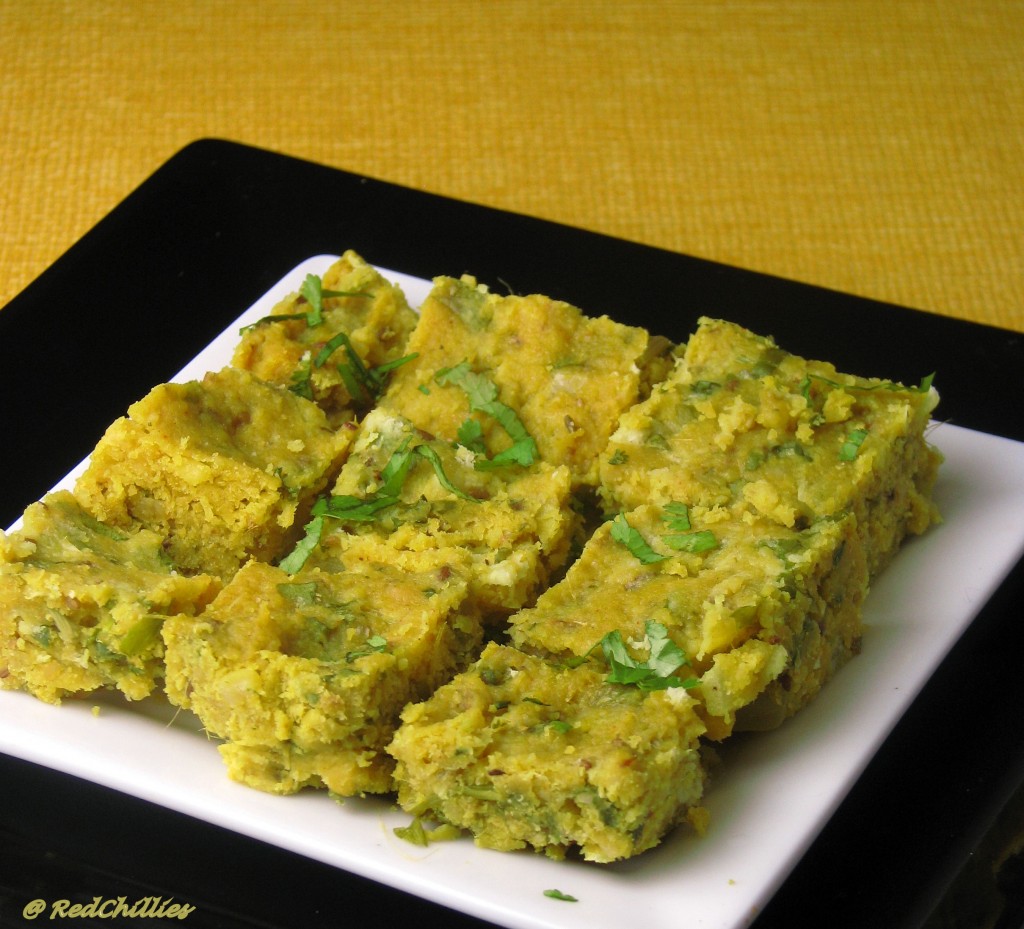 Ingredients
½ cup Chana Daal/ Bengal gram dal
½ cup moong daal
1 medium onion
Handful coriander leaves
1 cup packed Fresh Methi leaves (strongly recommend this)
2 green chillies
1 inch ginger piece
1-2 curry leaves
½ tsp turmeric
2 tsp Jeera/ cumin seeds
Salt to taste
Cinnamon, cloves
1 Tbsp shredded coconut
1 Tbsp Oil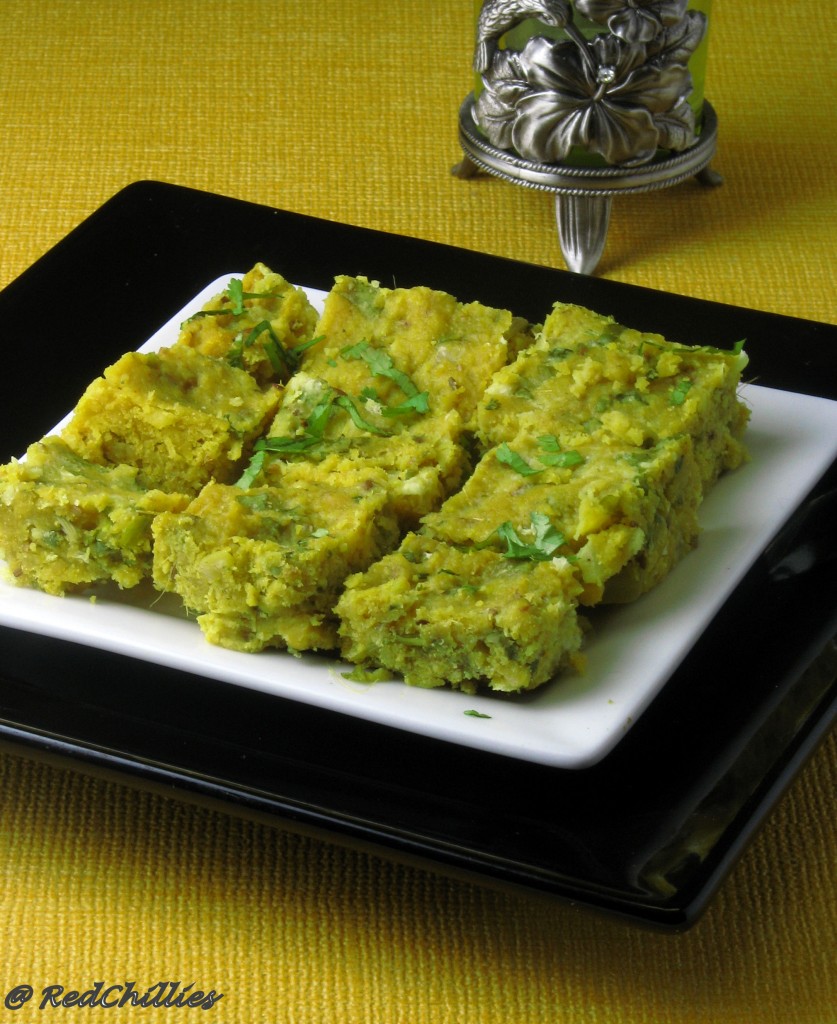 Preparation: 
Soak the chana daal, moong daal in enough water for about 5-6 hours.
Chop the onions into small pieces and keep aside.
Clean the Methi(Fenugreek) leaves, coriander leaves and chop finely. 
Method: 
First grind Jeera (cumin seeds) along with green chillies, curry leaves, ginger, turmeric, salt and cloves and cinnamon.  Do not add any water.
Note: Some people do not like the taste of bits and pieces of cloves and cinnamon. If so do not add them while grinding, instead make fine powder separately and add it to the ground mixture.
Now drain the water completely from the soaked daal and add this to the ground mixture on step 1 and grind it again. Do not add water while grinding.
Note: Sometimes the mixer blade might not move at all, in that case sprinkle little bit of water in between. This should be a thick paste and if you make a ball out of it, it should retain its shape without crumbling.
Make sure that the salt and the chillies taste is correct. Go a tad bit higher on the salt and chillies, as it tends to get bland after it is steamed.
Add the diced onions, oil, turmeric, coriander leaves, coconut and methi leaves and mix well.
Heat a pressure cooker with enough water. Grease a container and pour the ground daal mixture into it.
Place in the pressure cooker (with water) and cook until 2 whistles.
Cool and cut into squares before serving. This can be used as a yummy side dish or can be eaten as is.
Optional: You could season these squares just like you would do for a Dhokla.