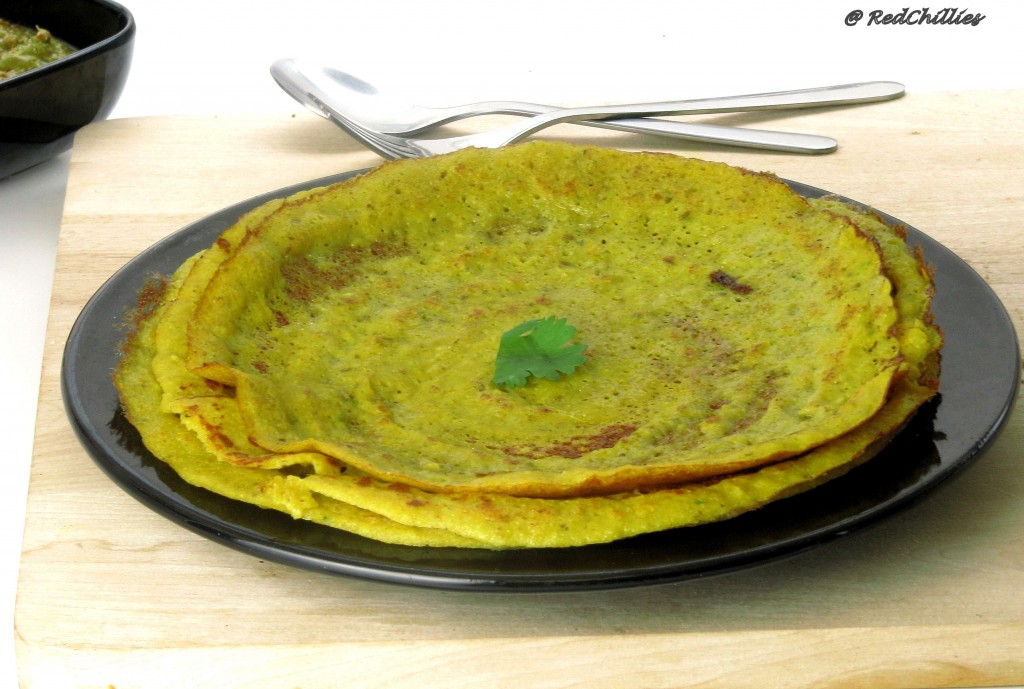 The first time I had these Adai/Lentil Dosa was at my friend Upsi's place. Her mother had prepared it for evening snack along with Peanut Chutney and I remember tasting them and being floored. Of course, I did get the recipe from her, but not before being extolled the virtues of these special Dosas. 
The batter comprises of multiple lentils and hence nutritious.
Different types of dried beans can be added while making the batter.
After the grinding process is done there is no need to ferment the batter.
Gasp, gasp, gasp (the loudest).  Really? How come I have never had these before? Have I been living is some parallel world? These facts might not be surprising for many, but for people like me, accustomed to eating only the regular Urad Dosa (which only has urad daal and which requires 8-10 hours of fermenting), this was indeed amazing; not just the nutrition, protein, but taste as well. 
Anyway coming back to this recipe of Adai, the trick for making good dosas depends a lot on the batter and I learnt this the hard way after multiple trials. I even dragged Upsi once to our house while making the batter and had her show me the right procedure for making these. It was only after that did I get a hang for making these. Thanks dear Upsi and her mom for sharing these wonder Dosas with us, we will cherish this for years to come.
I do not claim these to be traditional Adai's, but the recipe here is my take on these healthy and nutritious Dosas. These taste good when they are soft and not so crispy.
Tips to keep the dosa from sticking to the pan:
1) Make sure the tava/dosa pan is not very hot(keep it on medium high).
2) Make sure the tava is lightly greased (not heavily).
3) Sprinkle some water on the tava, wait for 2 seconds and then pour a ladle of batter.
4) If water does not work, try to rub a small onion on the tava and pour a ladle of batter.
5) Try using a non-stick pan.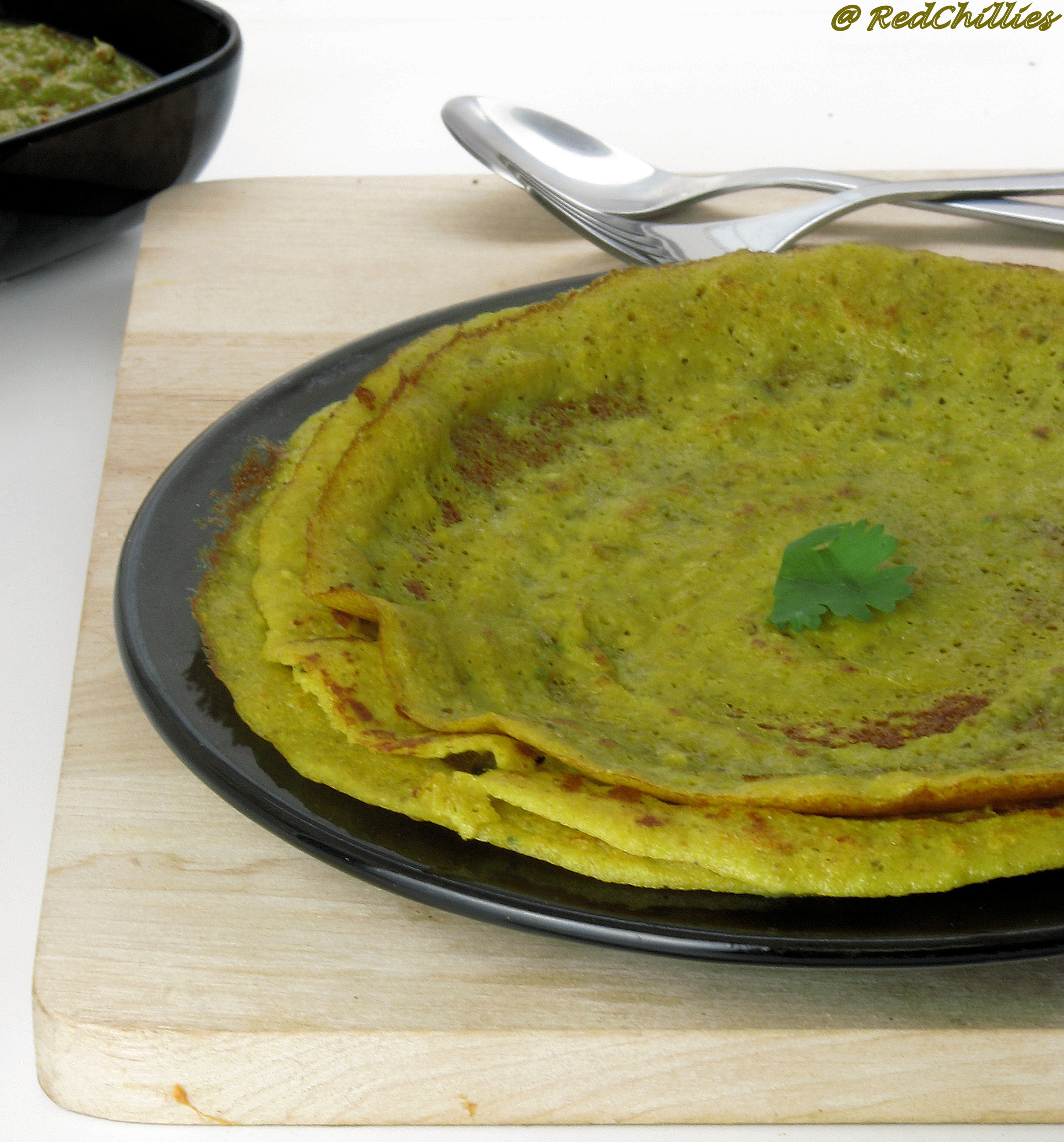 Ingredients
1/4 cup Chana Daal/ Bengal gram dal
1/4 cup moong daal
¼ cup urad daal
¼ cup toor daal
1/3 cup whole green moong
1/3 cup masoor daal /red daal(optional)
¼ cup rice (I use Sona masuri)
1 medium onion
2 green chillies
1 inch ginger piece
½ tsp turmeric
2 tsp Jeera/ cumin seeds
Salt to taste
oil
Soaking and Grinding: 
Soak the chana daal, moong daal, urad daal, toor daal and rice in enough water for about 6-8 hours.
When ready to grind, chop the onion into chunks and keep aside.
First grind Jeera (cumin seeds) along with green chillies, raw onion pieces, ginger and salt.  Do not add any water.
Now drain the water completely from the soaked daal and add this to the ground mixture on step 1 and grind it again. Add water, salt (if required) and turmeric.
The batter should be little coarse and not fine like a regular urad dosa. The trick for this is not grinding for a long time, zip through the different levels in quick succession.
Pour the batter in a container, add water and keep aside for 10 minutes. The batter is ready! (there is no need to ferment the batter) 
Making Dosas: 
When ready to make the dosas, check for the consistency of the batter. It should not be too thick or thin. Add water if necessary and mix well.
Heat the iron griddle/flat pan or non-stick tava on high heat. Sprinkle some water on it to make sure it is hot.
 Pour a ladle full of batter in the centre, spread with the back of the ladle from the centre, spreading the batter to form a circle.
Pour a tsp. of oil over and around it and after a minute or so, check to see if the back of the Adai/Dosa is cooked.
 Turn with a spatula when crisp and flip onto the other side. Let this side cook for about 20-30 seconds.
Note: This is not a crispy dosa, so do not cook on the griddle for a long time.
Proceed to make adai/dosas similar way with the remaining batter.
Serve with chutney or subzi or podi-oil or with ketchup. The last option is simply yummy!