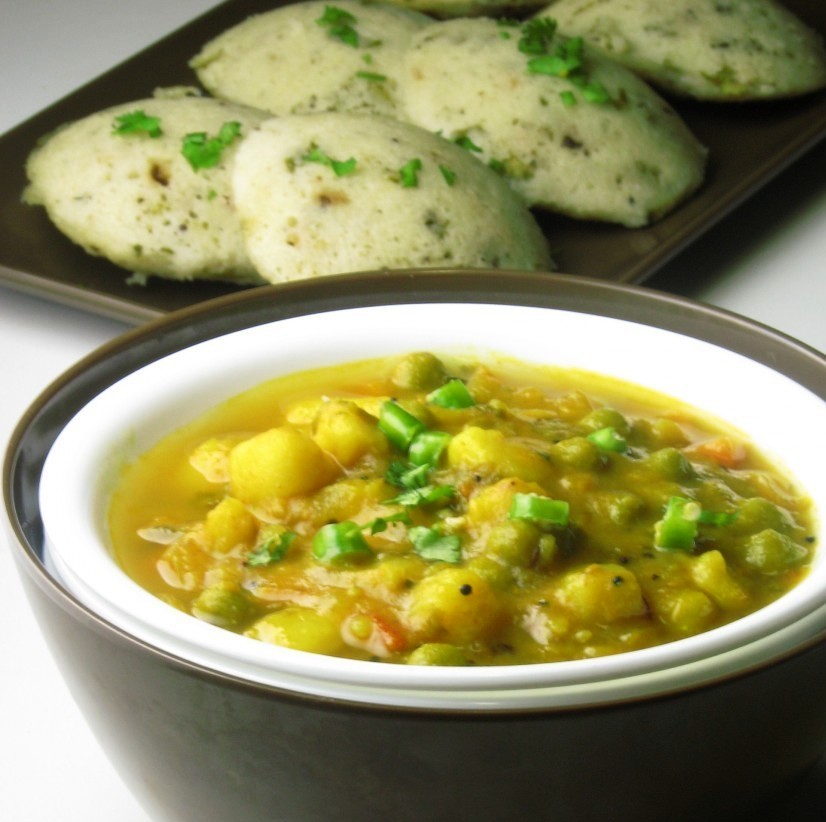 Rava Idli or Rave Idli is a variation of Idli, made with Rava/ Sooji/semolina instead of the usual rice and Urad Daal.  It is a specialty of the state of Karnataka and is usually served as a breakfast item. It has been said that the popular restaurant chain, Mavalli Tiffin Room (MTR) of Bangalore invented it. Apparently during World War II, when rice (a staple item used in idli) was short in supply, they experimented in making idli using semolina and created the now famous Rava Idli.
 Rava-Idli translates to semolina-idli in the Kannada language. Rava idli is served hot and is usually eaten along with Saagu and Coconut Chutney. A dash of Ghee poured on the top of Rava Idli adds to the overall taste. (Adapted from here). 
Unlike a regular Idli, the batter can be prepared in an instant and does not require any grinding or fermenting. So this is more of an Instant Idli. There are many versions of Rava Idli and Saagu, but this is the one that I follow often.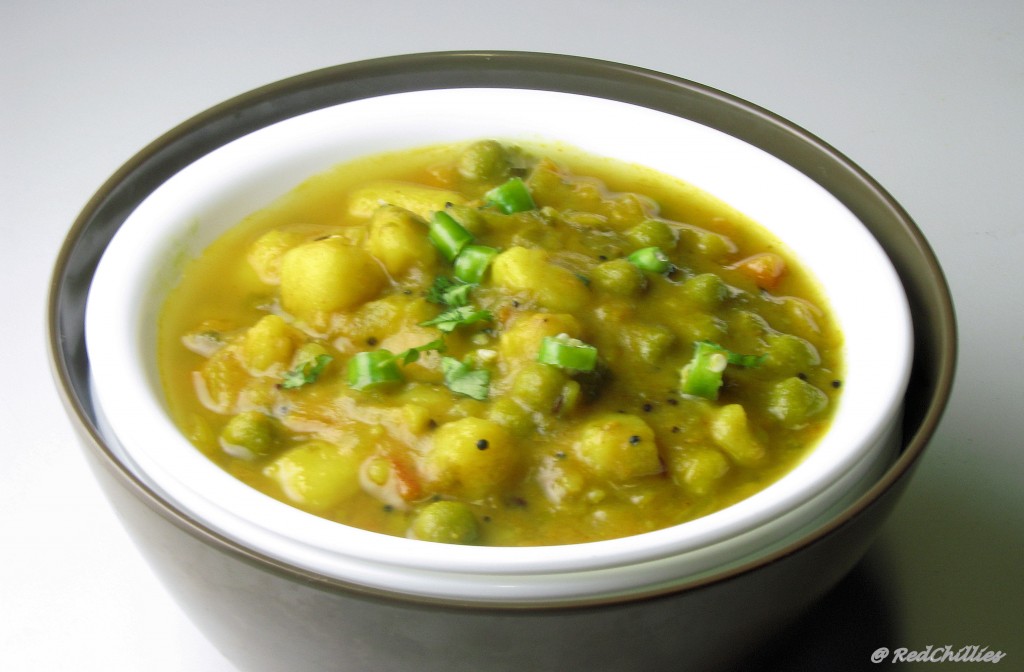 Potato Saagu Ingredients:
3-4 medium potatoes
1 medium Onion (chopped)
3/4 cup peas
2 Tomatoes
4-5 Curry leaves
2-3 green chillies
handful of chopped coriander leaves
Asafetida  a pinch
½ tsp Turmeric powder
Cumin seeds
Mustard seeds
Red chilli powder (depending on taste)
salt, Oil
Preparation:
Peel the potatoes and chop into small cubes. Put them in water to avoid browning. Now cook them over the stove top or microwave along with salt.
Alternatively pressure cook potatoes with water and then chop into cubes. Retain the water and keep aside.
Take a big pan and heat oil.  Now add mustard seeds, cumin seeds, asafetida and curry leaves,
Add the chopped onion, green chillies and cook until the onion turns transparent.
Add salt, chopped tomatoes, turmeric, red chilli powder and mix well.
Add the cooked potatoes, peas, salt, and water from the boiled potatoes. Cover a lid and turn the flame to medium and let it boil until the whole thing becomes thick and starchy.
Turn off the stove and garnish with coriander leaves and serve with Rave Idli.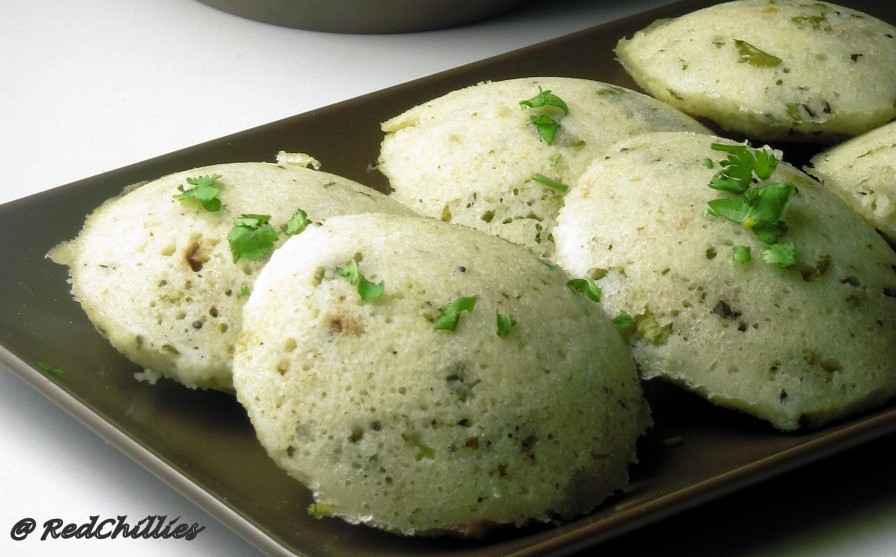 Ingredients for Rava Idli: (makes about 9 medium Idli)
1 cup Semolina/Rava(coarse)
2.5 cups yogurt/curd (sour is preferable)
½ tsp fresh ginger(grated)
Coriander leaves (chopped)
1/4 tsp baking soda
Salt to taste
Seasoning/Tadka
1 tsp Urad dal
1 tsp Mustard seeds
Asafetida (a pinch)
1-2 Green chillies(finely chopped)
2-3 Curry leaves
Oil
10-15 small Cashew pieces (optional)

Method for making the Idlis: Heat oil in a big pan. Add the mustard seeds and allow to splutter. Now add the curry leaves (cut into pieces), asafetida, urad dal, cashew pieces, green chillies and mix well.
Add Semolina/rava slowly to this seasoning and fry until it turns light brown and the aroma waffles through. Keep aside and allow to cool.
Take a bowl, add salt and whisk the yogurt.  Add this yogurt to the seasoned semolina mixture in intervals and mix well.
Now add baking soda, coriander leaves, and ginger to this and mix again. Keep aside for 15-20 minutes.
Note: If the batter is thick then add 1-2 Tbsp of water to thin it out.
Grease the Idli plates. Add spoonful of the batter to each of the idli plates.
Heat water in a pressure cooker and place the idli stand in a pressure cooker and cook covered without the whistle for 10-12 minutes.
Serve hot with a spoonful of ghee, potato saagu and with coconut chutney.