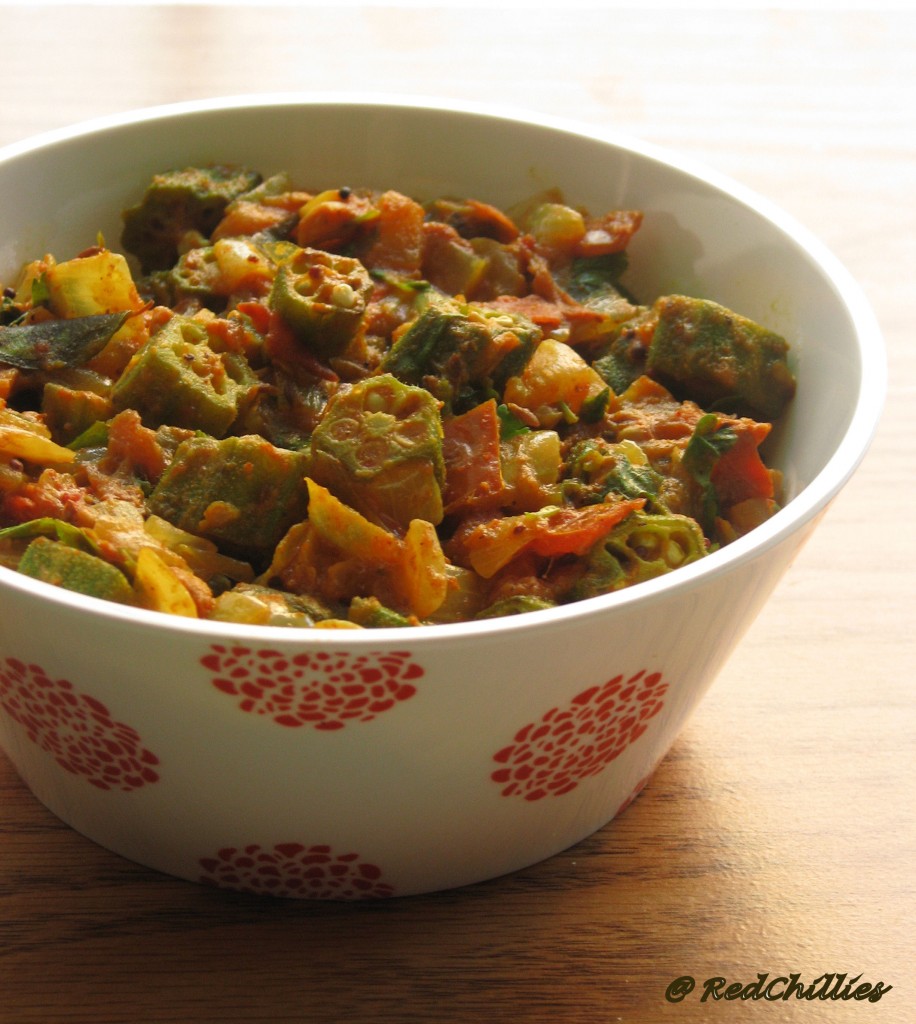 Okra is a favorite in our family; so a trip to the Indian grocery is not complete without buying a bagful of fresh okras.  Luckily for us, it is available all the year round. I prefer using the fresh variety as I have not had good luck with the frozen ones. They tend to stick a lot compared to the fresh ones and plus they loose their shape easily. 
There are different ways in which I cook okra. DH loves this Dahi Bhendi/ Okra Raita, but I being the typical North Kanara (who sear by their coconut curries) girl love the Bhindi Coocnut curry. I make this spicy Bhindi Curry whenever I do not have fresh coconut handy or I need something quick and easy. I also make Bhindi Masala, the recipe for which I am yet to post and sometimes add the cooked ones in the Sambhar. Either way it lends great flavor to the dishes. 
Okra contains vitamins A and C and is a good source of iron and calcium. It also contains starch, fat, ash, thiamine and riboflavin.
Tips to remove stickiness with okra/bhindi:
Wash the bhindi and allow it to dry before chopping. Dry it with clean cloth or with paper towel.
Also for most of my okra dishes I use a wide pan and cook the okra on high heat and keep stirring in between.
I also avoid covering it with lid (in the initial stages) and do not sprinkle water to cook.
As much as possible, cook okra separately and add it to the cooked sauce.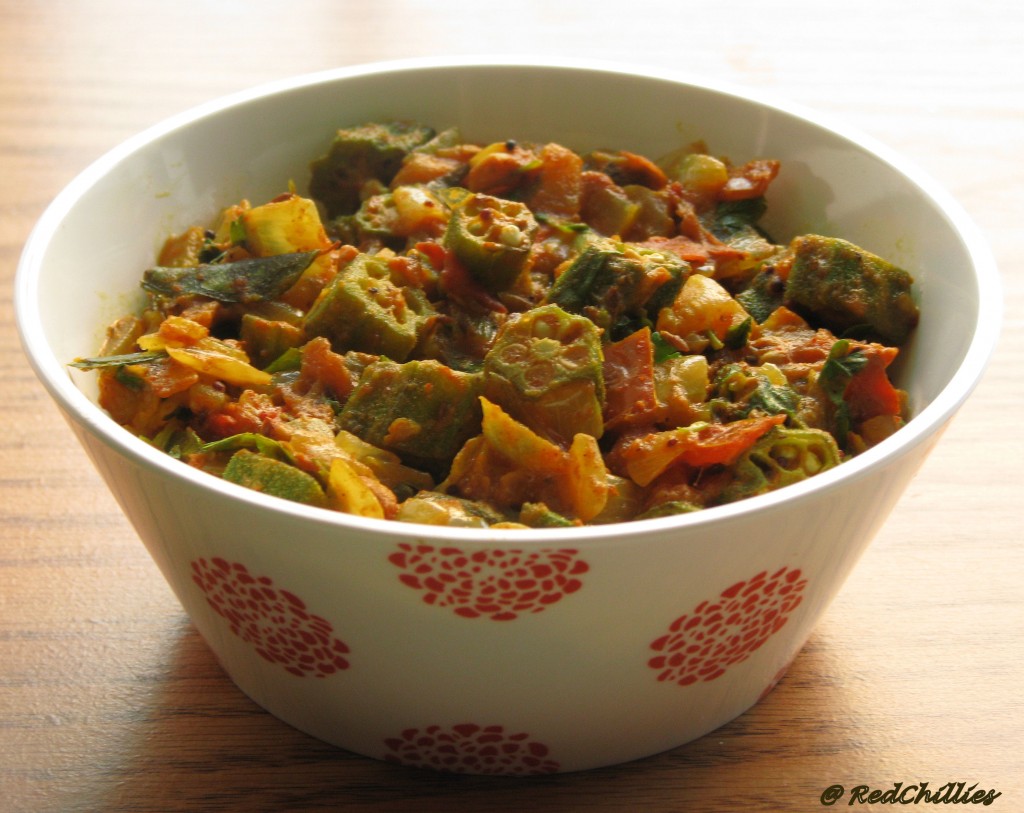 Ingredients
2 cups okra (chopped into discs)
1 medium onion (chopped)
2 medium ripe tomatoes  chopped( add more if you like the taste of cooked tomatoes)
2-3 green chillies
2-3 tsps Rasam powder/ sambhar powder/ garam masala/ kitchen king masala
Chilli powder
1 tsp tamarind paste (optional)
4-5 curry leaves
Asafetida a pinch
Mustard seeds
Coriander leaves for garnishing
Oil
Salt to taste 
Preparation
Heat a heavy bottom pan, add about 1 Tbsp of oil and then add the chopped okra/bhindi/lady's finger and salt. Fry it until the okra cooks turns light brown.
Sprinkle red chilli powder and give it a toss and transfer to another plate.
In the same pan, add mustard and let it splutter. Add curry leaves, asafetida, and then add curry leaves. Now add the diced onions and green chillies.
After the onions are sautéed and turned transparent, add salt and mix well.
Mix in the tomatoes and let it cook for a while on high heat. After the tomatoes are cooked and dried a bit, add the powder (either rasam/sambhar/garam masala/kitchen king), little more oil and mix.
Note: Some people do not like the cooked taste of tomatoes as it adds sweetness. In that case, you can reduce the number of tomatoes and add some tamarind paste for tanginess.
Add the cooked okra to this and mix well. Let it cook covered until the sauce blends well with the okra.
Finally garnish with chopped coriander leaves and mix. 
Serve with Rotis/ phulkas or as an accompaniment with Rice.