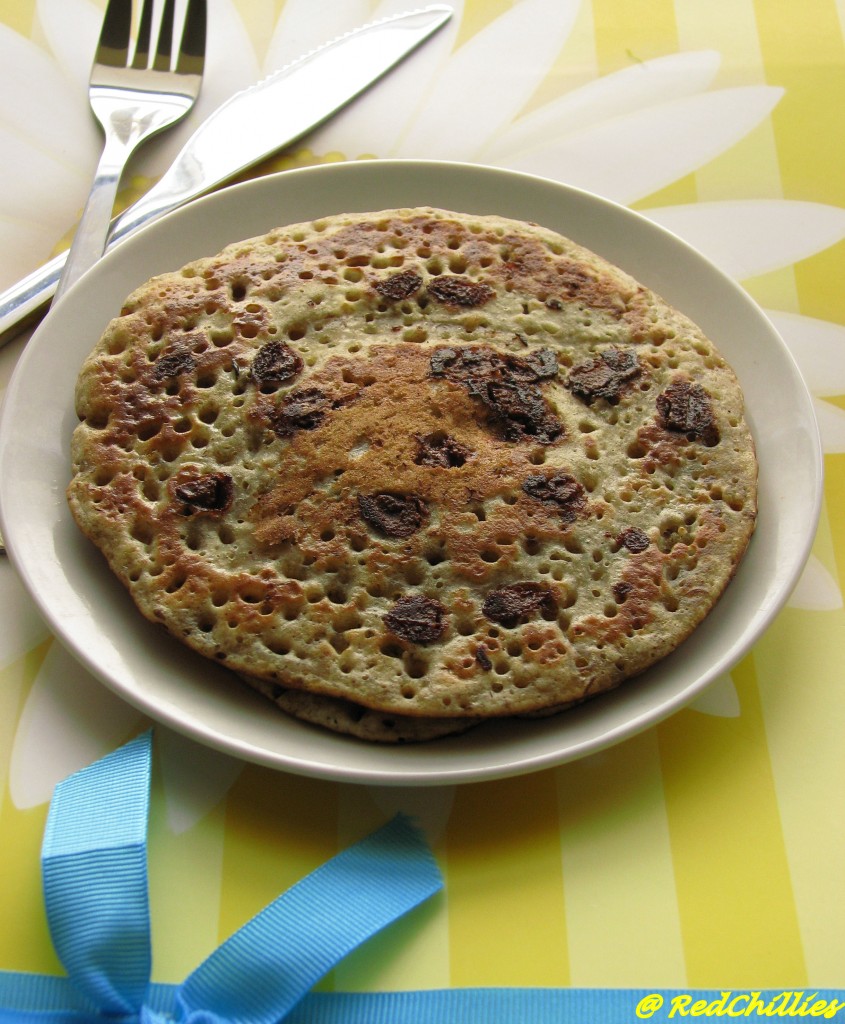 This time around (yet again) over the weekend we had some overripe bananas lurking on our countertops. I usually do not throw them, but come up with means of using them.
I have tried making Eggless Whole Wheat Banana Muffins, Eggless Banana Oats Chocolate Chip Muffins, Banana Halwa (Burfi), Eggless Banana Bread etc before all with good results. This time I did not have the energy to bake, yet wanted to make use of those bananas and try something which DS would enjoy.
 Somewhere along I got the idea of making pancakes and decided to try these Chocolate banana pancakes. I had tried these Banana Dosa /Vegan Indian Banana Pancake and DS used to like them earlier, but not anymore. So I decided to add some chocolate chips to make it kid appealing. This is pretty easy and the batter gets done in no time.
 I have used flax seed meal as a substitute for an egg. If you prefer eggs then skip the flax seed meal and add an egg. This is a good treat for the kids, mainly because of the addition of chocolate chips. The next time around I will try to substitute the AP flour with wheat flour to make it healthier. 
This must have been the quickest of the food pictures that I have taken. With a hungry 4.5 year old at tow, shouting "I am hungry" every 30 seconds, I barley took about 5 pictures (usually I take anywhere between 15-25 pictures).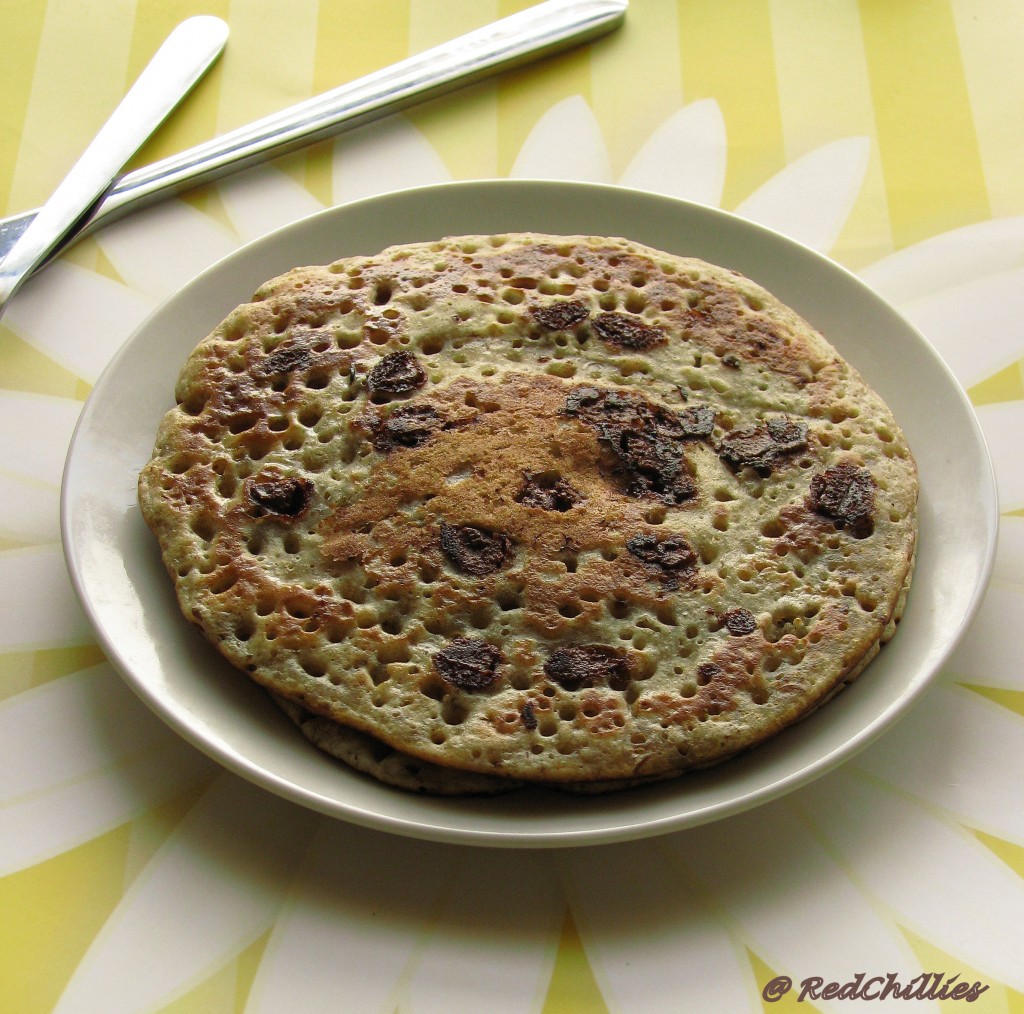 Ingredients:
1 cup AP flour /maida
1.5 cup milk
1 medium over ripe banana
2 Tbsp sugar
½ tsp salt
 1 Tbsp oil
1 tsp baking powder
1/2 tsp cinnamon
1 tsp vanilla essence
1/2 cup chocolate chips
½ Tbsp flax meal
1.5 Tbsp warm water
Directions
Note: This step is to substitute for egg. If you prefer you can add an egg and skip this step. In a small bowl combine the flax meal and the warm water, stirring in between. I did this 30 minutes before making the pancake batter. As a result this mixture was thick and gooey.
Now combine the dry ingredients flour, sugar, salt, baking powder and cinnamon in a large bowl.
Blend together the banana and milk and transfer to a bowl. Add the essence, oil and flax meal liquid to it and mix well.
Add this liquid to the dry ingredients and mix well. The pancake batter is ready.
Heat a griddle/tava, pour a ladle of batter onto griddle spread it around into rounds.
Sprinkle some chocolate chips on the spread pancake. ( I chopped the chips coarsely and sprinkled them)
Cook for a minute or two or until the top is bubbly. Flip pancake and cook for 20 secs else the chocolate will get burnt.
Serve hot as is or with some pancake syrup/maple syrup.
Note: I have been told that the updating comments usually takes a long time on this site. I would appreciate if you could provide a line feedback about that. Thanks in advance.