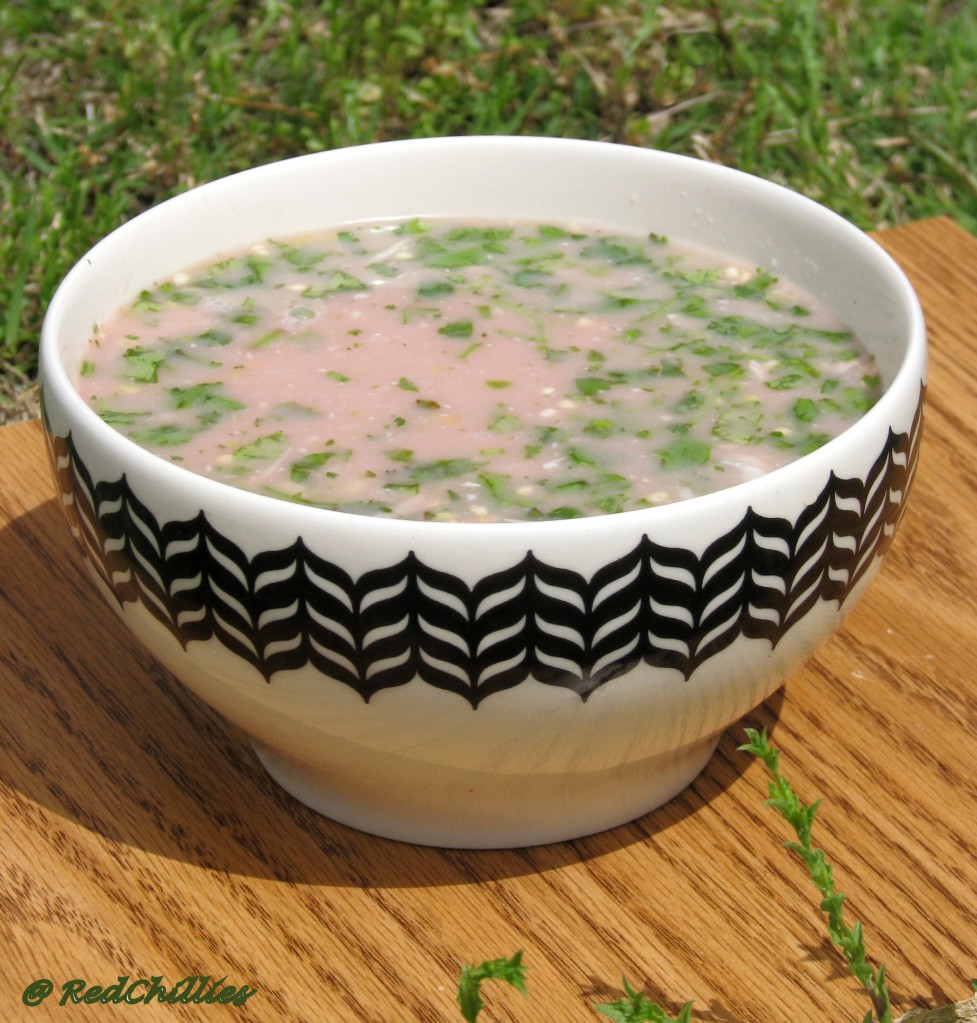 Kokum is the dried skin of a fruit related to mangosteens.The outer cover of fruit is dried in the sun to get Aamsul or Kokam/Kokum. It is used as a slightly sour spice in recipes that yields peculiar taste and dark red colour. It is a preferred substitute for tamarind in curries and other dishes from Konkan. It is very abundant in the west coast region of India and hence an integral part of Konkani cuisine. These are called 'bhirnda sol' in Konkani. 
At home I use the Kokum to make Kokum kadi.  I have already posted one version here before, this does not use coconut in it. This version that I have posted here uses coconut milk along with garlic and green chillies. This is referred to as Birinda Sola Kadi in Konkani. We enjoy drinking this Kokum kadi especially during hot summers as it has a cooling effect on the body. This can also be consumed along with food or after dinner and tastes terrific when used as an accompaniment with Varan Bhat/ Daali thoy (Konkani daal).
This drink has combination of sweet, sour, hot and tart taste which is hearty and refreshing. The sour taste of the peels is neutralized by the addition of coconut milk and jaggery. 
Studies have shown that this fruit can reduce fat, cool body, purify blood and also reduce cholesterol. Check out the other health benefits of kokum here.
Ingredients:  
4-5 kokum peels
½ coconut shredded (to extract coconut milk)/coconut milk
3 cups water
2-3 garlic pods
2 green chillies (increase if you like it spicy)
salt and jaggery to taste
Serves: 4
 Method:
The first step is to make the kokum juice and then the second step is to extract the coconut milk.
Option 1: Boil the kokum peels with half the water for about 5 minutes. Remove the peels and keep the juice aside.
Option 2: In a bowl, add half the water and the kokum peels and set aside for 6-8 hours. Remove the peels and keep the juice aside.
To make the coconut milk, blend together the coconut along with water and make a thick paste. Pass this through the sieve and save the extracted milk. Note: you can use readily available coconut milk instead of this.
Make a paste of green chillies and garlic and keepaside.
Now mix the kokum juice and coconut milk, add salt, jaggery and the green-chilli paste.
Note: Run this through a sieve to remove the bits and pieces of garlic and green chillies.
Garnish with chopped coriander leaves. Refrigerate and serve cold or optionally drink warm.