What better way to get over the hump day that to announce a prelude to a giveaway? While working on this post, I was contacted by the team from CSN Stores to see if I was interested in doing a giveaway at my blog and boy was I thrilled that I agreed to do it right away.
If you have not already visited CSN Stores then I strongly recommend doing so. They have about 200 online stores and over 1 Million products! It took me hours going through their website. Need some cookware collection or children's furniture they have it and that too with tons of options. Or maybe you are looking for lighting options? They have everything from hanging lights, regular lighting fixtures, recessed lighting to lamps! Do check them out.
The actual giveaway will follow soon, so stay tuned and don't forget to check back here.
Coming back to the recipe, at home I usually make the dry version of Lobhia curry. But then once in a while I also make lobhia coconut curry, Konkani way with lots of coconut. This time around I used a good variety of organic coconut milk and made this for the first time. The idea was to make the consistency somewhere in between the dry and the full of gravy coconut lobhia curry. I have not had much luck with good variety of coconut milk, the ones that are available in the Indian stores are laden with chemicals and sometimes they are way past the expiry date. So I was delighted after some recommendations from friends found a good quality organic coconut milk.
I used the light coconut milk for this and the addition of the milk gave it a light, creamy taste (not overpowering) and that blended well with the masala and the black eyed beans. I am sure I will be making this more often and this goes well with rice or Rotis.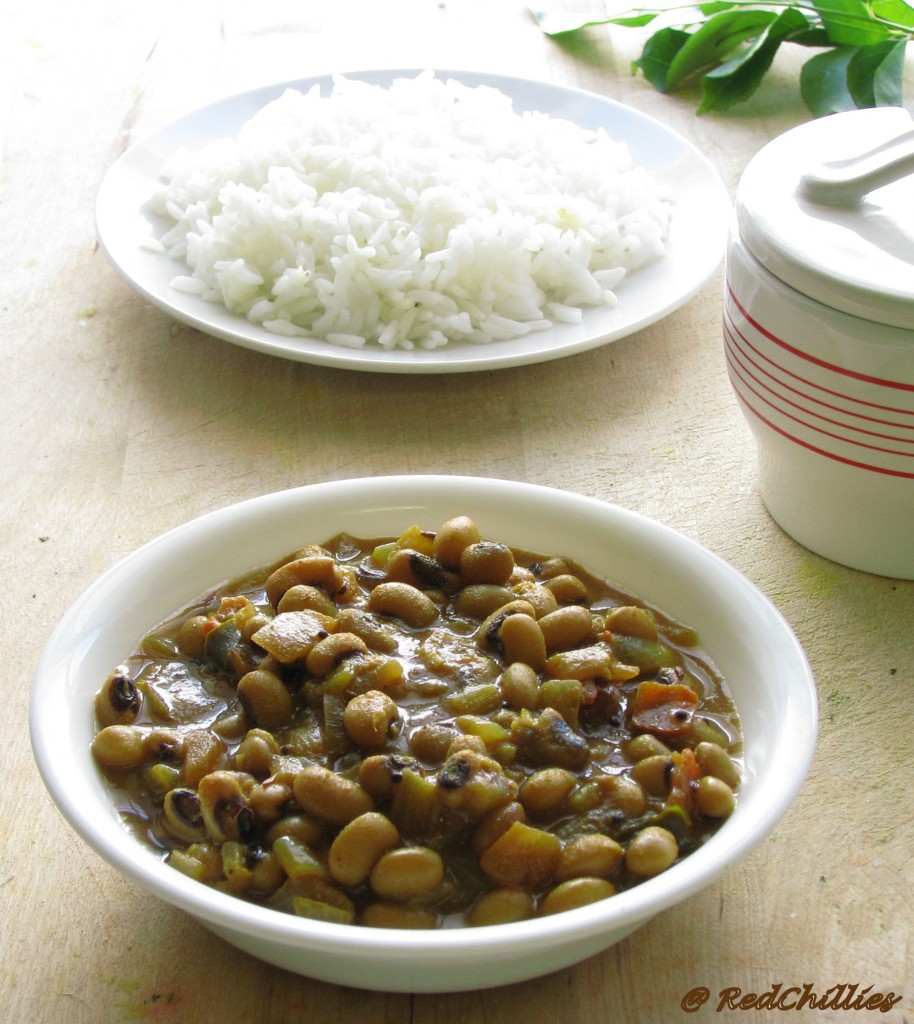 Ingredients:
1 cup black eyed beans (dry or canned)[ Lobhia/ Chawli/Chowli]
¾ cup chopped onions
2-3 medium tomatoes (diced)
1 tsp ginger grated
garlic pods peeled and grated
Chilli powder
Turmeric
Jaggery/sugar
½ tsp Coriander powder
1 cup coconut milk ( I used canned light version)
Mustard seeds
Cumin seeds
Curry leaves
Salt to taste
Oil
Serves: 4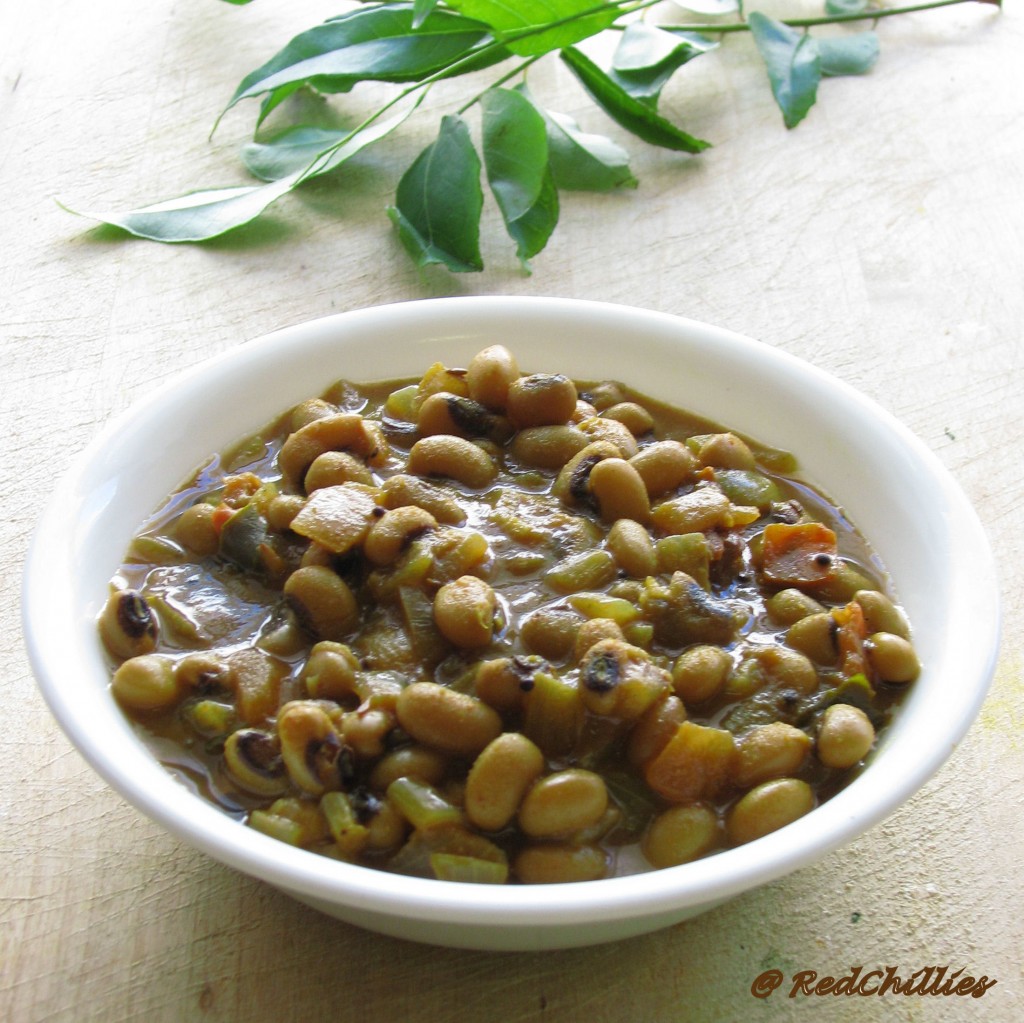 Method:
If using the dry variety, make sure to soak the beans overnight or for about 8-10 hours in enough water.
Drain the soaked water completely and pressure cook the beans using sufficient water. Make sure the beans are not over cooked.
Separate the water from the cooked beans, sprinkle salt and mix well. (When it is hot, the beans absorb the salt well). Retain the cooked water in a separate bowl.
Take a heavy bottom pan. Add oil and prepare the seasoning with mustard, curry leaves, jeera seeds.
Add the grated garlic, ginger, onion and sauté until the onion turns transparent.
Add the diced tomatoes, salt and stir it. Add turmeric, salt, coriander powder, jaggery and mix well.
Add the cooked beans, cooked water, and coconut milk to the onion tomato mixture and stir well.
Cover it with a lid and let it cook until everything is blended well.
NOTE: Depending on preference make this gravy water as desired by adding more water or coconut milk.
Serve hot with rotis/phulkas or with rice.