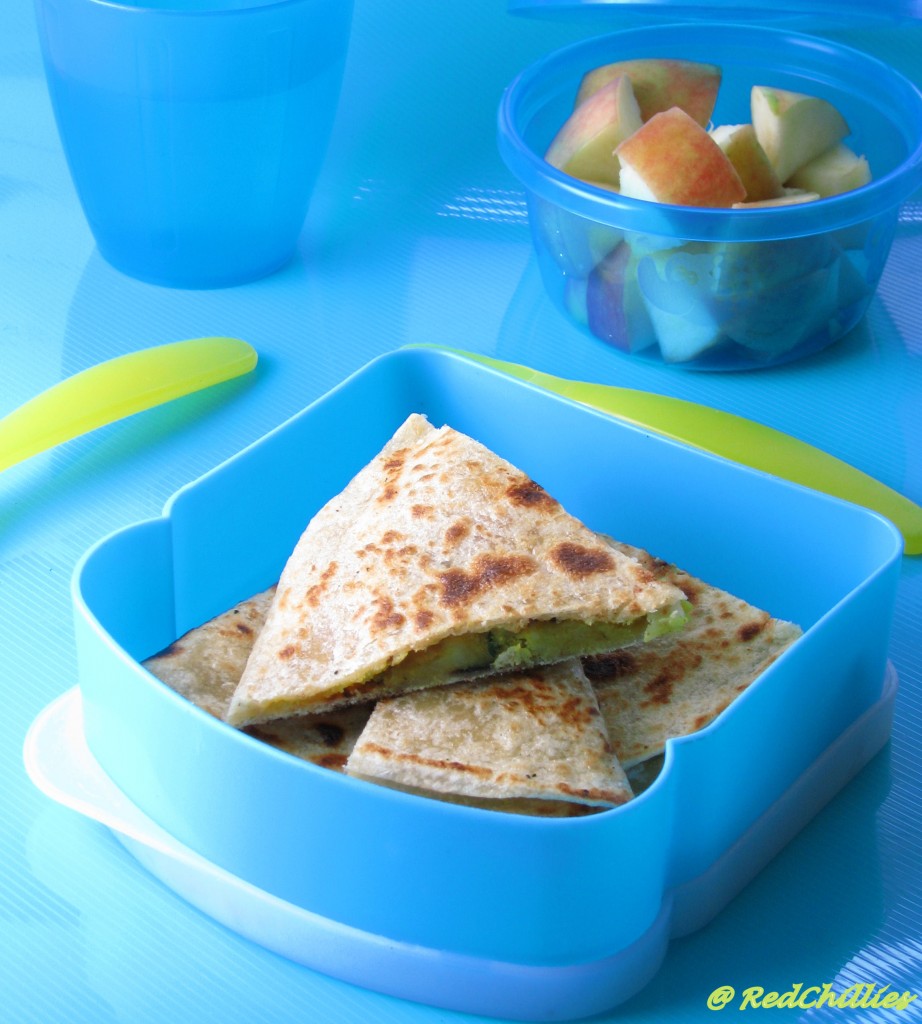 Even though I call these Quesadillas, these wedges do not have a good amount of cheese the way traditional quesadilla has. The reason? The kiddo in the house does not like cheese. He likes the chapathis/tortillas, potatoes but not cheese, hence the other name Chapathi Wedges. Have I mentioned that he does not like pizza or ice-cream either (gasp!)?  Given his fluctuations in tastes let's see how long this lasts though. 
Speaking of the kid, he keeps us entertained with his mischievous antics, funny and innocent talk. I have some of his funny talk here, I digress, so feel free to skip this and head straight to the recipe. 
Smart Alec self: 
"Do not wake me up in the morning, as my teacher told me that I am allergic to waking up".
"Next Friday when I was sick, you take me to school. That's not fair". 
Un-bashful self: 
After missing school for a couple of days "Pappa, I have to go to school other wise my friends will miss me"
He was recently moved to the bigger class (4-5 year olds) and his joy knew no bounds. Upon his insistence we had to share the good news with everybody; Star Bucks baristas, grocery cashiers, librarian, truck drivers etc. No, not to policemen as a certain someone is scared of them 🙂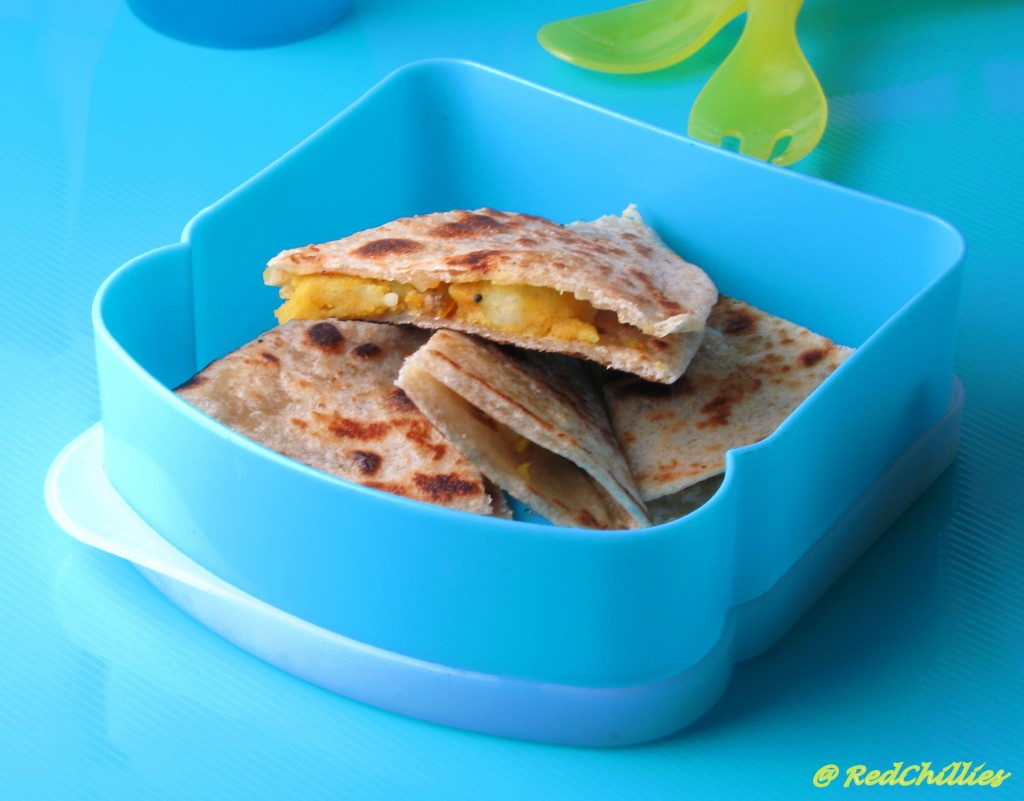 Filled with 'Gyaan' self: 
 "If you remove the brain from your head, you will become a skeleton".
"Now I am four years, when I become hundred and tall I will be able to touch the sky".
"If you remove your ribs, then you will become a floppy bag".
Innocent self: 
"For my birthday can you give an iron man toy as a surprise?"
For his school musical, I had to search hi-low to find white shorts (not off-white, mind you strict rules from the school). Frustrated I went to the girls section and found some cute white shorts that matched the criteria. Alarmed at the thought of wearing pink and white he said "Amma, if I wear this, people will think that I am a girl".
 OK, moving on to the recipe the things that I have to keep in mind while packing his lunch is not adding nuts (peanuts included), the lunch item does not get soggy or become hard after a while and most important of all, it has to be kid appealing. 
I had ideas of making quesadillas for lunch, but did not know how the cheese would stay after 2-3 hours of preparation. So when I googled for some ideas, I saw this recipe at ISG's and loved the idea of adding potatoes along with cheese. The cheese used is just enough to glue the potato filling to the wrap; hence the taste of cheese is not felt at all. The taste of this reminded me of our very own Aloo Paratha.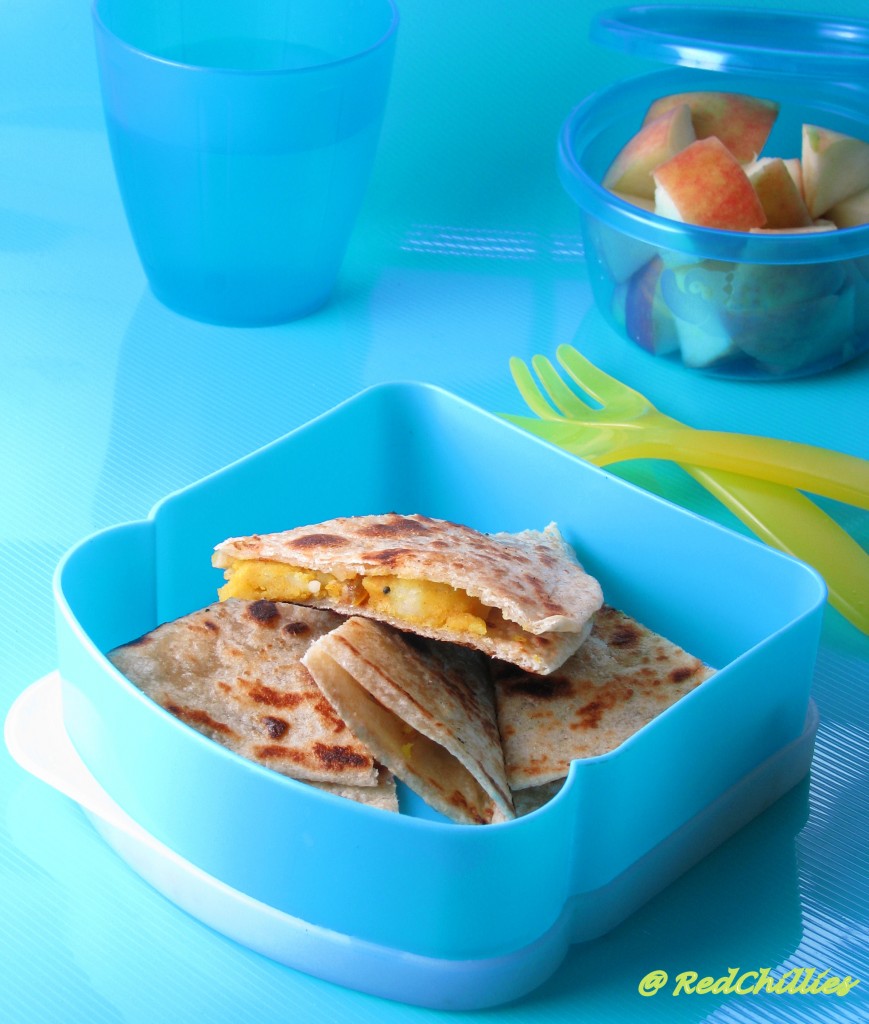 Recipe Source: Adapted from here
Ingredients
2 wheat tortillas/ chapathis
Potato filling/sabji (use any potato filling of choice)
2 Tbsp shredded cheese (I used 2% sharp cheddar) [add more depending on taste]
Oil 
Notes: The recipe as is could not be any simpler, however few things to keep in mind: 
Do not roast the chapathis/tortillas on high for long time, else they will become hard and it does not taste good if stored in the lunchbox.
Use any filling of choice. I have posted a similar recipe here with filling of onion and spinach.
I use only little cheese to help 'glue' the filling to the chapathi/tortilla. Go ahead and use more, if you like. 
Method: 
Heat up a tava/girdle on medium and place the chapathis or tortillas.
When cooked on both sides, place a spoonful of prepared Sabji on one half on the chapathi, sprinkle cheese around the edges.
Note: Depending on taste, feel free to add more cheese.
Close the chapathi using the other half into a semi-circle shape. Cook on both sides for about 10 secs. Peek to see if the cheese has melted.
Pull it off the tava/girdle and cut into wedges. Pack in lunch box. Tastes good with some ketchup.