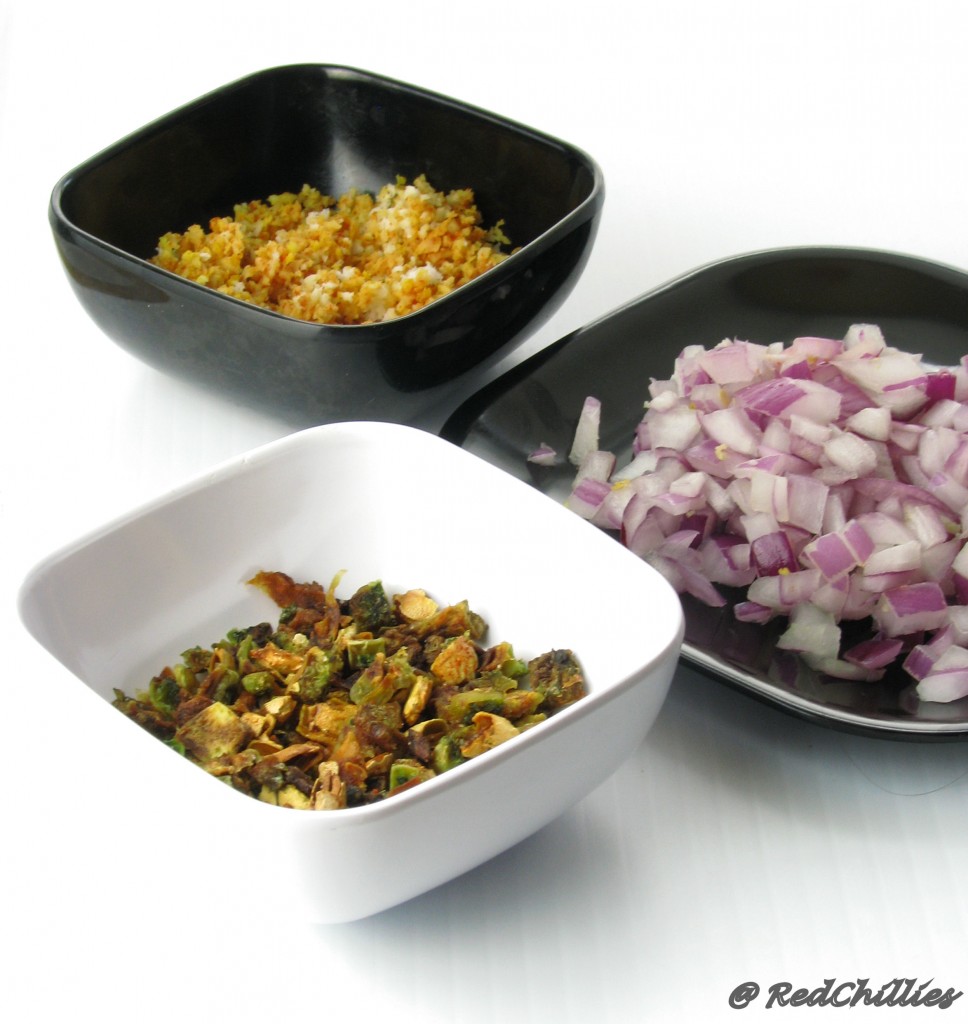 Kismuri (Konkani word) is a side dish that is made of a mix of coconut, onion, chilli powder along with roasted ingredients like bittergourd, pappad etc.  Karate is Konkani word for Bitter gourd and hence the name Kaarate Kismuri. No, not the martial arts Karate, I promise you there is no such thing involved in this  recipe:-)
(Note: In Konkani, this is pronounced "Kaa ra the" with a soft 't')
 This is a very simple recipe, yet the taste is very appetizing. The only tough part is chopping of the bitter gourd finely and then frying it. Traditionally the bittergorud pieces are roasted/fried on the stovetop that is how my mom and MIL do it. But I take shortcut and do it in the microwave ( I know, lazy me :-)). Of course, if done in the microwave then it gets done in a breeze and does not require any baby sitting. 
Even if you are not fond of bitter melon because of its bitter taste, then do not worry, the bitter taste is gone after roasting and all that is left over is scant bitterness along with the crunchy taste of bitter gourd pieces. While making this it also reminds me of the Bitter Gourd Chips that do not have any bitter taste in them. 
The measurements provided here are approximate please modify as per requirement. The recipe is very forgiving and so one can adjust the taste by increasing or decreasing an ingredient. Want it spicy, then add more chilli powder, do not like sweet, then skip jaggery and so on.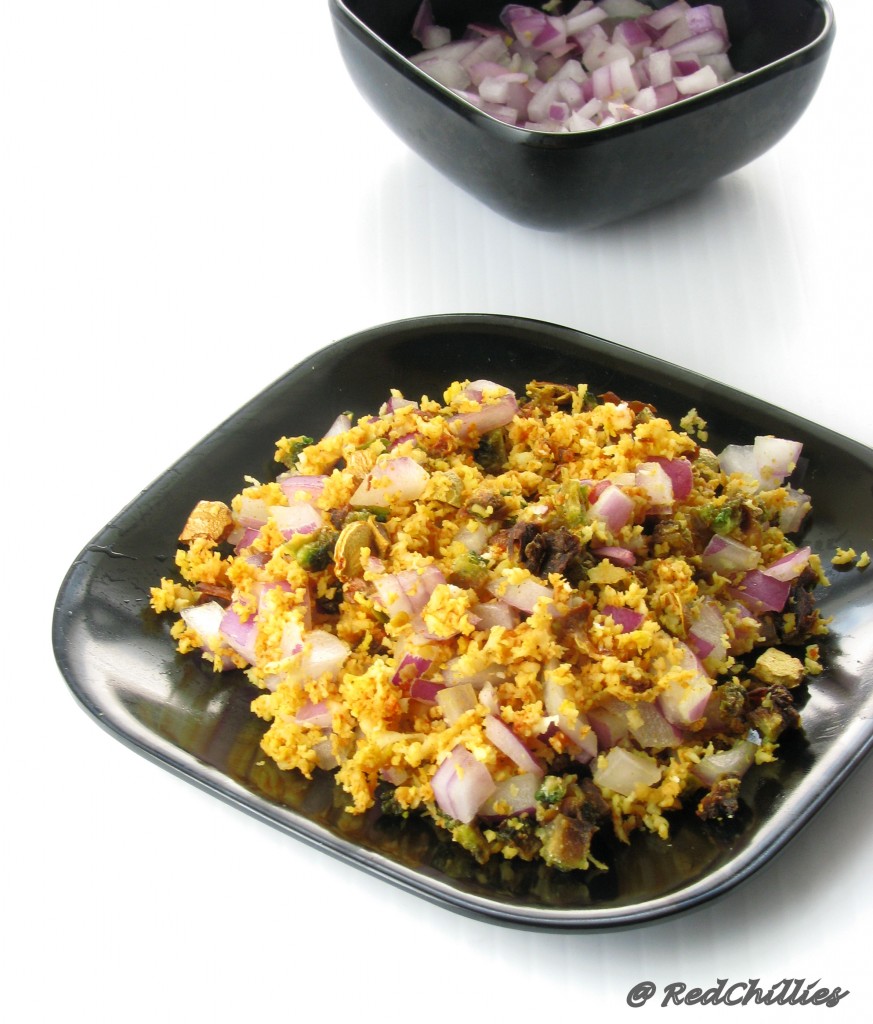 Ingredients
2 medium sized bittergourds
½ cup shredded coconut (finely)
1/3 cup chopped onions
½ tsp chilli powder
Turmeric a pinch
Jaggery (optional)
½ tsp tamarind paste
Oil, salt
Serves: 4
Directions
Wash the bitter gourd, scrape the skin and chop into very fine pieces.
Note: I do not pre-soak the bitter gourd with salt, drain the water to remove the bitterness. In our family, we are able to tolerate the scant bitterness. It is optional though.
The roasting of the bitter gourd could be done wither in microwave or stove top.
Microwave: Take a microwave safe glass plate and add the chopped bitter gourd pieces. Sprinkle some salt and oil and microwave for 2 minutes. Take the plate out, add some more oil and toss it around. Microwave for another 2-3 minutes. After it is done, it should be evenly browned and not burnt.
Stovetop: Heat a heavy bottom pan, add oil and then the bitter gourd pieces. Keep stirring until it turns brown and crisp.
Meanwhile mix the shredded coconut along with chilli powder, salt, tamarind paste thoroughly.
When ready to serve, mix the chopped onions, along with coconut mixture and roasted bitter gourd pieces.
Serve immediately, do not store it as the bitter gourd piece becomes soft, the crunchiness is lost and will not have the same taste. Mix up only the amount you require and serve.
Tastes good with Daal Rice and or with Yogurt Rice.