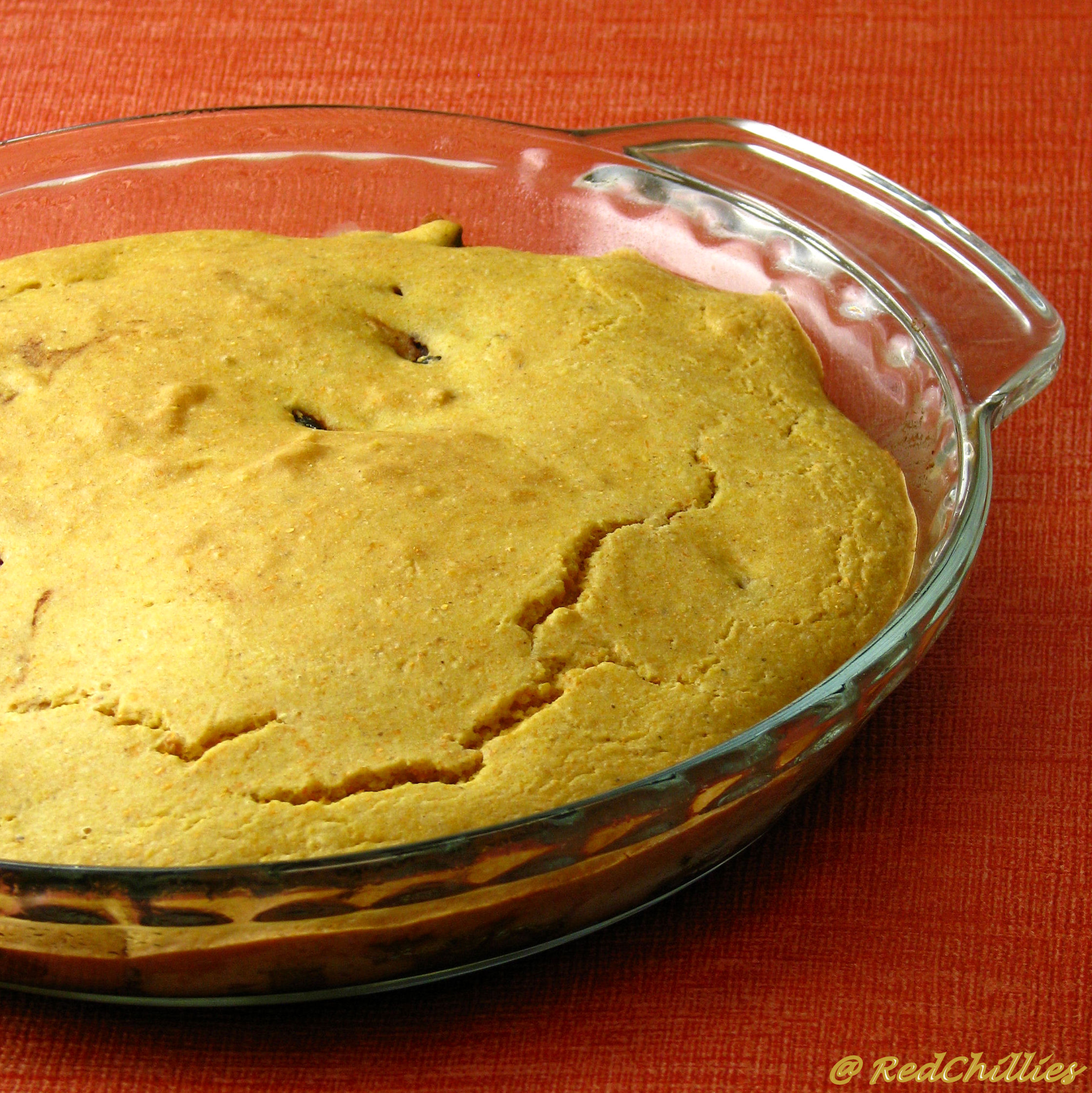 I had this dish almost 10 years ago at the company cafeteria I used to work for way back then. (Aww shucks, that was a decade ago, I cannot believe how time flies!) That was during the height of dot com boom and everything in the company was extravagant. Free breakfast, free lunches, pizza days, free stuff from the vending machines, pool tables, gymn, TT tables, birthdays, picnics and what have you. It was bliss, except for the work schedule as that was extremely crazy; we had to work long hours even during the weekends. But somehow people did not seem to care and worked their heads off.
I was new to the country then, new to the company and oblivious to the cuisine choices. Being a vegetarian limited my choices even further. So most of the times I used to take my own lunch to work, but on occasions when I could not I would eat at the cafeteria. After some trials and tribulations this Black Bean Cornbread was on the top of my list of food choices at the cafeteria.  But that did not last long. (No, not the choice of food, the cafeteria itself).
Less than the year later the dot com bust happened and that devoured the company, closing the cafeteria, leaving the people and assets in shambles. The company dis-integrated and the people dispersed looking for newer ventures and greener pastures. I moved on too and as time passed, the memory faded and I forgot about this dish as well.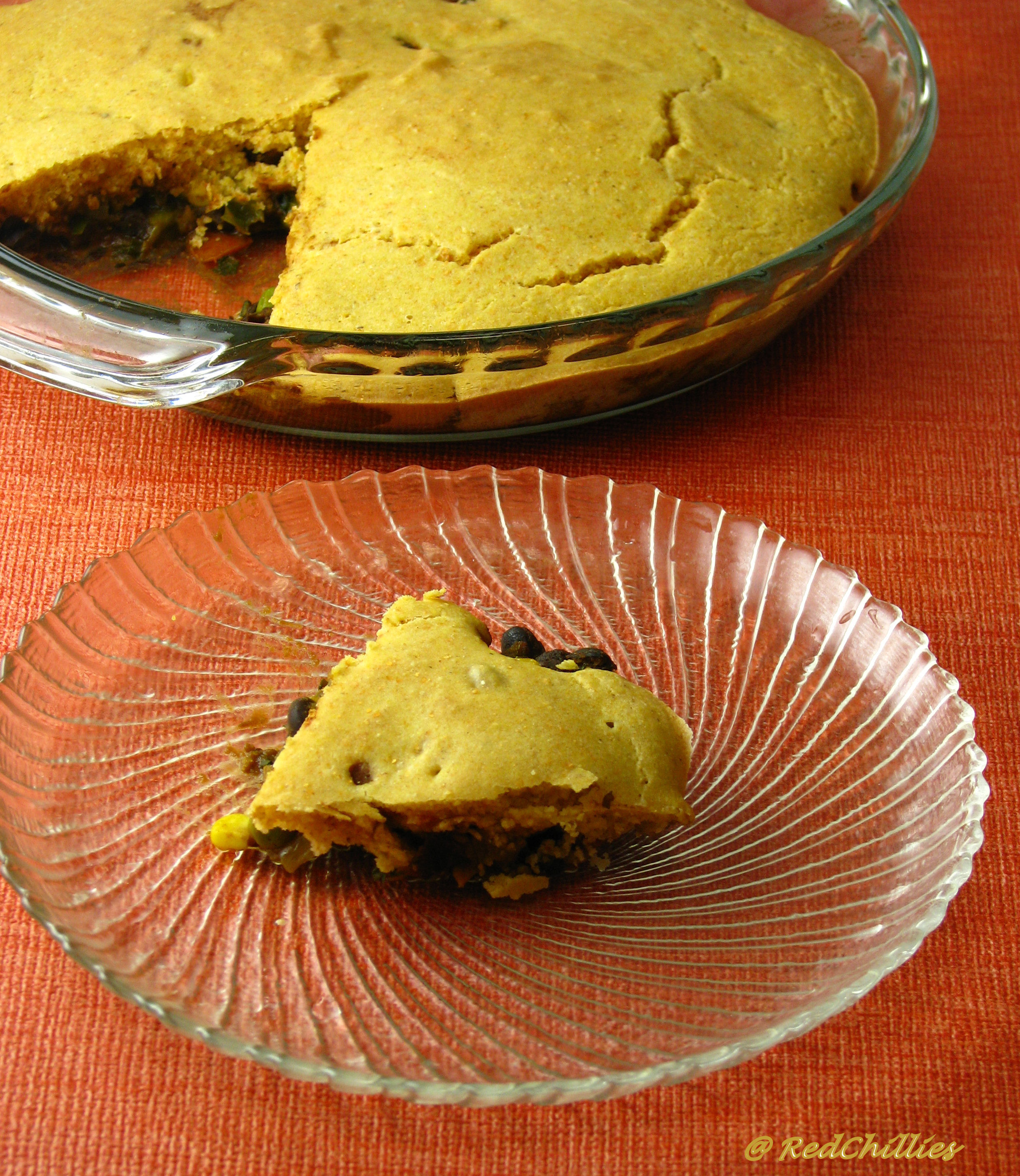 Anyway, just few weeks ago, I happened to see this recipe in the recent edition of the Vegetarian Times and got all excited. I could not help reminisces and muse over the happenings of the past. As I read through the recipe, preparing it did not seem that complex. Had I seen the same 10 years ago, I am sure I would not have even ventured into making the dish.
I made this for dinner the other day by making few changes to the original recipe. I tried to cater this to our Indian taste. Nevertheless the taste was good, nutritious and filling.
I wish I had taken better pictures. But then it was a long day and I did not have the patience to do the setup and re-do them again.
Black Bean Cornbread Bake Recipe
Adapted from: Vegetarian Times
Ingredients
½ can black beans
1 cup corn ( I used frozen, thaw it)
2-3 garlic pods grated
1 Tbsp oil
¾ cup chopped onion
1 medium tomato
Coriander leaves (optional)
½ tsp chili powder
½ tsp cumin coriander powder
For the topping:
½ cup AP flour
½ cup yellow cornmeal
1.5 tsp baking powder
1/2Tbsp sugar
2 Tbsp oil (recommend butter)
½ tsp salt
2/3 cup light coconut milk
Preparation:
Pre-heat oven to 350 F. Lightly grease a square/round baking pan.
Heat a sauce pan on a medium and add the chopped onions.
Next add grated garlic, tomatoes, salt and mix until they are almost cooked.
Add chili powder, cumin coriander powder, corn and then chopped coriander leaves.
Note: No need to completely cook this and it will cook during baking.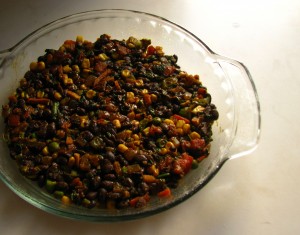 Mix together AP flour, cornmeal, baking powder, sugar and salt. Add oil and coconut milk and stir until combined. No need to over mix this. It should have a spreadable consistency.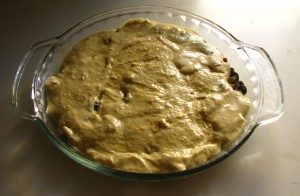 Spread this batter over the bean mixture and spread it around with a spatula.
Bake uncovered for 30 minutes or until the topping is lightly browned. Let it stand 5 minutes before serving. Serve hot!
Taste Test: This is a very filling dish. I had 1 slice and I found myself filled almost at the end of the slice. I felt that the outer dough was little dry; so next time I will use butter instead of oil. I liked this best with ketchup and salad on the side.