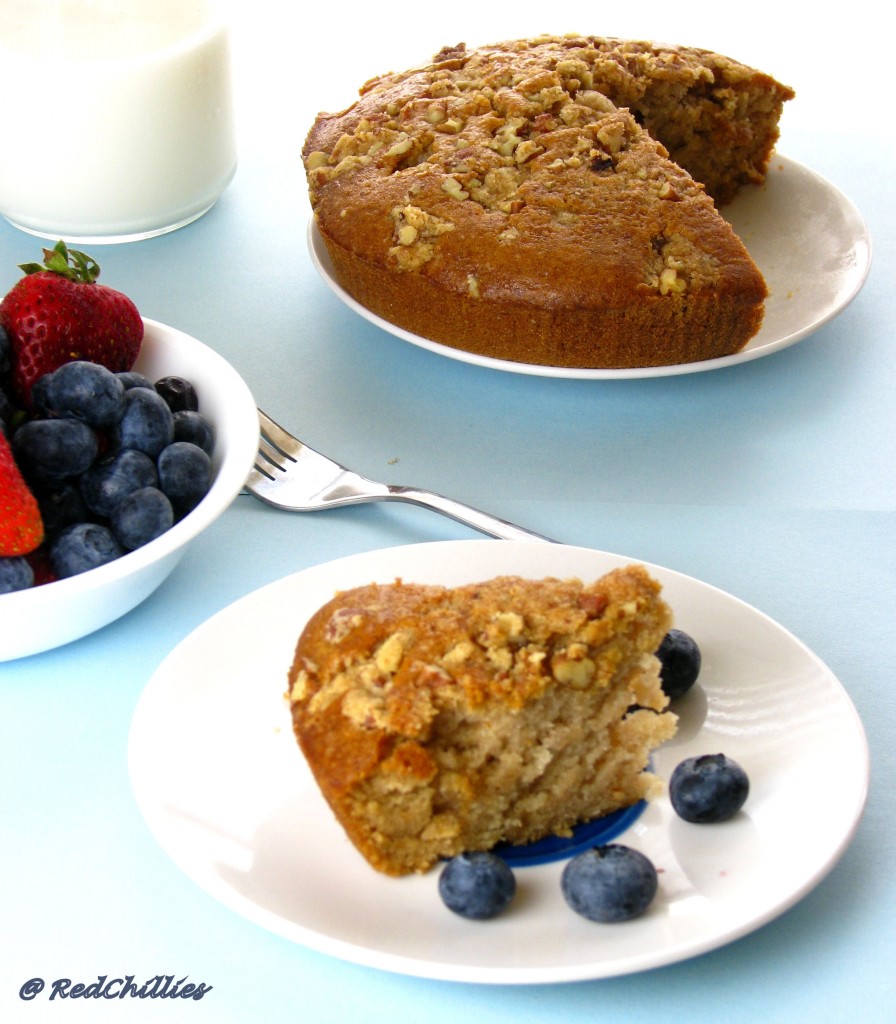 So what is a Coffee Cake? Turns out it is a class of cake intended to be served with coffee or during breaks. They do not need to contain coffee in them. Coffee cakes are typically flavored with cinnamon, nuts, and fruits. These cakes sometimes have a crumbly topping called as Streusel. 
It has been a while since I posted recipe for cakes/muffins; not because I have not been baking, but because the baking experiments were not successful and not worthy of posting them here on the blog. The baking that I do is all eggless and I am on look for recipes that are egg free. 
I recently purchased Ener-G egg replacer and wanted to experiment something with it.  This is used as a substitute for egg.  I chose this Cinnamon Coffee Cake as it was simple and not laden with calories. So I finally baked it and below are some positives and negatives as I found them.
Taste Test: 
Positive: The cake was soft and light with good texture; the crumble topping is what makes the cake taste delicious. Please note that this is not a dense or a moist cake. The cake remained soft and the texture did not change even after 3 days, so this was a surprise for me; as most of the eggless cakes that I have baked earlier have become hard the next day itself. 
Negative: The negative part of this was the chalky taste that the egg replacer imparts. Please note that it is not intense, or over powering however you can certainly feel it while tasting it.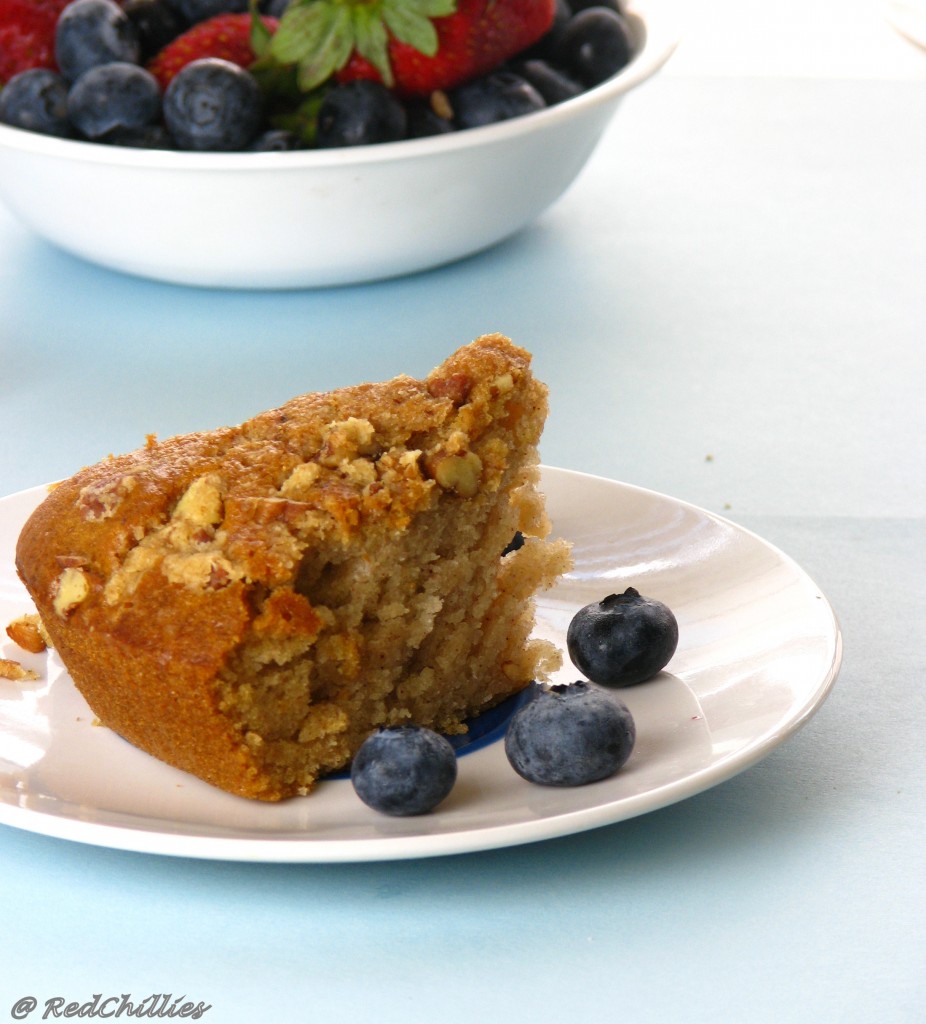 While baking this cake I had used only 1 tsp cinnamon and ¼ tsp ginger. The next time I make this I will stick to the proportions suggested above as that will definitely mask the taste of the egg replacer. 
The other thing I noticed is that the chalky taste of the egg replacer subsided the next day and was gone on the 3rd day. So it is best to try this either with vinegar or an egg, as then I am sure the taste will be awesome. 
This is a good one to make if you are looking for something quick and light. This forms a good accompaniment with either tea or coffee. 
Dear Reader, if you have been using the egg replacer, I would love to hear from you, your opinion about it and whether you have felt that chalky taste as well. 
Cinnamon Coffee Cake Recipe
Adapted from: Joy of Vegan Baking
Ingredients
3/4 cup milk
1/3 cup canola oil
1.5 tsp egg replacer + 2 Tbsp water/ 1 Tbsp white distilled vinegar/ 1 egg
1 cup AP flour
1/2 cup sugar
1 tsp baking powder
1 tsp baking soda
2 tsp cinnamon (ground)
1/4 tsp salt
1 tsp ginger grated
Streusel Crumble topping 
3/4 cup AP flour
1/4 cup sugar/brown sugar
1 tsp cinnamon
1/4 tsp salt
3/4 cup chopped walnuts/pecans
1/4 cup butter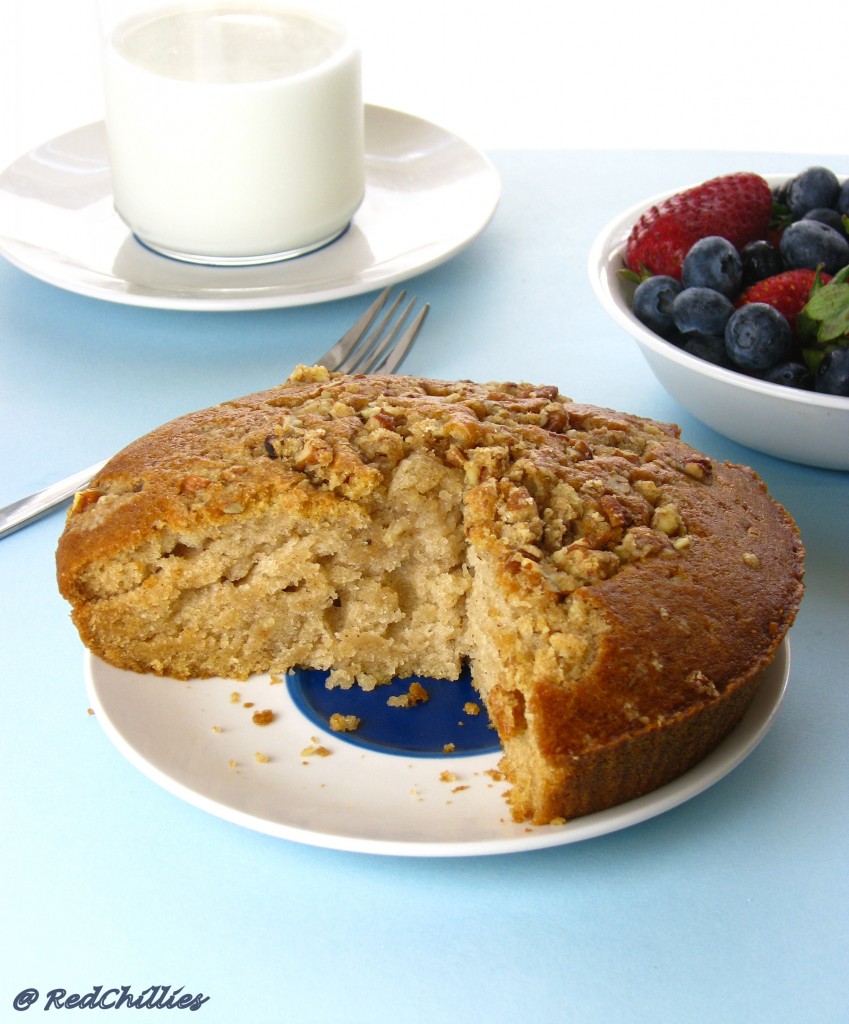 Preparation:
Pre-heat oven to 350 F and grease a cake pan.
To substitute for 1 egg: Mix the 1.5 tsp egg replacer powder with 2 Tbsp water for about 30-60 secs until it combines and is milky and little frothy.
In a small bowl, combine milk, oil, egg mixture, stir well and set aside.
In a large bowl mix the flour, sugar, baking powder, baking soda, ginger, salt and cinnamon.
Add the milk mixture to this dry mixture in intervals and stir until combined. Pour into the greased cake pan.
To make the crumble: in a small bowl combine flour, sugar, cinnamon, salt and walnuts/pecans. Add the butter and thoroughly combine with the dry ingredients.
Spoon this dry crumble on top of the batter in the greased pan making sure the entire area is covered.
Bake for 35 to 40 minutes. Let it cool for 5 minutes.
.