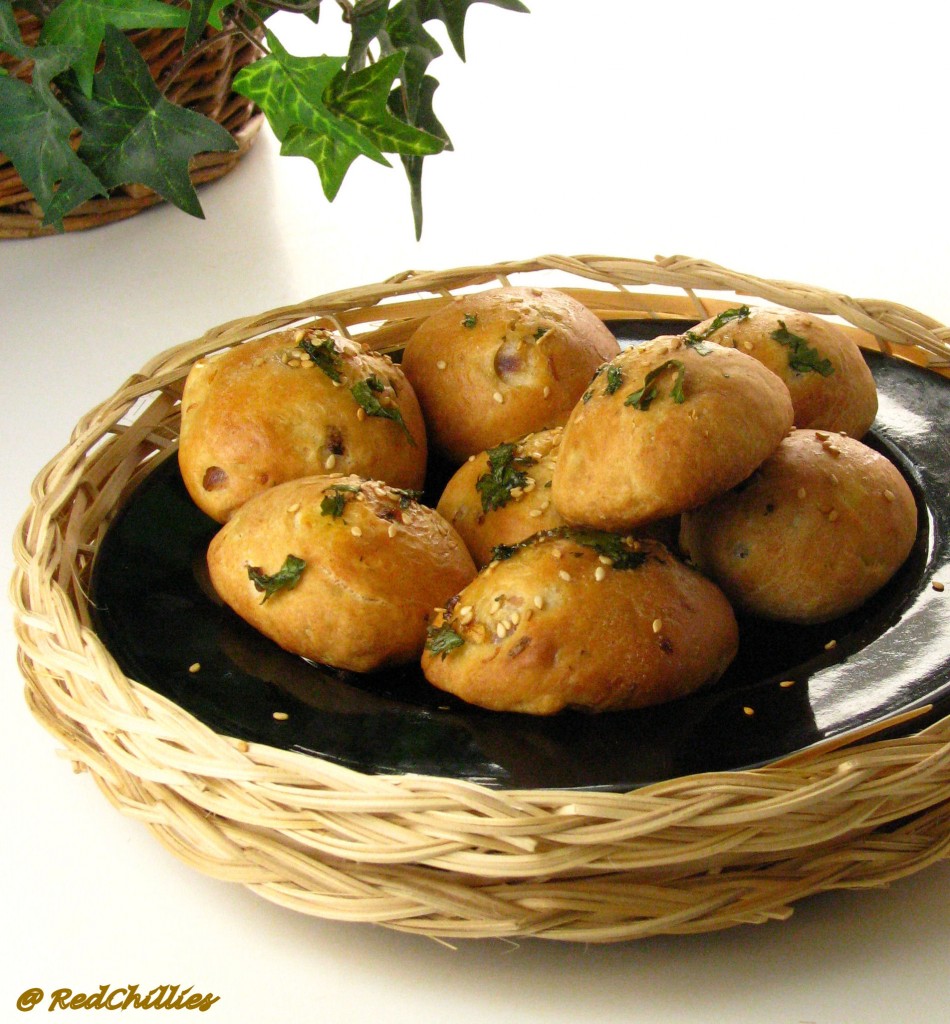 Ever since I saw those beauties on her blog, I have not been able to get them out of my head and have been meaning to try them ever since. Something about them brings back warm memories and takes you back to those childhood carefree days. These savory buns called as Khara Buns in Kannada were regular in our house and we used to have it as a tea time snack. The famous Iyengar Bakeries of Bangalore specialized in making them.
 I am so glad that I tried them at home. They are easy to make and as Sharmi says, most of the time is spent in the waiting for the dough to get fermented.
 We had this with our evening tea and with our deeply engrossing conversation they were gone in no time.
 Me "Do you think they turned a little dark and hard on the outside?"
DH "No they are just fine, I wish they were spicy like the khara buns we got back home"
 Me "Sigh, they did not turn out as golden as Bharthy's or as fluffy as Sharmi's"
DH" You definitely need to make them again and make sure you make it spicier"
 OK, next time I will make it spicier and make sure they are light brown and not hard on the outside! But this is definitely a keeper and worth a try. Thanks Bharthy  and Sharmi for sharing this.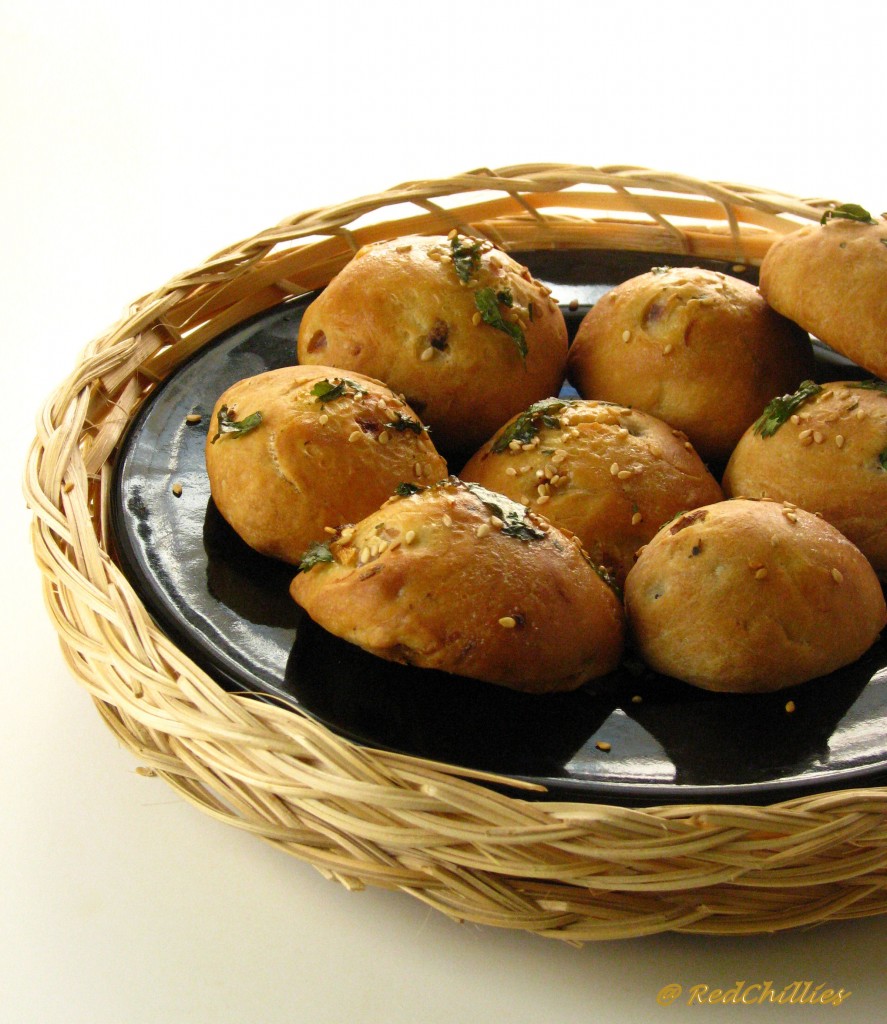 Mini Savory Buns Recipe
Yields: 8 small buns 
Ingredients 
1 cup Maida (All Purpose Flour)
½ tsp sugar
1/4 tsp salt + little while kneading
1/2 tsp active dry yeast
1 tsp sesame seeds
2 Tbsp onion chopped
1 green chillies chopped
1 Tbsp chopped coriander leaves
2 small Garlic pods (peeled and grated)
1/2-1/3 cup warm water
½ Tbsp butter + 2 tsp for brushing on the top 
Method
Adapted from: Sharmi's Passions & Spicy Chilly 
In a cup of warm water, mix the yeast in warm water, along with sugar and salt. Keep aside for about 30mins and you will notice frothy layer on top.
In a big plate, add the maida, salt and little sugar. Add chopped fresh coriander leaves, chopped green chillies, grated garlic, onion and melted butter and mix.
Add the yeast water little by little and knead it to soft pliable dough. I kneaded for about 1-2 minutes. It will be a bit sticky, but that is fine.
Cover this with wet muslin cloth and keep the dough aside for 2 hours.
Note: With the dough in the plate, I wrapped the plate with wet muslin cloth and make sure there is room for dough to grow.
After 2 hours, the dough would have doubled in size, punch it in to remove the trapped air. Punching is an important step and so do it few times.
Knead it again for a minute. Now divide the dough into 8 small sized balls. Brush melted butter over the top and sprinkle sesame seeds and little salt on top. Keep aside for 30-45 minutes.
Preheat the oven to 200 deg C/ 395 F and bake for about 30-35 mins until very light brown.