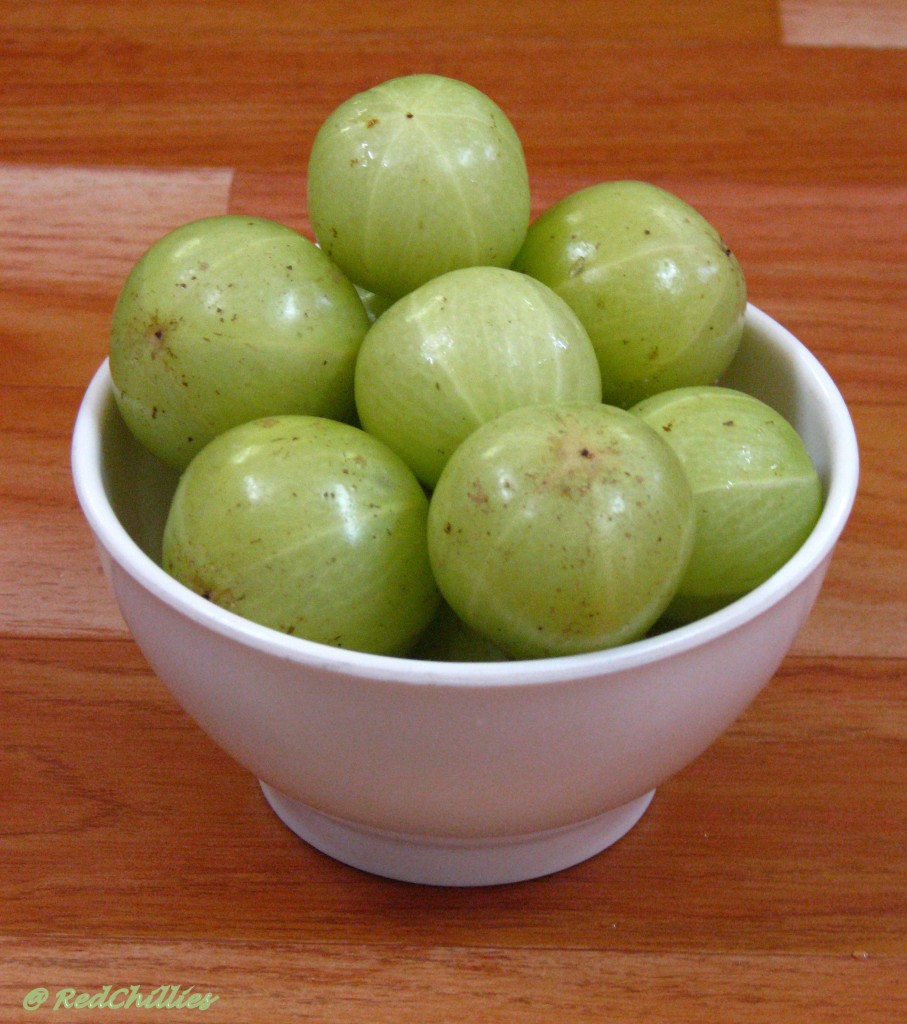 We enjoy eating gooseberries/Amla (a type of fruit) as is along with salt and chilli powder. Luckily fresh gooseberries were available when we were in India and we got to relish them. The amla fruit well known for its Ayurvedic uses contains more than 80% of water. It also has protein, carbohydrate, fiber, minerals and vitamins. 
Condensed List of Ayurvedic Health Benefits: (source)
Excellent source of Vitamin C
Enhances food absorption
Fortifies the liver
Nourishes the brain and mental functioning
Supports the heart
Strengthens the lungs
Helps the urinary system
Good for the skin
Promotes healthier hair
Acts as a body coolant
Flushes out toxins
Strengthens the eyes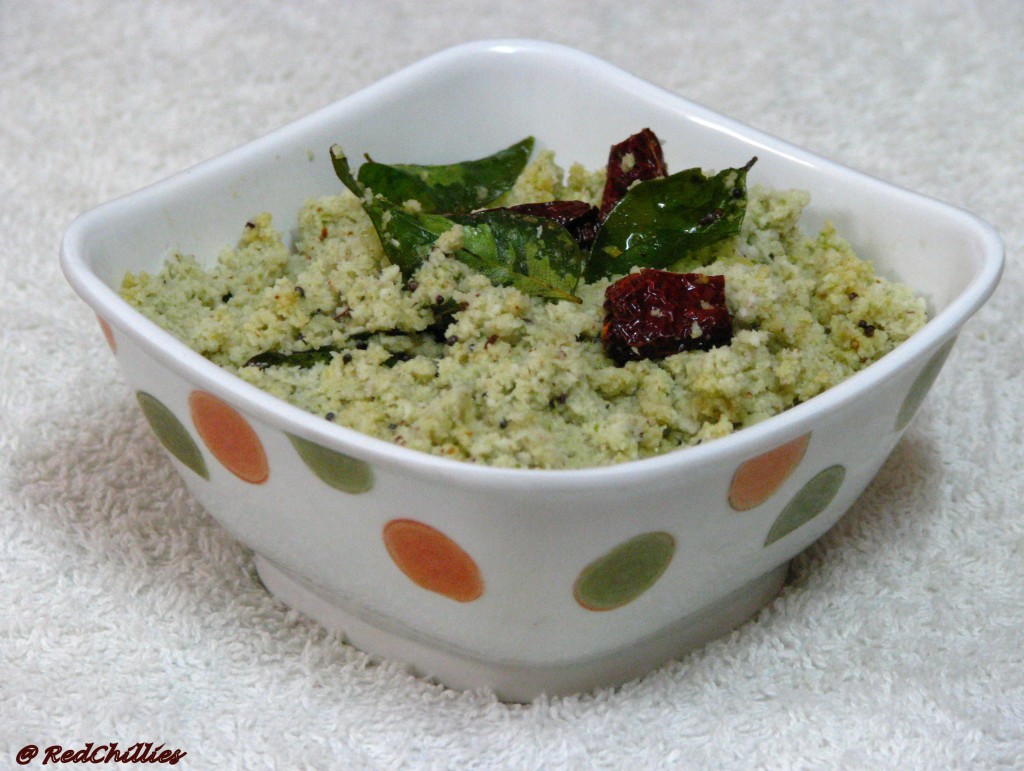 The frozen ones are available in the Indian groceries. However they have a pale white color instead of the usual light green the fresh one's have. That maybe because of the freeze-burn, that they have lost the color. However taste wise they seemed fine, of course no where near the fresh ones.
It takes time to get used to the taste of the gooseberry. It has an intense sour and tangy in the beginning but then as you continue to chew along it acquires a sweetish taste. My MIL had prepared this chutney when we were in India.  She prepares varieties of delicious chutnies. She served this as a side dish during lunch/dinner along with the regular rice, sabjis, daal. It forms a good accompaniment along with yogurt rice and daal rice.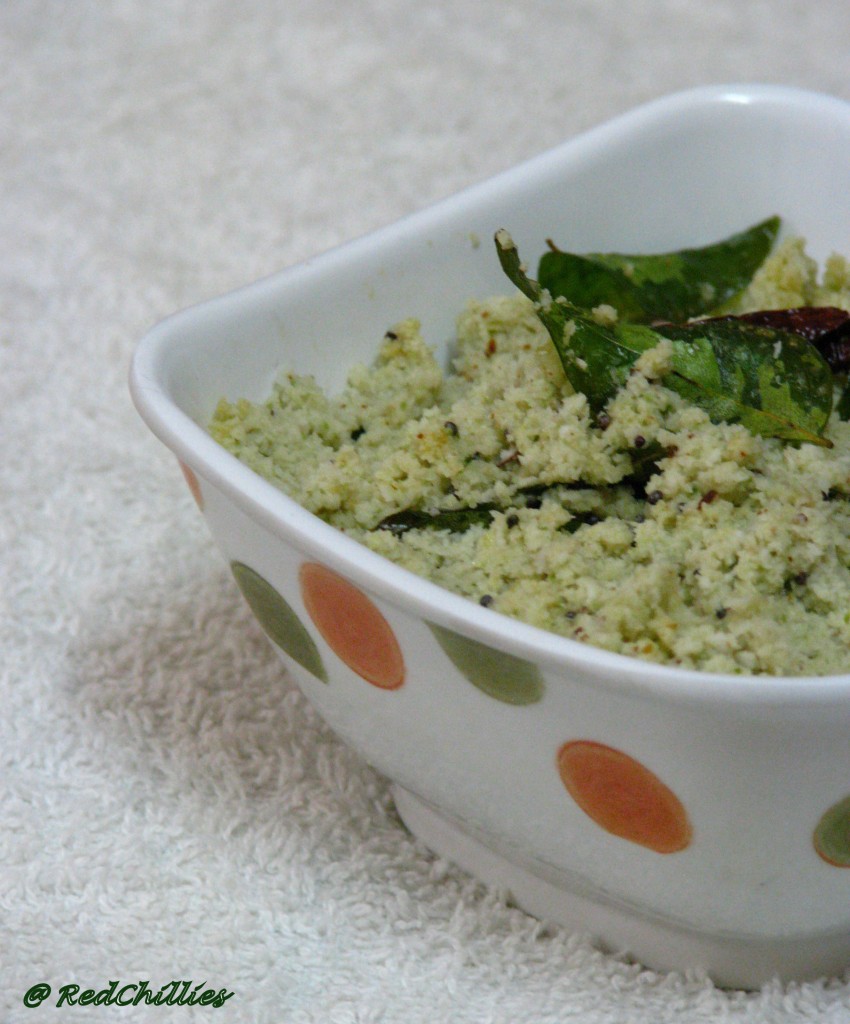 Ingredients: 
1 cup shredded coocnut
5 small gooseberries (pitted)
5-6 green chillies (or per taste)
Salt
 Seasoning/Tadka 
Mustard seeds
Asafetida
Oil
Curry leaves
3-4 dried red chillies (broken) 
Method:
Remove the seed and roughly chop each of the gooseberries into 2-3 pieces.
First grind the coconut along with green chillies, gooseberries and salt without adding any water and make a coarse paste.
Next add water little by little as required and grind. Make sure there are no lumps and that it has become a paste. Transfer to a bowl.
For tadka heat oil, add mustard seeds, curry leaves, red chillies and asafetida. Pour this over the chutney, mix and close this with lid immediately