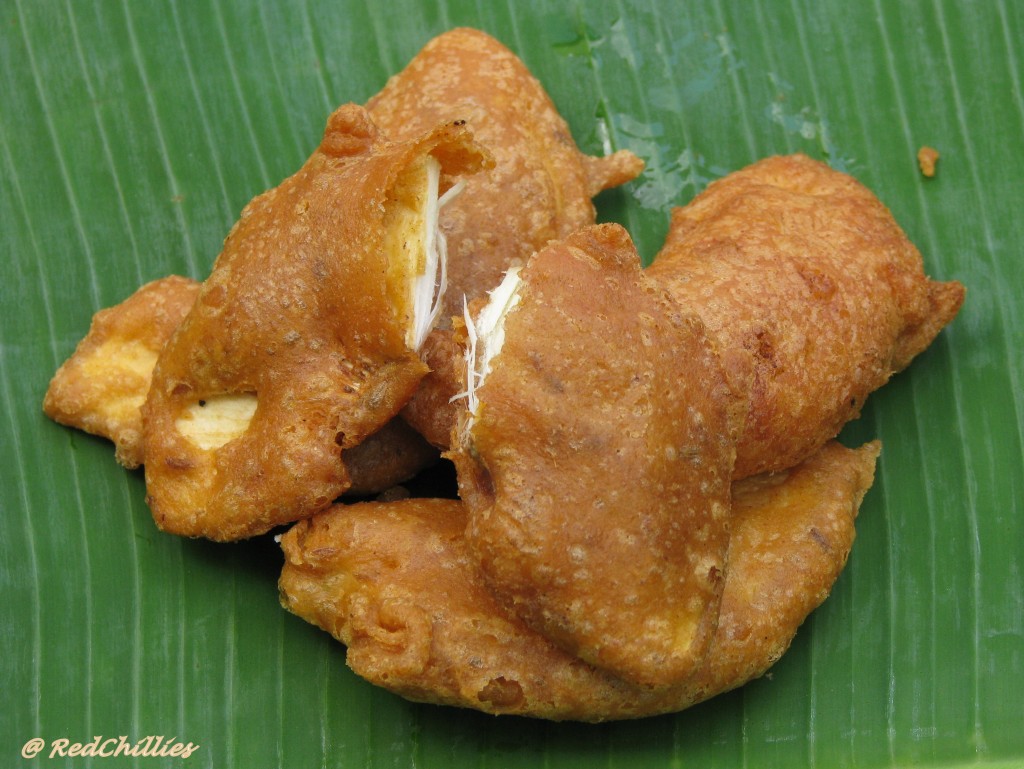 Raw or Young Jackfruit as the name suggests is a smaller version of ripe jackfruit. It is called as 'Kadgi/Chakko' in Konkani and widely used in Konkani cooking. The raw jackfruit has mild flavor, with unique thick green texture and unlike the ripe fruit does not have a sweet taste and goes well in making curries. Growing up, this used to be one of my favorites and I used to love dishes made from it. Friends and relatives who had jackfruit trees would gladly share it with us as and when available. The young jackfruit is usually available in specialty stores called the Mangalore stores.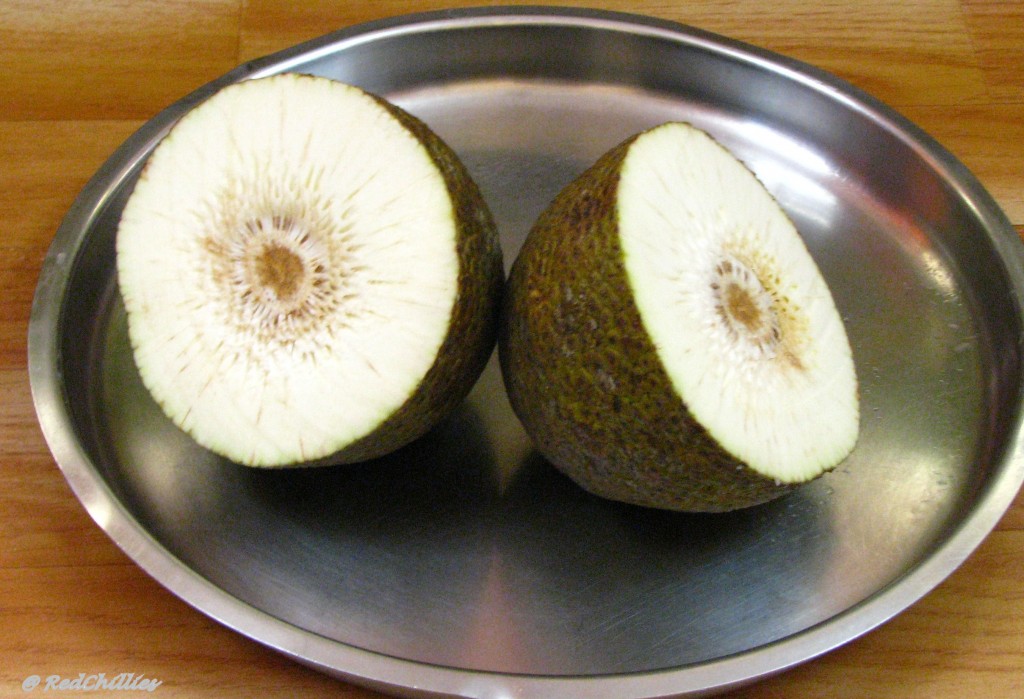 But now that we are here in the United States, I have never seen any fresh ones in Indian groceries. All I have seen are the ones that are available in cans, but over the years I have developed a sense of dislike toward canned foods. The look of the brine water, the preservatives and coloring agent added to the preserved food takes away the freshness, flavor of the food.
Anyway, during our recent India trip we got a fair share of the 'kadgi' quota. The usual kadgi Sukke was prepared along with bajji/fritters. 
Please note that the batter that is used to prepare the bajji is same as the one for regular bajji. You can use this as guideline as change it as per taste.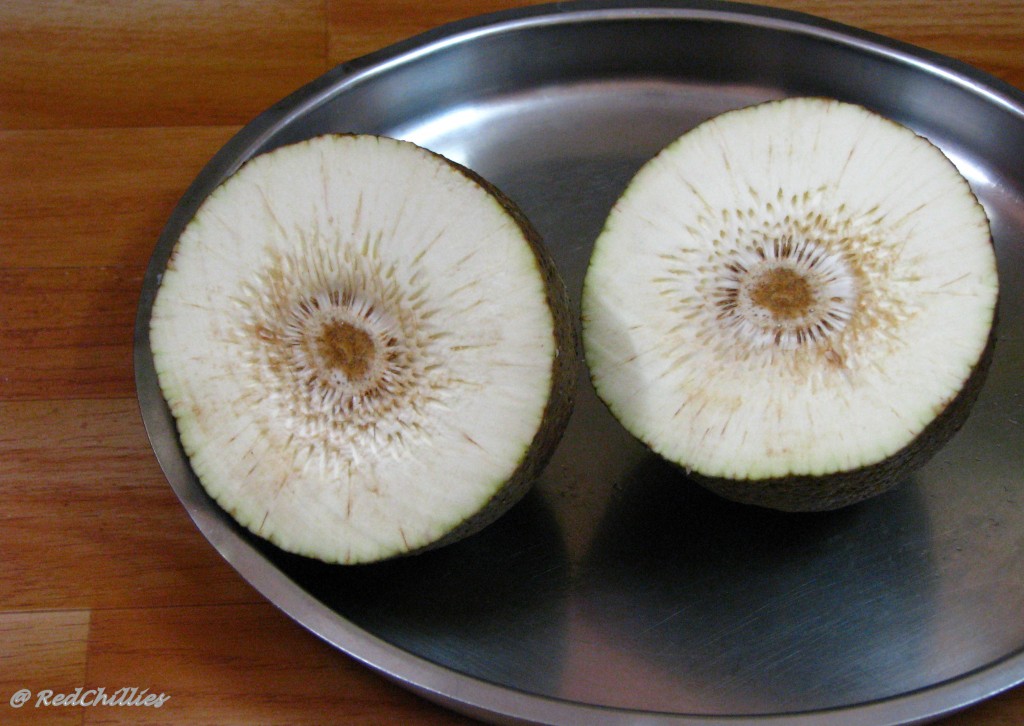 Ingredients: 
½ of medium young jackfruit
1 cup besan/ gram flour
¼ cup rice flour
¼ tsp turmeric
¼ tsp baking soda
1 tsp red chill powder (add more)
salt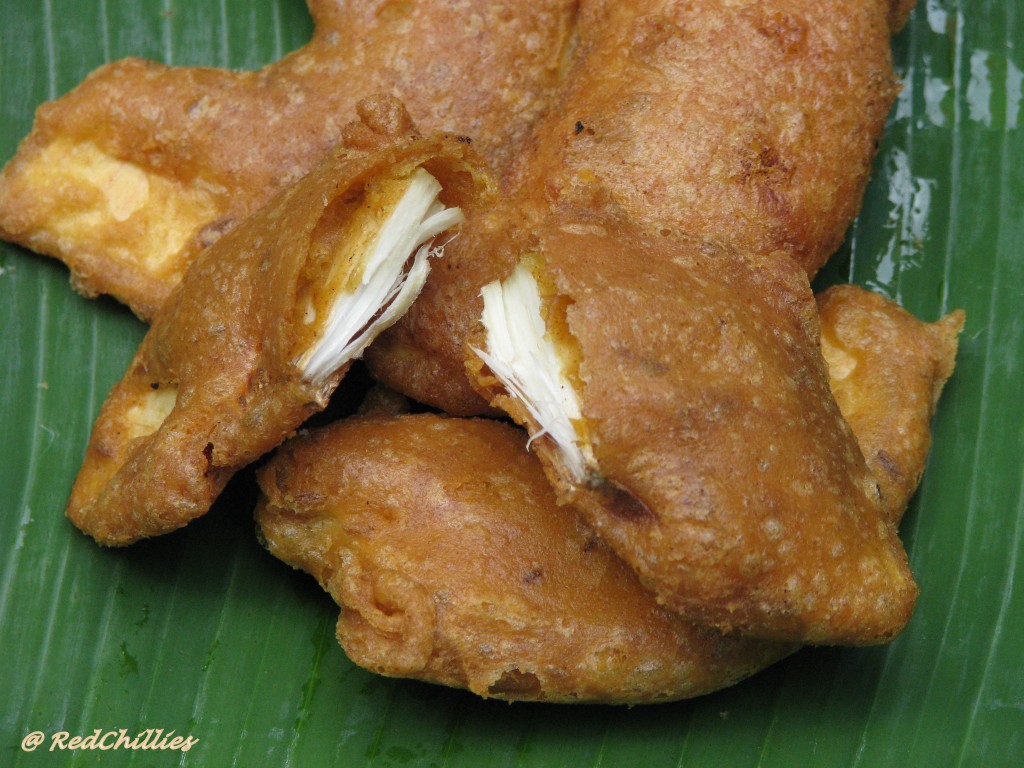 Method:
Remove the thick skin from the jack fruits and chop the white flesh into half moon shaped disks.
Preparing besan/bajji batter: In a bowl mix the gram flour, rice flour along with salt, chilli powder, turmeric, baking soda. Add water, mix and make a paste.
Check for taste and adjust accordingly.
Meanwhile heat enough oil in a thick bottomed pan to deep fry.
Check to make sure that the oil has reached the correct temperature, by putting in small amount of batter. If there is a sound of a sizzle that means the oil is ready.
Dip each chopped raw jackfruit in the besan batter, making sure it is evenly coated and then drop it in the oil.
After a little while turn it around and let it cook evenly on all the sides.
Remove from oil, when done and continue the same procedure with the remaining veggies as well. Drain on paper towel.
 NOTE: The bhajjis can be made ahead of time and before offering just place it in the oven for about 5-10 minutes on 250 F and they become warm and crisp again.