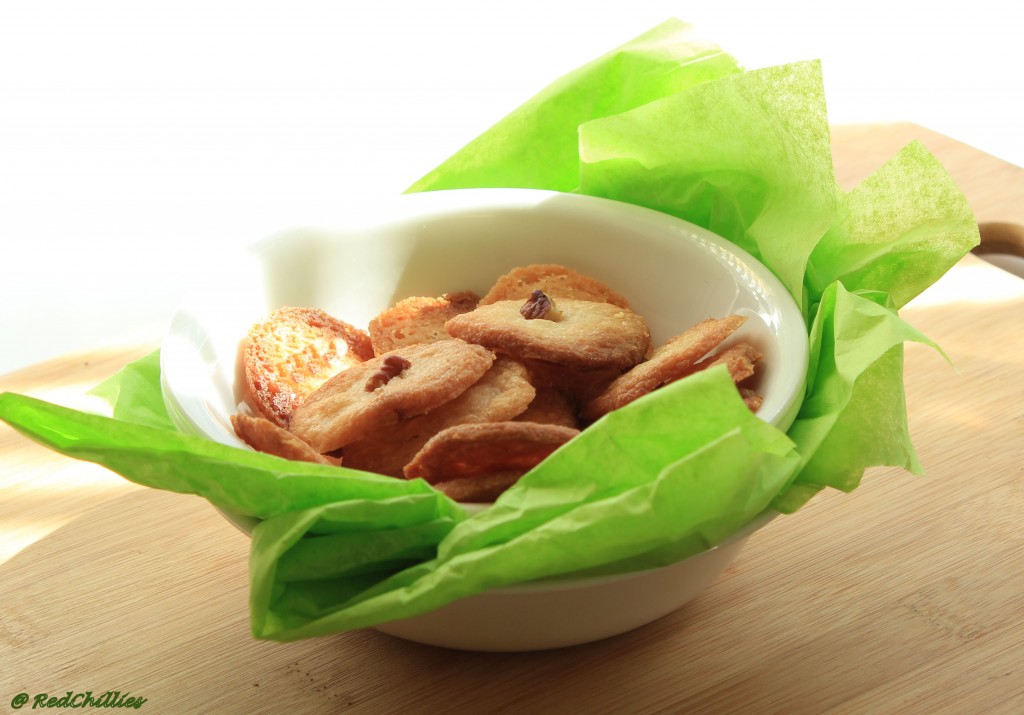 Winter/snow is in full swing in most part of the United States, but here in Texas we have been blessed with an unusually spring like weather and have been enjoying every moment of it. Let us see, how long it lasts though!
 Anyway, I had tasted some lime cookies at a get together and had fallen in love with the taste. Cookies that had an equal balance of sweet and tanginess with melt in the mouth texture; reminded me so much of our very own Nankathai (Butter cookies) with lemony flavor.
 I wanted to re-create it and searched on the web for some ideas the main criteria being that it has be eggless/egg free. After some searches I narrowed my choice for the Lime Biscuits here. The author mentions that she tried it from Anjum Anand's book.
 I have tried this recipe twice and here are some observations:
This is not a cookie that has a melt in the mouth texture and has a bite to it.
It is good to keep the thickness of the cookies to about ¼" inch. When I made it a little thicker, it did not become crispy.
I used lemon juice first as I did not have lemon extract and the cookies become little hard. It came out well when I used lemon extract.
These cookies bake very fast and brown at the edges. So keep a close watch.
You can use lime or orange extract instead of the lemon.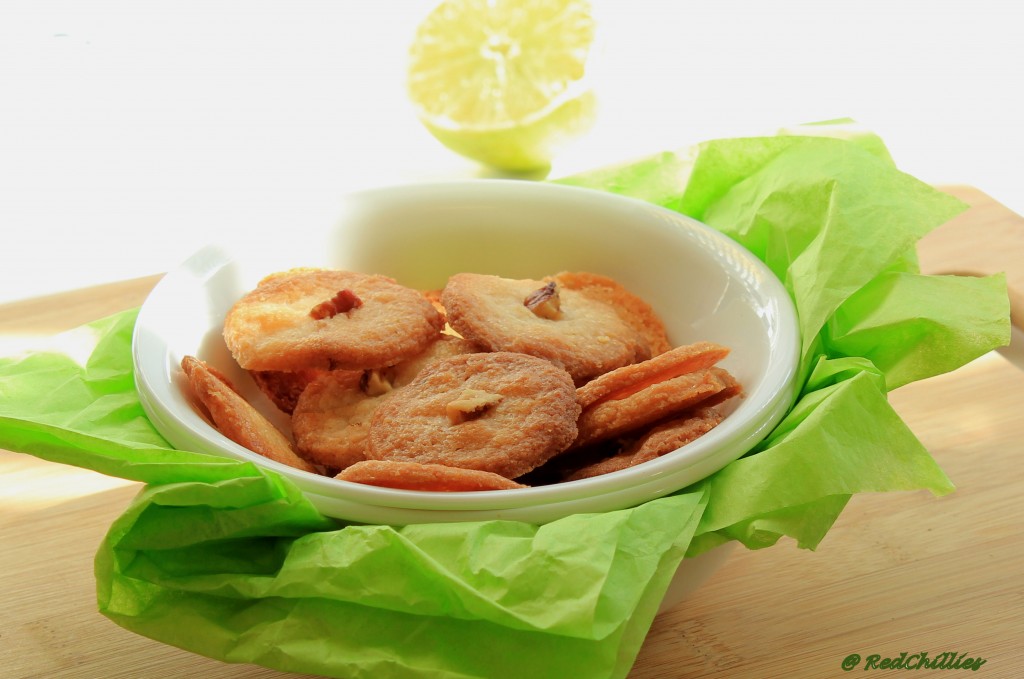 Recipe Source: Adapted from Lime Biscuits
Ingredients:
1/2 cup All purpose flour/Maida
1/4 cup sugar
1/4 cup butter softened
1/2 tsp lemon zest(grated)
1 tsp lemon extract ( I did not get good results with lemon juice)
Pecans for garnish (optionally use almond, cashew)
 Yields: 15 -18 small cookies
 Method: 
Please see the notes above before proceeding.
Pre-heat the oven to 350 F (180C). Grease a cookie sheet and have it ready.
In a plate mix all flour, sugar, zest, add the butter, extract and mix to a smooth dough. Keep aside covered with damp cloth for 15-20 minutes.
On a flat surface, roll the dough into about 1/4 " thickness and then cut into desired shapes.
Place a piece of nut (pecan/almond) in the center and transfer to cookie sheet.
Bake for 12-15 minutes. Keep a close watch as it tends to brown pretty fast.
Keep aside on wire rack for cooling. They harden upon cooling.