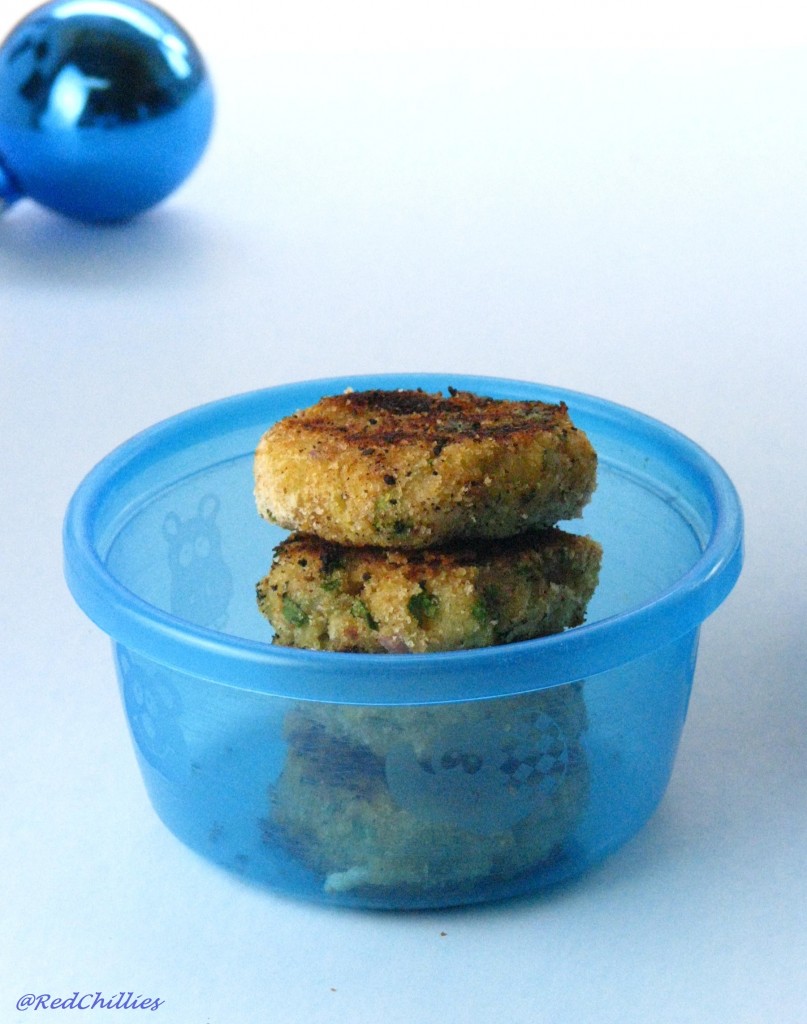 This recipe here is adapted based on our very own Aloo Tikki. The other day I had some left over cooked garbanzo beans/chickpeas and based on this idea of Falafel I combined this with the regular Tikki dough and made these Chana Aloo Tikki. Adding mashed chana does not make difference to the taste, but the good thing is that it provides good nutrition as it is rich in protein and fiber. 
The kiddo has been showing interest in this snack (crossing fingers!). So I even sometimes pack this as a side item for his lunch box. I prepare the dough the previous night and in the morning I make few and pack them in his lunch box.
 Now, you can be creative and add some veggies like cabbage, carrots to this and make it even healthier. You can also substitute garbanzo beans with the legume/bean of your choice. This can be had as an afternoon snack with some hot tea. It tastes good with ketchup.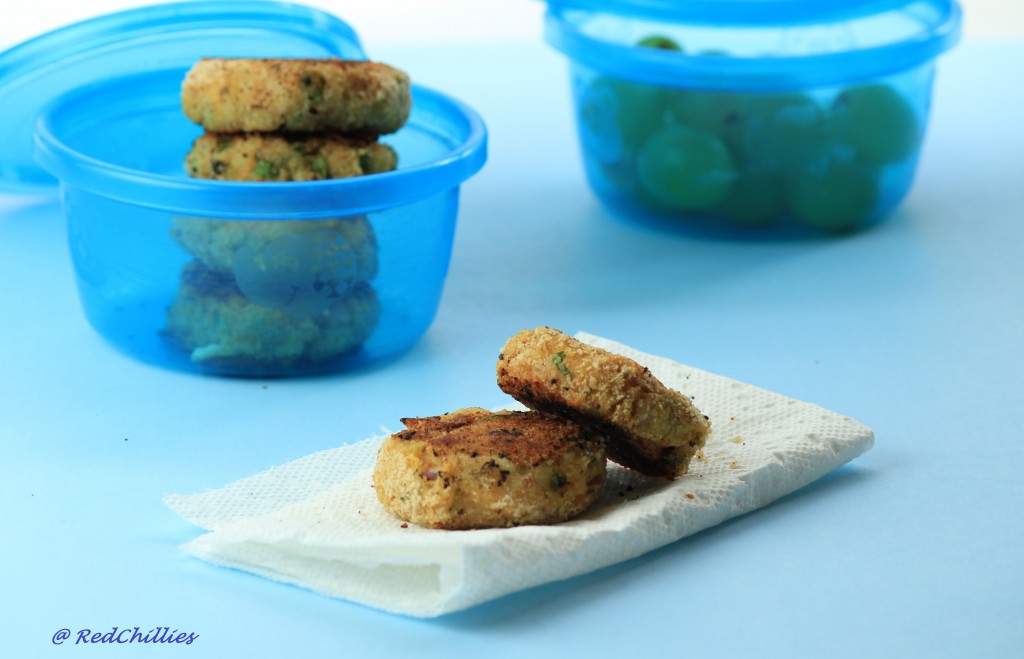 Ingredients:  
3/4 cup cooked garbanzo beans/ canned is also fine
1 big potato (peeled and boiled)
½ cup chopped onion
1 tsp red chilli powder
 1 tsp Aamchur powder (optional)
1 tsp Jeera (cumin seeds)  
1 Tbsp coriander leaves (chopped)  
1 cup bread crumbs  
Oil  
Salt  
Method:
(If using the canned beans then ignore this step) Soak the garbanzo beans in enough water overnight. Pressure cook the beans until it is soft (not mushy).
Drain the water and then using a potato masher mash the beans until there are no lumps.
Similarly mash the potato (peeled and boiled) and keep aside.
On a big plate combine mashed potato, beans along with the other ingredients (except oil and bread crumbs) well making sure there are no lumps. Taste for seasonings and adjust taste.
Heat a flat bottom pan (preferable non-stick) and spread around 1 tsp of oil.
Divide this mixture into big lemon sized balls, take one and using the tip of your hands flatten it.
Coat this thoroughly in the bread crumbs on both sides and place them on the pan. Continue the same process for the remaining balls.
Put little oil around each patty and cook until it is done.
After one side is cooked, gently turn it on the other side and let it to cook. Transfer to plates after they are evenly browned on both sides. Eat with ketchup!