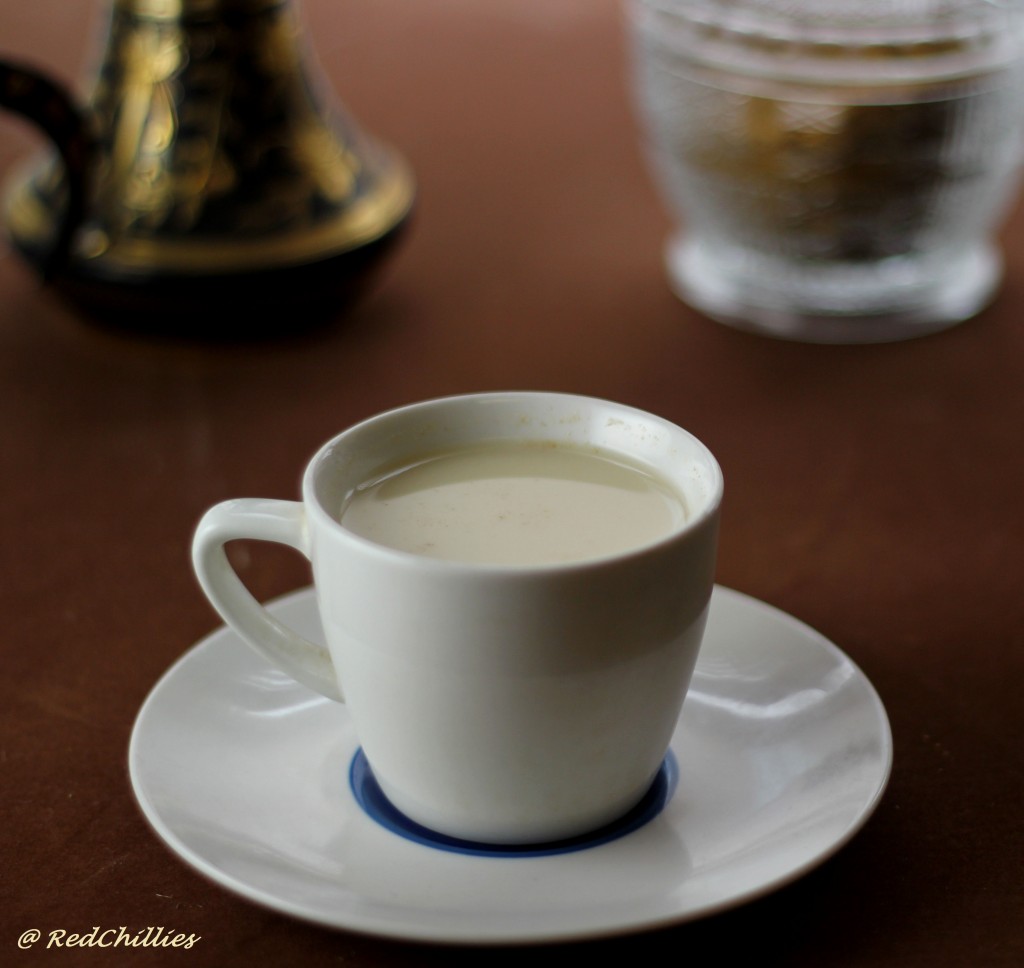 Kashay (In Konkani) is a hot milk beverage that is common in many Konkani households. It is a spiced drink that is not only potent but a nutritional powerhouse as well. This is preferred as beverage choice by many people instead of the regular tea or coffee.
Growing up I remember many elderly people having Kashay in the evening as it would aid in digestion and also have a cooling effect on the body. This was a common drink in my house as well. Many times while making this drink my mom used to add lemon grass (called Nirvale tan in Konkani) while making this drink. That adds even more flavor and aroma to this drink.
The first step while making the Kashay involves preparing the powder called as Kashay Pitto (Konkani). This involves dry roasting various spices including cumin, coriander, fennel and fenugreek. The roasted spices are then powdered and stored in air tight container. The powdered so prepared can be used for making the warm milk as and when desired. The kashaya powder by itself is very aromatic.
Few weeks ago, my MIL reminded of this nutritional drink and asked me to give it a try. I looked around and found the recipe here and here. Ever since I tried it, we have been hooked on to this drink.  Since in the mornings DH and I do not consume coffee or tea this drink works wonders for us. Also because of the cold wintery mornings, this drink provides a warm nourishing boost.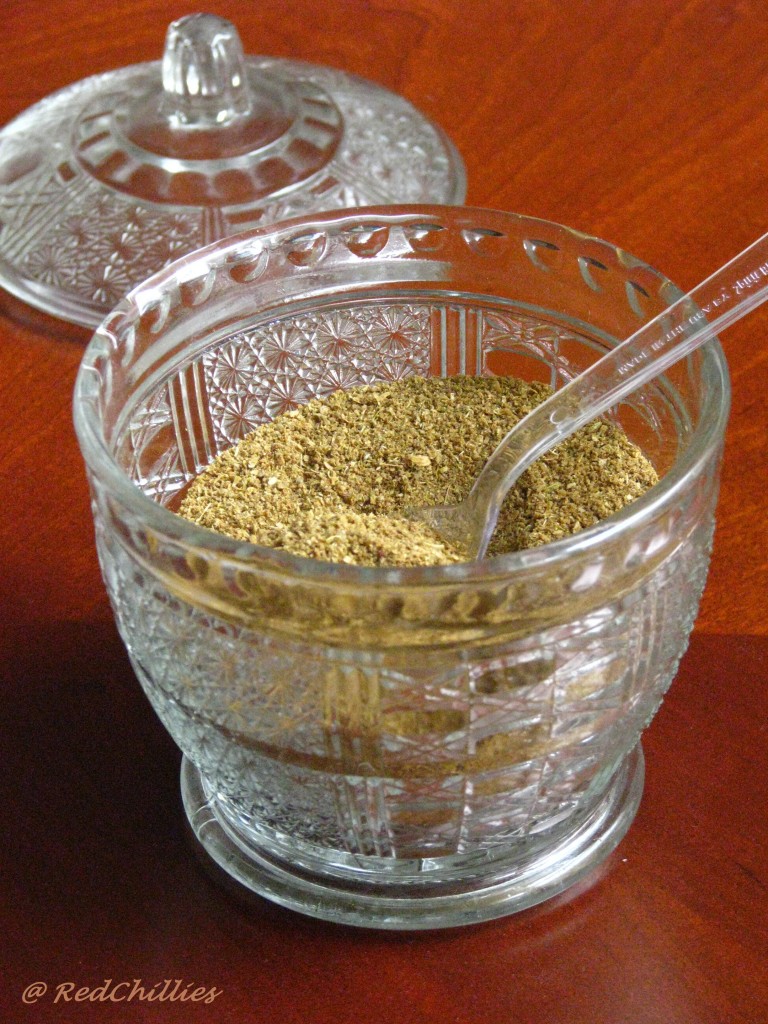 (Kashay powder/pitto)
Coriander seeds: Coriander is a very good source of dietary fiber and a good source of iron, magnesium and manganese. It is supposed to reduce the level of total and LDL (the "bad" cholesterol), while actually increasing levels of HDL (the "good" cholesterol). (source)
Cumin seeds: Cumin seeds may also have anti-carcinogenic properties. Cumin seeds have traditionally been noted to be of benefit to the digestive system. They are a very good source of iron, a mineral that plays many vital roles in the body. (source)
Fennel Seeds: As fennel seeds are rich in phytoestrogens, consuming them has a powerful effect on stomach disorders and irritable bowels. Other than that, the seeds are used to normalize the functioning of the lungs, liver, spleen and kidneys. Moreover, they are useful in comforting chest pain, lowering hypertension, easing water retention, curing heartburn, bronchial asthma and controlling cardiac problems. (source).
For people trying for first time, I suggest trying this in smaller quantities and adjust levels according to taste. All the spices that go into the drink promote good health in one way or the other and I feel it is totally worth it.
Recipe Source: Adapted from Aayi's Recipes and Konkani Kitchen
Ingredients:
To make the powder
1 cup coriander seeds
1/2 cup cumin seeds
1/4 cup fennel seeds
1 teaspoon fenugreek seeds (optional)
To make the drink
1 cup milk
1 cup water
2 tsp powdered jaggery/sugar
½ tsp fresh grated ginger (optional)
1 tsp kashay powder (see above)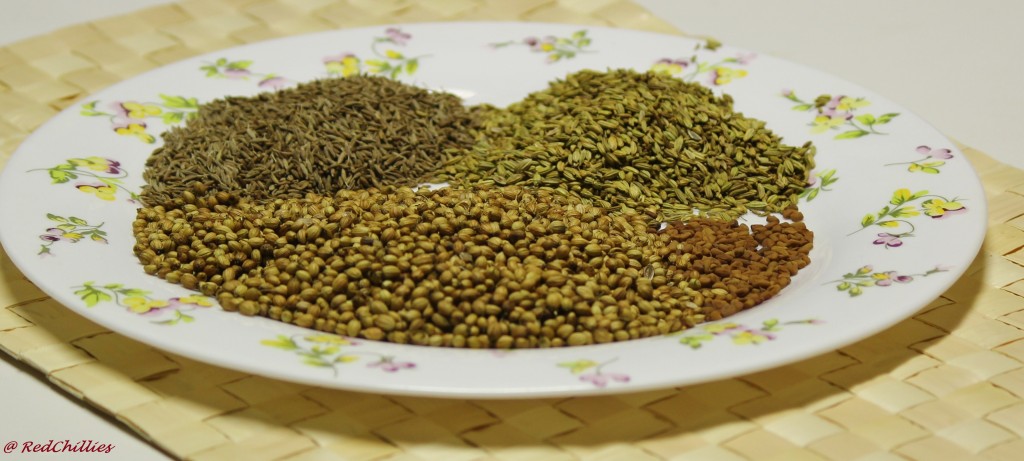 Method:
Powder: Roast ingredients separately in a small pan until light brown and powder finely. No need to add oil while roasting.
To make the drink: Heat a small saucepan/vessel.  Into this add 1 cup of water and 1 cup of milk and boil.
Add jaggery, 1 tsp powder and stir well and continue to heat for a minute.
Remove from flame and close with lid for 5 minutes and keep aside.
Transfer to tea cup by using a strainer. (optional) Serve hot.
Note: I do not strain the powder as I feel some nutrients will be lost. You have to keep stirring the drink while having it though.