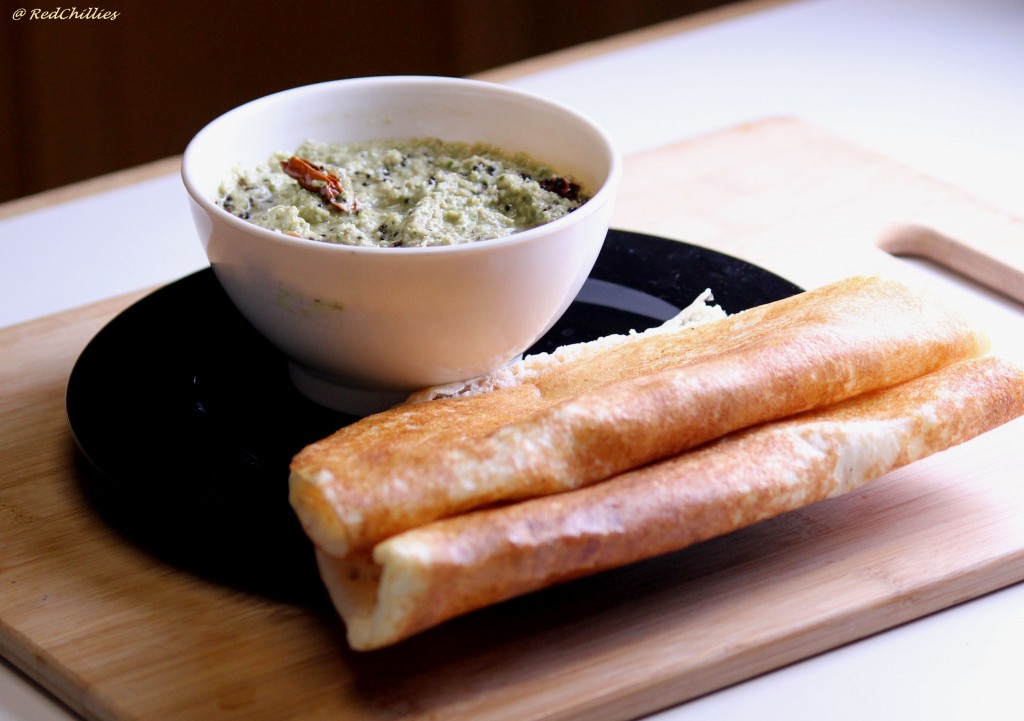 In our house Dosa chutney or Idli chutney gets transformed from a breakfast ritual to a Friday Dinner ritual. If it is Idli one week, then it is Dosa the other week. I soak the daal and rice Thursday morning while leaving for work and grind it in the night. So by Friday evening the batter has ample time to ferment. This is the recipe I follow for dosa with good results. Here are some more recipes for Idli and Dosa. 
I know Plain Dosa and chutney is an easy recipe for many of us, especially for the people from the South. But for many of my friends and colleagues from the North it is the opposite. So without much talk here is the recipe for Plain Dosa and Chutney.
Ingredients for Dosa
1 cup urad daal
2 cups rice
1/3 cup chana daal
1 tsp methi seeds/fenugreek
Handful of poha/aval/avalakki/beaten rice (thick or thin is fine)
Method:
Soak the urad daal, rice, chana daal, methi in sufficient water overnight.
When you are ready to grind the next day soak the poha in little water (until it puffs up) and keep it aside.
In a blender/grinder grind the soaked rice, daals, methi and the poha with little water to a paste consistency.
The consistency of the batter should not be too thick or thin. Add more water if necessary to ease the grinding process.
Transfer the batter to a container and let it sit aside to ferment. It takes at least 8-10 hours in summer and about 24 hours in winter.
When ready to make the dosas, take the batter out and add water, salt as necessary and mix thoroughly.
Heat the iron griddle or non-stick tava on medium-high heat. Sprinkle some water on the tava.
Now pour a ladle of batter in the centre, spread with the back of the ladle to form a big circle.
Pour a tsp. of ghee or oil over and around it. Let it cook for a minute until the bottom part has lightly browned.
Turn with a spatula when crisp and flip onto the other side. Let it cook for another 30 secs.
Take the dosa out and serve hot. Continue making dosas similar way with the remaining batter.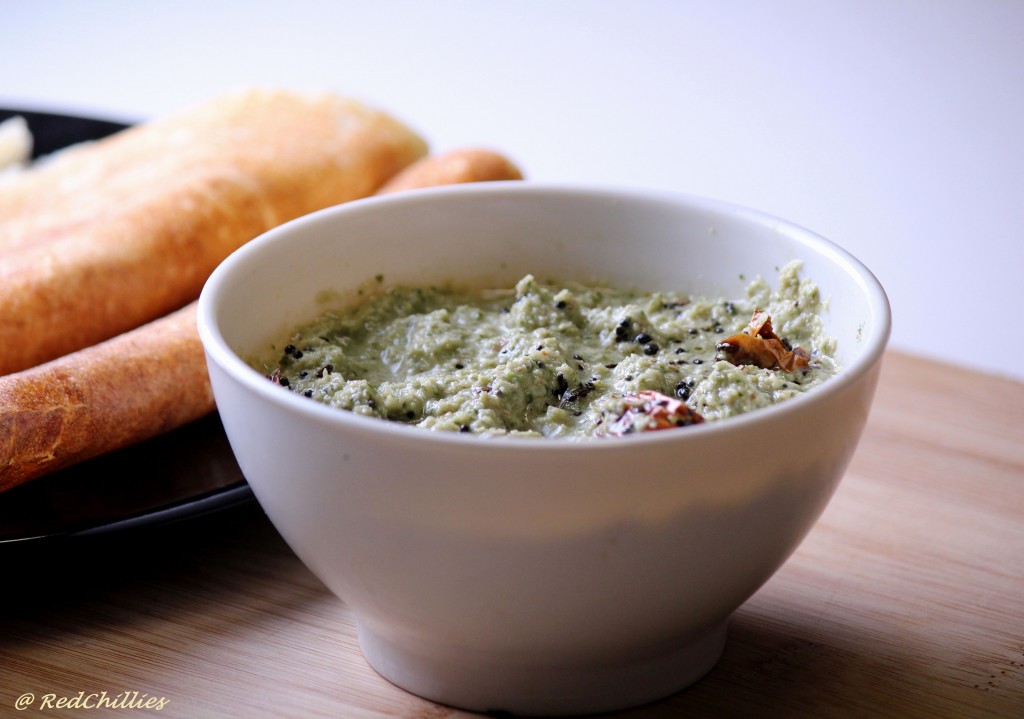 Ingredients for Raw Mango chutney: 
1 cup shredded coconut  (fresh or frozen)
3-4 green chillies
¼ cup raw mango cut into chunks (skin peeled) [substitute with 1 tbsp tamarind paste]
Salt to taste
Seasoning/Tadka
1 tsp Mustard seeds
 3-4 Curry leaves
 Asafetida (hing) a pinch
 2-3 red chillies broken into an inch
 1 tsp oil  
Method: 
First grind the shredded coconut along with green chillies, and salt without adding any water.
Then add the raw mango chunks and grind again (without water).
After it has blended add sufficient water and grind again. Do not grind for a long time as it will become sweet. Transfer to a bowl.
For tadka heat oil in a small pan, add mustard seeds, curry leaves, red chillies and asafetida, and mix well. Pour this over the chutney and close this with lid immediately. Mix before serving. 
Serve this along with ho Dosas!