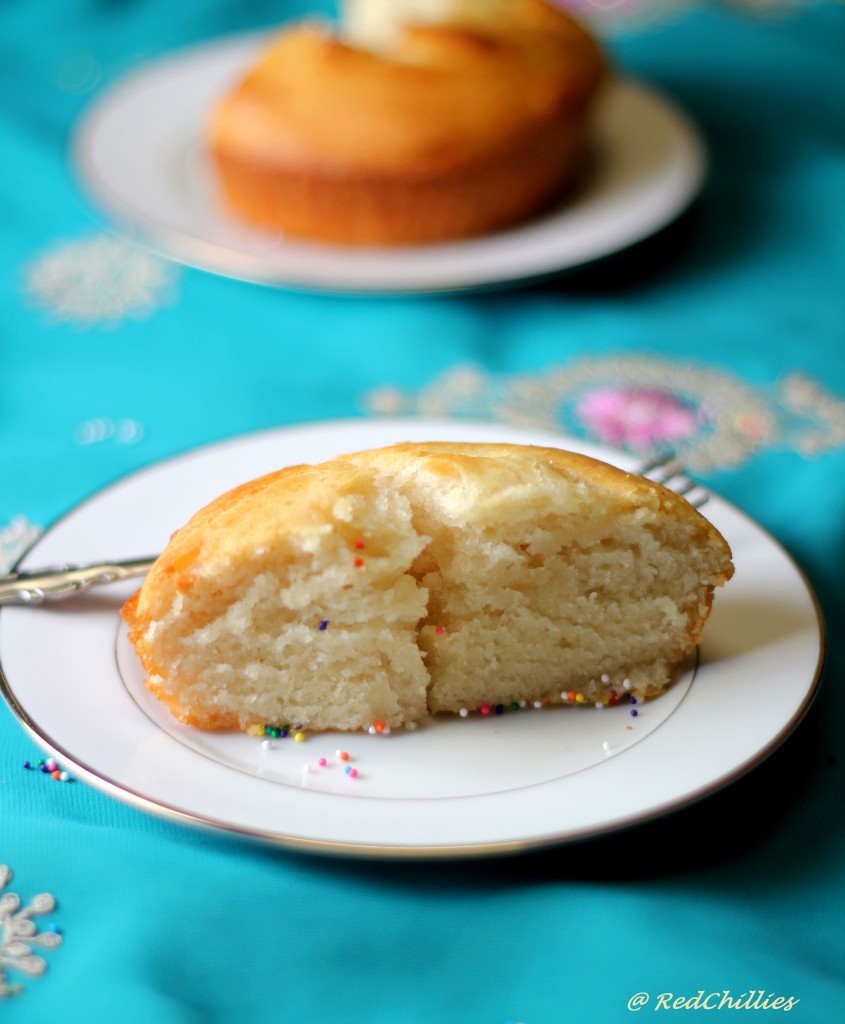 Just when we thought that we were done with the bad winter weather, last week we were treated to a cold spectacle from Mother Nature. The flurry of snow, sleet, and ice good was good enough to keep us indoors for 4 days. Did I mention that the temperature at one point was 9 F (-12.7 C)? Yes, it was that cold. Most roads were covered with sleet of ice and driving was treacherous; as a result driving anywhere outside was out of question. Luckily we were able to work from home and most of the grocery was done, so we did not have to venture outside.
To get over the gloom and to bring in some cheer (also to satisfy my sweet tooth craving) I decided to bake some light and not so time consuming. That is when Sharmi's recipe came in mind.
When I had looked the recipe of Vanilla Cake at Sharmi's I had my mind set on trying this recipe as soon as possible. For one it was eggless, the ingredients were all readily available and the process did not seem complicated at all. But just for giggles I decided to substitute vanilla with cardamom and try a different taste.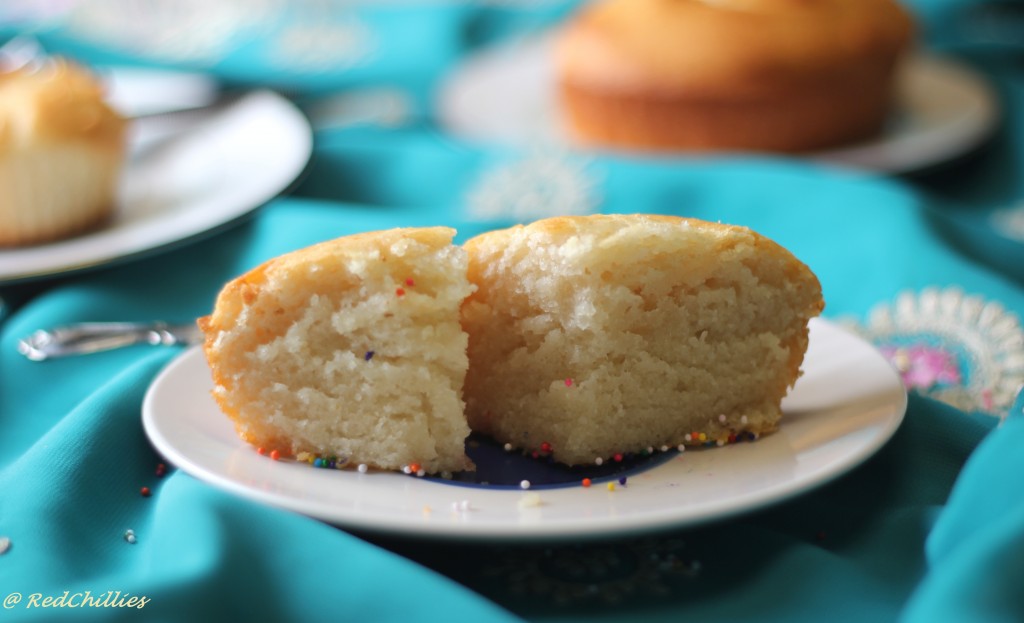 I love cardamom very much and if given a chance I would add cardamom powder in all sweets/ desserts. That is why I love the traditional sweets like payasam, pongal etc made during festivals. I feel that deadly trio of jaggery, coconut and cardamom are a combination made in heaven.
OK I digress. This cake is easy to prepare, and took me about 20 minutes to whip this up (not including the baking time). The cake is soft, not very moist and the taste did not disappoint at all. I loved the mild flavor of cardamom in this cake. You can substitute vanilla essence in this if you prefer. Good one to have for a quick snack or with tea/ coffee.
Recipe Source: Adapted from Eggless Vanilla Sponge Cake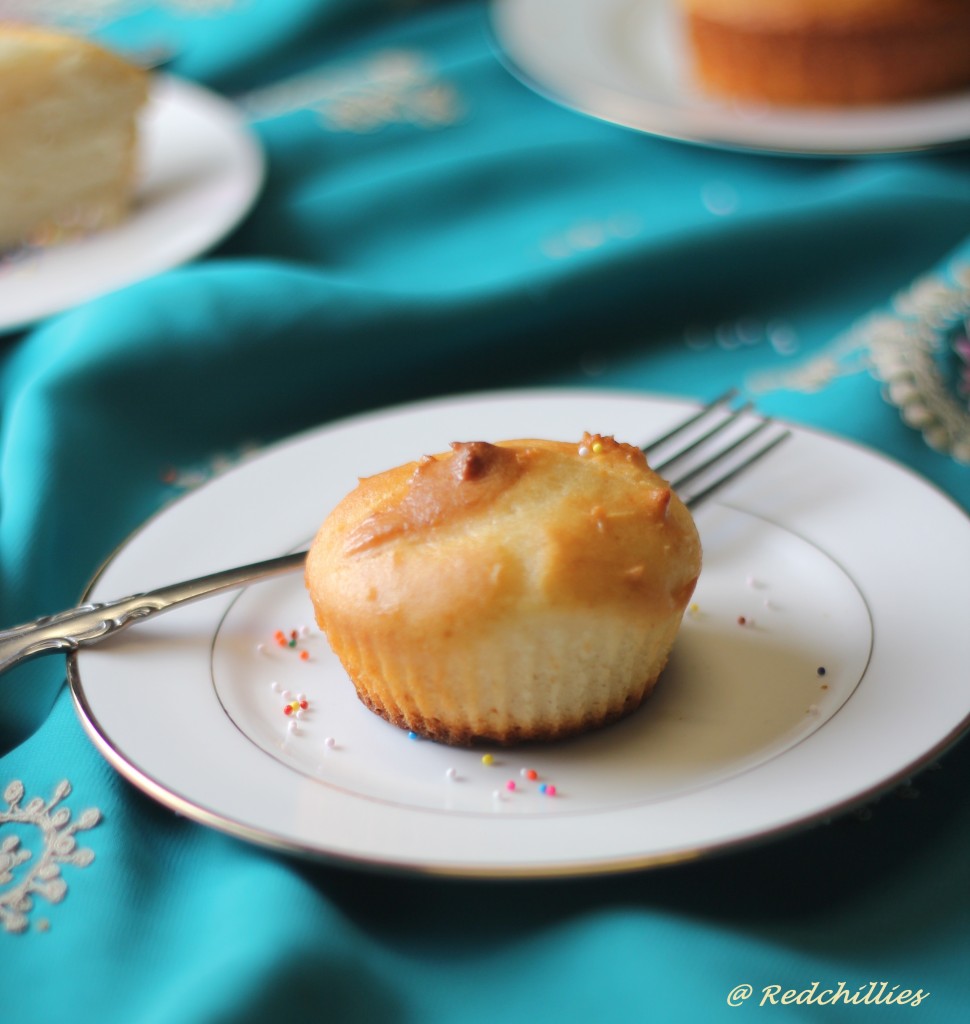 (made muffins for the kiddo from the same cake batter)
Ingredients:
1.5 cups All Purpose Flour/ Maida
1 cup Sugar
1 cup Yogurt/ Curd [I used full fat yogurt/ Greek yogurt should work as well]
½ tsp Baking soda
1 ¼ tsp Baking powder
½ cup oil [I used vegetable oil]
½ tsp cardamom powder (use vanilla essence if you do not like cardamom)
Slivered almonds to garnish on top (recommended)
Method:
Preheat oven to 400 F (200 C). Grease a cake pan and keep aside.
Sieve the All purpose flour/ Maida and keep aside.
In a bowl cream the yogurt and sugar until incorporated. Add baking powder, baking soda to this and mix well. Leave aside for 5 minutes until it becomes little frothy.
Now add the oil, cardamom powder and mix well. Add the AP flour in intervals and blend with wet ingredients.
Transfer the batter to the greased pan, garnish with slivered almonds and put it in the oven.
Bake for 10 minutes, then reduce temperature to 200 F (180 C) and bake it for 20-25 minutes or till a knife inserted in the center comes out clean.
Transfer to wire rack and let the cake to cool down.