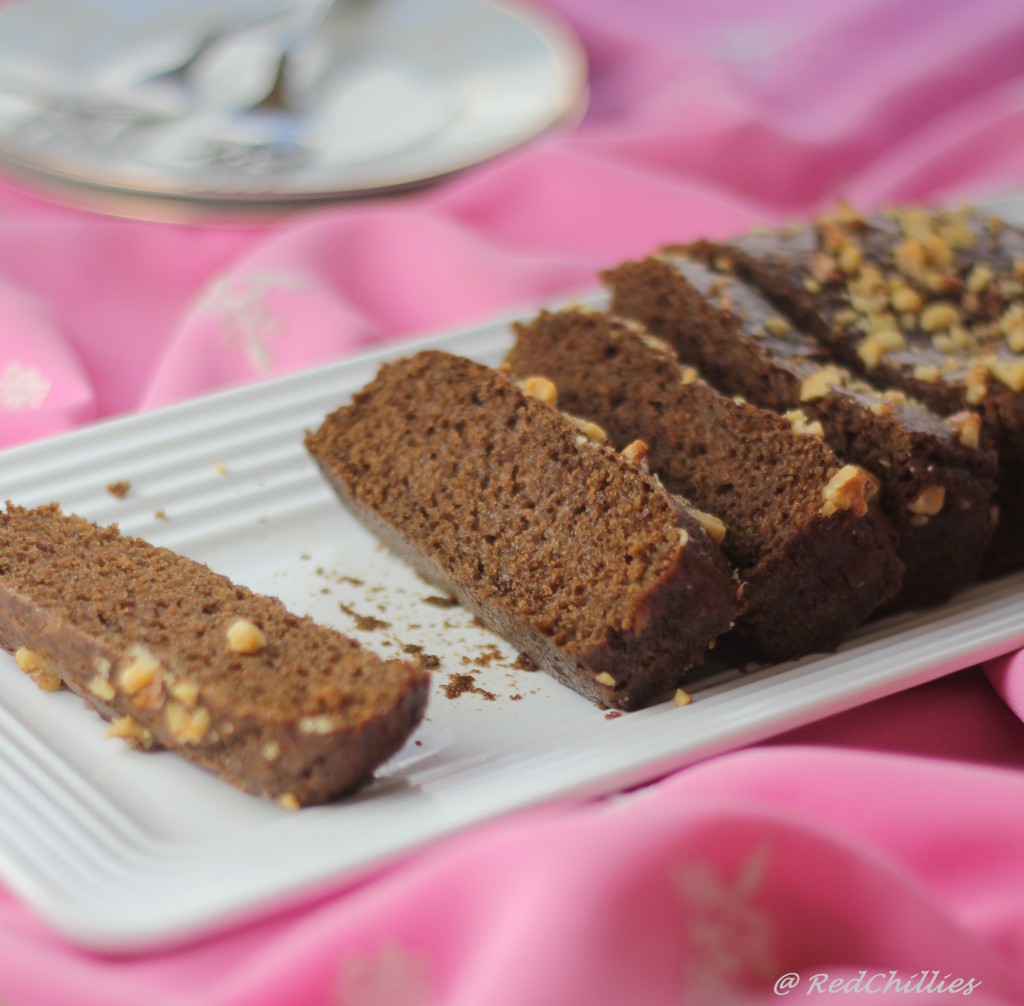 Avocado in a cake? Sounds strange right? Even I had felt the same when I had initially seen the recipe.  I was searching the web for different ways of using avocado when I chanced on this recipe here.
I have pretty much followed the recipe with some changes of my own. Since I was trying this for the first time, I reduced the ingredients by half. I added milk instead of water, to make it little dense. But feel free to do add water or add soy milk and make this vegan, either way it tastes great. I also did not do any kind of frosting (we are not big fans of frosting, the kiddo likes some sprinkles on his cake and that is pretty much it), but topped the cake with chopped walnuts.
Let me assure you that there is hardly any flavor of the avocado or vinegar in the baked cake. It tastes like a regular Chocolate Cake/loaf, but with nutritional benefits of avocado albeit in very little quantity. And since this is low fat (no butter) cake, the feeling is even better. We had it as a snack in the evening with our tea and for the kiddo I baked them in form of muffin and topped with some sprinkles.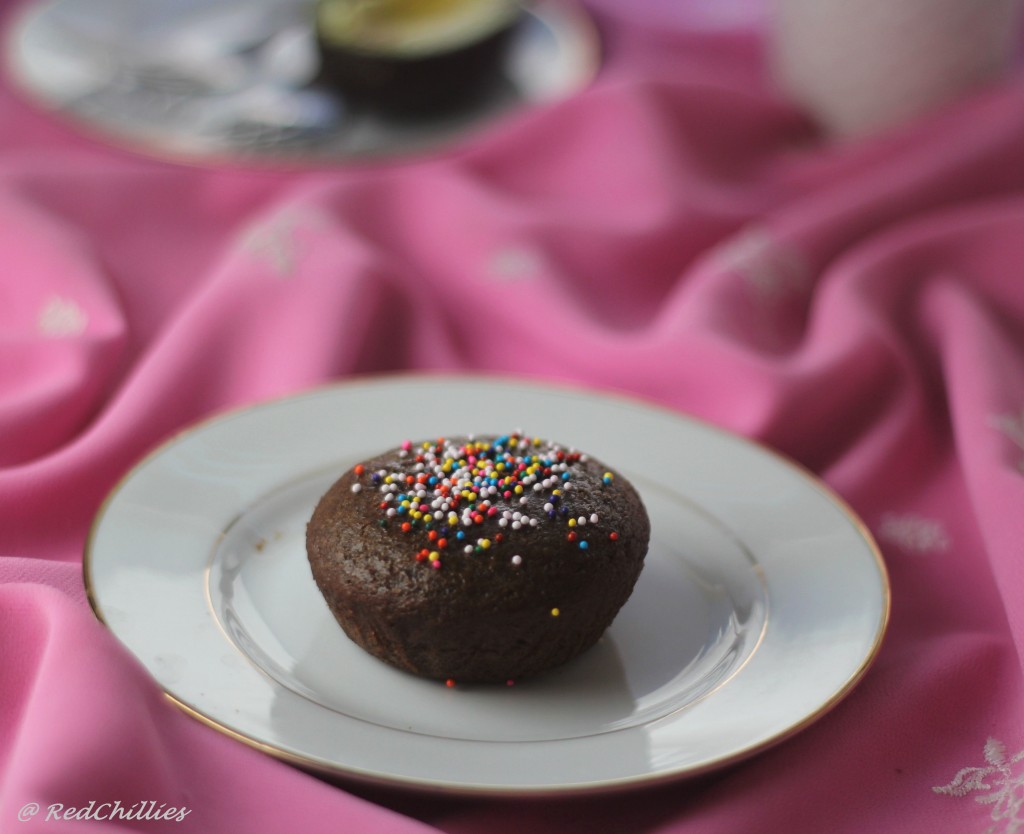 Substitute for 1 egg= Mix 1 teaspoon of baking soda with 1 Tablespoonof vinegar and add it to the wet ingredients. This works well for cakes and makes them lighter and fluffier. Note: This might not work for cookes.
Use apple cider vinegar in place of white vinegar if you wish.
If you would like to try this recipe then please follow the baking procedure; the egg substitute is already in the method.  The combination of vinegar + baking soda as a substitute for egg is a winner and it works wonder in cakes and muffins. I have had good results in the Blueberry Muffins and a regular chocolate cake. 
Source: Adapted from Joy The Baker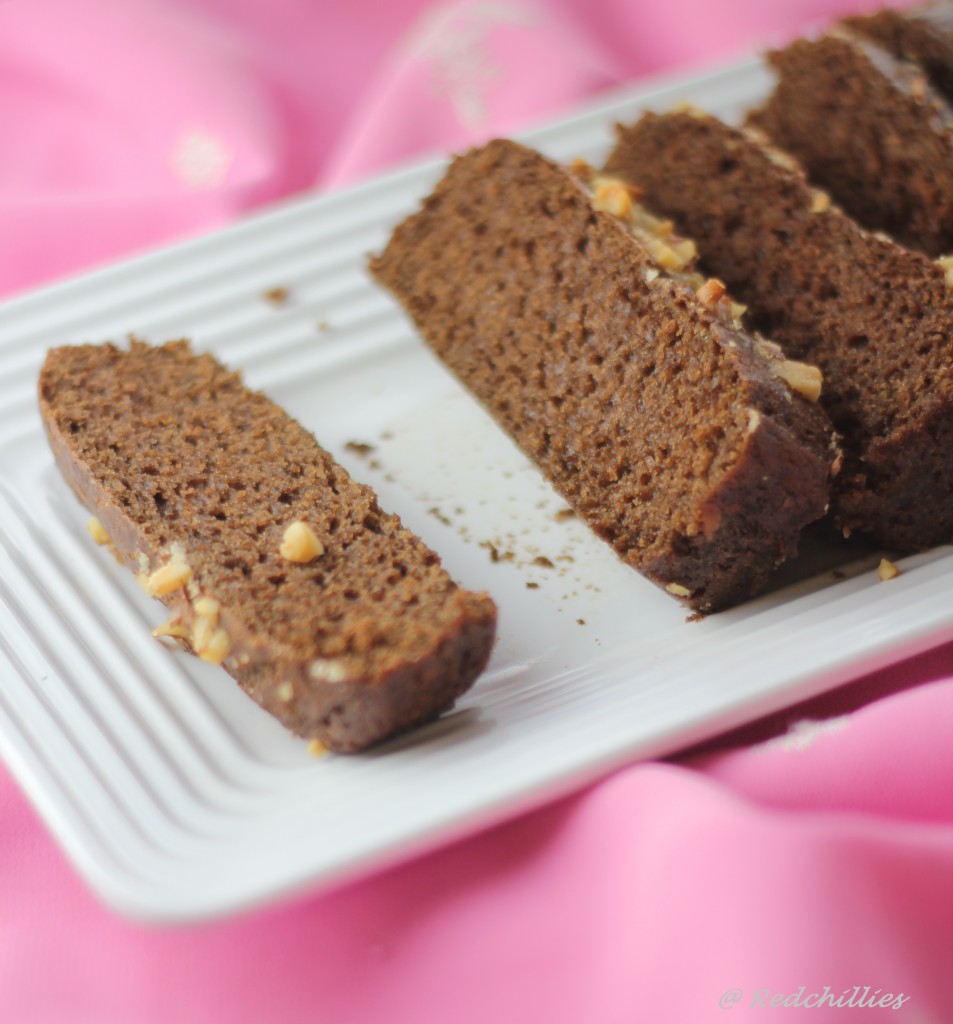 Ingredients:
1.5 cups all-purpose flour
3 Tbsp unsweetened cocoa powder
1 cups granulated sugar
1/4 cup vegetable oil (I used vegetable oil)
1/3 cup soft avocado ( completely mashed)
1 cup milk ( I used low fat milk) [ add soy milk or water and make this vegan]
1/4 tsp salt
1 tsp baking powder
1 tsp vanilla extract
¼ cup chopped walnuts(topping)
Egg Substitute : (instead of 1 egg)
1 tsp baking soda
1 Tbsp apple cider vinegar (white vinegar should be fine)
Method:
Preheat oven to 350 F (180 C).  Grease a cake or loaf pan and set aside.
In a bow mix together the dry ingredients AP flour, baking powder, baking soda, cocoa and salt.  
In another big bowl mix the wet ingredients together, including the mashed avocado. Add sugar to this and stir. (I use a hand mixer to blend).
Add in the dry ingredients to this in intervals to the wet mixture and keep stirring. This mixture is not very thick.
Pour batter into a greased tin, top with chopped walnuts (optional). Bake for 30-35 minutes, until a knife or toothpick inserted in the center comes out clean.
Let the cake cool and then transfer to wire rack for more cooling.