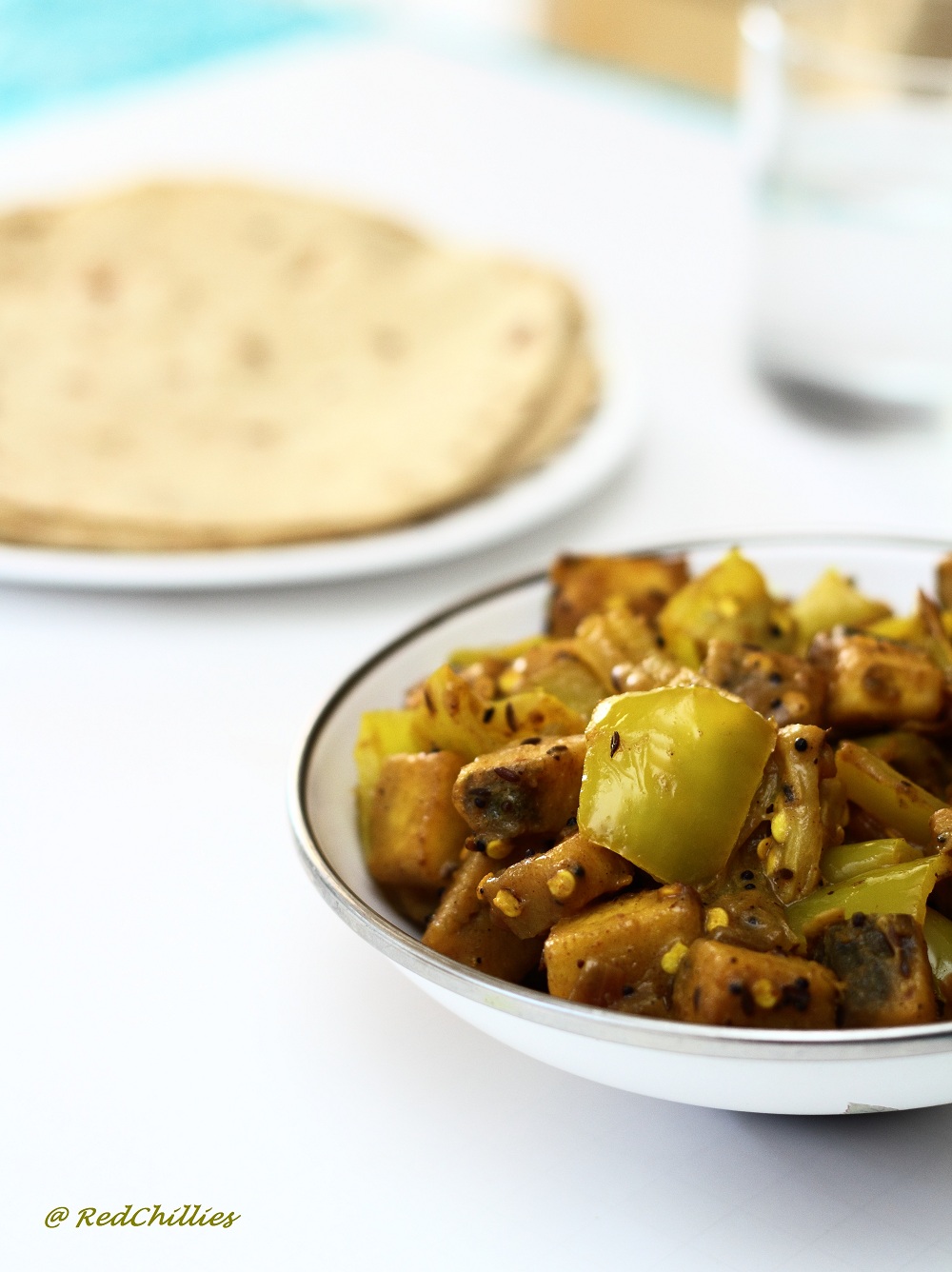 Hope you all had a good weekend. We had a wonderful yet busy weekend. We had a line of chores, but did not complete most of it. The usual complaint about the weekend is that it gets over very fast. During the week I enthusiastically plan for the weekend, but then most of the tasks don't get done and before we know it gets over in the blink of an eye. So many things, so little time ! 
Last week we came up with this recipe on a whim after scanning through the ingredients in the fridge that needed immediate attention. The 'culprits' were banana pepper and plantain. Of course, when we bought them we had no plans of combining them together to prepare a dish. The initial plan was to make some bhajjis with the banana peppers and Spiced Raw banana fry with the plantain. 
Neither of them materialized and they sat there languishing in the fridge. So we did what any foodie would do, which is to combine them, throw in some spices and make a dry delectable dish which would pair well with rotis and rice.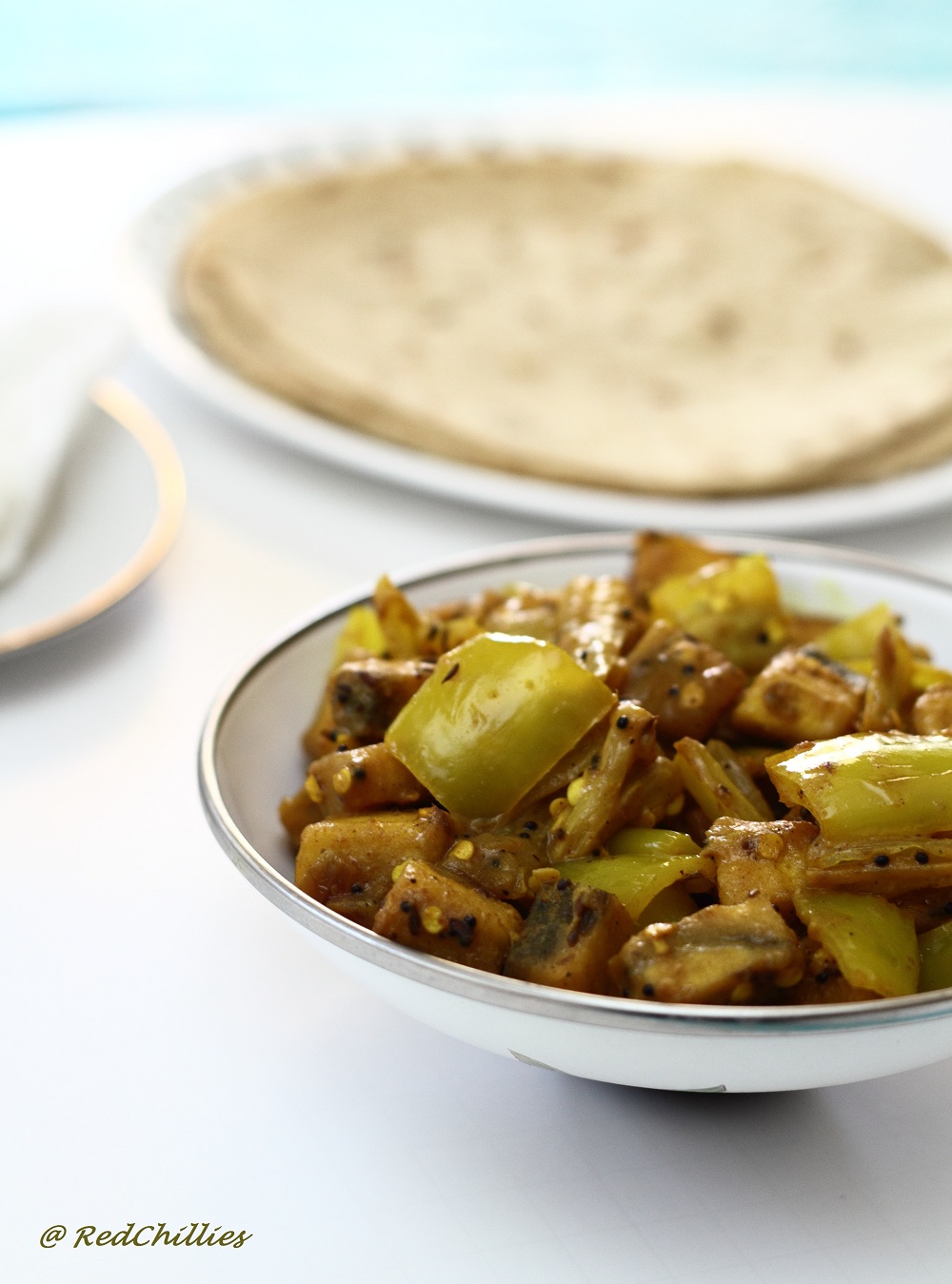 Ingredients
 4 Banana peppers (use any pepper of choice)[ remove the seeds, so that it is not spicy]
 1 big raw banana/ plantain
 1 small onion
 1 tsp grated ginger
2-3 crushed garlic pods (skin removed)
1 tsp coriander seeds
1 tsp fennel seeds
 1 tsp Jeera/cumin seeds
1 tsp  mustard seeds
 Oil
 Salt to taste
 Lemon juice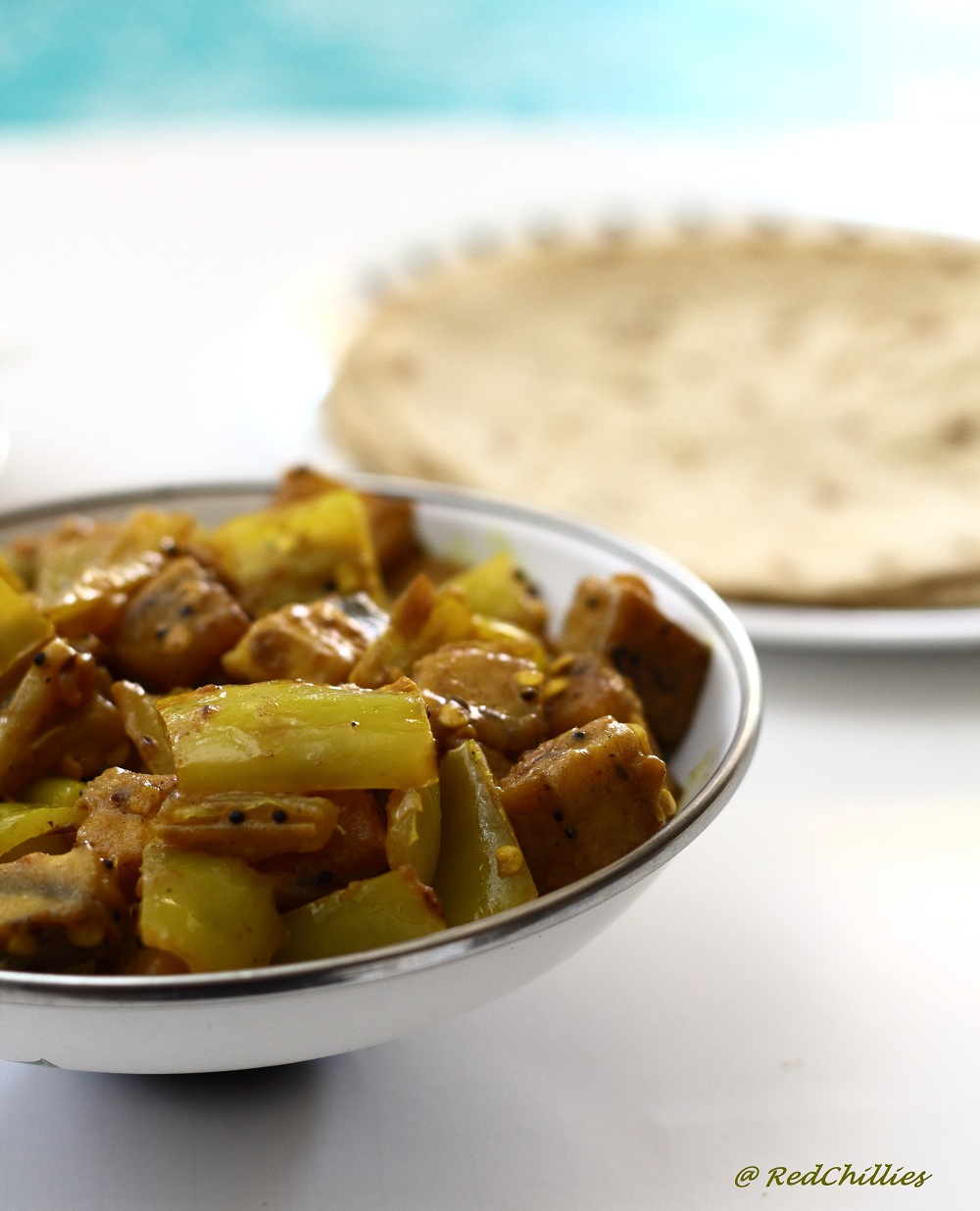 Preparation:
Wash the banana peppers thoroughly, chop into bite size pieces and keep aside. (Not too small).
Peel the onion and chop it into small pieces. Chop the coriander leaves and keep aside.
Peel the plantain and chop it into small pieces. Now boil the chopped raw banana in water separately and make sure the banana is not completely cooked.
Powder the raw fennel seeds and raw coriander seeds together and keep aside.
Method:
 Take a heavy bottom pan; add about 2 tsps of oil. Add jeera, mustard seeds, and let it splutter.
 Add the ginger garlic and mix well. Add the diced onions. After the onions are sautéed, add the cut bell peppers, salt and mix well.
Add the powdered fennel and coriander seeds powder and stir until the raw smell is gone.
 Next add the cooked plantain to this and mix well. Add more salt and oil if necessary. Cover with lid and let this cook on a medium flame.
 Lastly garnish with chopped coriander leaves and lemon juice.
Serve hot with Rotis/ phulkas or with Rice.