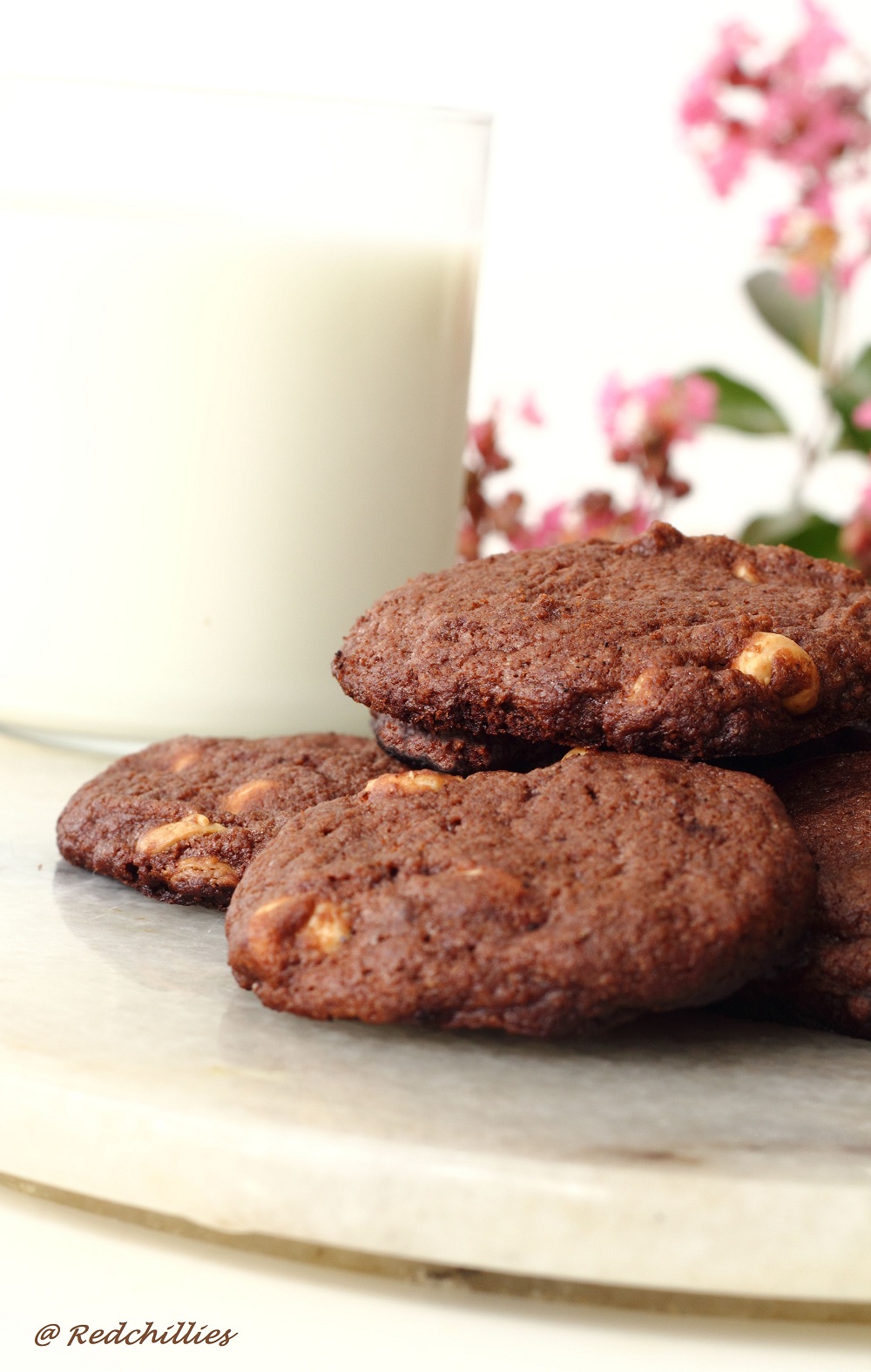 I am not much of a baker and I don't bake often. But this blog and the kiddo have driven me in that direction and I am learning and enjoying as I go along. It has been a roller coaster ride, but with success like these that makes you want to do the happy dance and try your hand at some more. 
The kiddo who is now 5 and half, loves to bake and help around in the kitchen. It is fun to watch his enthusiastic self, mixing stuff, measuring, chatting and of course making a mess. What are moms for anyway? But I had been putting off baking for long time now owing to really busy weekend schedule.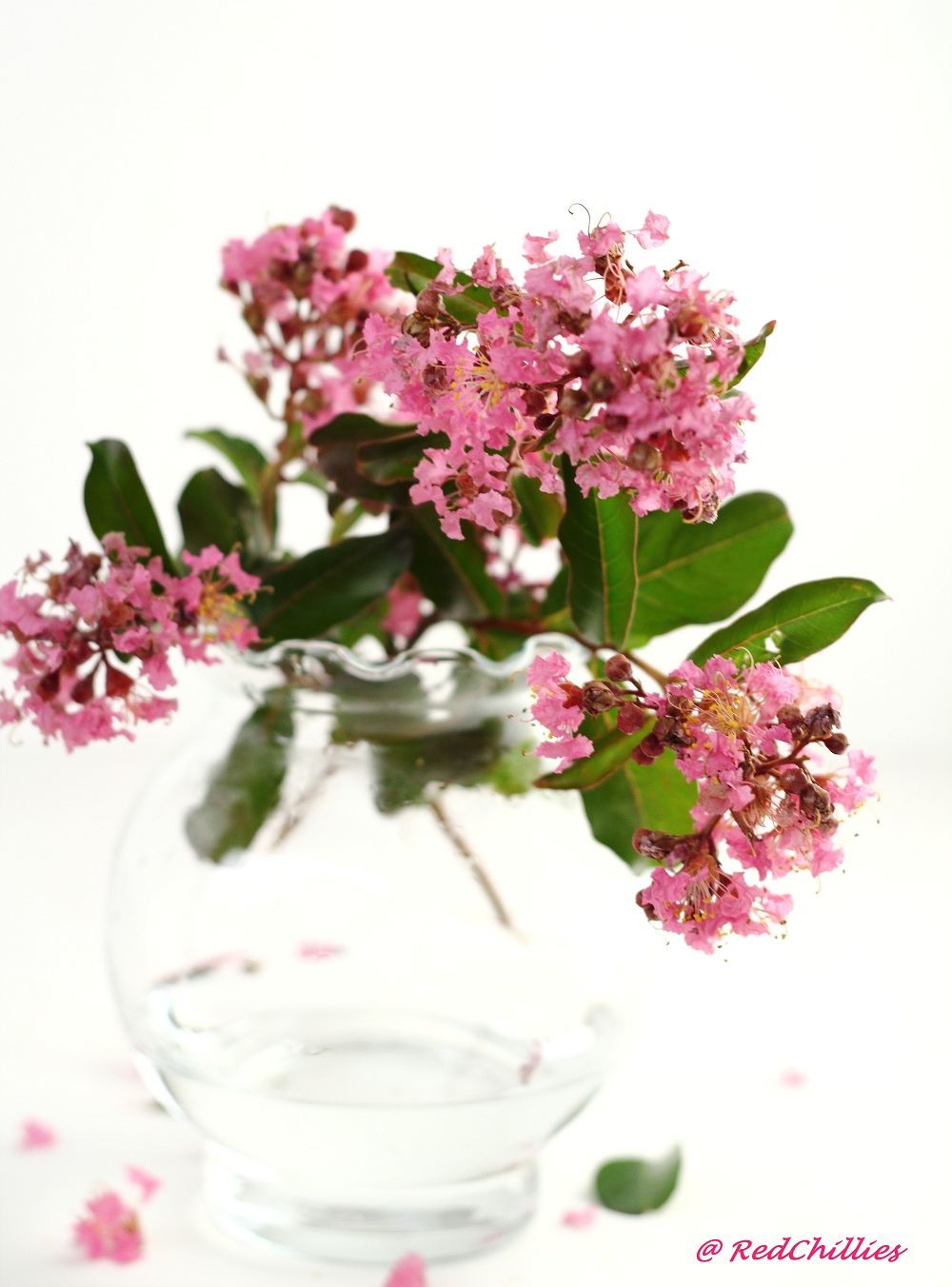 But last weekend morning when he asked "Amma, can we please bake chlocate cookies?" I could not resist and gave in. Like most kids, he loves chocolate in anything; but not so much DH and me. He still refers to it as "Chlocate" and I don't get the heart to correct it. :-). His all time favorite are the regular Chocolate Chip cookies. 
To complement it, the weather was glorious cool, pleasant which is unlikely for the month of May (in Texas). We opened the backyard door and let the cool breeze in. These pink beauties flowering in our backyard provided a visual treat.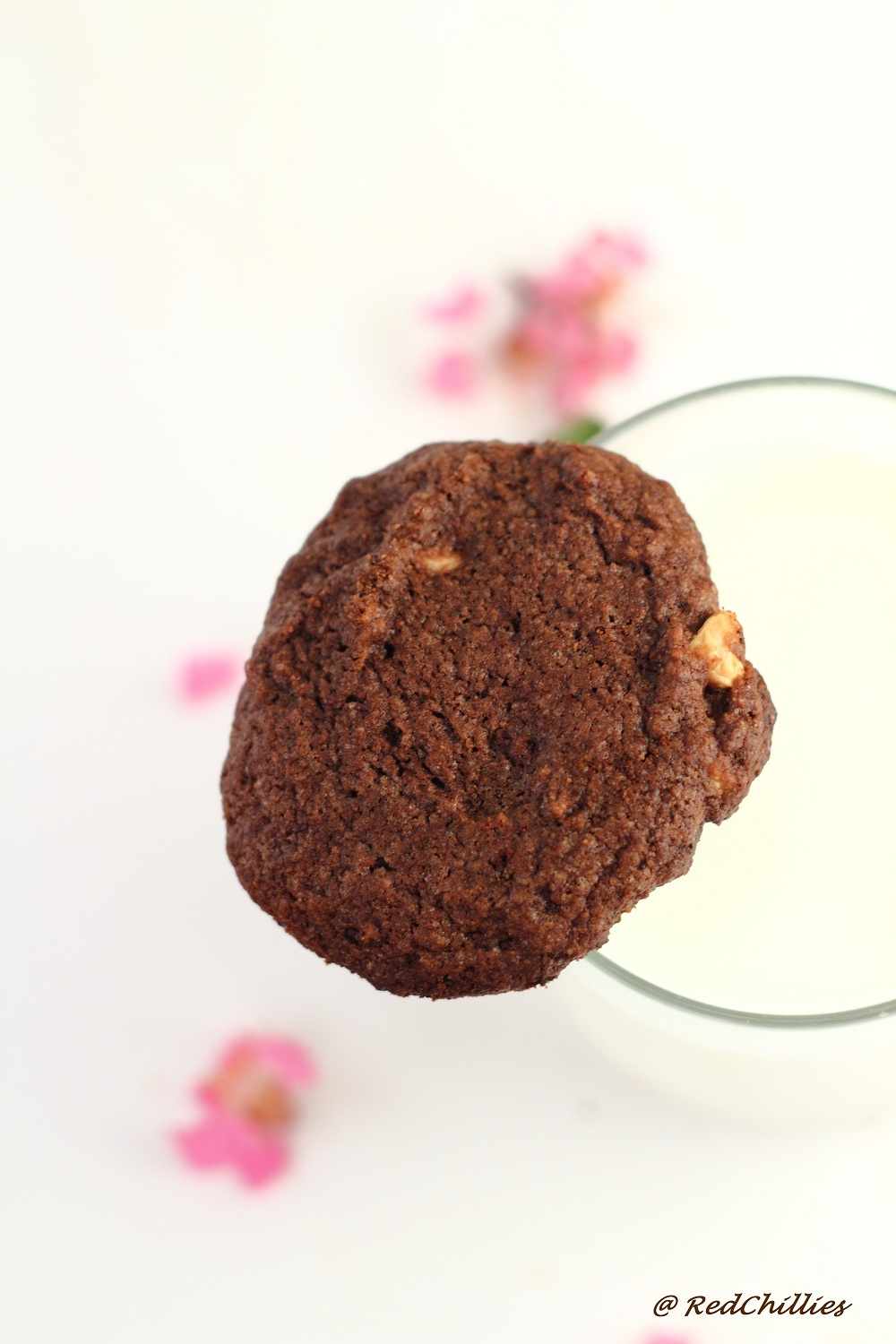 Naturally egg free, rich and delicious, I followed this recipe to a T. They were delicious, crispy, and chewy and the kiddo loved it a lot. When you see the joy on people's face you baked for then everything becomes worth it. 
Now, I do have to warn you though, if you are on a diet and don't even bother looking at this recipe. This calls for ½ cup of butter and that is one stick of butter. Please do not ask the calories or fat content of that for I do not want to be shocked J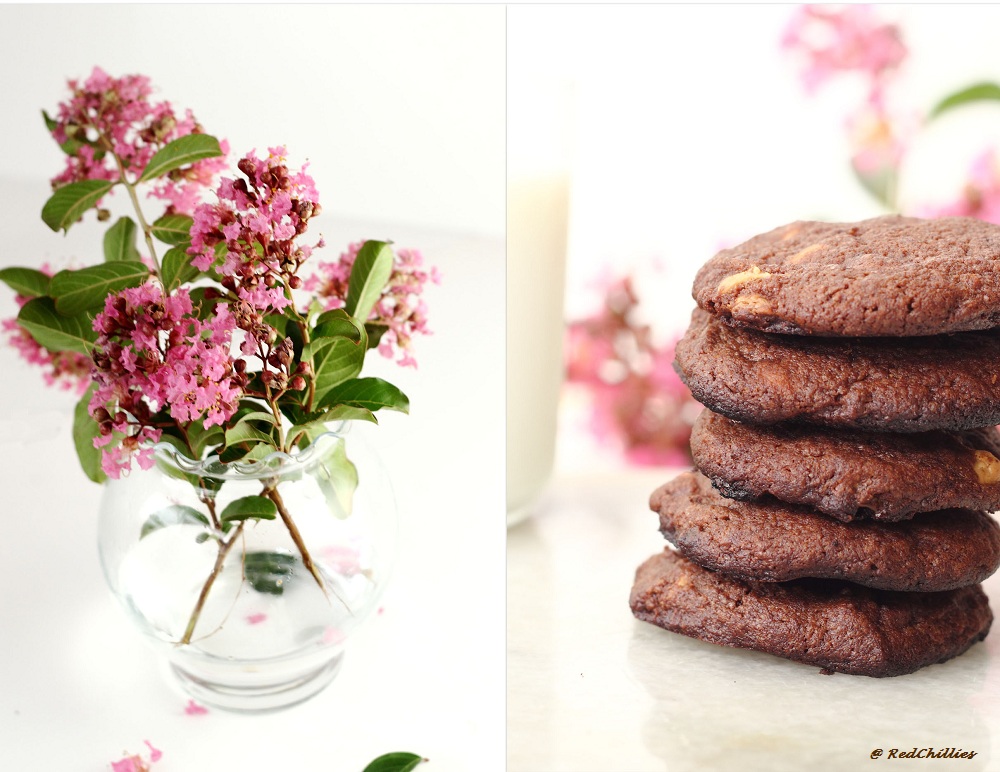 Recipe Source: Annie's Eats
Yields: 22-26 medium cookies

Ingredients 
1  1/4 cups all-purpose flour/maida
1 tsp  baking powder
1/2 tsp salt
2/3 cup cocoa powder
1/2 cup unsalted butter (room temperature) cubed [ 1 stick]
1/2 cup white sugar
1/2 cup dark brown sugar
1 1/2 tsp vanilla extract
1/3 cup milk
1 cup white chocolate chips (add more if you like)
Directions
In a medium bowl mix together the AP flour, baking powder, salt and cocoa powder. 
In another bowl beat the butter until light and fluffy. I used a hand mixer for this.
 Add both the sugars and beat again on medium speed.  Add the vanilla extract and mix well. 
Now add half of the flour mixture and beat on low speed until mixed.  Add the milk and stir with spatula until combined. 
Add the remaining flour mixture and beat on low speed until everything gets mixed in.
Finally fold in the white chocolate chips with a rubber spatula and mix well. 
Make a big ball of the dough, cover it and then chill the dough in the refrigerator for 15 minutes.
Preheat the oven to 325 degrees F.  Have baking sheets ready by adequately greasing them.
Take the dough out of the fridge and scoop the dough onto the baking sheets pressing down lightly. 
Bake for 16-20 minutes. Half way through move the baking sheet to the bottom and then rotate from front to back. Keep a close watch after 16 minutes.
Note: Since these are brown in color, you won't even know if the cookies have browned and cooked.
Transfer to cooling racks and then store in an airtight container.