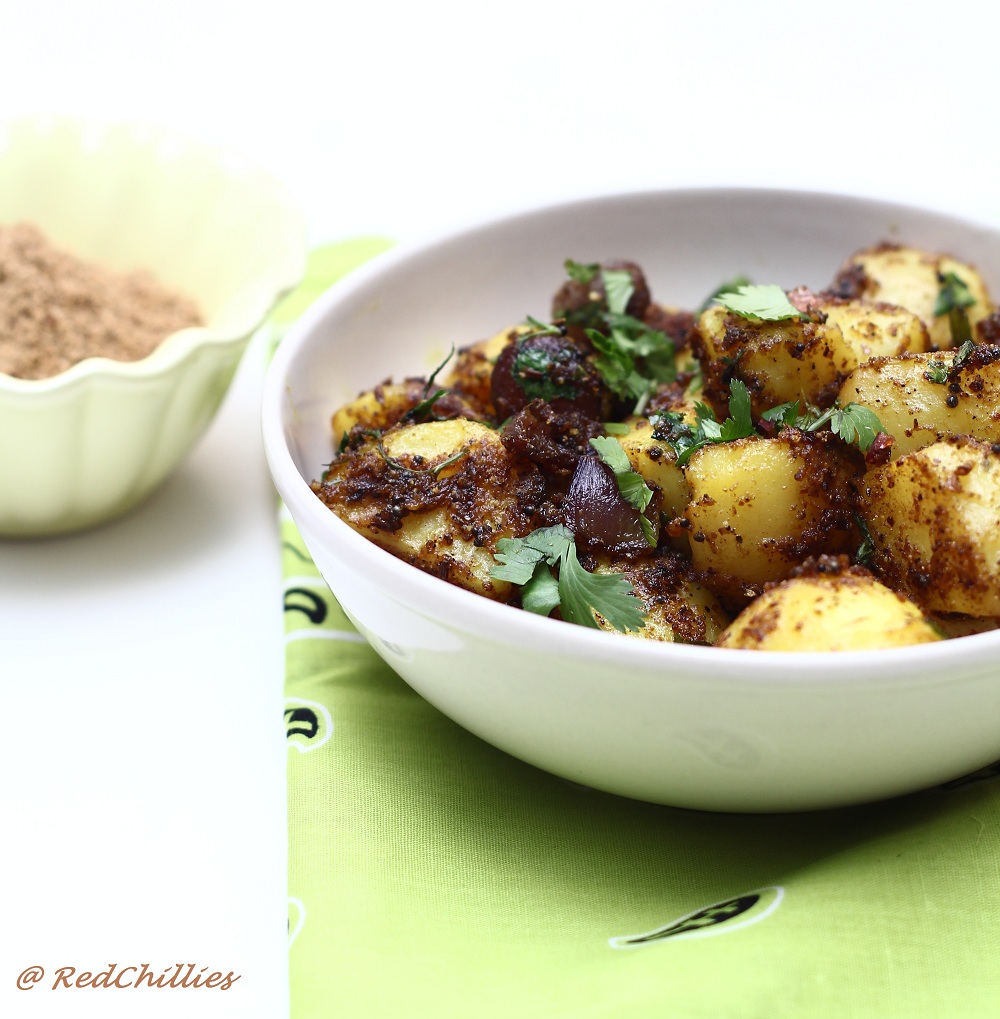 Inspiration as they say comes from unexpected places and this recipe is a testimonial to that. Few weeks ago, I was looking for some North Indian styled recipe using spinach on Sanjeev Kapoor's website, hoping to find some inspiration and ideas, but few searches and clicks later I landed on a recipe of Spicy Tempered Potatoes called Urulai Chettinadu with which I was pretty impressed. Strange! I would have never imagined searching for Chettinad and Sanjeev Kapoor at the same time. 
Here is a good description of what Chettinad cuisine is on Sig's blog. This cuisine originated in the southern parts of Tamil Nadu state. This cuisine is well known for its hot and spicy, aromatic non vegetarian dishes. Chettinad cuisine is different from the traditional healthy vegetarian cuisine of the Tamil Brahmins. (these sentences are rephrased from her blog).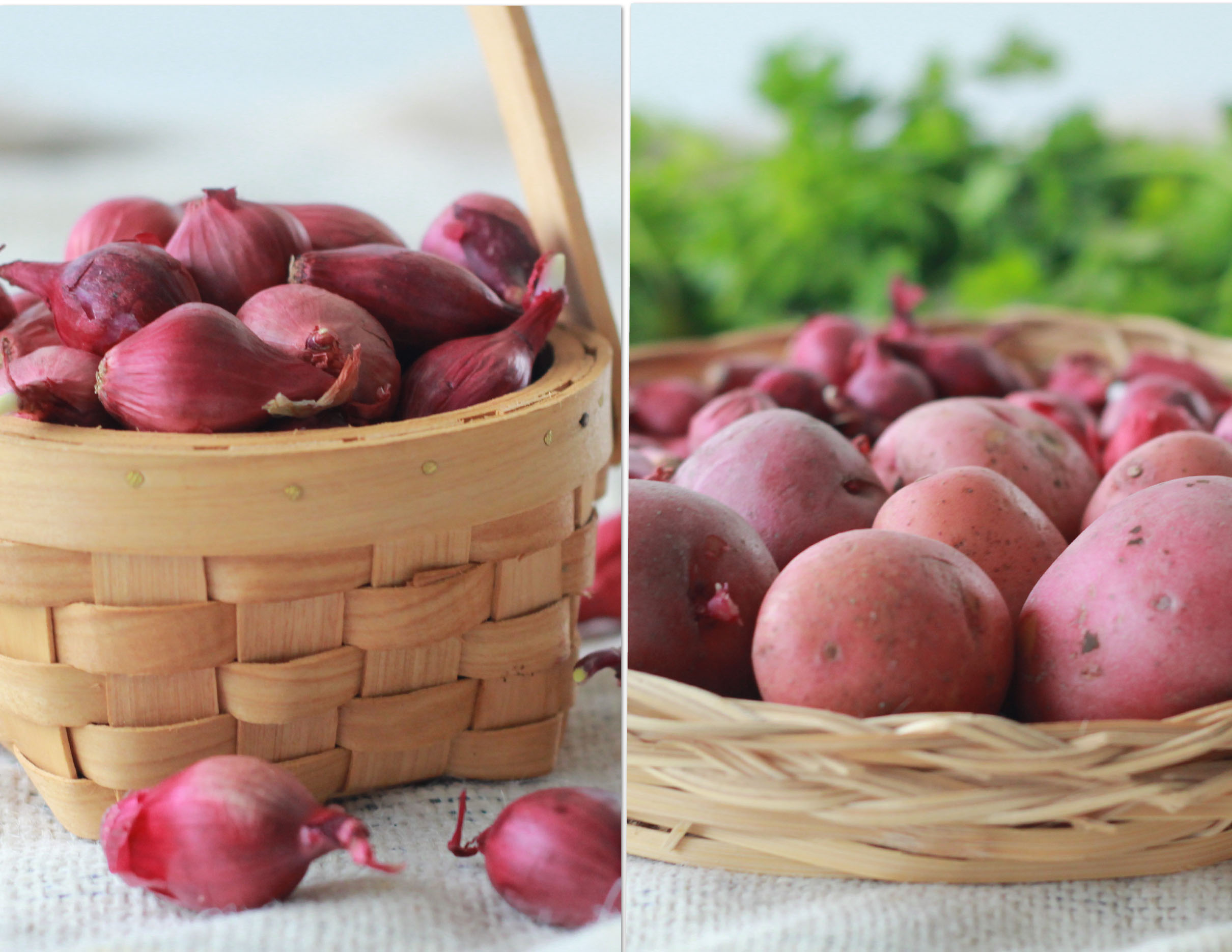 Even though I was raised in Bangalore (South of India), I have/had not tasted dishes related to this either at family, friends or restaurants. To me, it meant some type of exotic cuisine which is spicy and consisted only of non-vegetarian/meat dishes.
 We do have a Chettinad restaurant in our part of town. But the restaurant I am told has nothing to do with Chettinad cooking specialty. They use it as a sort of advertisement and en-cash on the name. So I plead my ignorance about this cuisine and dare not make any authentic claims about this dish. But truly the dish is flavorful, spicy and delicious.
That being said, I am open to learning and I would love to hear from you dear readers about this cuisine and any vegetarian dish that you love and strongly recommend. 
Happy Weekend, ya'll. If you are in the United States then wish you a very happy long weekend. We are off on a 3 day road trip, so see you all after that!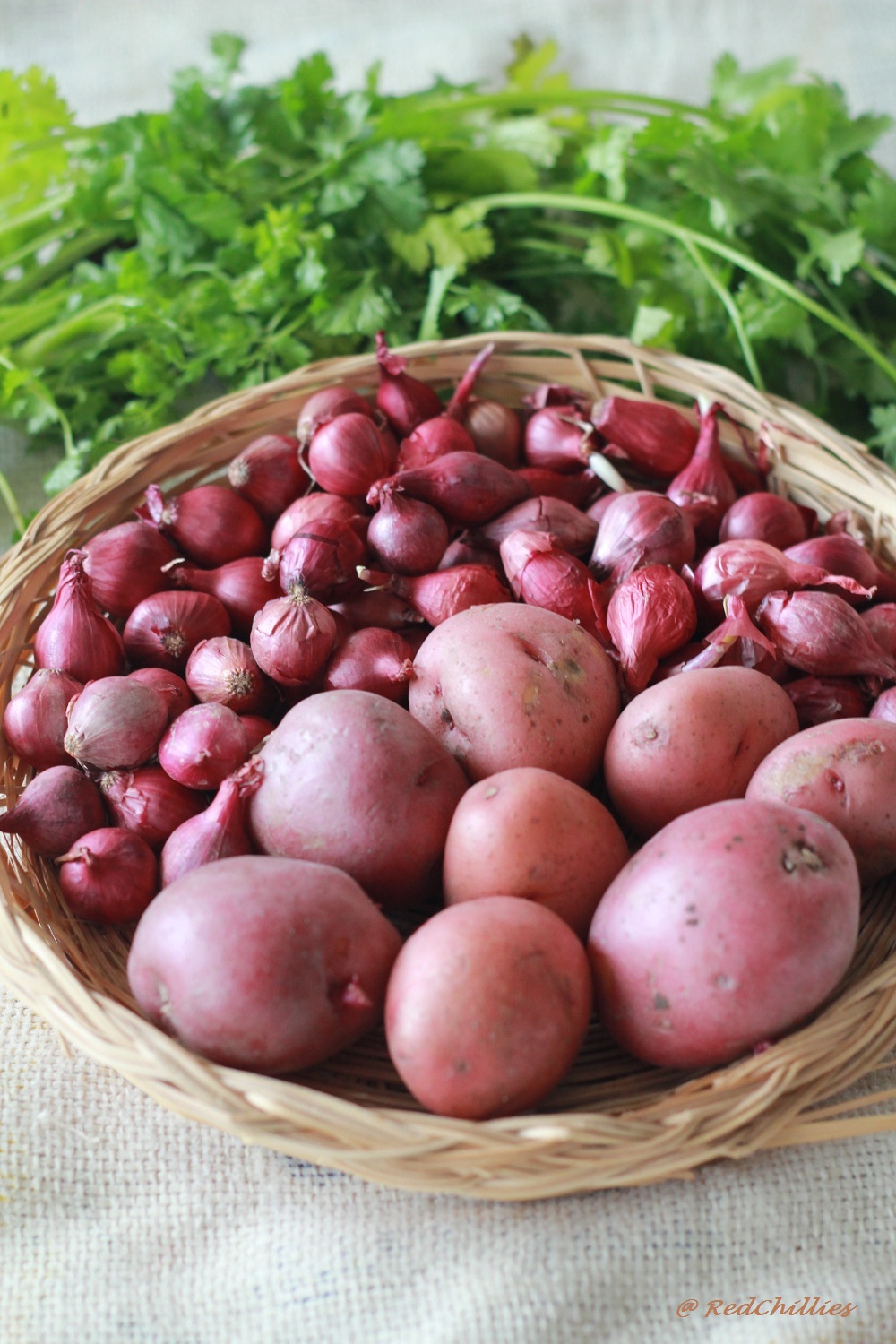 Tempered Chettinad Potatoes
Recipe Source: Adapted from Sanjeev Kapoor 
Ingredients  
10-15 Baby potatoes ( halved )
15-20 small onions/ pearl onions
4 dried red chillies ( I used byadgi variety)
2 Tbsp split black gram (urad dal)
1 Tbsp chana daal/ Bengal gram
2 tsp sesame seeds
Turmeric a pinch
5- 10 black peppercorns
1 tsp mustard seeds
5 – 10 curry leaves
Salt to taste
Oil 
Method:
Peel the onions, cut the stems and keep aside. Peel the potatoes and cut into halves.
In a small pan, dry roast the red chillies, chana daal, sesame seeds, urad dal and black pepper. Let this cool and grind to a coarse powder. (This powder can be stored and used for other curries as well.)
Heat a big pan and add oil to it. Add mustard seeds, curry leaves and let it splutter.
Add the small onions and sauté till lightly browned and cooked.
Add potatoes, stir, add salt and sprinkle water. Cover and cook on medium heat check in between and sprinkle water as required and toss. This might take about eight to ten minutes for the potatoes to cook.
Now add the freshly prepared masala powder, turmeric and mix. Check for salt.
Cover and cook over low heat for about three to four minutes more till the potatoes are done.
Garnish with chopped coriander leaves and serve hot.