Call them thin buns, sandwich thins, slim sandwich bread, sandwich flats they are the same, just names that companies come up with to market their brands. If you have not seen them, then think of the regular old chubby buns minus the extra trimmings and you have a thin sandwich bun. I like the name Sandwich Flats the best and refer to them that way. They are thin yet hearty just 100 calories each and perfect for a light lunch as sandwich or even a quick snack.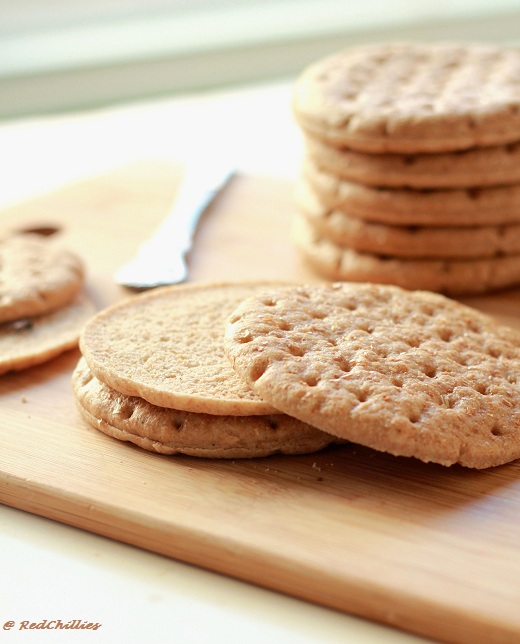 I like to have this as sandwich with layer of Guacamole. Guacamole is an avocado-based dip which is very popular here in the US. It is creamy, healthy and delicious. It has to be used immediately; otherwise it tends to oxidize pretty fast. 
How to keep the guacamole from getting brown? (Found some useful information on the net) 
Putting the avocado pits back into the dip and keeps it from getting brown for several days.
Squeeze good amount of Lemon juice and the acid part prevents it from getting brown easily.
Simply cover the dip bowl with plastic wrap, making sure the plastic wrap completely covers the surface of the guacamole.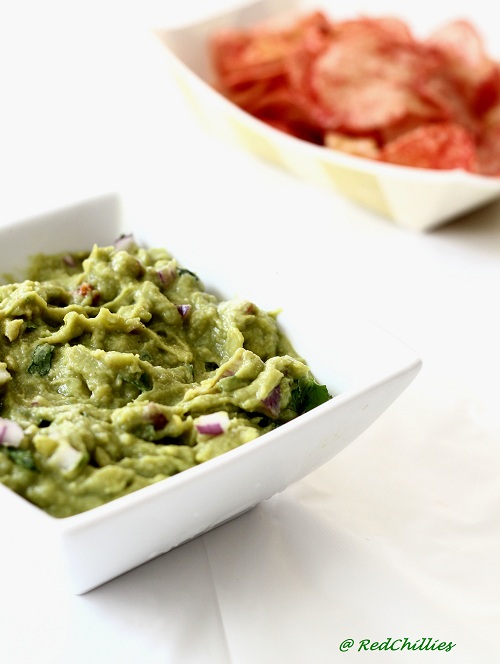 Ingredients for the Guacamole
2 ripe avocados
1 lemon juiced
2 Tbsp finely chopped onion
2 garlic pods (peeled)
1 Tbsp cilantro (chopped)
1 green chilli/jalapeno (optional)
 salt
1 Tbsp oil
Method 
Cut the avocados and remove the seeds. (You can see an online link here with pictures) Take a spoon and scoop out the pulp into a small bowl. Mash it gently using a fork.
Using a chopper (I use this chopper here ) pulse garlic, green chilli, salt (except onions) together. Stir in lemon juice, salt, and oil. 
Add the mashed avocado and pulse again. Transfer it to a bowl. Add the chopped onion, cilantro, little more lemon juice.
Note: We do not like our guacamole chunky and do not like big bits of avocado.
Cover the bowl well so that it is air tight.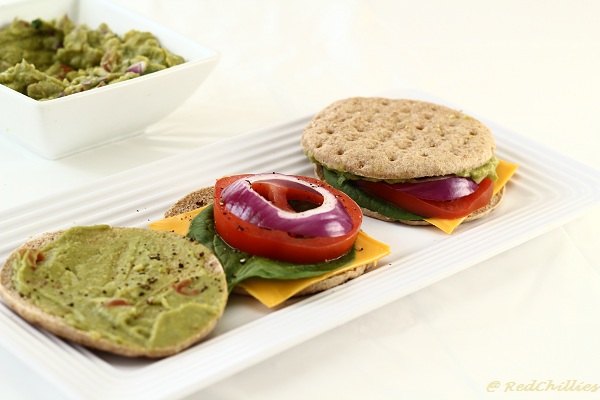 At work, I usually keep a bag of this sandwich bread handy. Depending on my mood for lunch for that day, I get a tomato and guacamole. Of course, storing guacamole is a problem as it oxidizes pretty fast. I usually get a small amount of it in an air tight plastic box and transfer it to the fridge at work that way it does not brown as much. Assembling the sandwich is a breeze and I usually down this with some yogurt and or chips. 
Now if you do not prefer the Guacamole then you can add anything you like on the sandwich, Mustard-ketchup, hummus, pepper relish, cream cheese or even some coriander chutney etc and the list is endless.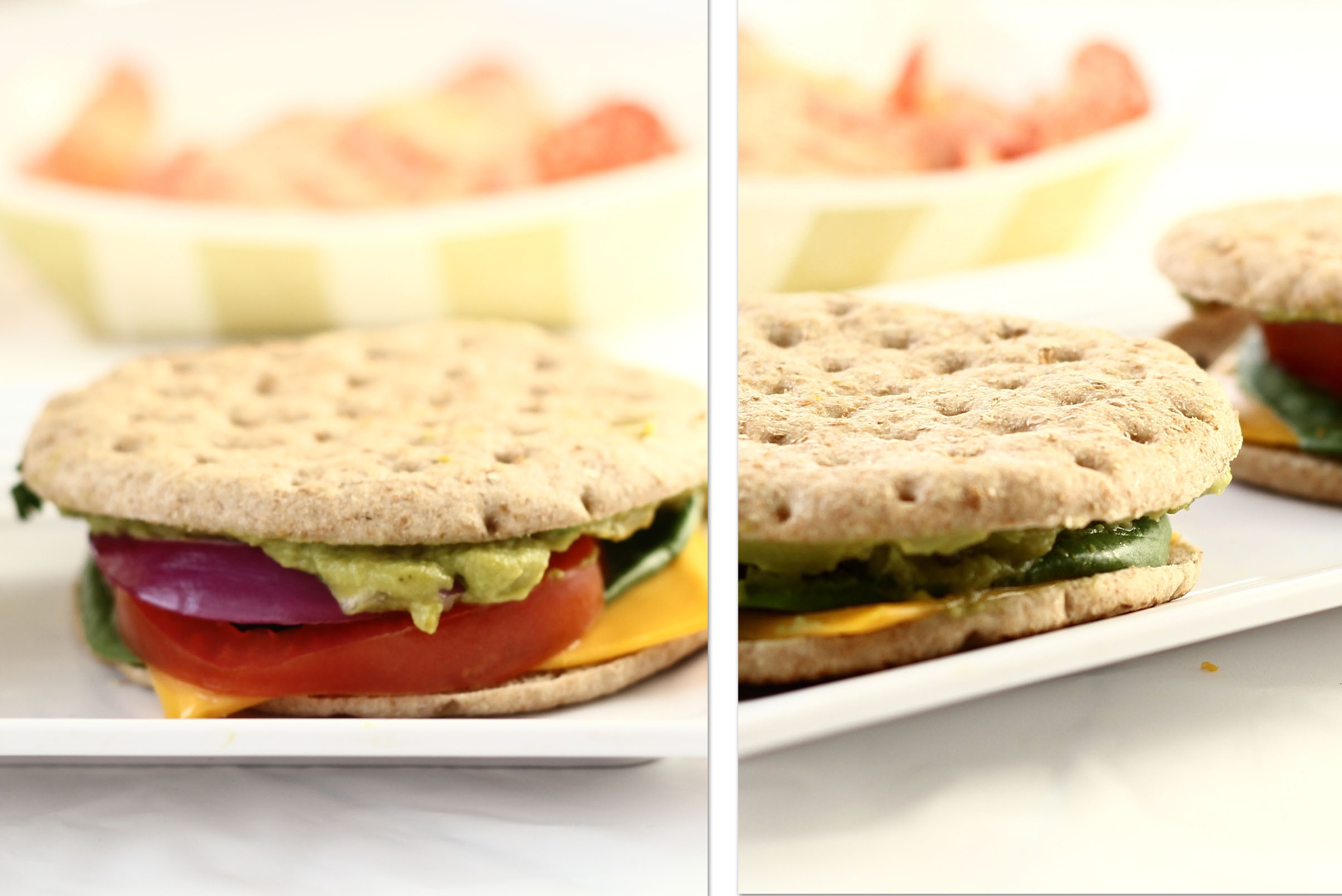 Again this is a guideline and not much of a recipe; you can customize this depending on your taste. You can use regular bread (toasted), regular bun, pita bread, and wraps instead of the thin sandwich that I have used here. And use the toppings/veggies depending on taste.
Ingredients for the sandwich
1 big tomato (cut in circles)
3-4 big onion rings
2-3 cucumber circles (optional)
2-4 big spinach leaves (replace with lettuce)
1 tsp crushed pepper
 Guacamole (see above)
2 cheese slices (any cheese will do)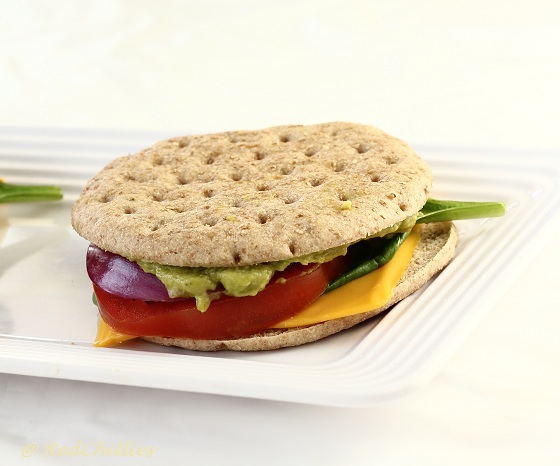 How to Assemble 
Open up the sandwich flats. On the inside of one half of the sandwich, slather the prepared guacamole evenly with a knife/spoon.
On the other sandwich half , first place a cheese slice at the bottom, top it with spinach leaves, tomato slice, onion ring and then top it off with the guacamole slathered top.
Repeat the same with another sandwich. Eat with some yogurt and chips.